Show User Social Media
Hide User Social Media
Joined

Sep 8, 2006
Messages

16,452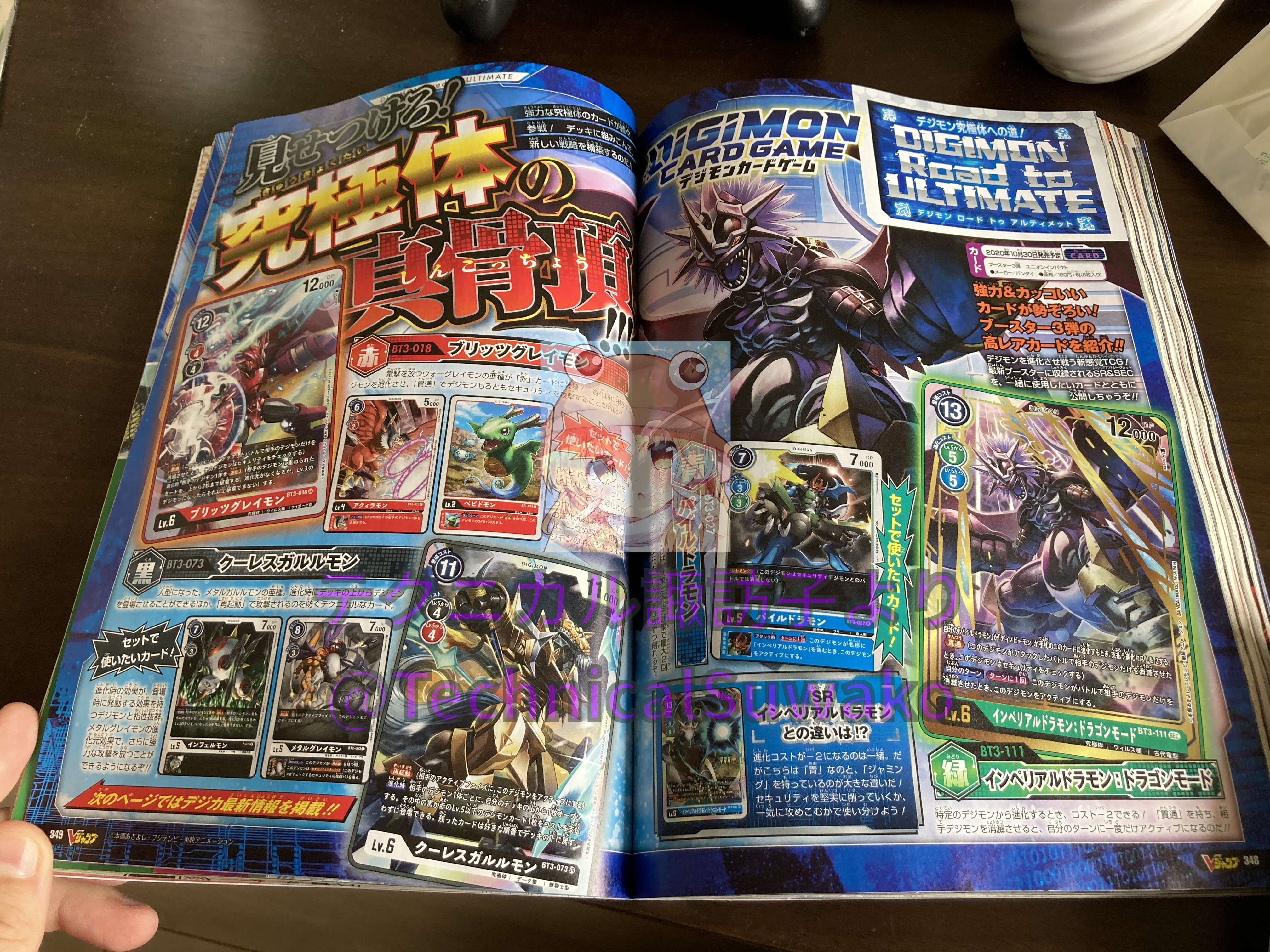 It's time for all the new Digimon content from the December 2020 cover dated issue of V-Jump!
We start with a big spread for Booster Set 3 of the Digimon Card Game.
Much of this we've seen, but we get confirmation that Imperialdramon (Black) is one of the secret rares.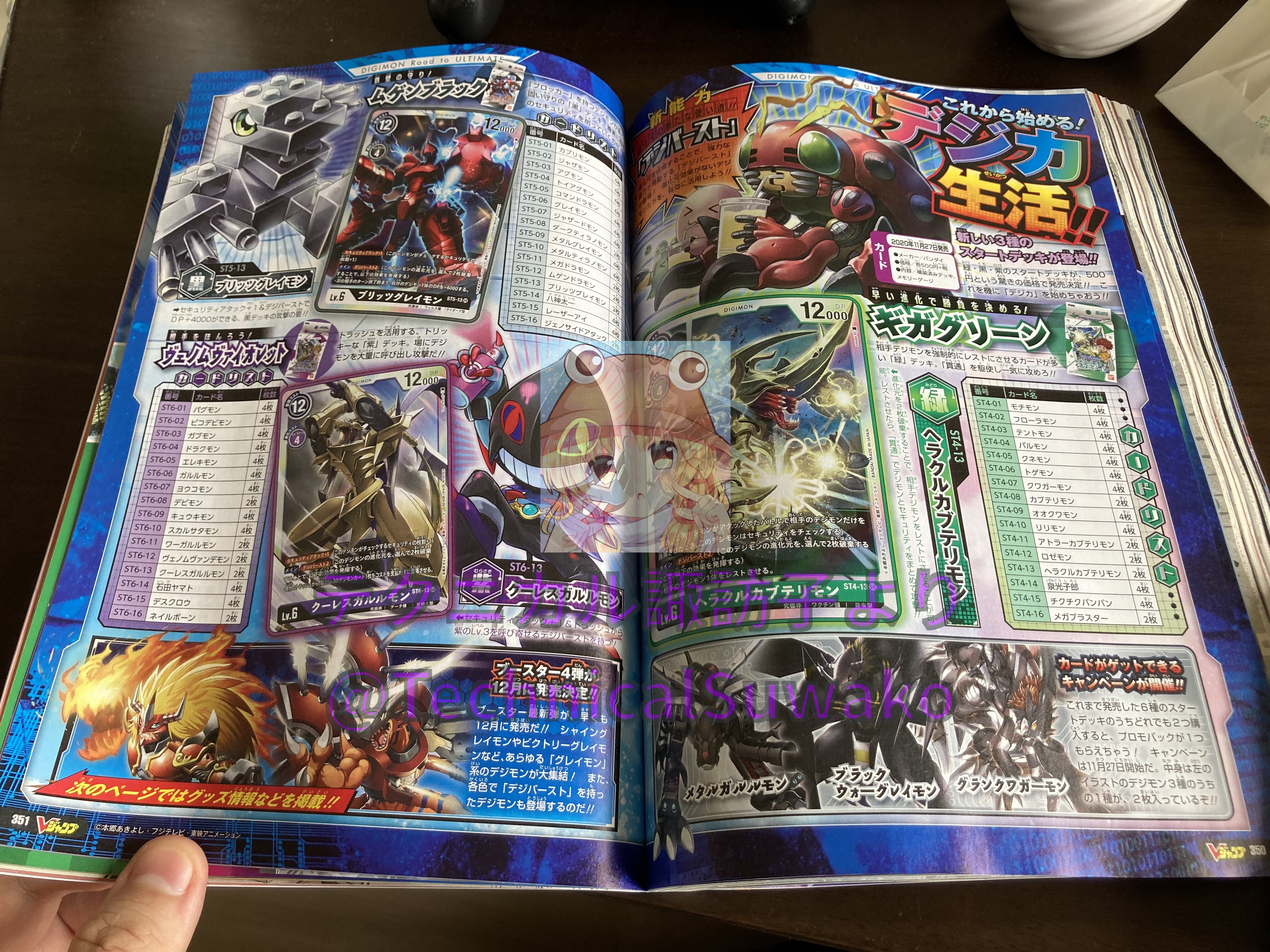 Then the card game gets another spread.
The main focus on the spread is going over all 16 cards for each of the new starter decks.
Update- Translated list of the names for the 16 cards in each Starter Deck...
Starter Deck 4-

Giga Green

Starter Deck 5-

Mugen Black

Starter Deck 6-

Venom Violet

Mochimon
Caprimon
Pagumon
Floramon
Jazamon
PicoDevimon
Tentomon
Agumon
Gabumon
Palmon
ToyAgumon
Dracumon
Kunemon
Commandramon
Elecmon
Togemon
Greymon
Garurumon
Kuwagamon
Jazardmon
Youkomon
Kabuterimon
DarkTyrannomon
Devimon
Ookuwamon
MetalGreymon
Kyukimon
Lilymon
MetalTyrannomon
SkullSatamon
AtlurKabuterimon
Megadramon
WereGarurumon
Rosemon
Mugendramon
VenomVamdemon
HerculesKabuterimon
BlitzGreymon
CresGarurumon
Koushiro
Taichi
Yamato
Chiku Chiku Bang Bang
Laser Eye
Death Claw
Mega Blaster
Genocide Attack
Nail Bone
On the bottom right, they announce a new promo card campaign. Starting on November 27th, if you buy any 2 of the 6 starter decks, you get a promo pack with 2 cards at random from MetalGarurumon (Black), BlackWarGreymon, and GranKuwagamon.
And then at the bottom left we get our first look at art from Booster Set 4 Great Legend, RiseGreymon and Agnimon.
Previous card previews for Booster Set 3:
BelialVamdemon & Dinobeemon from Fun Digica Angemon & Valkyrimon from Fun Digica MetalMamemon, MetalGreymon (Virus), and RagnaLordmon from Fun Digica V-mon and XV-mon Hawkmon & Aquilamon SaintGalgomon Cherubimon (Virtue) Wormmon, Stingmon, & Duftmon, plus more Fun Digica 46 Archnemon & Mummymon Commandramon & Psychmon Option Cards Bifrost & Cracker!!, Plus Saikyo Jump with Airdramon Option Cards God Bless & Jurou Daikatien Option Card It's a Rematch! Bastemon & Goddramon, Plus Mimi, Imperialdramon, Imperialdramon (Black), Paildramon, & BanchoStingmon Chibimon & Upamon Minomon & Kakkinmon Patamon & Penmon Necrophobia & Lilithmon Giromon & Tankmon Option Card Plasma Stake Option Card Desperado Blaster Preview & Adult Digimon Box Topper Parallels Option Card Dark Despair & Mastemon Antyramon ClavisAngemon Super Rare Parallel Previews from Fun DIgica
Then we get to see the
Figure-rise Standard Amplified model kit of Imperialdramon
.
They show off Dukemon X for ReArise.
At the bottom we both get a little bit about Devimon and SkullKnightmon from Adventure:, along with a preview of
the upcoming Ichiban Kuji product lottery
.
And the Digimon content finishes with the Adventure: promotional details once again.
The main thing this month is definitely more starter deck info, plus our first look at Booster Set 4 and a new promo pack.
Thanks to
TechnicalSuwako
for the images.
Last edited: