Show User Social Media
Hide User Social Media
Joined

Sep 8, 2006
Messages

17,381
It's time for all the new Digimon content from the August 2022 cover dated issue of V-Jump!
It starts off showing off the
Vital Bracelet BE
and the new
V3 Espimon and Ryudamon Dims
.
We also get a nice look at
the Digivice VV
.
Mentioned for the BE is that it can hold 4 Digimon in the unit itself, and that new evolution routes can be opened up in Adventure mode.
It also teases that there will be more news... (likely on the 25th anniversary Digimon version previously teased.)
Then we get a Digimon Survive section. Plus a page from Shonen Jump.
These are basically detailing elements from
recent trailers
(
2
) and news reports (many of which were put out at the same time as the Shonen Jump issue.)
There is a heavy focus on the new players and showing off game mechanics.
Digimon Survive is out July 28th in Japan and July 29th worldwide.
Digimon Survive can be pre-ordered at Amazon.com: (affiliate links)
Digimon Survive for Switch
Digimon Survive for PS4
Digimon Survive for Xbox One
The Digimon Card Game gets two spreads focusing on Booster Set EX-03.
It had previous of a number of new cards, plus some strategies on how to use them.
The previews we saw everything of previously.
Previous previews for Booster Set EX-03 Dragon's Roar:
Packaging
Cyberdramon
Chaosdramon
Hyper Mugen Cannon
Qinglongmon
Sourai
ExTyranomon
DarkTyranomon
Megidramon & Megiddo Flame
V-Jump Previews- Agumon, Sealsdramon, Tankdramon, Goddramon, Holydramon, Trial of the Four Great Dragons, Promo Teaser
Goddramon
God Flame
Holydramon
Trial of the Four Great Dragons
Booster Set EX-03 Dragon's Roar is out July 29th, 2022.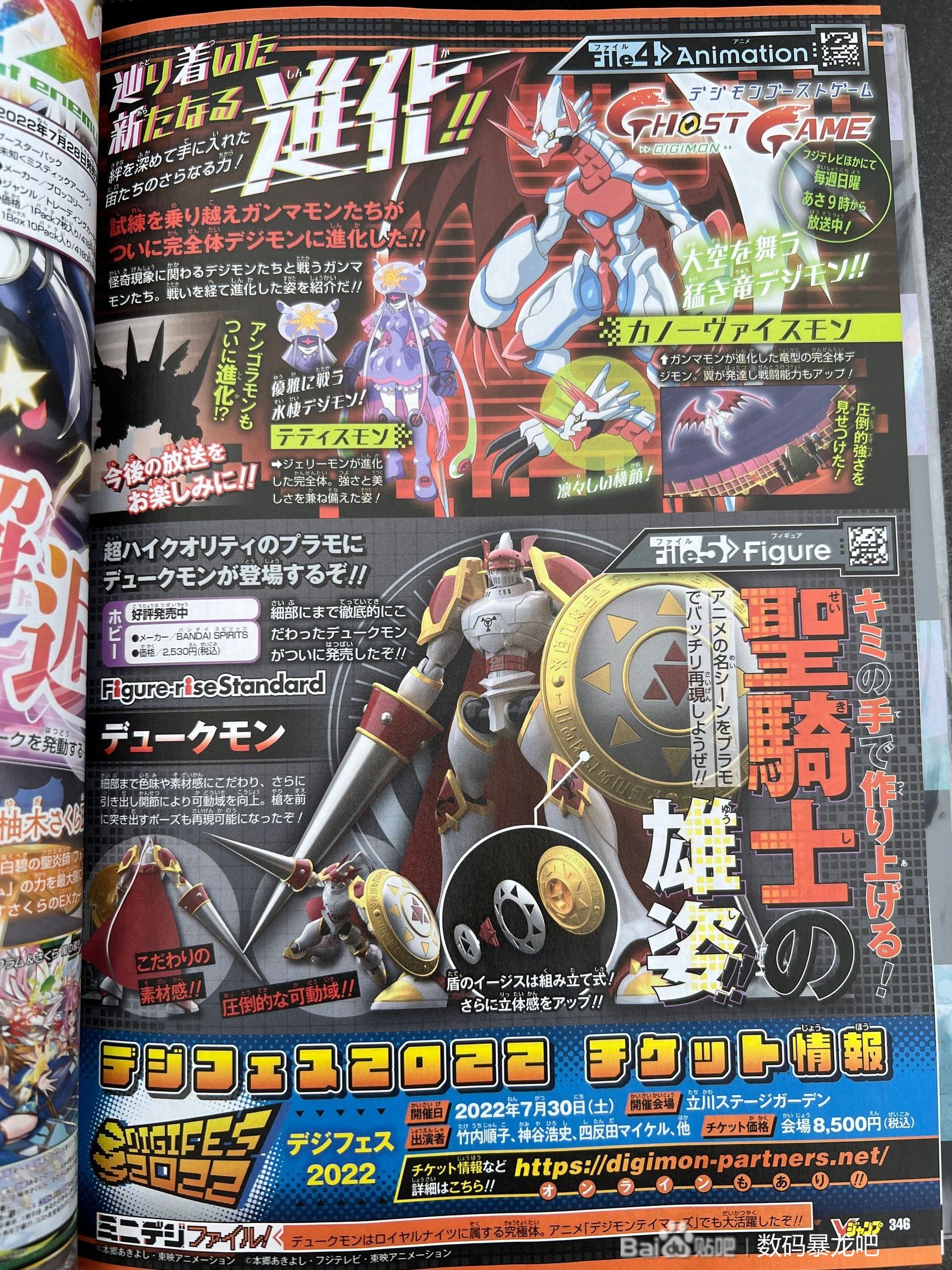 Then we finish with a few things on the last page...
Ghost Game shows off some of the perfect forms added to the show, while also teasing Angoramon's evolution...
Then we get a preview of the
Figure-rise Standard Dukemon model kit
, which is out.
It finishes detailing ticket info for DigiFes 2022, which
we recently got a decent bit of news fo
r.
Lots of stuff this month from the Vital Bracelet BE & anime Dims, to Survive updates (just a hair over a month to release), to 4 pages of the card game, and updates on Ghost Game and model kits!
Thanks to a baidu user for the V-Jump images and a friend of the site for the Shonen Jump image.