Show User Social Media
Hide User Social Media
Joined

Sep 8, 2006
Messages

17,382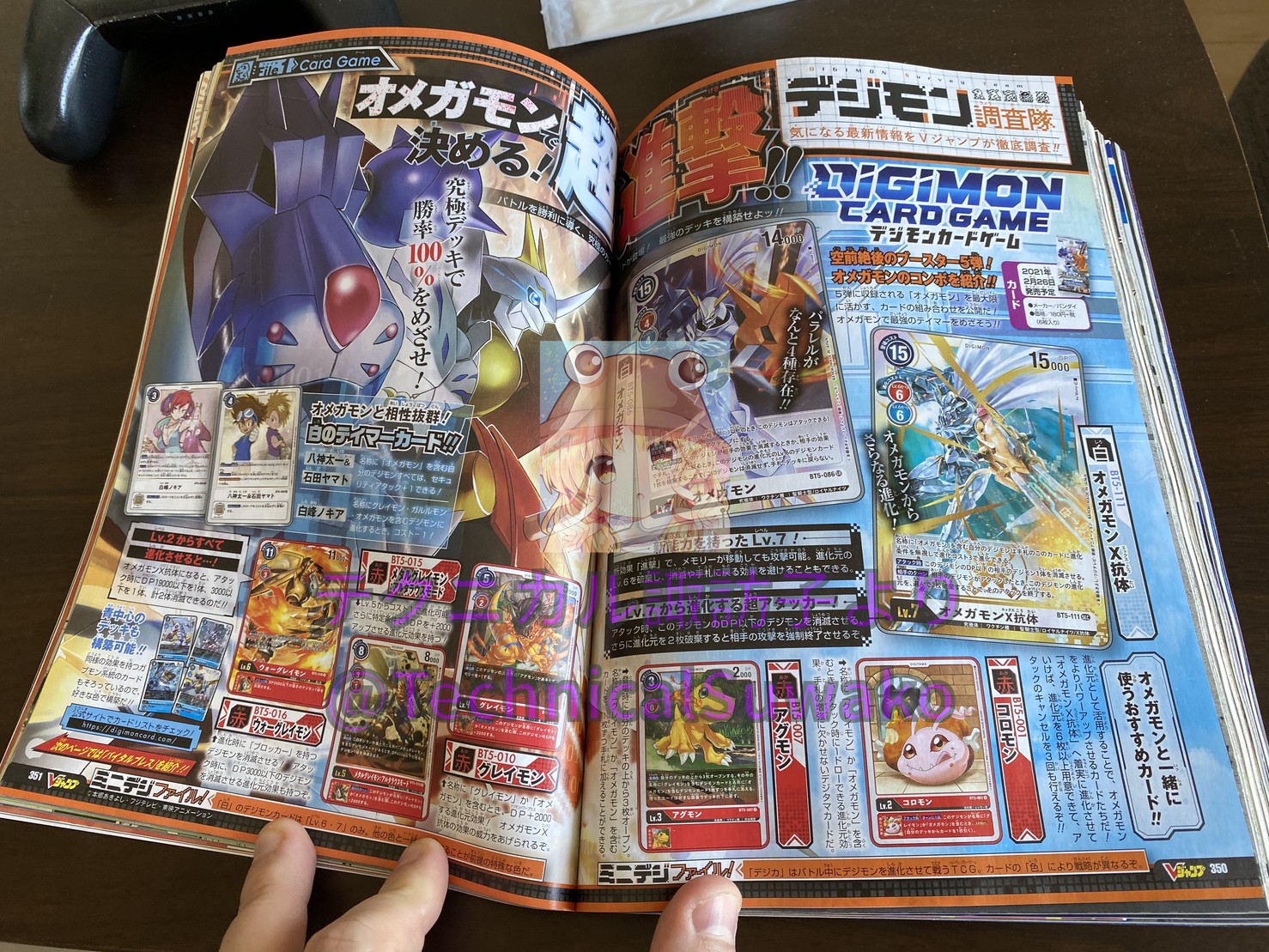 It's time for all the new Digimon content from the April 2021 cover dated issue of V-Jump!
First up is a card game spread for Booster Set 5 Battle of Omega.
The main focus in the spread is cards more directly related to Omegamon, with perhaps the most interesting detail being the left page features new art of Omegamon we haven't seen yet.
Digimon Card Game Booster Set 5 Battle of Omega is scheduled to release on February 26th.
Previous card previews for Booster Set 5:
Hexeblaumon Pack packaging, Agumon, & Greymon Gabumon & Garurumon Starmons, ShootingStarmon, & SuperStarmon ChaosDukemon Terriermon Joshu & Fake Agumon Hakase & 1st Look at MetalGreymon: Alterous Mode & WereGarurumon: Sagittarius Mode Takumi Nokia WaruMonzaemon Guilmon & BlackGrowmon V-Jump- Omegamon Zwart, Shoutmon DX, Sakuyamon, MetalGarurumon, and Algomon (Ultimate) ZekeGreymon MoriShellmon MetalGarurumon (Black) Option Card Hot & Fierce Metal Storm, Omegamon, & Omegamon Zwart (Normal & Parallel) Megidramon Koromon & Tsunomon Battle of Omega High-Res Promo Poster Shoutmon BlackMegaloGrowmon BanchoLilymon Blucomon Omegamon Zassoumon & Magazine Previews OmegaShoutmon, Absolute Blast, Tactimon, Taichi & Yamato, MetalGreymon: Alterous Mode, WereGarurumon: Sagittarius Mode, & Rafflesimon Shademon & Omegamon Zwart Koushiro & Mimi Wisselen Jijimon Knightmon Ichi-no-tachi plus Magazine Previews of Arata, Keramon, Chrysalimon, Infermon, Diablomon, & Armagemon Piccolomon Monochromon & Triceramon Palmon Catastrophe Cannon Pyocomon Gigimon Paledramon Zanbamon & Magazine Preview of Omegamon Zwart Defeat MarineDevimon Grey Sword & Garuru Cannon Royal Nuts Omegamon X & Omegamon Zwart Defeat from Fun Digica Option Card All Delete Preview for Booster Set 5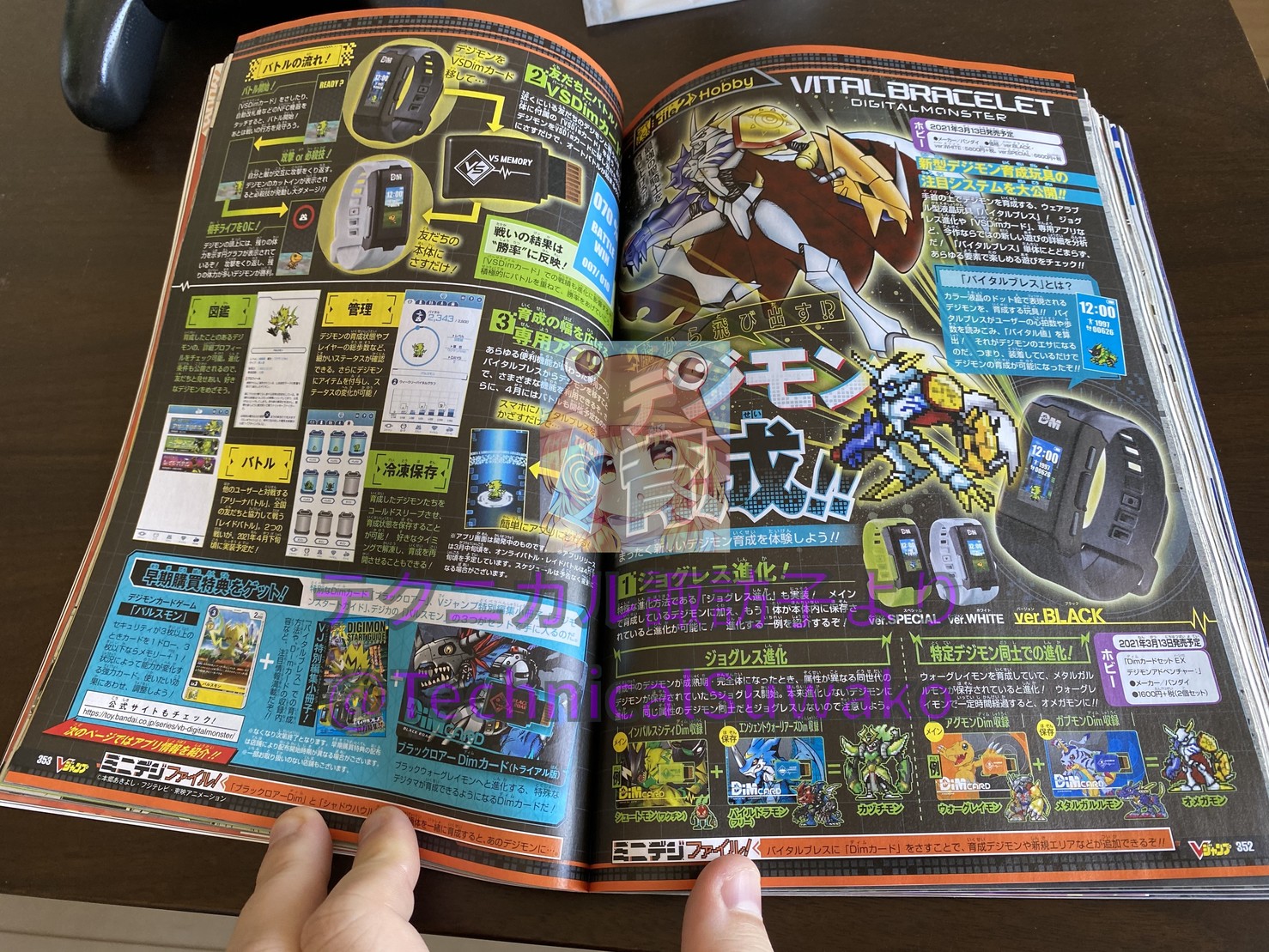 Then the Vital Bracelet gets a spread with just under a month to go!
If there is time to translate it we'll go over it in more detail, but a handful of the details from the right page for now: (quicky translation for now)
It appears doing activities gets you food to feed to the Digimon.
Kadutimon will be an old style jogress, having Digimon at the correct level, etc.
Some Digimon like Omegamon will require specific Digimon to be able to combine.
The left side goes over the VS Dim, features of the App, such as putting the Digimon in cold storage, and more.
More later potentially, based on time.
Various recent Vital Bracelet links from WtW: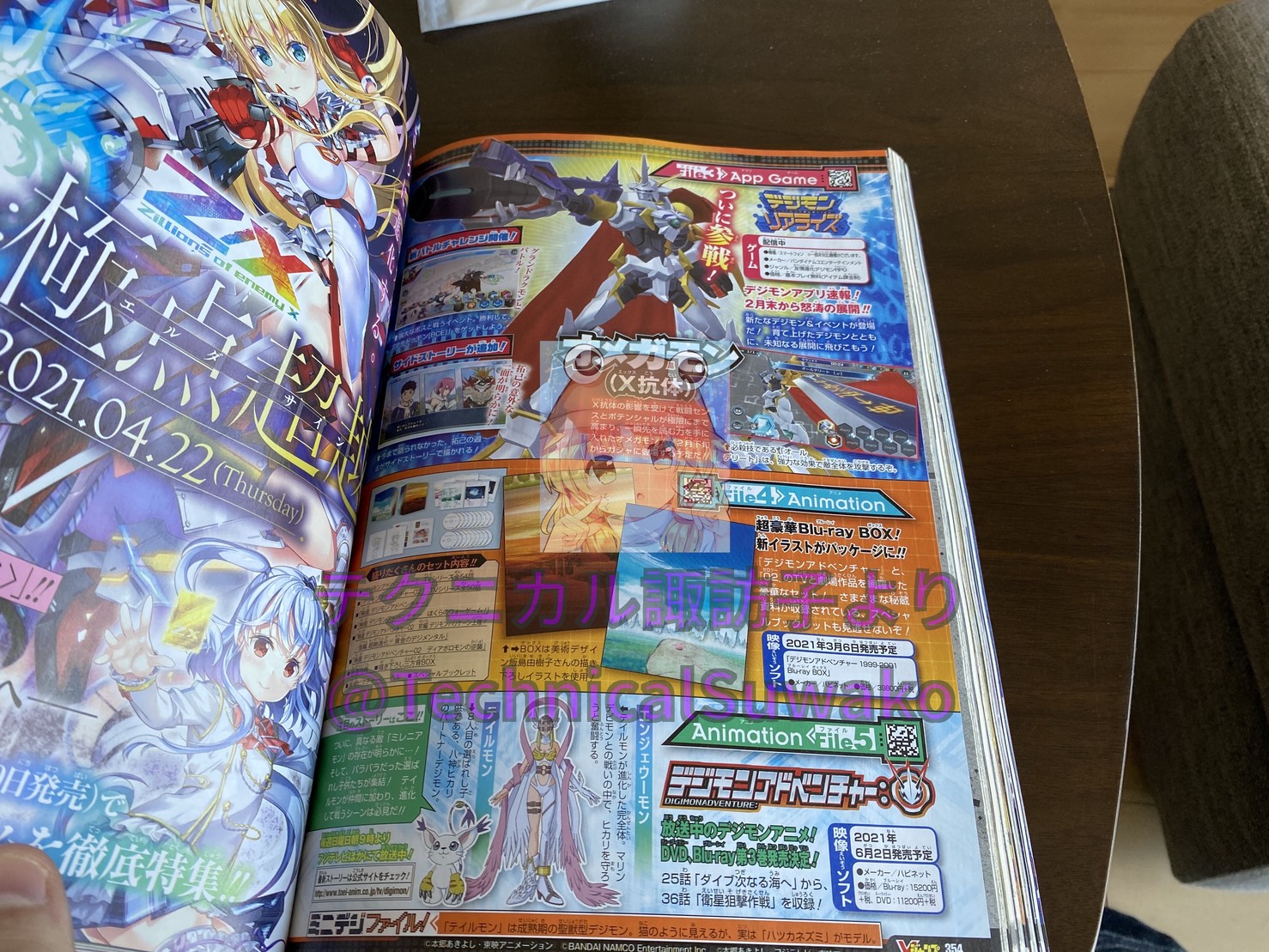 Then the last main spread we get a few things...
Omegamon X in ReArise.
A quick look at the Digimon Adventure 1999-2001 Blu-ray box packaging and features. This is a magazine layout
equivalent to what we covered before
.
The box will be released on March 6th, 2021 (the day before the 22nd Anniversary of Digimon Adventure beginning.)
The price is given as an 'affordable price' for an anime Blu-ray box of this size (but still not cheap), 39,800 yen. This is under the cost of the standalone Blu-ray series boxes that Adventure, 02, Tamers, and Frontier each had (and also cheaper than the standalone DVD boxes the shows had gotten prior to Blu-rays.)
Pre-orders are currently open at CDJapan.
(affiliate link)
A mention of the third Adventure: Blu-ray box and a quick look at Tailmon and Angewomon.
The third box will be released on Blu-ray and DVD on June 2nd, 2021. Pre-orders are open for the third box at CDJapan: (affiliate links)
Digimon Adventure: Blu-ray Box 3
Digimon Adventuer: DVD Box 3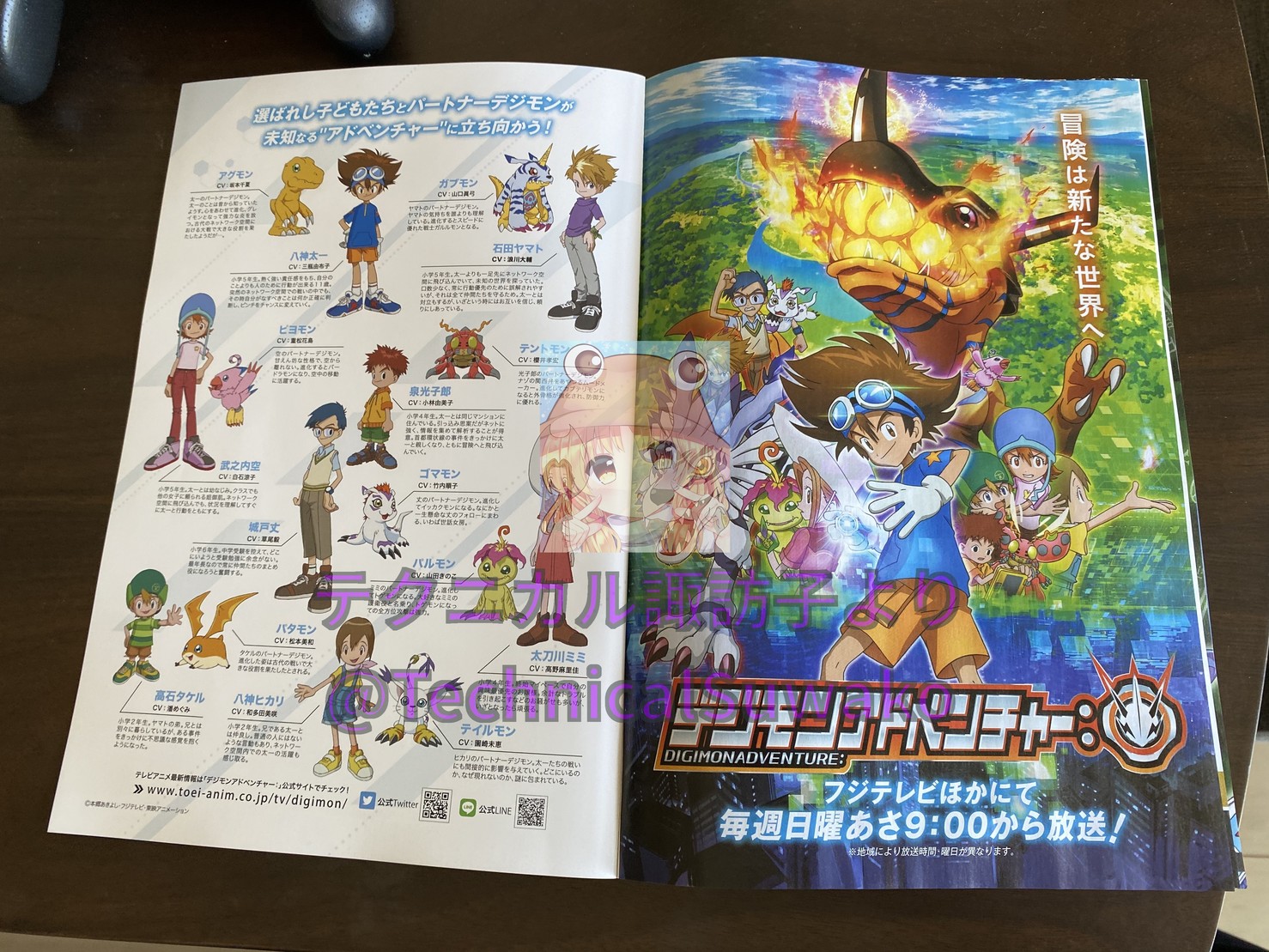 The last bit is the Digimon Adventure: promotional spread we often see.
Always nice to get the card updates. Plus some new Vital Bracelet details (in the last V-Jump before it is out), and some fun bits at the end.
Thanks to
Technical Suwako
for the images.