Show User Social Media
Hide User Social Media
Joined

Sep 8, 2006
Messages

14,285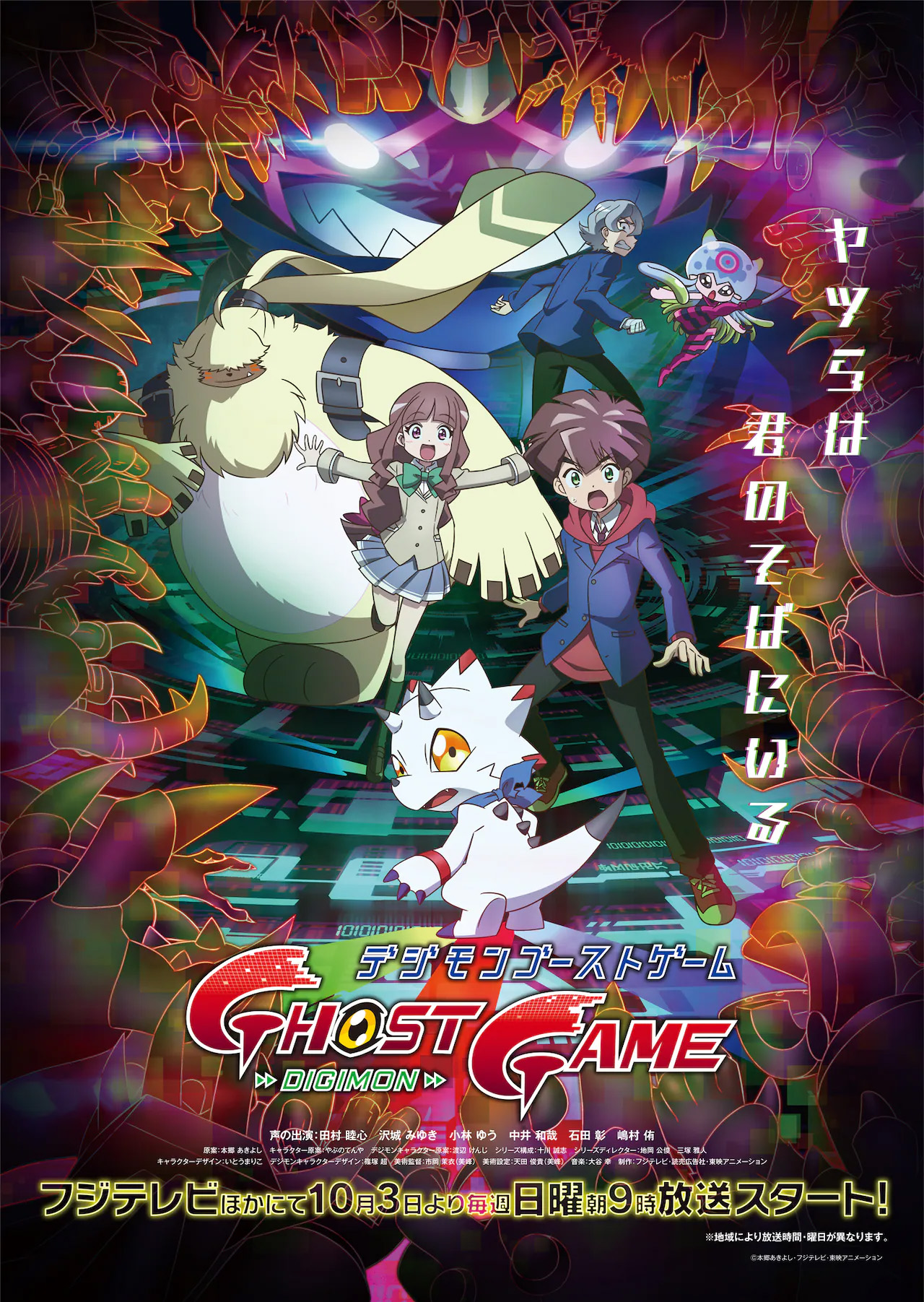 It's been a short wait for Digimon Ghost Game, as we only found out about it 2 months ago, which isn't that bad to wait for a new series. Especially since the last one only ended a week ago. Which... it's been nearly 20 years since the last time a Digimon TV series ended and the new one simply began without an extended break.
The show already aired in Japan with Episode 1, A New Kind of Mystery! After School it's The Stitched Mouth Man
The simulcast on Crunchyroll will be 7:30pm Pacific (2.5 hours after it starts in Japan). For members who aren't subscribed the episode will unlock after a week.
Ghost Game appears to be using a long/short system for episode titles, where some places list a 'longer' title, while other places list a shorter title (which is part of the long title.) For episode 1 we are using the long title, as we don't have an official translation ahead of time. We'll be using whatever is used in episode previews in the future.
The 'short title' for episode 1 is- It's The Stitched Mouth Man
Our discussion thread for Episode 1 can be found here to talk about the episode once you've seen it!
The discussion thread also includes a time converter to help you be sure when it airs for you.
Some areas might get it a bit later, so keep an eye on it if it doesn't show up for you immediately.
The Crunchyroll series page for Ghost Game is
here
.
If there are server issues, it's worth remembering that paid Crunchyroll members can connect their account to
VRV
and access Crunchyroll content from there also. (VRV members can do the same to access it on Crunchyroll in case it shows up earlier.) Ghost Game doesn't have a page on VRV at the time of posting, so for week 1 at least, Crunchyroll is likely the place to go.
Ghost Game is, as mentioned above, the first time a Digimon series has simply begun after the prior series ended. The last few years have been strong handoffs from tri., to Kizuna, to Adventure:, and now it's time for Ghost Game, with it's advertised '1st time Digimon has had a horror anime' to take the baton and continue the franchise.
And that's on top of products, a new manga, an upcoming movie, and more are on their way. But Ghost Game is going to be the big front and forward thing for Digimon for awhile. We've only had a few weeks of strong marketing, but they've put Hiro, Gammamon, and the others front and center and showed them off properly. Now it's up to the show as it properly begins.
The plot synopsis for the new series:
The story takes place a bit into the future, where a new technology has been developed.
On social networking sites, there circulate rumors of mysterious phenomenon of unknown origin called "hologram ghosts."

First year junior high school student, Hiro Amanokawa, activates a mysterious device left by his father, known as a 'Digivice'.
When activated he can see unknown creatures that ordinary people can not see, "Digimon."

From the day he meets the Digimon "Gammamon," entrusted to him by his father, Hiro gets caught up in all kinds of bizarre phenomenon, such as the 'Mouth Stitching Man' who steals human time, and a 'Mummy Man' who wanders around at night and kidnaps people.

Hologram ghosts are right next to us, and out to get us.
From here on out, comes a story of the other side of the world that no one knew. Together with Gammamon and his friends, Hiro steps into the mysterious world where Digimon live.
Since most people have figured out streaming setups better than when we first started getting streaming Digimon years ago, I won't be doing a streaming guide writeup again, but will answer any questions anyone has about having a better streaming setup.
If you missed it up above...
Our discussion thread for Episode 1 can be found here to talk about the episode once you've seen it!
45 minutes to go until the Ghost Game begins...
We already have the opening and ending videos. They can be watched and discussed in these threads:
Opening Video, Faction by Wienners
Ending Video, Pedal by Aiiro Apollo