Show User Social Media
Hide User Social Media
Joined

Sep 8, 2006
Messages

15,601
Another one down...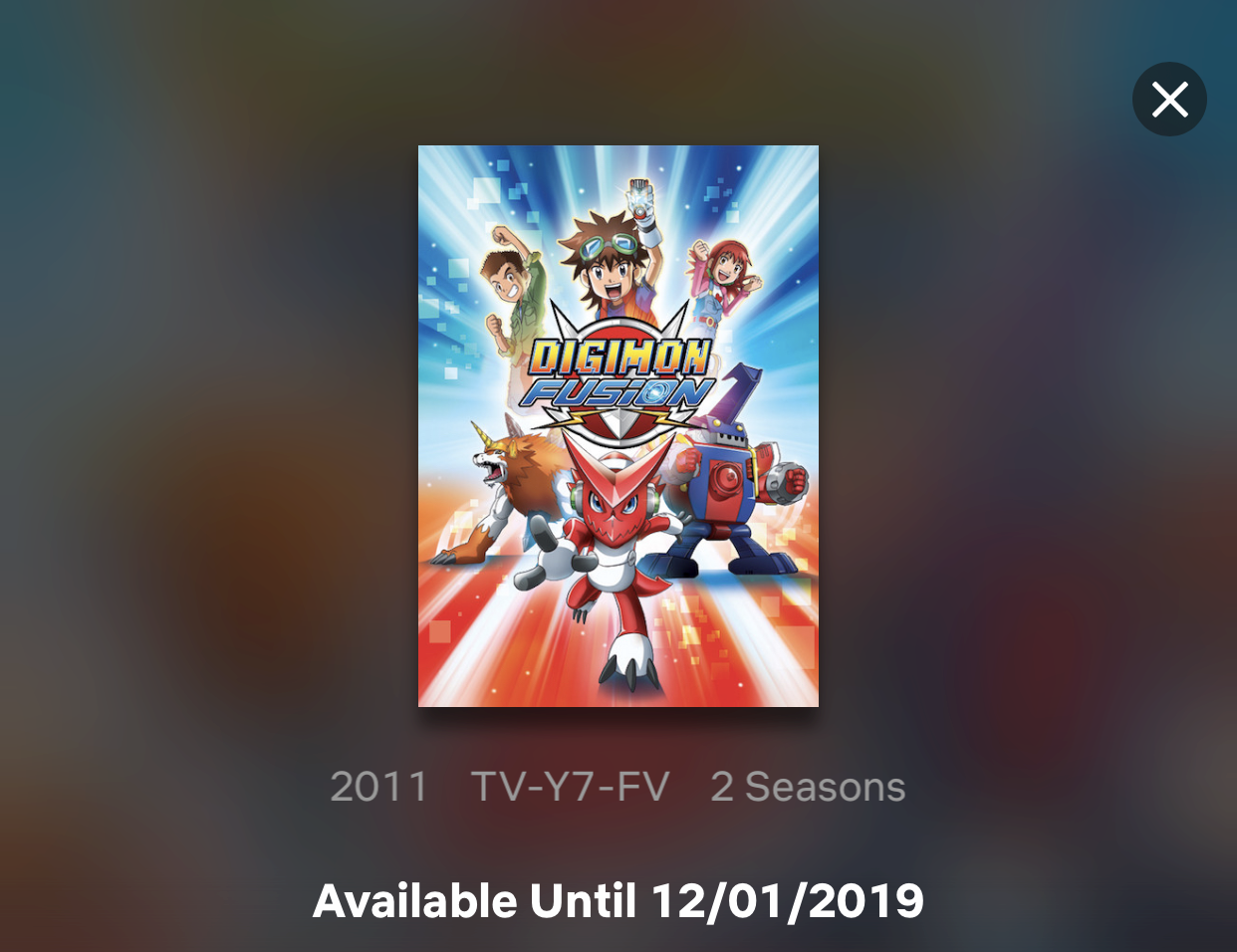 Netflix has put up a notice
on their Digimon Fusion page
that it will be gone on December 1st.
Availability for Digimon shows via streaming have changed heavily this year with various contracts ending reducing options for
the first four shows
to
Appmon showing up on Crunchyroll
with only a bit of warning.
At the moment it isn't clear if this is timed with the end of the residual Saban Brands rights for Fusion, or just the end of the initial deal they made with Netflix to stream the show.
It doesn't appear this affects
the subtitled Xros Wars and Hunters on Crunchyroll
(for now) but it might be worth rewatching them over the next month just in case.
This is a little more than a year
after Seasons 1 thru 4 vanished from Crunchyroll and iTunes
.
And none of this has affected tri., which was licensed out separately and is still widely available, and
is even on sale on Blu-ray right now at Amazon
. (Affiliate link)
Fusion (and Data Squad) are still available to purchase digitally from a number of storefronts for anyone who wants digital copies: (Amazon ones are affiliate links, others are not.)
Digimon Fusion Season 1 at Amazon
Digimon Fusion Season 2 at Amazon
Digimon Data Squad Volume 1 at Amazon
(Labeled as Season 1)
Digimon Data Squad Volume 2 at Amazon
(Labeled as Season 2)
Digimon Fusion Season 1, Volume 1 at iTunes
Digimon Fusion Season 1, Volume 2 at iTunes
Digimon Fusion Season 2, Volume 1 at iTunes
Digimon Fusion Season 2, Volume 2 at iTunes
Digimon Data Squad Volume 1 at iTunes
Digimon Data Squad Volume 2 at iTunes
Digimon Fusion Season 1 at Google Play
Digimon Fusion Season 2 at Google Play
Digimon Data Squad at Google Play
Digimon Fusion Season 1, Volume 1 at Microsoft Store
(Labeled as Season 101)
Digimon Fusion Season 1, Volume 2 at Microsoft Store
(Labeled as Season 102)
Digimon Fusion Season 2, Volume 1 at Microsoft Store
(Labeled as Season 201)
Digimon Fusion Season 2, Volume 2 at Microsoft Store
(Labeled as Season 202)
Digimon Data Squad Volume 1 at Microsoft Store
(Labeled as Season 501)
Digimon Data Squad Volume 2 at Microsoft Store
(Labeled as Season 502)
All the Digimon TV DVDs are still orderable at Amazon at the moment: (affiliate links)
Digimon Season 1 (Adventure)
Digimon Season 2 (Zero-Two)
Digimon Season 3 (Tamers)
Digimon Season 4 (Frontier)
Digimon Season 1 thru 4 Boxset
Digimon Data Squad
Digimon Fusion Season 1
Digimon Fusion Season 2