Show User Social Media
Hide User Social Media
Joined

Sep 8, 2006
Messages

13,481
Digimon Frontier BD-Box! Scans, Screencaps, & Discussion! & Audio Drama Translation!
A new Digimon Blu-ray box!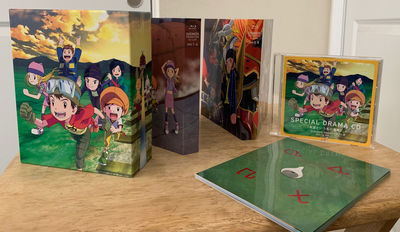 After a year long wait since the Digimon Tamers box came out, Digimon Frontier finally gets it's turn with a Blu-ray box.
It's been nearly 8 months since the box was announced, so let's dig into how it came out after the wait.
As normal, I won't be reviewing the show itself, just going over the actual Blu-ray release, although there is a bit more this time...
Any screencaps from the Blu-rays are lossless PNGs.
All images in the article are smaller copies from our gallery (to keep loading sizes smaller for everyone), but link to the full sized versions when clicked.
Scanning was done as high quality as I could do, and compressed and shrunk to reasonable sizes, along with reasonable quality JPG compression. I've explained my workflow in my personal thread and will answer any questions involving it or the processes used.
Scanning this time went very smoothly. Scanning went well, editing went smoothly. In fact, it went so smoothly I did some extra cleaning up on some of the more art showcase type scans.
A small shipping delay meant that everything for this article ended up getting done coincidentally
on Frontier's 17th Anniversary
!
First up will be all the physical stuff. Everything included with the Blu-ray was scanned minus two things (a generic Blu-ray instruction sheet and some normal brown cardboard.)
In addition I've taken photos to help show off the set better.
We start with... an obi card!



This obi card covers the front, spine, and back of the Digimon Frontier box and contains various product details so that the box itself ends up clean.
The left side had a minimal box title, along with the contents of the Blu-ray box. The spine portion has the Digimon Frontier logo so it can be spotted on a store shelf easily. And the right side contains some details about it being in HD, along with cast and staff info.
The left and right sides also fold into the box itself for grip. The folds contain silhouettes of Bokomon and Neemon.
On to the box itself!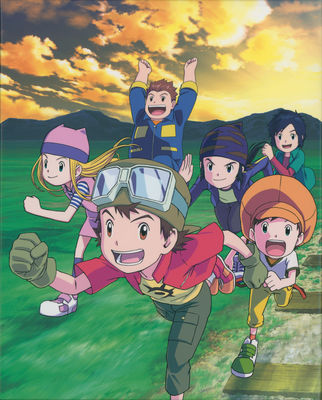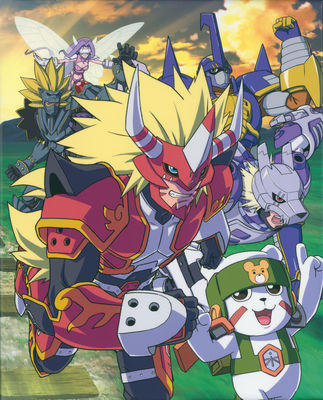 The artwork for the box is pretty fantastic. Featuring new artwork from series character designer Katsuyoshi Nakatsuru, it has a fun and adventurous look to it.
On the front we have all 6 kids: Takuya, Tomoki, Izumi, Kouji, Junpei, and Kouji. The art is really good, and as far as potential complaints go, at most Takuya might benefit from a bit of a tan, but Nakatsuru's artwork in recent years has skewed to using more mild skin colors.
On the spine we have the true heroes of the series, Neemon and Bokomon, plus Trailmon Worm. Trailmon looks how you'd expect, and Neemon and Bokomon both make me smile looking at them. Bokmon has a happy look as he's running, while Neemon kind of continues the theme of being goofy but not so much running as looking like he's sort of... walking fast.
On the back we get the 6 human spirit Digimon forms of the kids: Agnimon, Chakmon, Wolfmon, Lowemon, Blitzmon, and Fairymon. I really like how this looks, as all the Digimon are drawn pretty great. The color really pops on this one. Overall it feels like Lowemon, and especially Fairymon, could have had better placement to feature them a bit larger, but the artwork for everyone is great to see.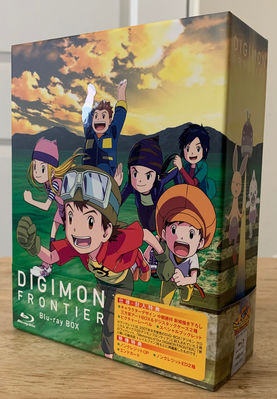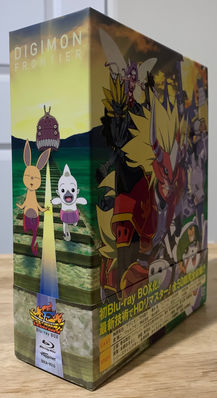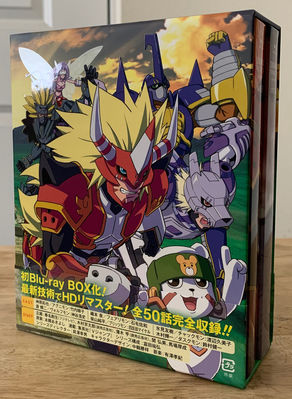 The box is clearly designed to fit the 'kids running with their Digimon' theme that prior shows used. Adventure and 02 used an identical style of imagery to eachother, while Tamers did it's own twist on the style. Frontier continues this by taking what Frontier did, and tweaking it in a few ways. Like with Tamers, there is no slipcover. The kids and their Digimon are very slightly raised off the surface and are glossier than the background (to my eyes it looks slightly glossier than Tamers, and less raised, but that might be an optical illusion. The Tamers characters weren't raised all that much anyways.) Perhaps more obvious is the way everyone is running. Instead of a sideways run like Adventure and 02, or having everyone run towards the center camera like Tamers, it keeps the general wide shot of Tamers, but instead has everyone running fanned out. It's a great way to continue the theme, but adding in a bit of it's own flair. The manner in which it does so also allows the kids and the Digimon to be shown separately as proper lineups, and to give Bokomon and Neemon some focus.


The top of the box is simply the minimal Digimon Frontier text that appears a number of times on the set, while the bottom includes various technical and legal details.
An interesting change from the Tamers set is that on the top side of the box, you can actually see the background continue a bit.
Inside the main box are two digistacks holding the discs.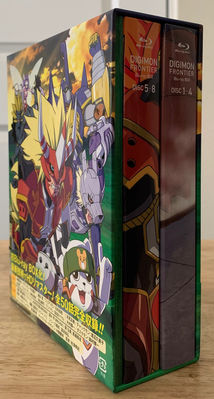 The boxes go from right to left in the box. They fit snugly in the case alongside a booklet.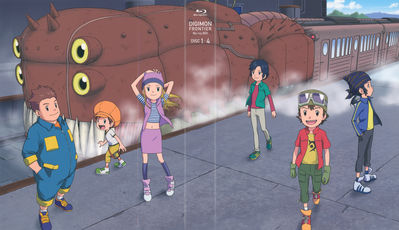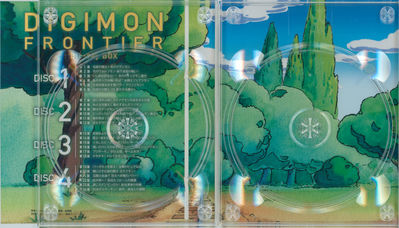 The first digistack features another image drawn by Katsuyoshi Nakatsuru. This type of image continues the theme of the first digistack being a more casual image, the same as Adventure, 02, and Tamers went with.
This one features the kids at one of the digital world's train stations. It appears Nakatsuru had fun drawing the characters, but it doesn't feel as cohesive as the equivalent images from the prior sets, largely due to the kids themselves (insert Frontier commentary here.)
Everyone is sort of just... standing around and doing their own thing? The separate pieces of art I really like, but something to unify everything would help a lot. As it is, it's a few pieces of great character art, all floating around looking like cover art to a random Christian rock album.
The inside features a nice shot of a forest and train track, along with a disc/episode guide. Due to the way the digistack is designed it's not easy to get a decent scan. The gallery also has a perspective corrected scan and a photo of the left side for those who want to see them uncovered.
The first digistack contains the first 4 discs.




The discs this time use the character artwork the same way the Adventure, 02, and Tamers boxes did, giving each Digimon and kid a featured disc with their art. It skips the eye motif from the Adventure and 02 boxes to instead go with the Digivice motif the Tamers box had. It uses the D-Scanners on each disc, and places each kid opposite their human spirit Digimon form.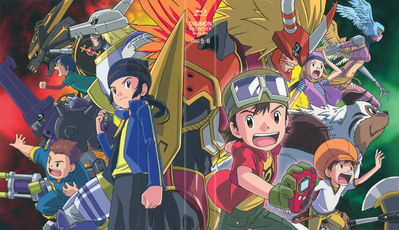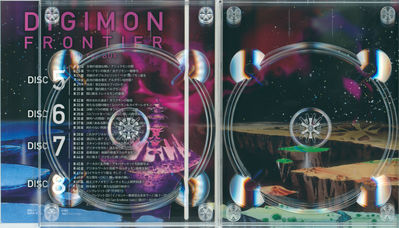 The second digistack contains yet another new piece of art by Katsuyoshi Nakatsuru! This time we get a more action oriented shot. Adventure and 02 did faceoff images, while Tamers had a 'rushing' to battle' type shot.
Frontier goes with a nice wide shot of the kids with various spirit form Digimon. Takuya and Kouji are with their combined spirit forms, while the other kids are shown alongside their beast spirits.
The poses here look good showing various bits of character flair, and everyone is sized well on it. Each character has a decent amount of detail, and again, the overall boldness of the colors comes through quite well. The main oddity is that Takuya is glowing. If it were just him and Kouji it wouldn't seem odd, but with just him it comes across as a touch weird.
The inside features a nice wide shot showing off Cherubimon's castle, along with a disc/episode guide. Again, due to the way the digistack is designed it's not easy to get a decent scan. The gallery also has a perspective corrected scan and a photo of the left side for those who want to see them uncovered.
The second digistack contains the last 4 discs.




The disc theme of the kids, Digimon, and their D-Scanners continue here.
Since there are only 6 kids, the last 2 discs use the standard profile art of KaiserGreymon and MagnaGarurumon, along with Takuya and Kouji's upgraded D-Scanners.
The box also contained a booklet.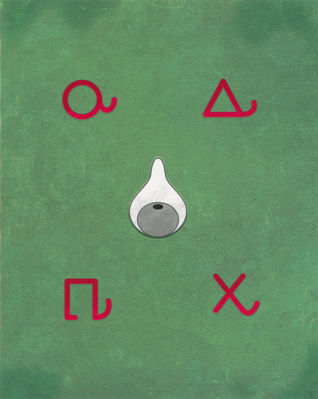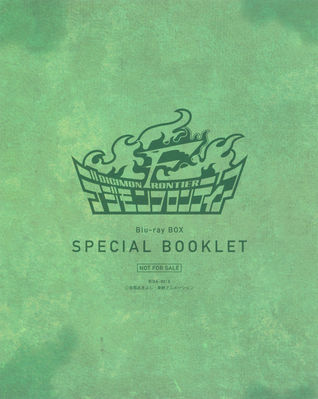 The booklet is designed to look like Bokomon's book, which works amazingly well for Frontier. The front looks exactly how you'd expect it to (minus many of the deeper scuffs, etc. the book had in the show.) The back has the logo in a darker green which looks very nice (in show the back was the same as the front, but going this way makes it a bit cleaner looking.)
Notably, the glossy surface on the front and back actually scans pretty well, but it appears the actual coating was slightly different, as they scanned at different darkness levels despite looking roughly the same in person (I'd say both look like the front cover, maybe a touch darker than that.)
For now I'm not scanning the booklet as it's all pre-existing material reformulated from the prior DVD booklets (which themselves had a lot of reused content.)
Well, it isn't ALL pre-existing... there are pages of new interviews that we hope to have translated for you shortly.
If you pre-ordered the (Amazon version of the) box from Amazon you got a few bonus items...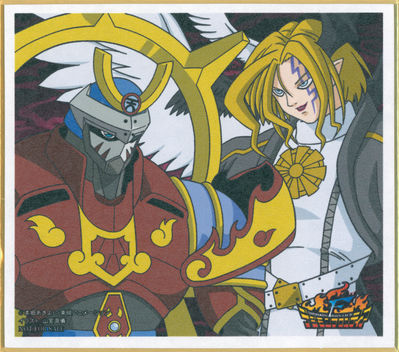 The first is a small and basic shikishi featuring Susanoomon and Lucemon: Falldown Mode. Thie shikishi is printed nicely, but overall it's disappointing as it's just their basic profile art shoved together for a sort of odd looking showoff.
Outside of the printed area there is a white border, with the edges of the shikishi itself coated in a gold-colored foil. I didn't scan the reverse side, but it's basically just yellow paper with some flecks of silver foil in it. It's roughly the width and height of a standard CD case.
Amazon buyers also get something else...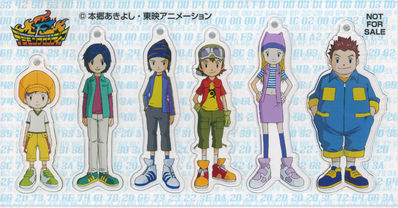 Acrylic keychains! You get all 6 kids, and while like the shikishi they use standard profile art, this in general seems nicer since this is something you'd expect the art to be used on. All 6 coming together makes it extra nice since there is nothing to collect.
They come packed in an acrylic hardsheet, they don't seem to be actively attached to it in any way, just held in due to the size being lined up. The acrylic sheet measures roughly 7.5 by 4 inches.
A small baggy with chains is also included, which is good... because... keychains.
These were scanned a bit oversized so they'd be more visible scanned.
A few other stores had their own exclusives. Below are photos that were posted elsewhere for promotional use.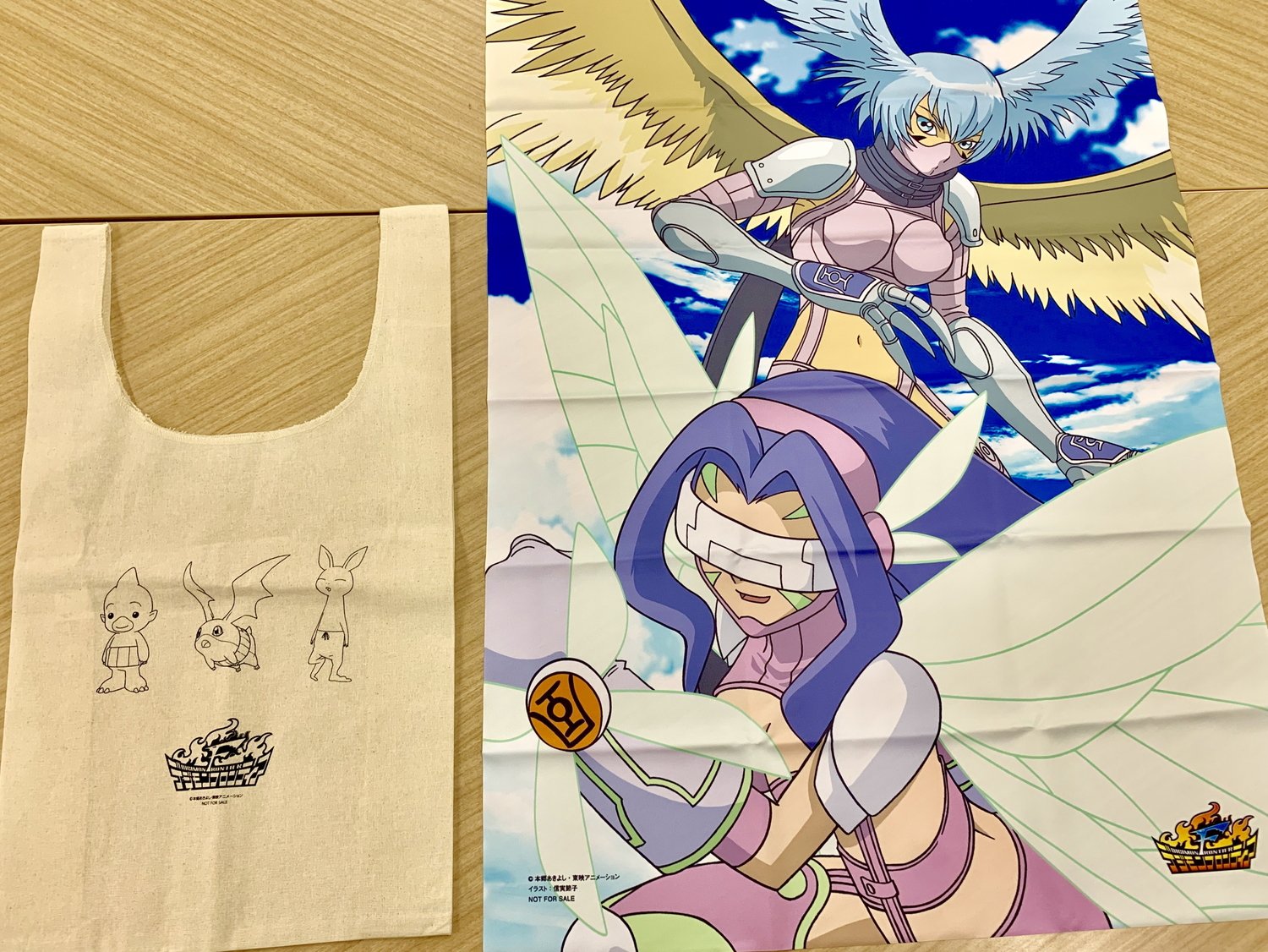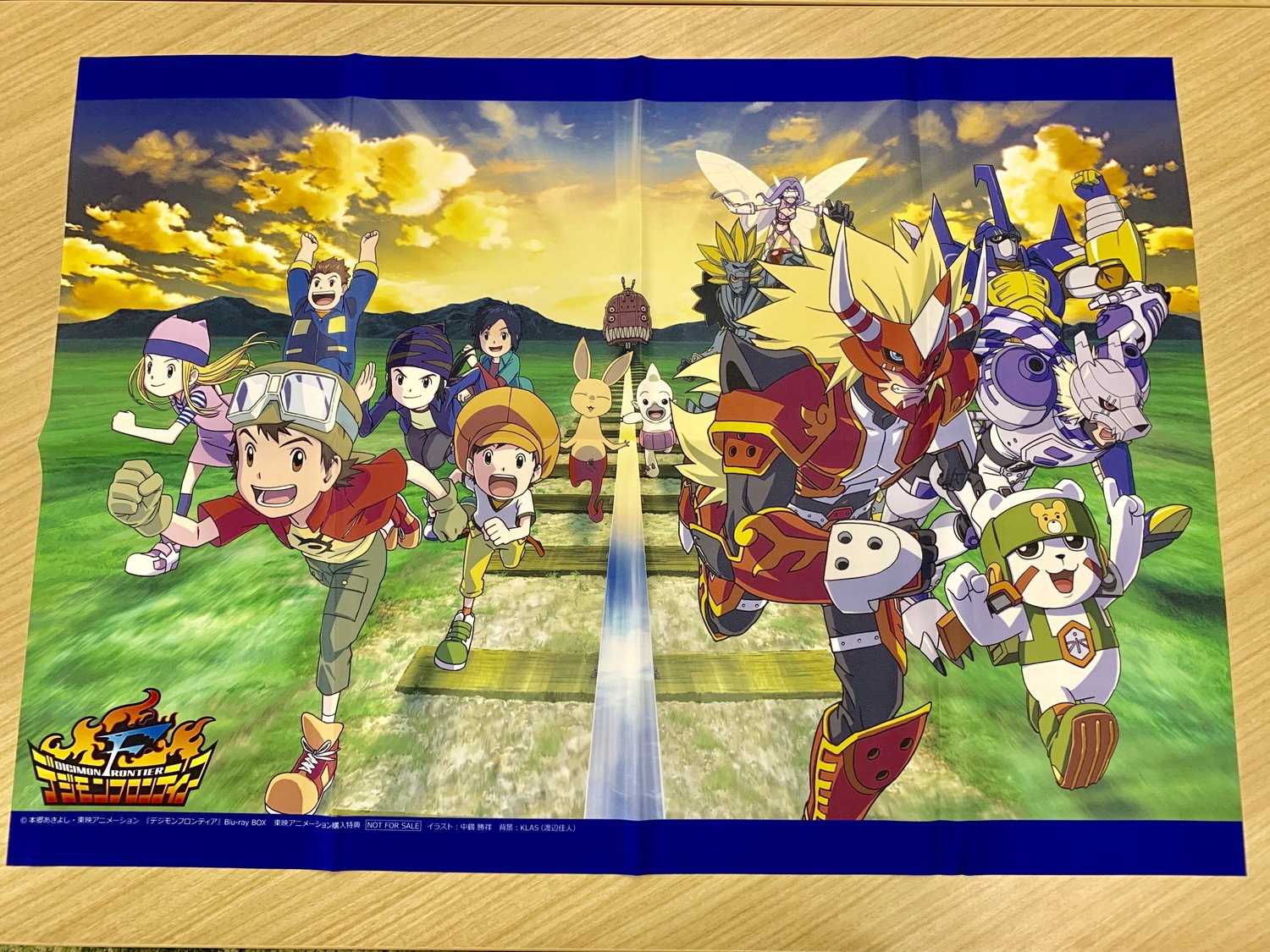 Yodabashi Camera also got 2 exclusive items. First is a tote bag, which features Bokomon, Patamon, and Neemon, along with the Frontier logo. Along with that is a B2 size fabric poster featuring new artwork of Fairymon and Shutmon by Setsuko Nobuzane.
Toei Online had a B2 sized fabric poster using the new Blu-ray box artwork by Katsuyoshi Nakatsuru.
And last up for the other physical things in the set... the new audio drama...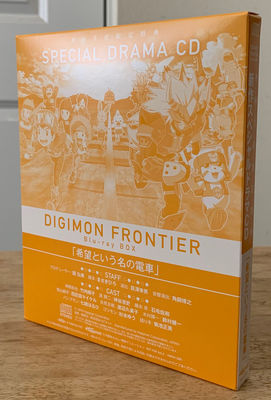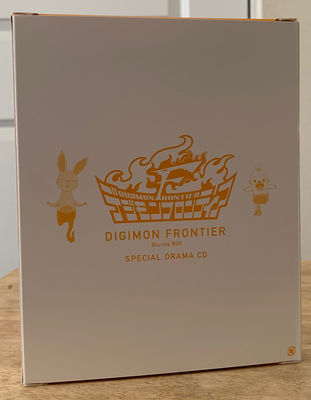 Digimon Frontier- A Train Named Hope
The new Digimon Frontier audio drama is included with the first print version of the Blu-ray box, which means any restocks, or even late pre-orders, will not have it. The name of the audio drama itself may be a reference to A Streetcar Named Desire.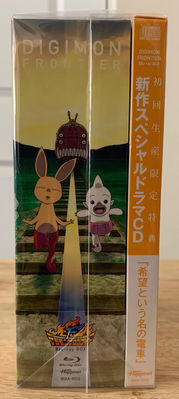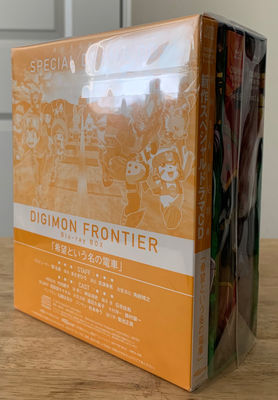 It comes wrapped with the Blu-ray box itself in some very nice quality plastic that appears to be meant to be kept so you can rewrap the box if you want.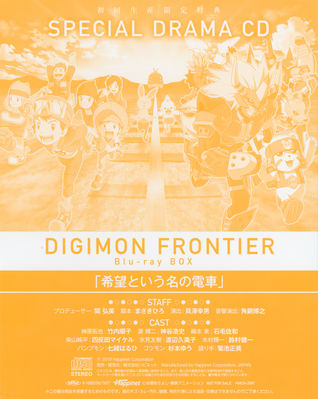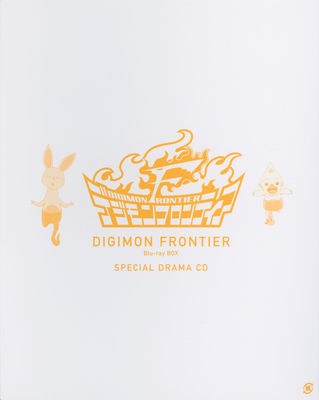 This box itself is just relatively cheap cardstock that's used to house the actual CD case. The artwork is the same used elsewhere on the Blu-ray box, simply in monochrome for cheaper printing. Although the color they've chose is certainly... bright. Credits and details are printed on the front, to allow them to be seen when the box is still in the plastic wrap. Both spine sides were identical so only one was scanned.
The CD was packaged in a CD-Album style case (the normal CD case most people are familiar with.) To fit inside the Blu-ray sized outer box there was plain cardboard that had been cut and folded to act as a tray. Since it had no artwork or other material on it it wasn't scanned.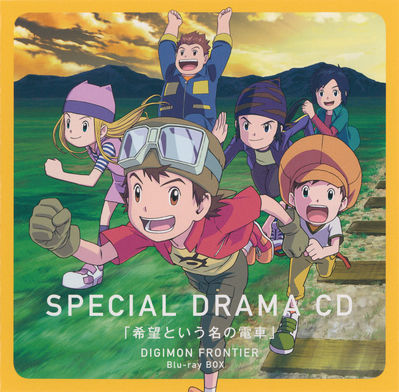 The cover for the audio drama is simply the kids from the Blu-ray box. A yellow frame and titling has been added, with any character art going over the yellow frame and under the titling. With it being an audio drama that has a focus on everyone, it makes sense that this one would represent that with everyone.
The cover is the front to a small fold out booklet (more a pamphlet.)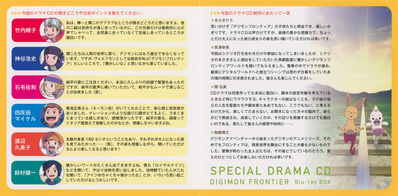 The booklet comments are cast and crew thoughts regarding the new audio drama. We should have these translated soon alongside the new interview content from the Blu-ray booklet.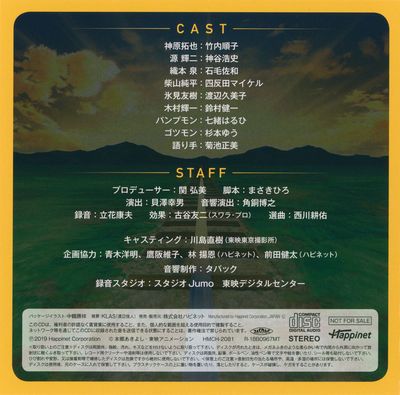 The back cover has cast and staff credits.
And we finish the packaging with a scan of the disc itself.

It's a very simple and clean CD label that does the same thing Tamers did. It uses a yellow and white label, with clear material in various places to have silhouettes of the characters as they appear on the box. This type of simple label works really well for me, and I like how to match the box cover itself, the kids are all on the left, while the Digimon are all on the right (with Bokomon and Neemon on top!)
We'll be back to the audio drama a bit later...
For now... onto the disc contents itself!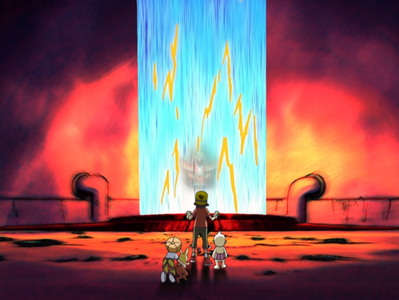 The video is encoded using AVC at an average bitrate of just under 38 Mbps. Fantastic bitrate for animated content in general. Frontier is encoded at 1080i and 30 frames per second. This in and of itself was expected because of the way the show was made and the way the BD spec is (Digimon was made with mixed framerate, which Blu-ray can't do, but using 1080i mixed framerate content is possible due to the way TV processing works.)
The audio is a 2.0 PCM track. Good uncompressed 16-bit audio. The audio is generally smooth and crisp and is effectively the same as prior releases. There isn't much to say about the audio because it's exactly what you would expect (and as I've said before, it isn't even 'that' different than the audio you'd expect on a number of Blu-rays for new shows coming out today.)
No subtitles are included, which is expected.
The video is where there is more to talk about. Screencaps were taken from both the first and last episode.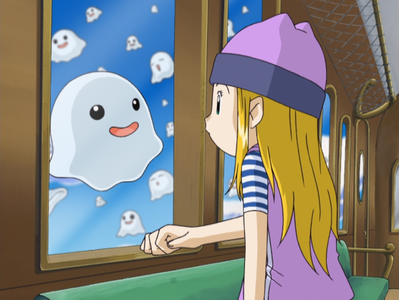 The 1080i encoding itself appears to have been done properly, so any standard hardware can deinterlace the picture to 1080p without any visual oddities, minus the times there are oddities in the source material.
A number of times watching, if you look close, lines would appear a bit shaky. These in general wouldn't look to bad from across a room, but there are likely to be various times when there seems to have only been one field in the original animation (such as the shot of Kouichi below), which looks low resolution and kind of terrible. This isn't abnormal for animation from the era, and should be reasonably rare, but when it happens, you're likely to notice.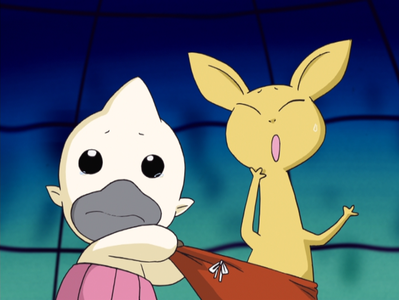 Due to the production era the show was made in, the set looks roughly how you would expect. With master tapes at 480i there is only so much you can do.
In most cases filtering appears to have a more deft hand than Adventure and 02 had (and looks roughly similiar to Tamers), so things appear less smudgy. This, combined with Frontier component masters (like Tamers) means that in general, the picture quality appears relatively decent.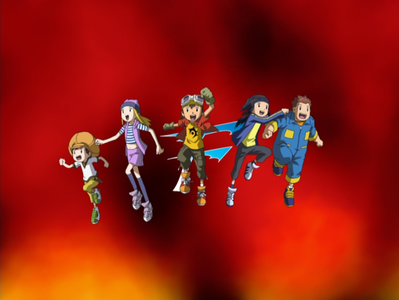 But it also means when there are issues, there is less hiding it. The various issues introduced by composite video itself served to hide certain rough edges in Adventure and 02, as did the more aggressive filtering.
Various assets used in Frontier were clearly low resolution and simply don't scale up cleanly. In general this is more problematic when you are looking at a screenshot a few inches away from a computer monitor than sitting and watching at a TV though.
Although there is one oddity with Frontier that wasn't on the prior sets...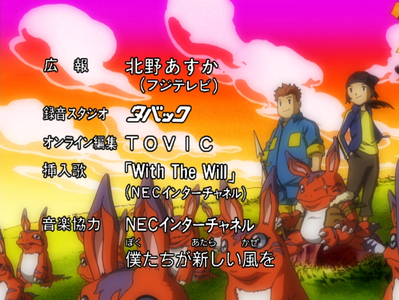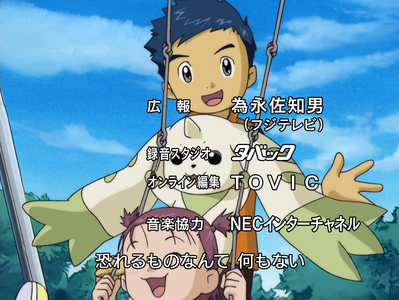 Unlike prior shows (an equivalent Tamers screenshot is included for comparison), they did not redo the credits and OP/ED lyrics to make them HD.
This seems especially odd to me, because I vaguely recall at least one episode having them redone nicely with a quicky upscale of an episode a few years ago for an airing (that may just be my memory playing tricks on me though.)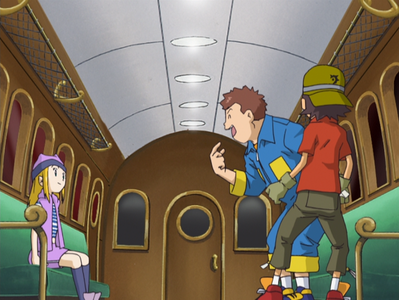 Much like Adventure, 02, and Tamers in their sets, this is the best the show has looked, and it likely couldn't look much better. There are certainly issues, but in general they are expected issues owing to the age and production of the show itself. Assuming we get a Savers set, I would expect them to look roughly identical to this unless Happinet changes it's upscaling method (although Savers being a bit newer will hopefully benefit since production methods had settled a bit when Savers was made.)
The menus are really nice.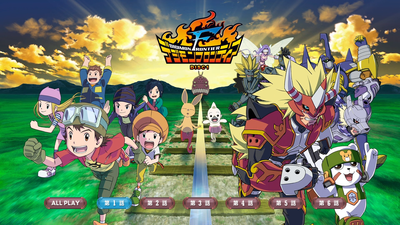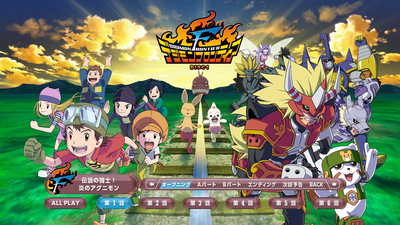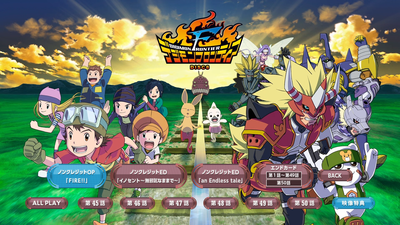 The menus use the new box artwork and starts with all the characters appearing in with a 'rushing' effect while Fire! plays, and then the logo appears in a multi-part sequence. It's very dynamic and eye-pleasing.
Various menu buttons and text are recolored versions of elements from the Tamers box (very likely designed with the intention it'd be used on both.)
Each episode has a small chapter selection submenu that pops up if you click on it and the final disc has a menu for the handful of extras included with the set.
The menu has an oddity compared to prior sets though... there are no clips from the show playing in the background. This combined with the 'quicker' upscaling of the credits rather than redoing them like prior sets suggests a bit of belt tightening perhaps.
But like I said the menu really does look fantastic.
So good that I captured the menu intro (buttons and all) so everyone could see how neat it looks.
As mentioned just above...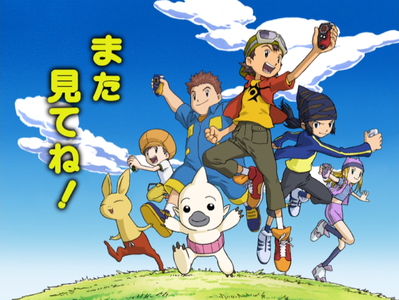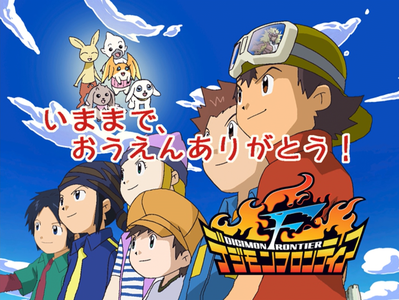 Time for extras!
There's only a few on the set.
A clean version of the opening, Fire!!
A clean version of the first ending theme, Innocent ~Remaining Innocent~.
A clean version of the second ending theme, An Endless Tale.
The episode ending cards. Both the version from episodes 1 thru 49 and the one from episode 50 are included. The one for episodes 1 thru 49 says "Come watch us again!" and the one for episode 50 says "Thanks for all of your support!"
That's about what we expected, so even if it's nothing special, it's nice to get good quality versions of the opening and ending themes, along with the ending cards (although those didn't get upscaled that well to be honest.) The ending cards for Frontier aren't that well known, to the degree that when the BD-Box version of episode 1 aired late last year, a number of people thought it was newly commissioned artwork.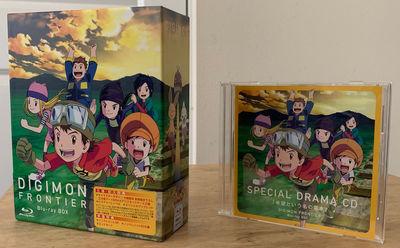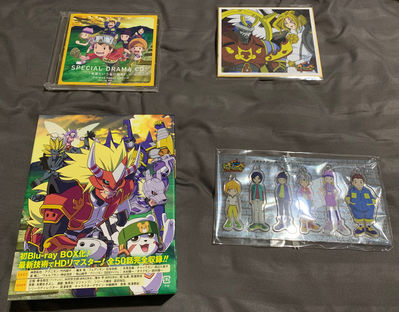 It's been a wait for Frontier fans to get a Blu-ray box, but it appears to be about as good as could be expected (minus one or two small oddities.) The video jumps up and down, but is about as good as you'd expect for this. The box itself is gorgeous and looks great. Having a fun audio drama sequel is a nice cherry on top also.
Of course, there's a bit more to talk about... but first some standard business...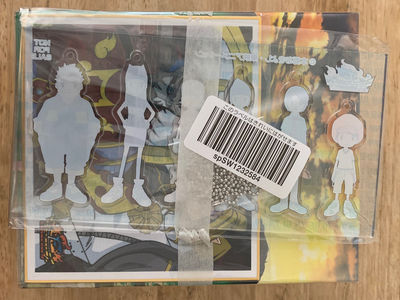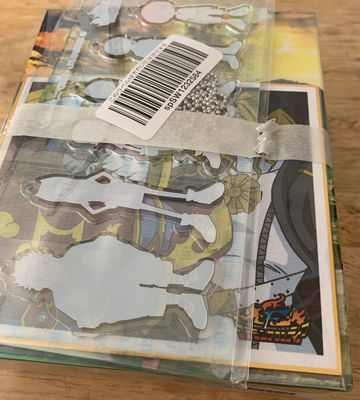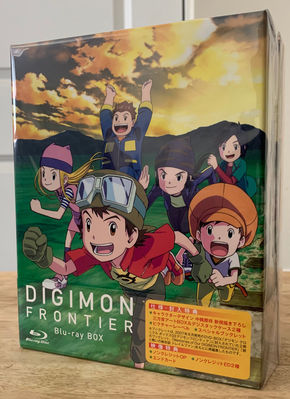 A few photos of it how it was packaged and before I pulled open the plastic.
Screencaps were taken largely at random while jumping around (although if I knew a moment was coming up I wanted a cap of, I'd wait or take extras.)
Various additional screen captures are in our gallery:
Episode 1, Menus, and Extras
Episode 51
The scans can all be found in the gallery.
The scans are very small compared to the master scans I did (the work and backup folder structure for the scans and screencaps was 28 gigs.) I will try and make wallpapers if people are interested. If you want to see a specific screencap of something give me a rough timecode if you can.
The Digimon Frontier Blu-ray box is still available to order. It's 53,800 yen and early versions of the box will include the new Frontier audio drama. Be aware many stores may be out of the version with the audio drama: (Affiliate link)
Digimon Frontier Blu-ray Box
Lots of Digimon stuff is coming out soon and supporting us via our
Patreon
or
donations
would be greatly appreciated so that we can do more breakdowns and improve the site. Feel free to join us in the
Discord
if you want to chat about the Blu-ray or tri.
More things to come!
Images are hosted on our gallery
and embedded on the forum, so let us know if anything is acting up.
But then as mentioned a few times... there's a bit more in the next post...
Update- We have first week sales for Frontier on Blu-ray thanks to
ANN
.
First week sales put Digimon Frontier on Blu-ray at 14th place on the anime Blu-ray charts with sales of 1,058.
To compare with prior week one BD-Box sales:
Movies- 5,190
Adventure- 12,094
Zero-Two- 3,171
Tamers- 2,034
The number overall doesn't compare well to prior sets, but they generally weren't expected to, and doing around 1/3 and 1/2 of what 02 and Tamers did (respectively) doesn't sound that odd for Frontier. With expectations likely reasonably in check the number isn't bad at all for a stand-alone Blu-ray release.
A few other notable releases that came out the same week and their Blu-ray sales:
I Want to Eat Your Pancreas- 5,922 (LE), 2,047 (Normal)
Banana Fish Box 3- 4,973
Mob Psycho 100 2 Volume 1- 1,295
Aikatsu Friends Box 3- 746
2010 Detective Conan Film- 708
2009 Detective Conan Film- 693
With 1,000 sold, it wouldn't be shocking if it doesn't place high enough on week 2 for us to get numbers, but with over 1,000 sold, hopefully it shows that there is a dedicated, if small, group of Digimon fans who are willing to spend money on Frontier and get them some sort of figure or other product, and continue on with future Digimon Blu-rays.
Update- There are no numbers for second week sales of Digimon Frontier on Blu-ray because the box did not chart for that week.
The last item we have numbers for is the 2010 Detective Conan film at 20th place on the anime Blu-ray charts. It sold 226 copies in it's 2nd week.