Show User Social Media
Hide User Social Media
Joined

Sep 8, 2006
Messages

13,761
Keychains!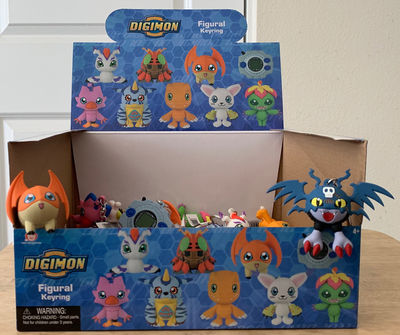 The Digimon Figural Keyrings went from we weren't sure if they really existed to being out in under a month. Monogram Direct added Digimon to it's massive series of keychains (I guess they aren't called keychains officially because they aren't on a chain?) last month and people have been grabbing them hoping to get the ones they want.
Each keychain is $7 and blind bagged.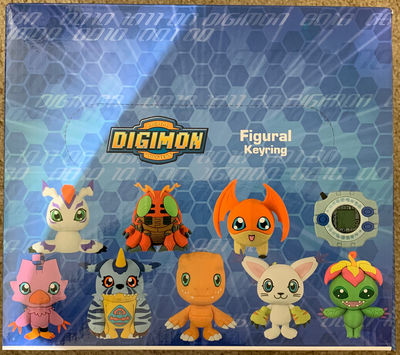 Monogram sent me a retail box with 24 keychains in it to look at, so let's see what you get for your money.
Let's go ahead and start off with what you should be looking for in stores.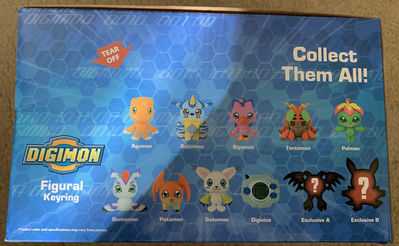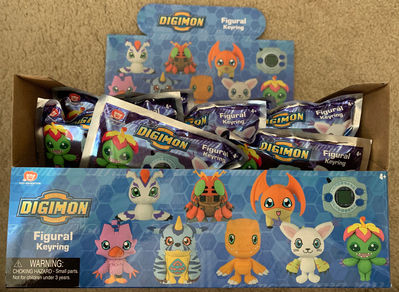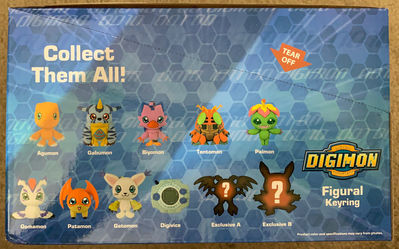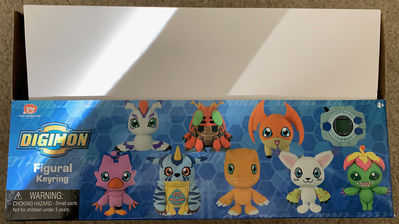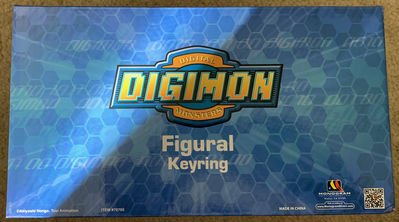 The display box is nice and shows off the keychain designs well (the piece that holds the keychain to it has been photoshopped out on the box.) The bags all sit a bit high, displaying them over the box when it's open.
The front display shows off the 9 main keychains, while the chase designs are only shown on the side, and even then are only shown in silhouette.
The top and part of the box unfold into making the box the actual product display. Pieces of the side can be peeled off for the display box to have an angled look.
Interestingly, the hexagon background, with angled Digimon text and binary code, we've seen before. It previously (first?) appeared in
the SDCC boxset of Zagg's Digimon Domez figures
.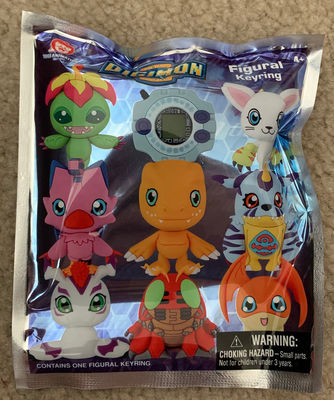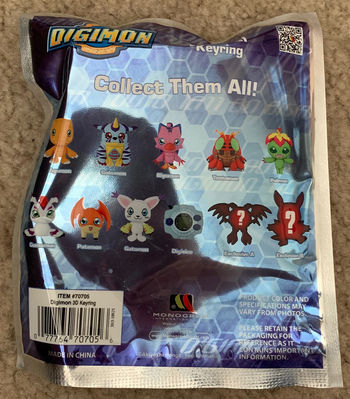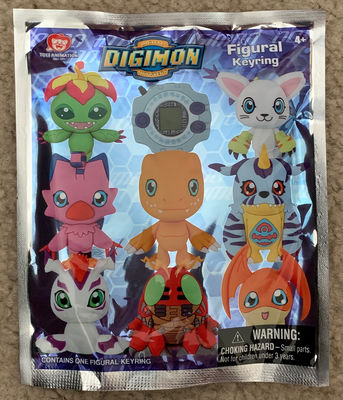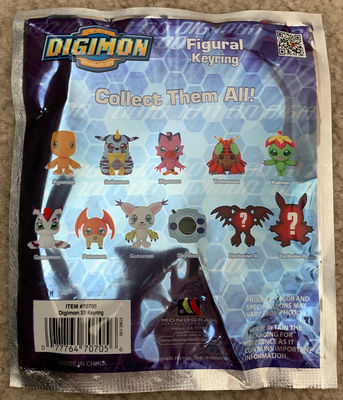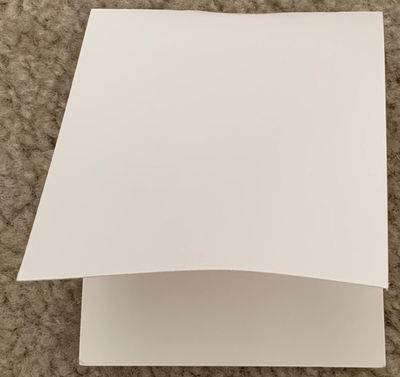 The blind bags are small foil pouches featuring the 9 main keychain designs on the front. It continues the same hexagon style themeing, including the Digimon and Toei logos, along with various other packaging text. It looks rather nice for a blind bag. One nice detail on the bag is that while the bag has a reflective foil look to it, the images of the keychains and other elements that you need to actually look at aren't reflective in the same manner.
The back labels each one, along with the chase ones. It also includes a QR code to Monogram's website.
The top batch of images is the bag still sealed, while the bottom is it flattened a bit after opening. When opened there is a folded piece of cardboard, which helps protect the keychain, along with making it less likely someone will figure out what keychain is contained just by feeling the pouch.
There is no labeling on the bags that hints to which one is contained inside.
Onto the various keychains!
Gotta start off with Agumon...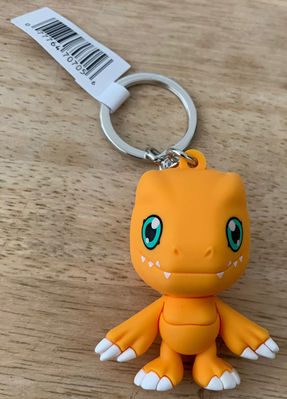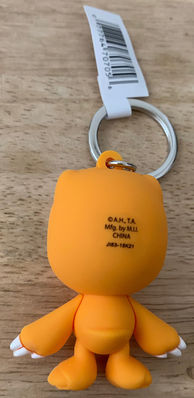 Agumon is probably the weakest of the keychains. His body overall looks fine, even kind of nice, but that face just makes me think of the Goombas from the old Mario movie. It's mostly the eyes. A number of people have suggested if they were higher and to the back that might help quite a bit, but it's hard to imagine when looking at it.
Agumon's overall design makes it appears as if he'd be one of the keychains that could stand up, but his feet aren't flat, so he can't.
The Agumon keychain is fully 3d in design.
A few general notes about all the keychains. They're said to be made of foam, but feel more like a nice and somewhat textured plastic or rubber. I assume it's some type of compressed or extruded foam. It has minimal give so pieces won't snap off at the most minimal of pressure.
The chain component to them is short and works well. You have a small metal ring that connects to the foam ring on the character. That connects to a 2 part piece that can freely spin and swivel. That connects to another small ring, which connects to the larger piece that connects to your keys or bag.
The metal is nice feeling with a good shine to it, and the short chain means that it should be quite hard to get tangled (even trying to get it to tangle for a bit I couldn't get it to.)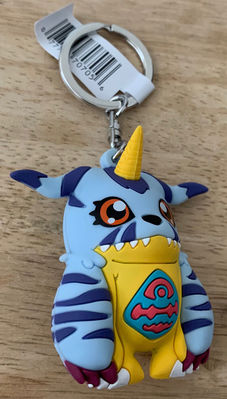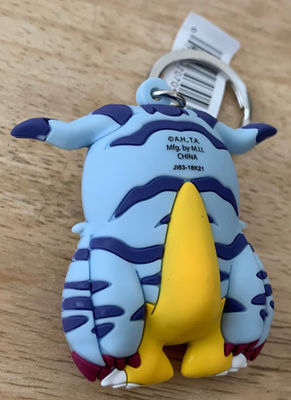 Gabumon's design is much better, with a few interesting touches, which is a bit surprising when you consider he isn't even fully 3d. He's 'somewhat' 3d, a bit flattened if you will.
From the front Gabumon looks pretty great. His horn is molded and his chest design looks nice. His face is curved to give him some nice depth, and you can even see a few tufts of fur sticking out from his coat.
The back has his tail, the 'back' Garurumon legs from his coat, and continues the look well.
Gabumon has sometimes suffered in various releases, but this one is quite nice.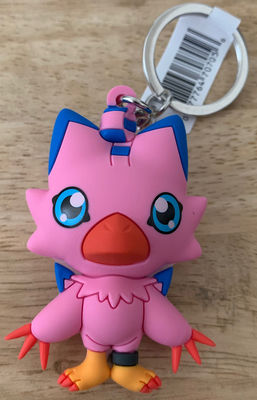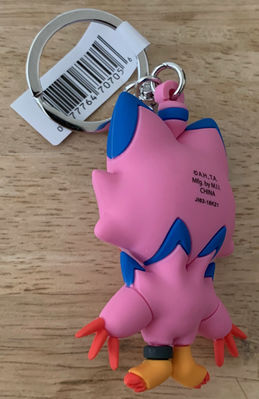 Biyomon is another of the flatter 3d ones. From the front she has all the design elements you'd expect from Biyomon. The leg bracelet is there, and if you look closely, you can even see the little nose slits on her beak. I have concerns about the 'claws' on her hands to be honest. They are very thin and pushing them slightly makes them move enough that I suspect they're very likely to break off.
The primary detail on her back, which you can see a bit of from the front, is her tail. It's molded into the body, which I kind of like, as it means there isn't a tail sticking out to break.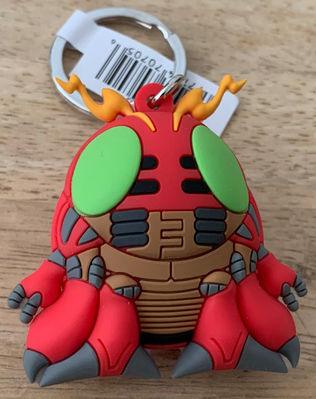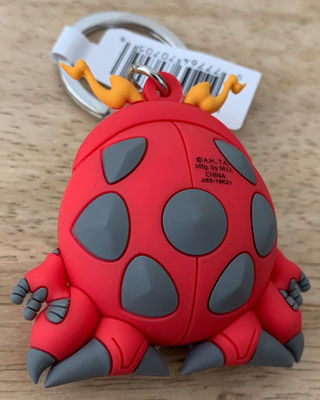 Is there any of the original partners who everyone wants more stuff for more than Tentomon?
Tentomon looks pretty fun and is a pretty good design where you can make out tons of details. Just looking at him you can see a lot of little things that adds to his design, such as the molding of his face (which is hard to tell, but it actually sticks out a bit from his body, depth wise.)
On the back we get his shell, which matches his standard design, and even includes a seam line for the shell.
Arguably the biggest negative with Tentomon is him being the flatter type of 3d. It feels like his design would have expanded out to the full 3d style well. On top of that, his antennae feel like they are likely to break off, as they are very soft.
Tentomon is a great one though, and it's hard not to smile when you see him.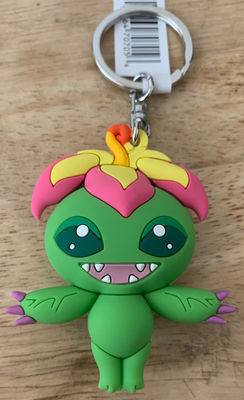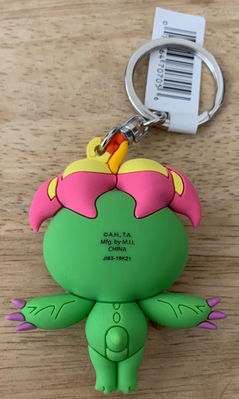 Palmon's design, while also the flatter 3d, seems based around giving her as cute an appearance as possible.
From the front the focus is clearly on her face, which is done well, but interestingly her fingers are done in a way that makes them feel much more stable than Biyomon's. The flower on her head foregoes a more detailed design for a more stylized look that works well.
On her back the primary detail is her tail, but there are also a couple of carved in ovals that represents the spines on her back. It's a surprising level of detail that, while unnecessary for the design overall, shows the level of work that were put into these.
On top of the nice design, Palmon is unique in that the element that connects the keychain to her is actually integrated into her design to a degree. The material here is less rigid than used on the others, which concerns me a bit, but pulling a bit and seeing how the material stretches I imagine it'll be fine in most cases.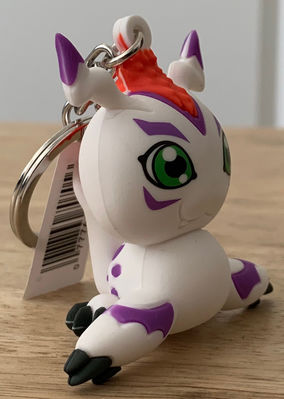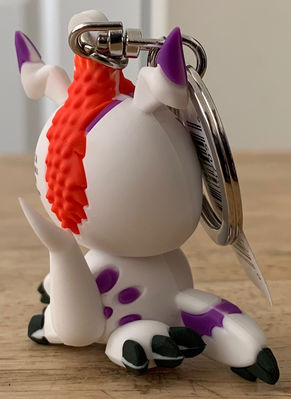 Gomamon! His design is a bit odd, but fun. While he's flattened, the overall style is more 3d than others, so it makes it mostly appear like he has a flattened face. The face looks great with lots of little details, including his mohawk on the top of his head.
The back shots off his spots and his tail.
Gomamon looks great overall, and he's one of the few that can stand up... sort of. His back legs are flattened for standing up, but the bottom of his stomach, along with his front legs aren't. This tends to mean that Gomamon will stand up, when he feels like it, while other times he will lean, or tip over.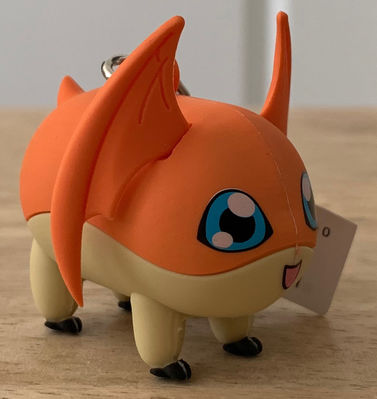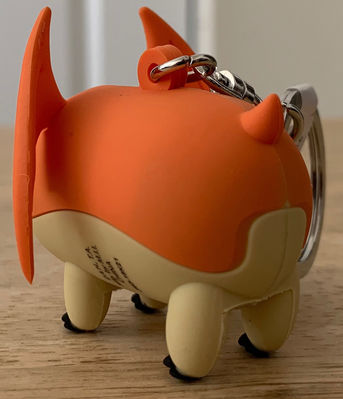 Patamon is fully 3d and stands up properly. His body is pill shaped with 4 stubbly little legs. The feet haven't been flattened off, but he stands quite well.
The overall two-tone color of his body works exceptionally well as a keychain. His head wings are a bit flatter than they are in art, but it works well on the keychain. He has a nice little smile, and if you turn the keychain around you can see his tail.
There isn't much to say for this one because it just came out really well.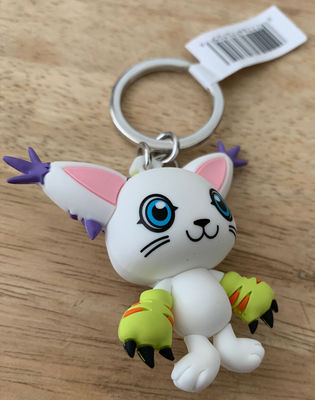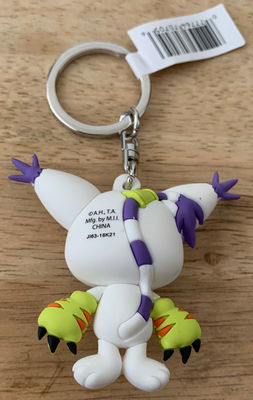 Gatomon, the last of the partner keychains, feels like she'd be considered a more 'full' 3d if it weren't for her tail, and maybe her feet.
Her face design is nice, with a decent amount of detail on her ears and claws, and the short stubbly body fits well.
The main detail on her back is her tail, which is done flat against her body and snakes up her head. The holy ring is on it, colored with the same yellow as her gloves. The ring visually looks odd because it's been made flat and stretched, so it looks odd unless you look at it from specific angles.
The key elements of Gatomon (her head and gloves) look great, so it makes the keychain look really good.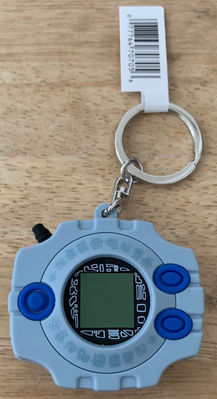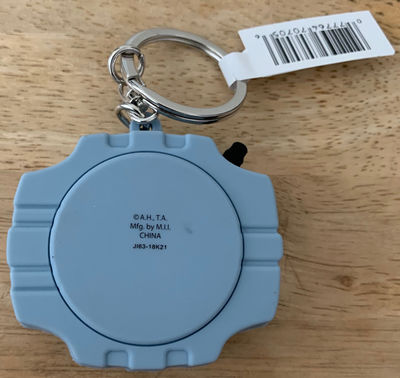 And the last of the normal keychains... the Digivice! This one feels the heaviest in the hand since it's a bit more of a block of material than the others.
The design is pretty fantastic on this one, and the detailing works well. Being based on the Adventure Digivice rather than the redesign in tri., it doesn't have all the detailing lines that have been seen on a number of Digivice products in recently memory. The Digimoji/digicode around the ring on the Digivice all looks as it should, and the design surrounding the screen appears to be hand drawn to match the design seen on the digivice elsewhere. Since it has a hand drawn quality to it it doesn't match 1:1, but instead appears almost as a cutesy version of what appears elsewhere. The buttons even have an inner bump and the antennae has a nice stubbly look to it.
The back is mostly a flat surface, which is fine, as these aren't meant to have a clip like various other Digivice products.
It's also worth mentioning that, uniquely, there appears to be little bits of glitter embedded in the Digivice keychain, giving it a bit of a unique look (this didn't really show up in photos.)
The Digivice keychain is shockingly great, and it's not surprising that it seems to be one of the top ones people have been hoping to get (frankly, they could do an entire series of just color activated Digivices for all the kids and I suspect people would still snap them up.)
Then we have the chase figures!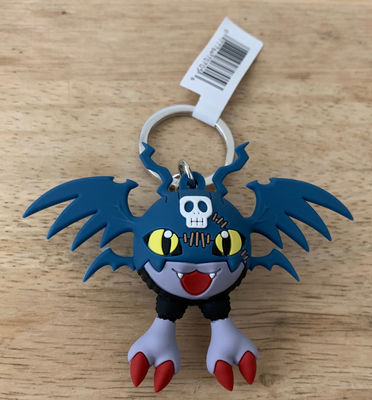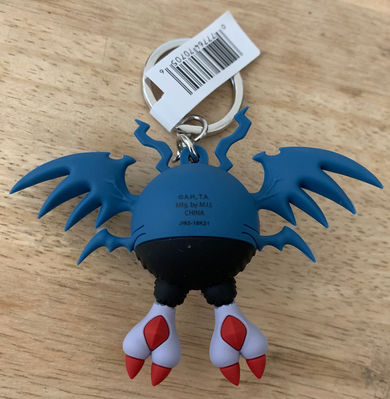 DemiDevimon getting one is a bit of a surprise, but nice to see. Minus his feet he's fully 3d, which isn't that hard to do, since he's basically a ball with wings and feet.
Demidevimon has lots of nice details. You can see his stitching, his skull on his forehead looks nice, and his various wings are represented well, down to the little bits of vein-type detail lines near where the big wings connect to the body. His feet and claws have been flattened out to be flatter, which has a nice look to it for the keychain.
The bottom wings, and especially the antennae, feel a bit flimsy, so we will see how those hold up over time.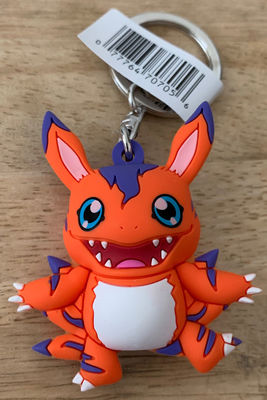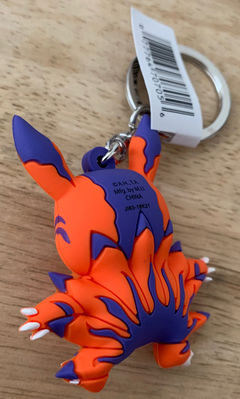 And the second chase figure, and last keychain, is Elecmon. He's probably the biggest surprise overall, and he looks fantastic. Elecmon is one of the flatter 3d keychains, and seems reminiscent in style to the Biyomon keychain.
Elecmon has some impressive detailing on him. If you pull up character art from the anime, you'll recognize a number of details that were utterly unnecessary carry over to a keychain in such detail, but really stand out. Things such as the design of his purple hair on the top of his head, or even the fringe where the pink in his ear connects to his head, down to the fringe on the white on his stomach.
The primary element of his back is his tail, which is done flat against his body (and some of it you can see from the front), along with his purple hair striping down his back.
Elecmon has some nice detailing and has the friendly smile the character is known for.
That's all of the keychains, but a few more things to go over...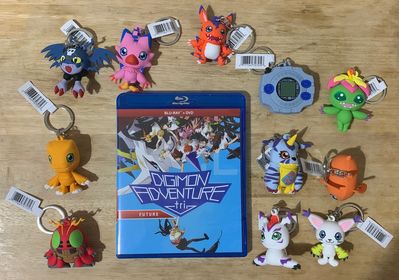 A size comparison with all the keychains, along with a Blu-ray case of tri. Part 6. The keychains are a decent size, small but not tiny.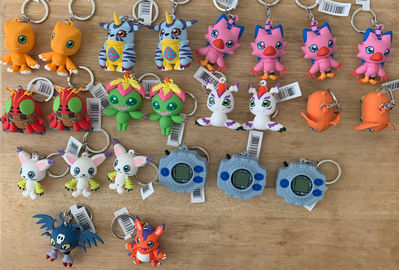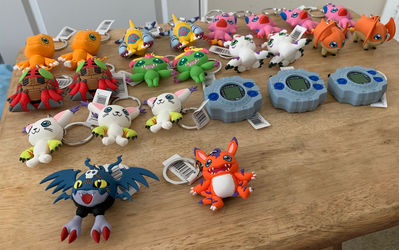 The specter of the blind bag is always worrisome, as you never know what you are buying, and randomness is always a concern.
Having gotten a full retail display box, I was able to put them side by side so we can get an idea what might be expected for a box.
The distribution of keychains, assuming the box I got was standard, appears to be reasonably fair and expected.
In a box of 24 it appears you get:
2 full sets of the 9 normal keychains
1 each of the 2 chase keychains
4 random keychains
This is about as good as the odds can get for this sort of product, so it's up to you if it appears fair enough for your money.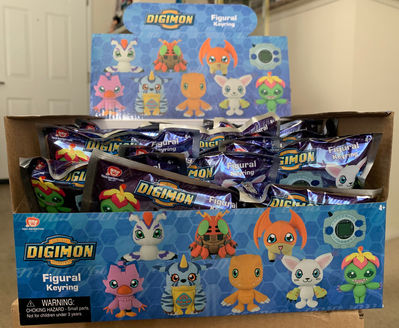 The Digimon Figural Keyrings from Monogram are pretty nice overall. Most of them look pretty great, with the exception being Agumon due to his face (which honestly just reminds me of Goombas from the Mario movie.) The detailing on the keychains shows a pretty decent level of effort in making them look good.
They have a good feel in the hand, and should work well, whether they are used as keychains, or as a bit of flair on a bag. At $7 each for a blind bag the price isn't bad either (
Hot Topic online
has had storewide coupons that make them even cheaper.) The only way they don't end up being worth the money is if you get a lot of doubles, but the distribution based on the one box I have appears to be reasonable fair.
Hopefully we get more of these covering more of the franchise, as they are pretty good and there is a wide range of Digimon that we could hopefully see... although I wouldn't mind seeing them take a second crack at Agumon.
The Digimon Figural Keychains have been seen at Hot Topic so far, but it appears they might be available at other stores, or are planned to, so looking around might be worth it.
Thanks to Monogram Direct for sending us the display box filled with 24 blind bags to review.
The keychains photographed were the first of each type I pulled out of a blindbag while opening them at random. There are minor discolorations, and fringe to thinner foam pieces, which appears to be different from keychain to keychain.
Images are hosted on our gallery
and embedded on the forum, so let us know if anything is acting up.
Photos were taken by me using an iPhone XS Max. Photos were taken with the default camera application using whatever natural light was floating into the room at the time. Images were cropped and reduced in resolution to roughly 50 to 75% of the original size. Final images were JPG compressed.