Show User Social Media
Hide User Social Media
Joined

Sep 8, 2006
Messages

16,625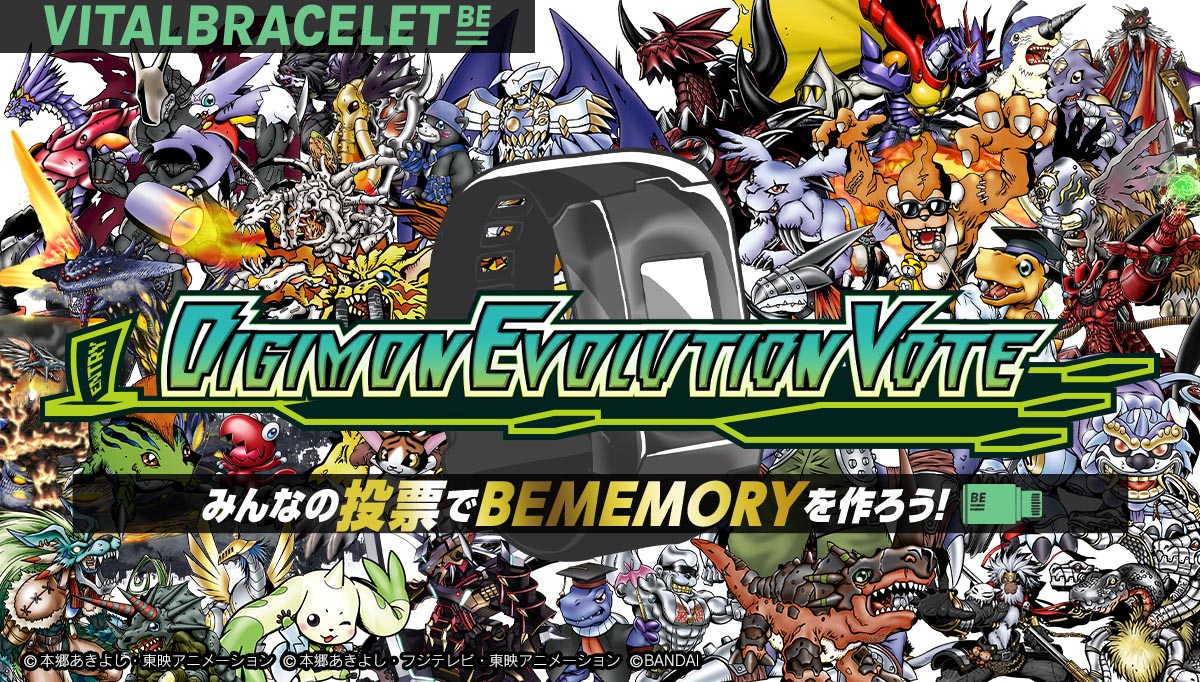 Digimon Web has opened a new fan vote
. This is the 65th official web poll on the current version of the site.
This one follows
up on 64
... (Various details before are copy pasted from 64 where it makes sense to.)
The Digimon Evolution Vote is a chance for you to vote on Digimon to appear in upcoming BEMemory Dim Cards for the Vital Bracelet BE and Digivice VV....
The details are... (more will be below before the vote details)
Digimon Evolution Vote, where Digimon fans vote to choose what is in a BEMemory!
What we want you to do this time is for the "Beast type" BEMemory that will train mostly beast and beast man type Digimon such as MirageGaogamon.
Please choose the DIgimon you want to train in a BEMmemory from the follwowing Digimon. Please vote for as many Digimon as you'd like to train in a BEMemory.
In the end, we will tally the votes for each evolution level, and a total of 4 Digimon (the 1st place in each level between Child and Ultiamte) will be included in the BEMemory scheduled to be released next spring.
The voting period is November 15th through November 30th. The results will be announced mid-February.
Click
here
for more info on the schedule and voting system.
*The Digimon selected in the vote will be Adventure mode unlocked Digimon. Please note the initial 19 playable DIgimon have already been deicded.
We recommend you vote for at least one Digimon of each level.
You may select up to 35.
​
The first one (on the left) is...
A Dragon Man BEMemory
ShineGreymon, Jesmon, Slayerdramon as a focus
The Adventure mode unlocked Digimon are your choice
Then second one up will be...
A Beast Type BEMemory
MirageGaogamon/Apollomon/Dianamon as a focus
The Adventure mode unlock Digimon are your choice
Then the vote choices for the second one, which is up now...
Bearmon [Child]
Labramon [Child]
Terriermon Assistant [Child]
Psychemon [Child]
Gazimon [Child]
Gizamon [Child]
Phascomon [Child]
Gryzmon [Adult]
Dobermon [Adult]
Hanumon [Adult]
Mojyamon [Adult]
Gorimon [Adult]
Drimogemon [Adult]
Mikemon [Adult]
Minotarumon [Adult]
MadLeomon [Adult]
Opossummon [Adult]
Mammon [Perfect]
Vajramon [Perfect]
Vikaralamon [Perfect]
Kumbhiramon [Perfect]
Caturamon [Perfect]
Makuramon [Perfect]
Etemon [Perfect]
Gokuwmon [Perfect]
Kyukimon [Perfect]
Astamon [Perfect]
SkullMammon [Ultimate]
Anubimon [Ultimate]
SaberLeomon [Ultimate]
ElDoradimon [Ultimate]
Mercurymon [Ultimate]
Belphemon: Rage Mode [Ultimate]
MetalEtemon [Ultimate]
KingEtemon [Ultimate]
Some detailing of the votes...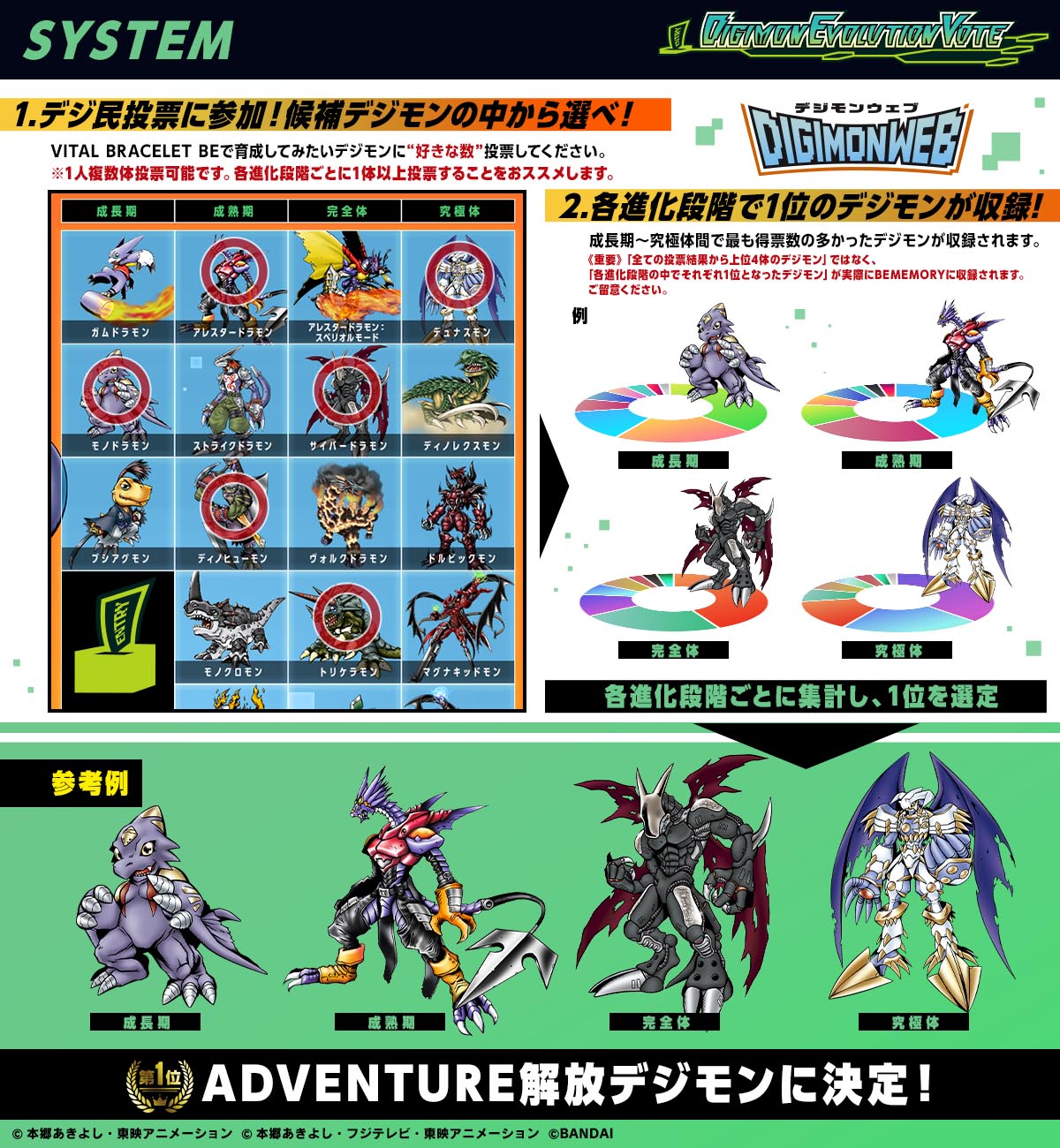 You can vote for whoever you want, but only the top choice from each level will be chosen, so voting for more than one of a specific level can let you have backup choices, etc.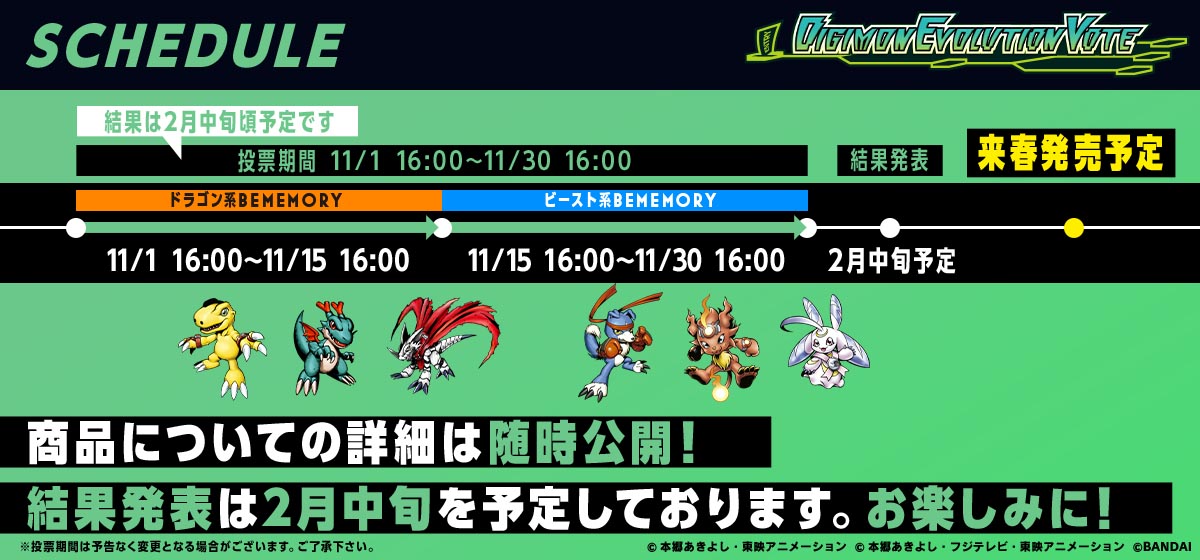 Voting runs until November 15th for the Dragon Man vote, it will be announced in February what won.
The second vote opens at the same time and that one will run into November 30th. The winner will be announced in Spring.
Additional product details can show up at any time.
Lots of Digimon to vote for, and decent strategy to decide how to vote with no number limits. With the first one having ended, it's time for part 2.
The poll for '
Favorite Digimon TV Anime Theme Song
' had results announced recently.
The poll for '
Vote for Digimon to Appear in BEMemory, Part
' closed and results will be announced in February.