Show User Social Media
Hide User Social Media
Joined

Sep 8, 2006
Messages

16,917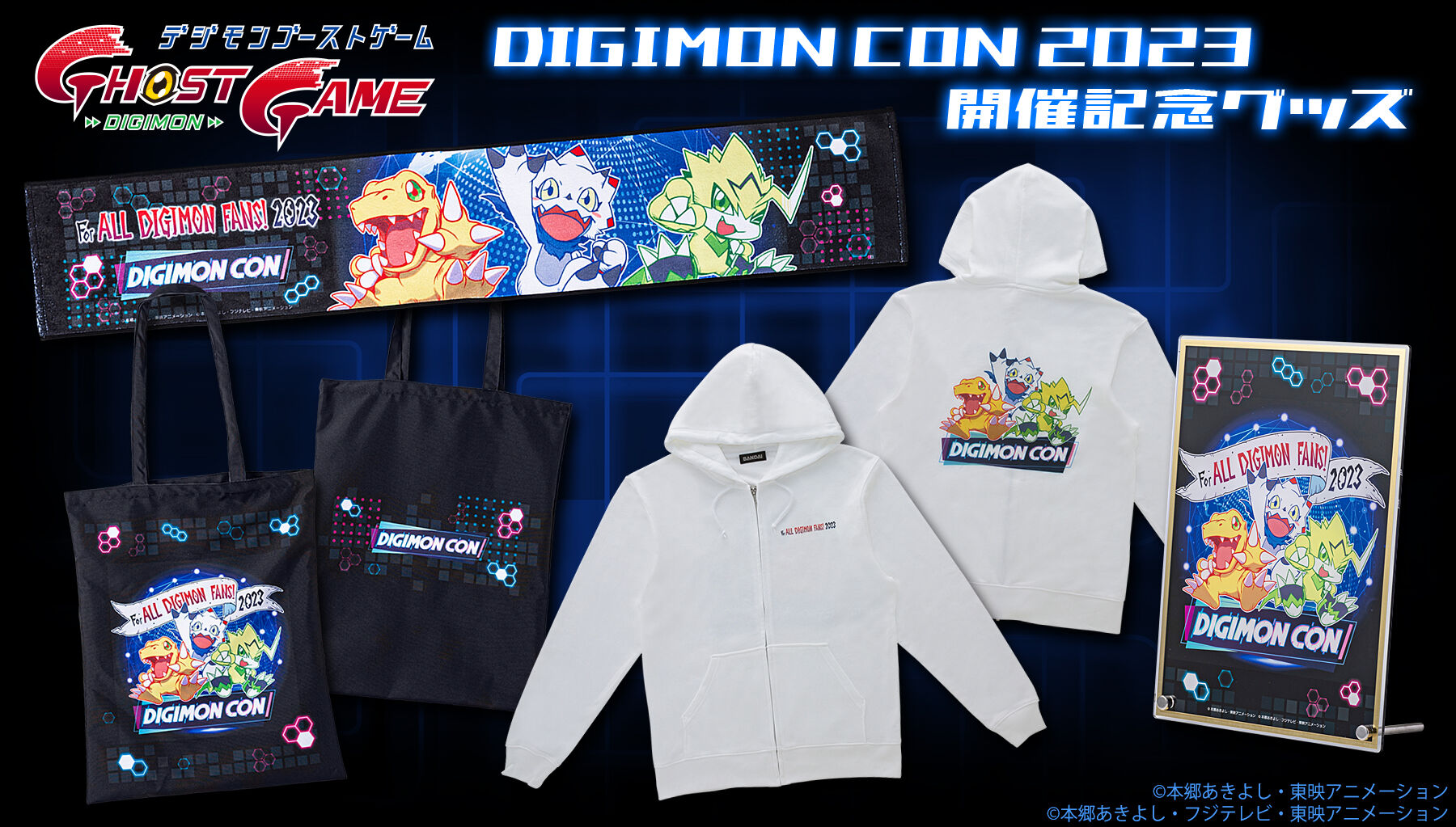 With Digimon Con 2023 a couple days away, they've announced a few products.
On top of the new stuff, a bit more at the bottom... so onto the products!
All of these features the 2023 revision of the Digimon Con logo and key art, which was previously used in 2022.
Everything ships in April, with pre-orders closing on March 12th.
​
A muffler towel
which measures 19.5 x 110 cm. It costs 1,980 yen.
DIGIMON CON 2023 マフラータオル
A tote bag
which measures 37 x 44 cm. It costs 2,970 yen.
DIGIMON CON 2023 トートバッグ
An acrylic board
which meansures 257 x 182 mm. It costs 4,070 yen
DIGIMON CON 2023 アクリルボード
Last up for the new stuff is a
hoodie
. It costs 8.250 yen.
DIGIMON CON 2023 パーカー
It's listed as 100% cotton and the sizes available are:
M: (approx.) Length 67 / Width 50 / Shoulder width 44 / Sleeve length 62cm
L: (approx.) Length 70 / Width 53 / Shoulder width 47 / Sleeve length 63cm
XL: (approx.) Length 73 / Width 56 / Shoulder width 50 / Sleeve length 64cm
After the new stuff, a few things are returning for the Digimon Con 2023 purchase period...
The
Digimon 25th Anniversary Goods
and
X-Antibody Collection
are coming around for another go to celebrate.
These appear to use the same links for products on sale again, so the information from the prior articles can help you with those.
Pre-orders for these appear to all close on March 12th also.
Minimal lineup (although we know some products with new art will be announced during the show. On top of that, the return of two other waves of merchandise is nice, since it'll give people a change to nab it again.
Digimon Con 2023 is a streaming event on
Bandai's Youtube
. The time based on where you live is:
February 12th at 10am (Japan), Sunday
February 11th at 5pm (Pacific), Saturday
February 11th at 8pm (Eastern), Saturday
Other locations can be input into the converter
here
.
A few extra bits...
Premium Bandai Japan is currently harder to access, so a bit extra for those who want to pre-order and not wait to see if there is an international release.
Some intermediaries will want not only want the urls of the items above, but may ask for the product name in Japanese as written on the page. Those names are given above, directly below the pre-order links.
If you want to be sure to nab something...
We've currently pared down the list of intermediaries we list due to some places closing and others becoming iffy in their communication, calling into question their reliability. If you have any stories, positive or negative, about any intermediaries, DM me with them so we can figure out who might be worth adding (or re-adding), since these aren't affiliate links or anything, simply suggested ways to make it easier for fans to nab stuff.
You'll want to contact an intermediary to get these items sent to you. WtW is not affiliated with any, but here are a selection of intermediaries that have worked well for various WtWers and their friends in the past:
From Japan
Rider Proxy
You'll want to provide your chosen intermediary with the link to the item. Just copy paste the link to the product pages for what you want and send them a message about it and they'll take care of it after they discuss pricing and their policies with you. The links embedded in the news article for the products are exactly what you'll need to send them.
Some of the intermediaries have a full storefront and may have the item listed, so you may want to check that first.