Show User Social Media
Hide User Social Media
Joined

Sep 8, 2006
Messages

17,396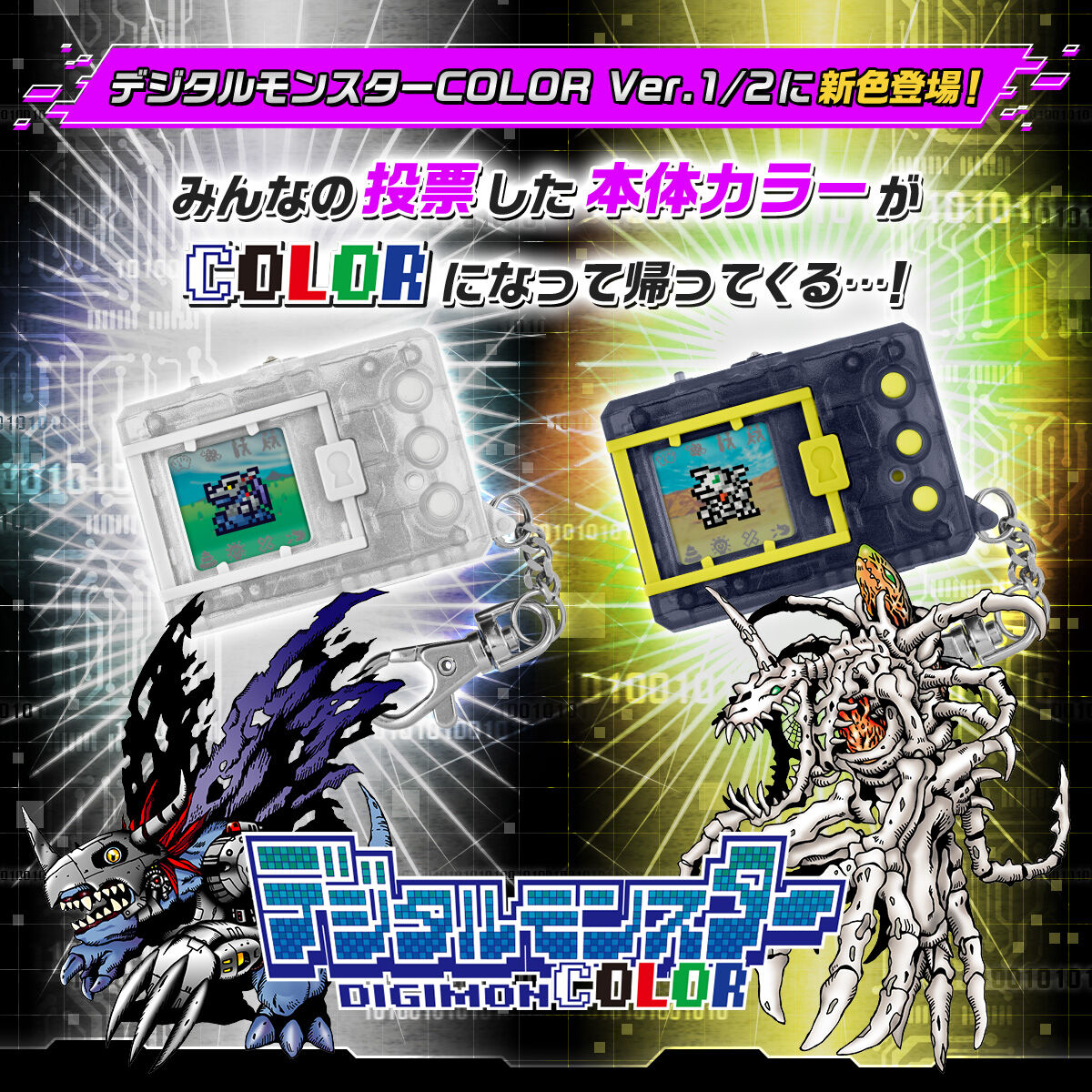 Results were announced for the Everybody Votes for Color Project
about a week ago.
The project allowed fans to vote for what color shells rereleases of the first 2 Digimon Colors would get.
The winners were 'Clear' for the V1 and 'Smoke' for the V2. That specific version of Clear wasn't originally available in Japan for the V1, while Smoke was a widely available color for the V2 in Japan.
We aren't going to detail these V-Pets, as the programming is identical to the release that came out earlier this year, they are just new shell colors.
It's another chance to nab these two models with new shell colors.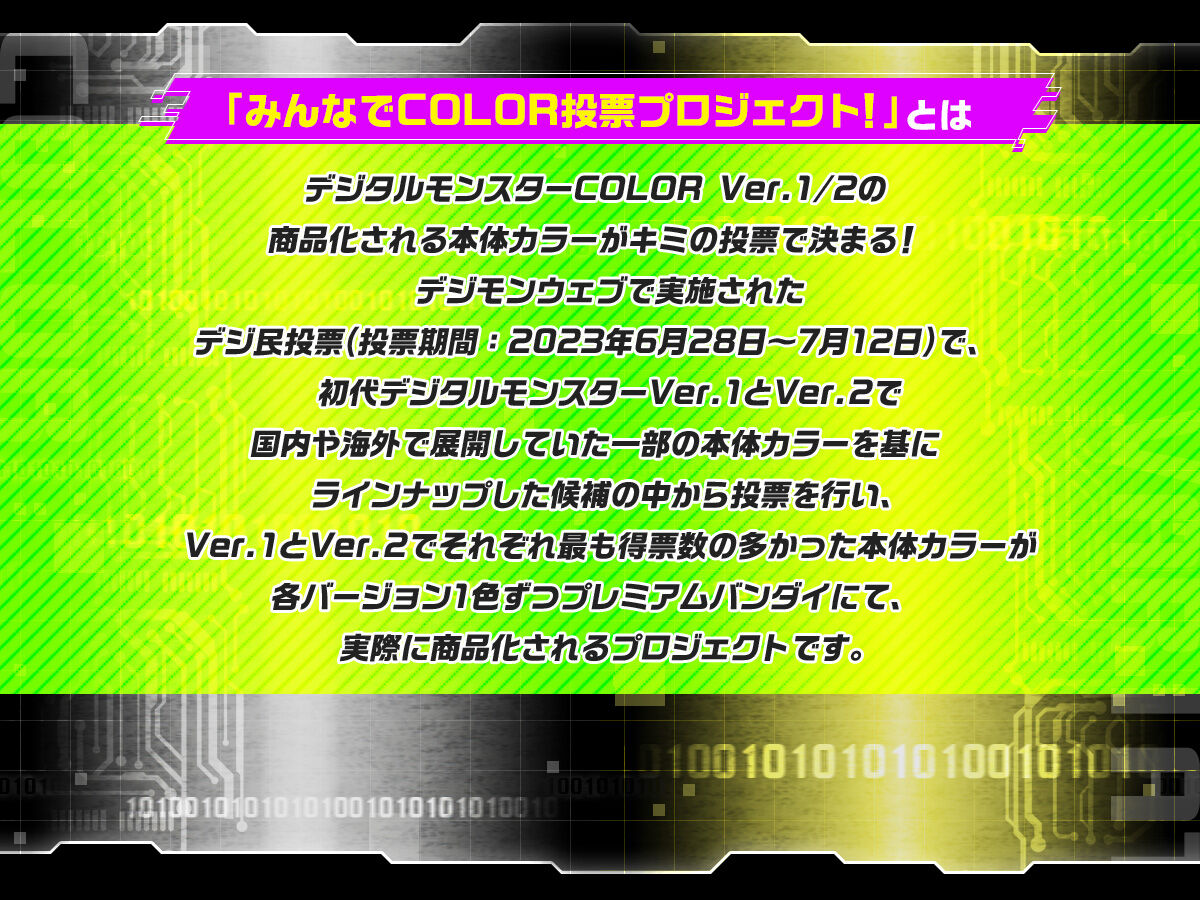 A quick promo shot just explaining the vote.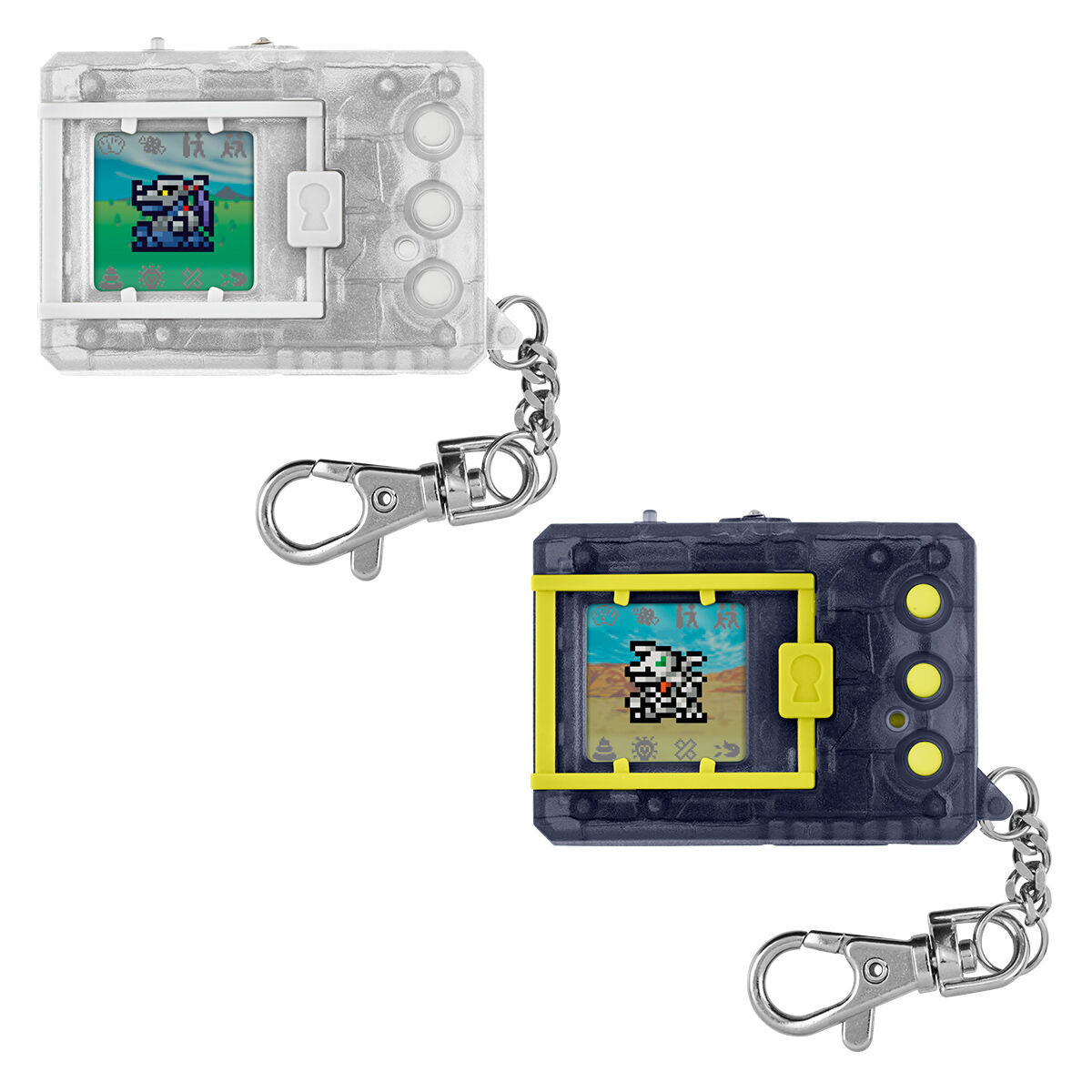 The Digimon Color v1 Clear and v2 Smoke can be pre-ordered at Premium Bandai
until August 31st for 6,930 yen each. They ship in December.
Version 1 Clear
オリジナルクリア
Version 2 Smoke
Ver.2 オリジナルスモーク
The shells look nice, although it's worth mentioning every Digimon Color has shown up at Premium Bandai US, so it may be worth waiting a bit.
Also worth mentioning, at least one intermediary/proxy service has reported that Premium Bandai Japan is refusing orders from known intermediary services. Various other services haven't as of yet reported anything, so it isn't clear if this is an actual policy change for Premium Bandai Japan, or if a service or two actively did something to get blocked. Awhile ago Premium Bandai Japan began locking viewing their site based on geolocating, but made no attempts to stop using purchasing services (which is why we always provide the text of the options an intermediary would need to purchase the items.) Will update if something more solid shows up.
Just in case everything is still in fact working as it has, or you want to try...
A few extra bits...
Premium Bandai Japan is currently harder to access, so a bit extra for those who want to pre-order and not wait to see if there is an international release.
Some intermediaries will want not only want the urls of the items above, but may ask for the product name in Japanese as written on the page. Those names are given above, directly below the pre-order links.
If you want to be sure to nab something...
We've currently pared down the list of intermediaries we list due to some places closing and others becoming iffy in their communication, calling into question their reliability. If you have any stories, positive or negative, about any intermediaries, DM me with them so we can figure out who might be worth adding (or re-adding), since these aren't affiliate links or anything, simply suggested ways to make it easier for fans to nab stuff.
You'll want to contact an intermediary to get these items sent to you. WtW is not affiliated with any, but here are a selection of intermediaries that have worked well for various WtWers and their friends in the past:
From Japan
Rider Proxy
You'll want to provide your chosen intermediary with the link to the item. Just copy paste the link to the product pages for what you want and send them a message about it and they'll take care of it after they discuss pricing and their policies with you. The links embedded in the news article for the products are exactly what you'll need to send them.
Some of the intermediaries have a full storefront and may have the item listed, so you may want to check that first.