Show User Social Media
Hide User Social Media
Joined

Sep 8, 2006
Messages

16,417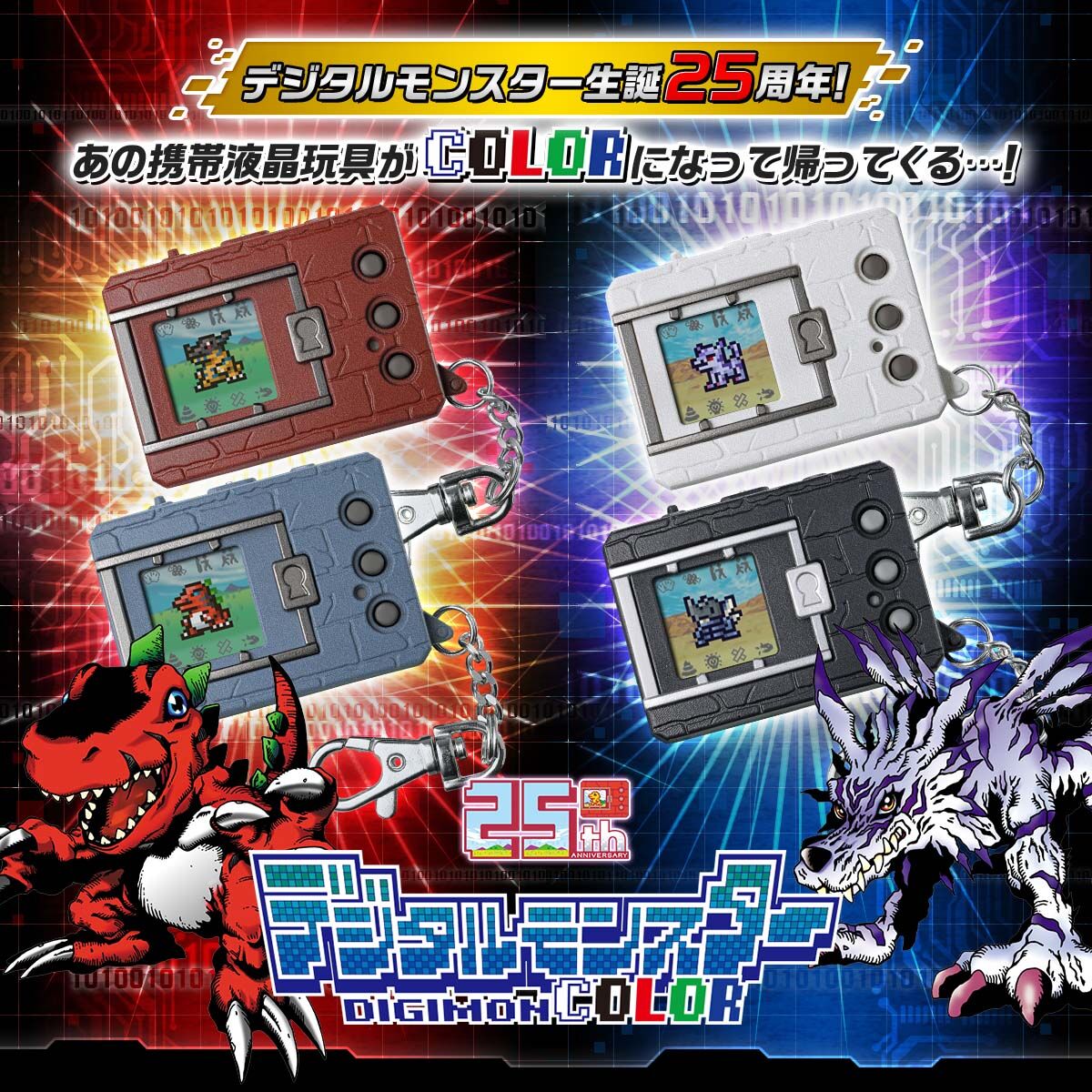 Wiith a stream coming later, we knew a big announcement was likely, especially with some prior teasers, but Bandai has decided to let the cat out of the bag early with the Digital Monster Color V-Pets!
First, a promo video...
Digimon 25th anniversary.
That LCD Toy is coming back in COLOR!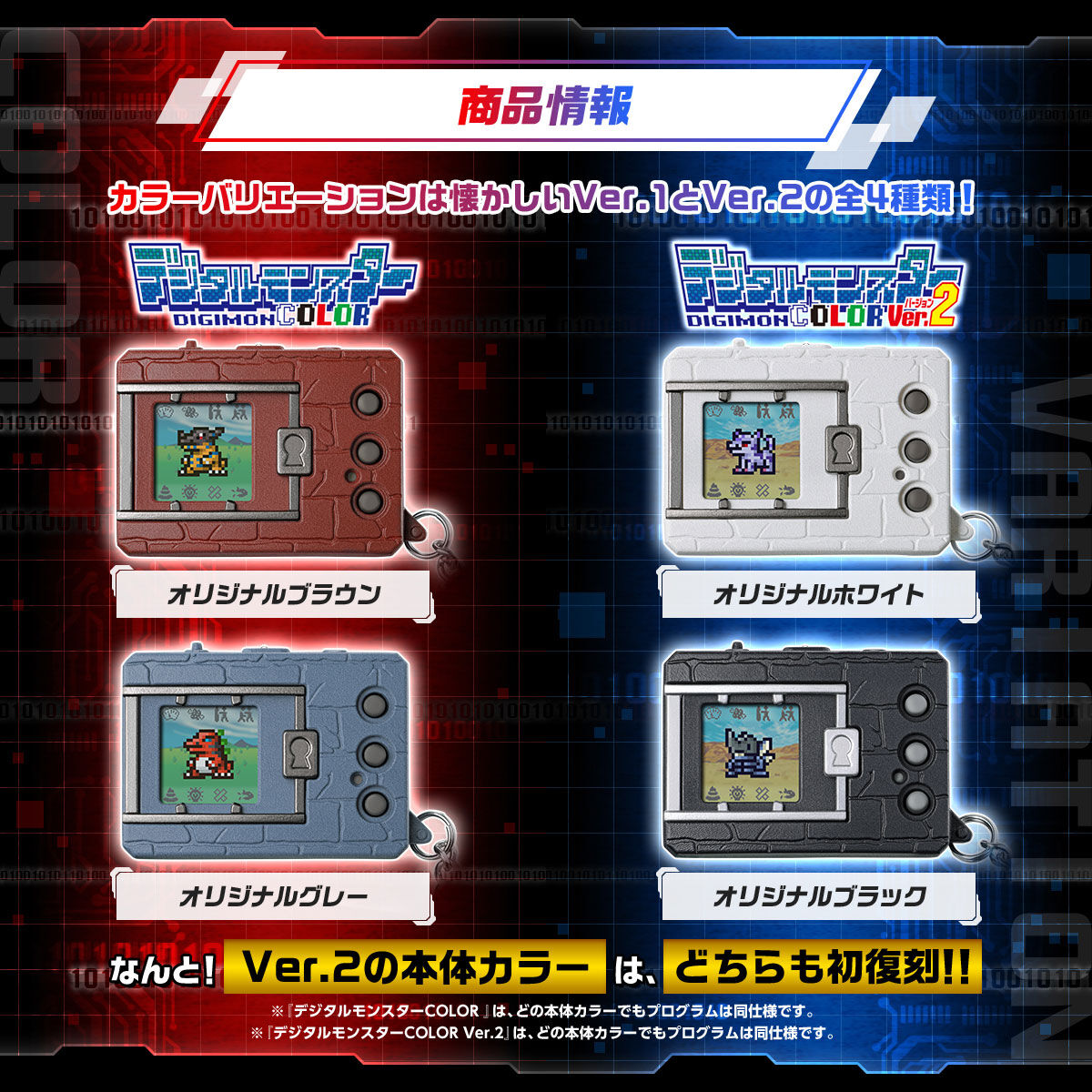 Version 1 and 2 each available in 2 colors:
1- Brown and Gray
2- White and Black
The Version 2 colors haven't been reprinted before.
If you buy a V1, both colors have the same content, if you buy a V2, both colors have the same content.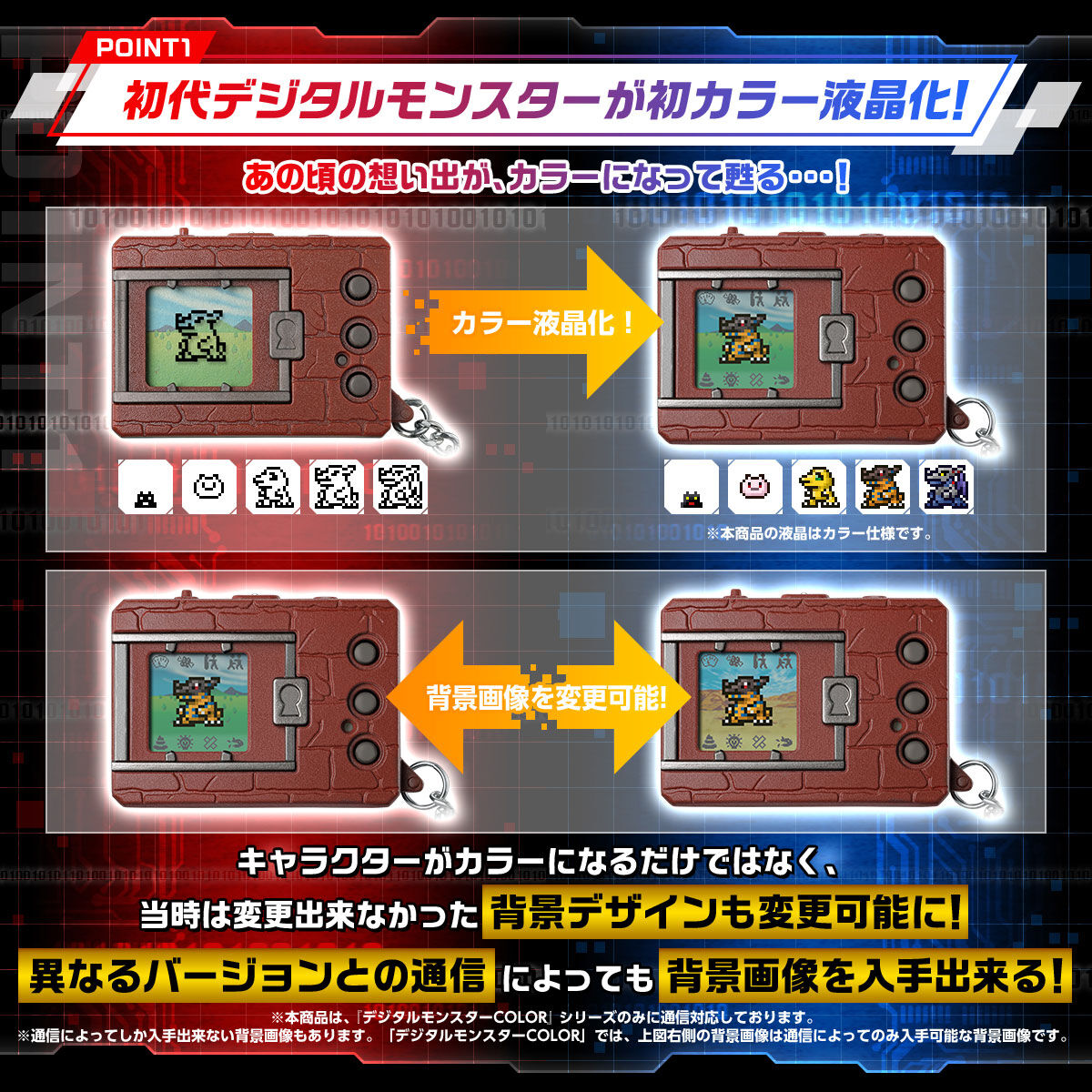 Not just the characters are in color, the entire display.
You can also change the background. You get the background of the other version by connecting them.
The Digimon Color can only connect to the Digimon Color as far as connectivity goes.
The 1st Digimon returns in Color!
Memories of those come back in color!
Colorize!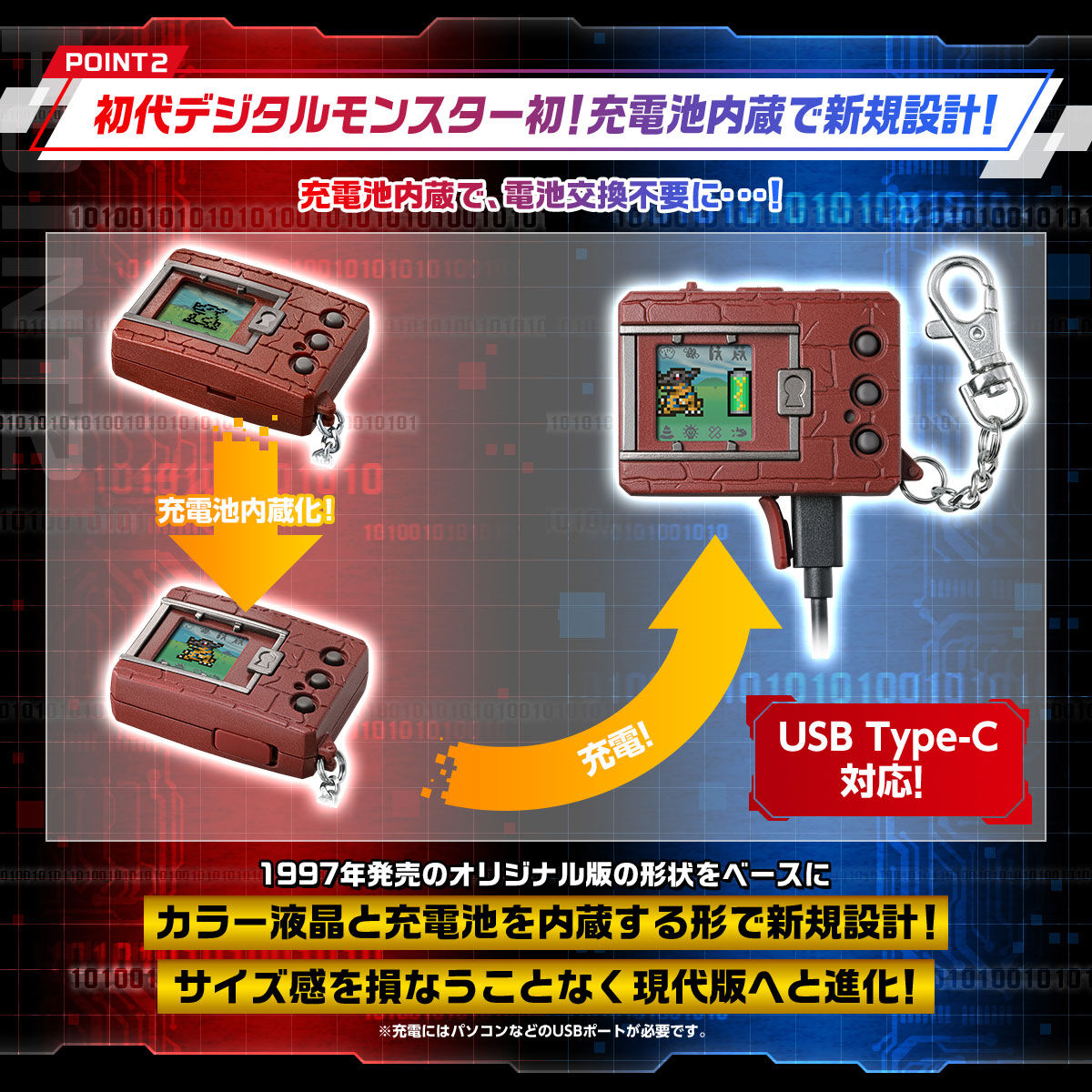 New design based on the original.
Not just a color screen, but a rechargeable battery, that charges via USB-C.
Modernized without compromising the size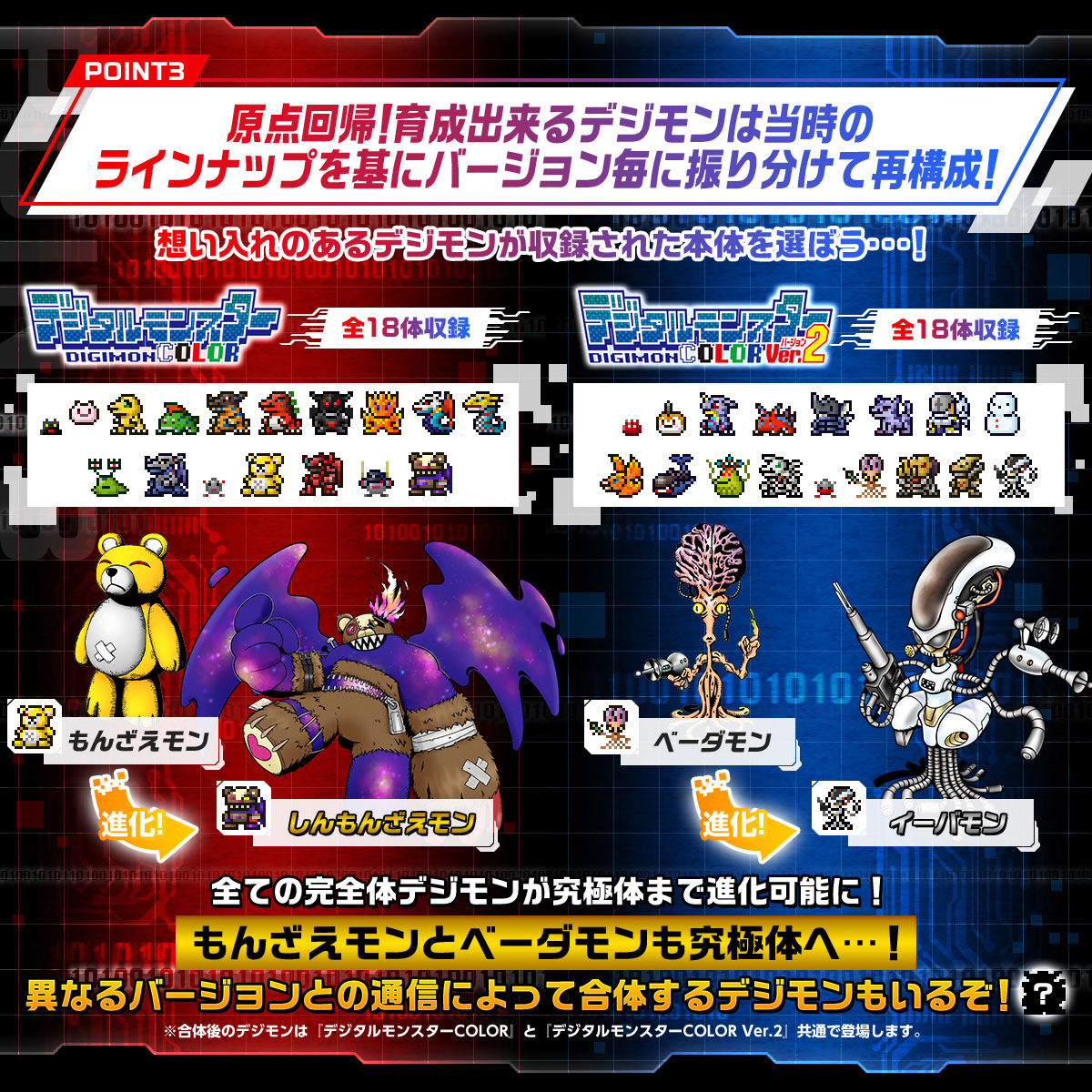 Lineup based on the original, with 18 Digimon per V-Pet.
All Perfects now become Ultimate!
ShinMonzaemon from Monzaemon in the V1.
Ebemon for Vademon in the V2.
Plus... a Digimon will appear be joining the different version (in both versions.)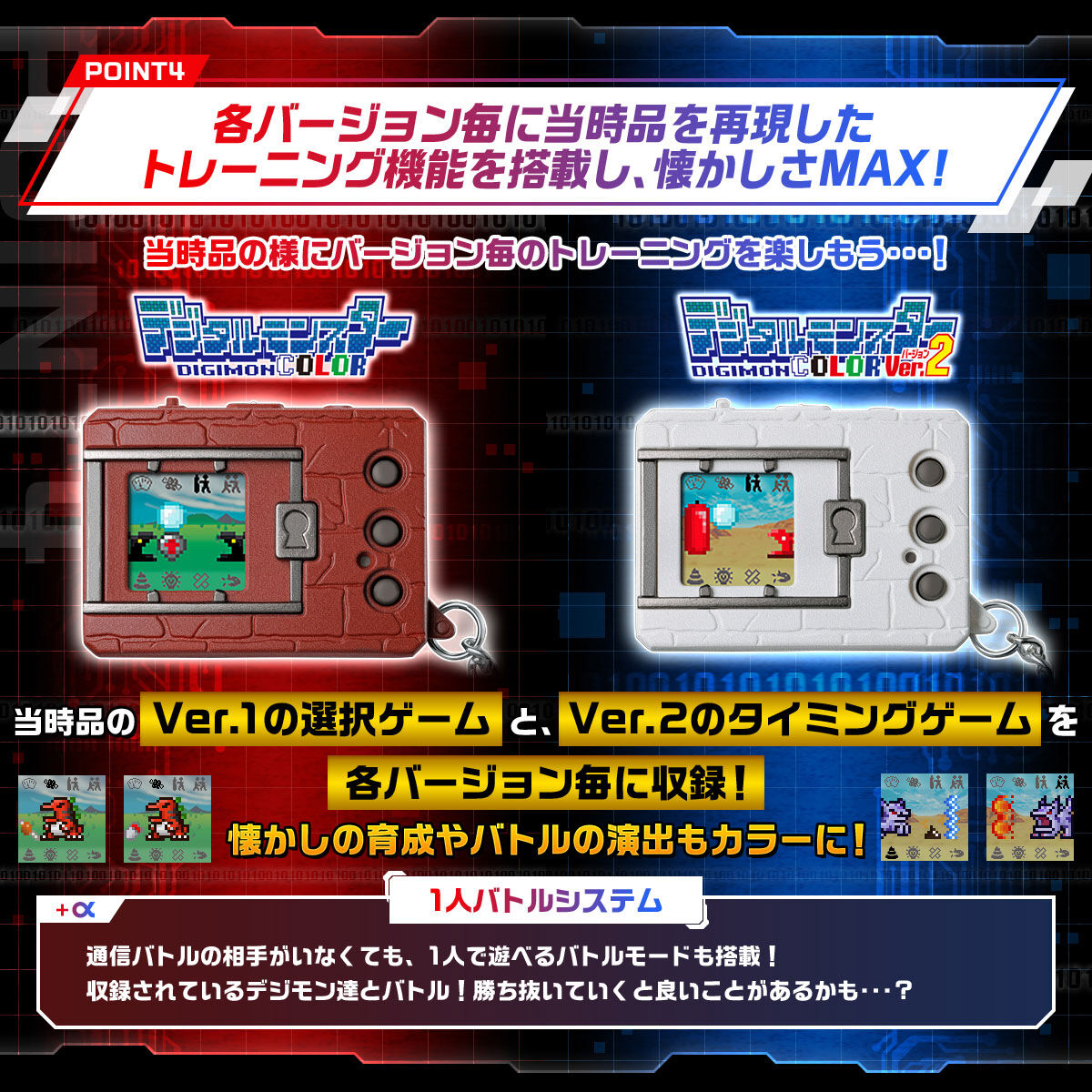 Each version has raising functions that reproduces the product of that era, nostalgia to the MAX!
Enjoy training as it was in the product from then!
The nostalgic raising and battle elements are also now in color!
1 person battle system!
It has a battle mode that allows you to play alone even!
If you don't have a battle partner, you can play with the recorded Digimon.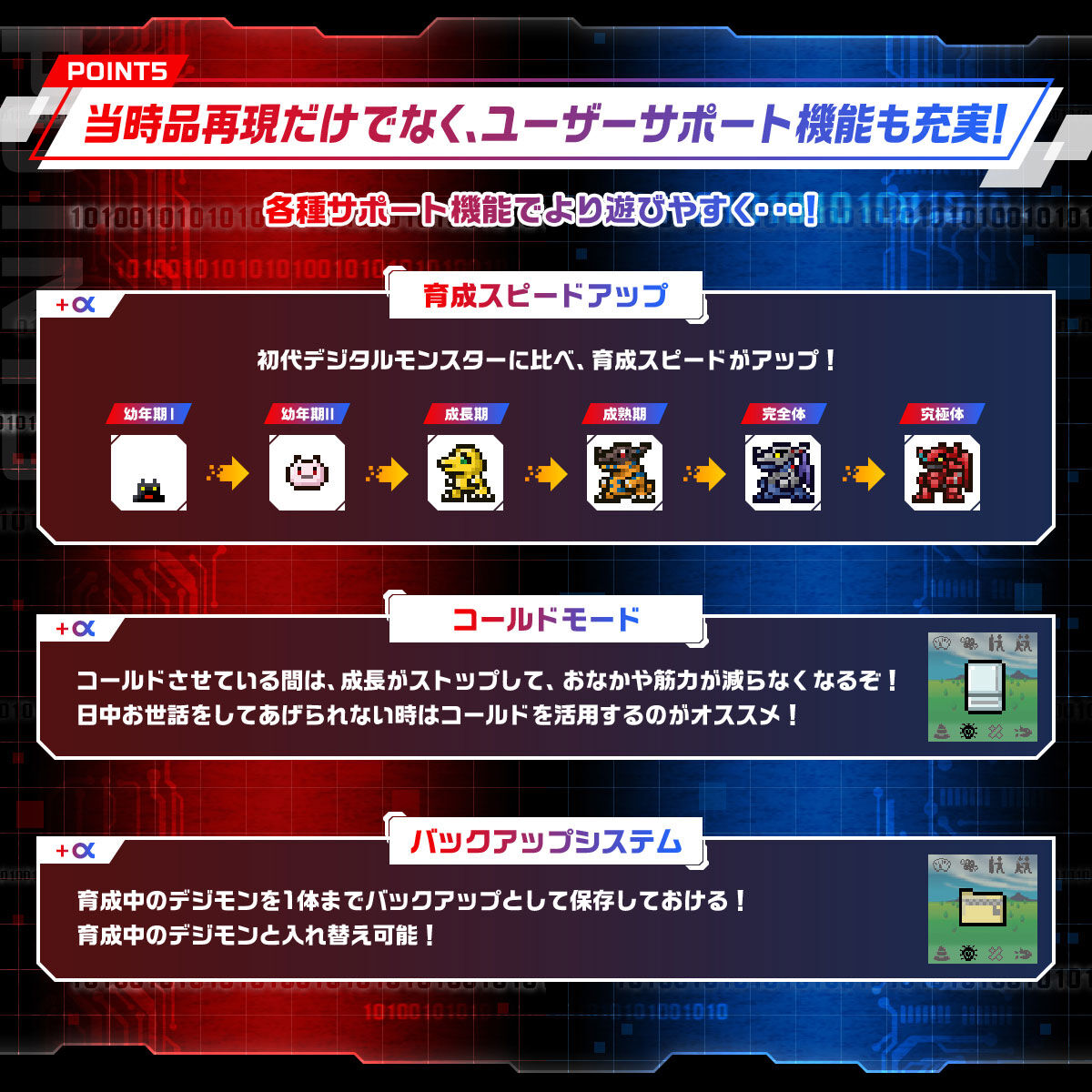 In addition to recreating items from that era, user support functionsa re enhanced!
Easier to play with the support functions!
Training speed increased!
Cold mode- Growth stops and stomach and strength stay the same!
Backup- You can save 1 Digimon as a backup!
Bonus item...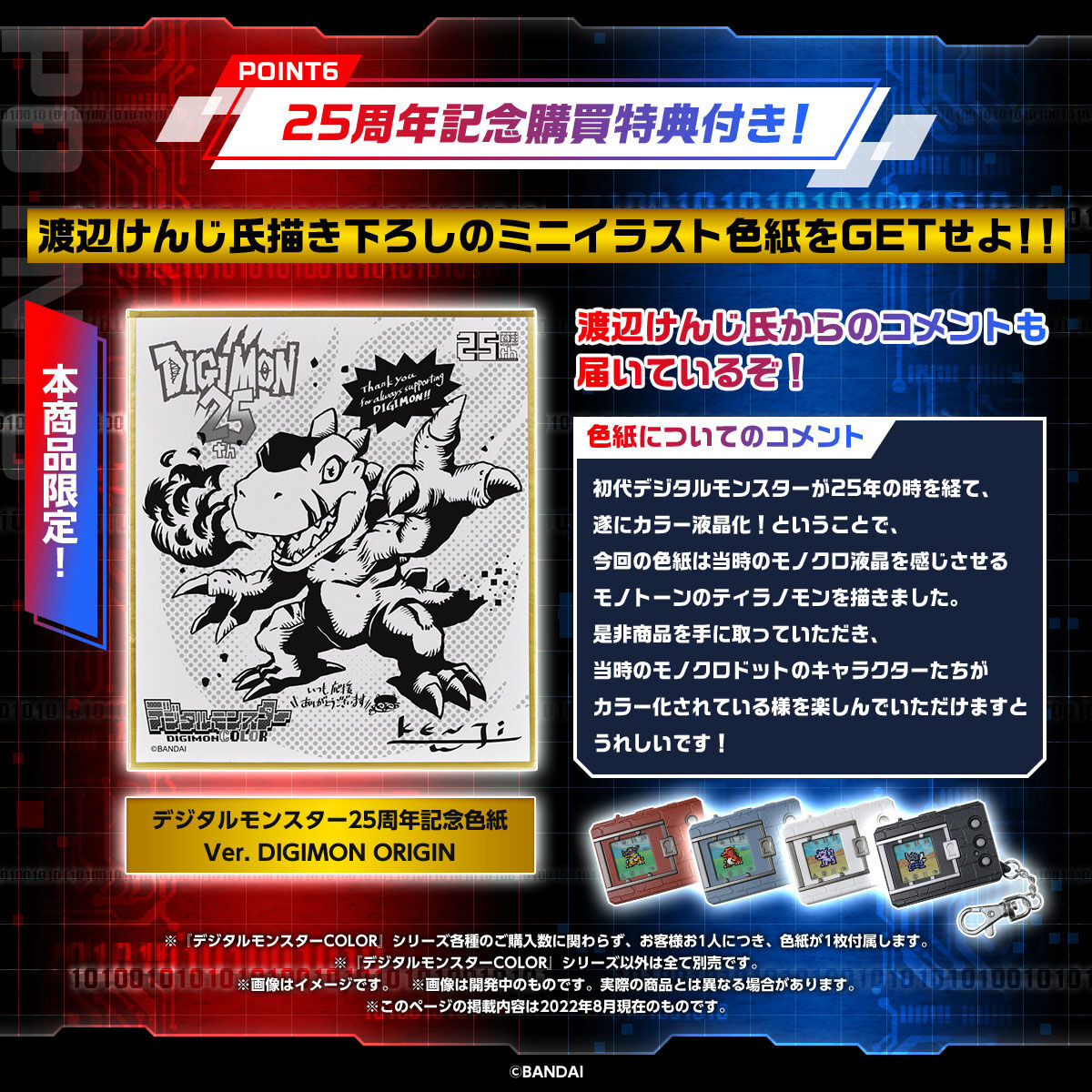 Get a mini-shikishi by Kenji Watanabe!
Including a mini-shikishi featuring Tyranomon art by Kenji Watanabe, called Digimon 25th Anniversary Shikishi- Version Digimon Origin
Will translate if there is time later.
Various sprites were animated to show off the color, they are in the quote box below...
​
Pre-orders open at Premium Bandai about 3 hours after the time of this post
. Each is 6,930 yen. Pre-orders close on September 30th and they ship in February 2023.
デジタルモンスターCOLOR (オリジナルブラウン/オリジナルグレー/Ver.2 オリジナルホワイト/Ver.2 オリジナルブラック)
Many intermediaries will require color choices as written on the page:
V1 Brown
オリジナルブラウン
V1 Gray
オリジナルグレー
V2 White
Ver.2 オリジナルホワイト
V2 Black
Ver.2 オリジナルブラック
Minus the relatively small lineups being the original (with the added Ultimates), this is what a lot of people have wanted for years. Full color screen and sprites, the shells have been made a bit nicer, rechargeable battery using the most common mobile device cable. Bit pricey, but this lines up pretty solidly with what people have wanted.
A few extra bits...
Premium Bandai Japan is currently harder to access, so a bit extra for those who want to pre-order and not wait to see if there is an international release.
Some intermediaries will want not only want the urls of the items above, but may ask for the product name in Japanese as written on the page. Those names are given above, directly below the pre-order links.
If you want to be sure to nab something...
We've currently pared down the list of intermediaries we list due to some places closing and others becoming iffy in their communication, calling into question their reliability. If you have any stories, positive or negative, about any intermediaries, DM me with them so we can figure out who might be worth adding (or re-adding), since these aren't affiliate links or anything, simply suggested ways to make it easier for fans to nab stuff.
You'll want to contact an intermediary to get these items sent to you. WtW is not affiliated with any, but here are a selection of intermediaries that have worked well for various WtWers and their friends in the past:
From Japan
Rider Proxy
You'll want to provide your chosen intermediary with the link to the item. Just copy paste the link to the product pages for what you want and send them a message about it and they'll take care of it after they discuss pricing and their policies with you. The links embedded in the news article for the products are exactly what you'll need to send them.
Some of the intermediaries have a full storefront and may have the item listed, so you may want to check that first.