Show User Social Media
Hide User Social Media
Joined

Sep 8, 2006
Messages

12,703
We knew this was coming...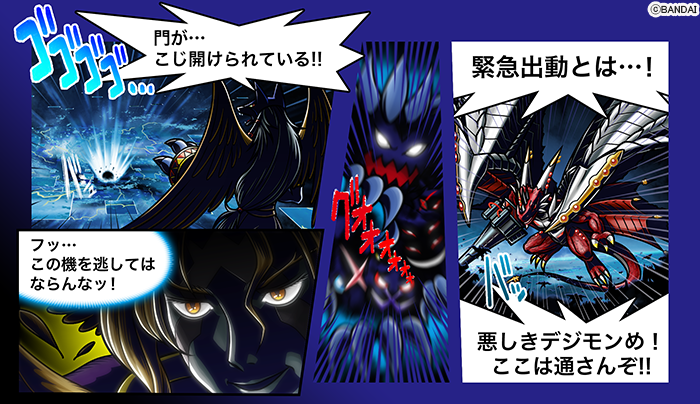 They announced it yesterday, and after the surprise a bit ago of the Digital Monster X V2, more of the new story should make everyone quite happy!
First, for those who need to catchup...
Chapters 1 and 2 in English can be found
here
.
Chapters 3 and 4 in English can be found
here
.
Chapters 5 and 6 in English can be found
here
.
Update- Then we have the new comic page above. Thanks to onkei for the translation.
Top right- Emergency Dispatch is here!
Bottom right- Evil Digimon, you shall not pass through me!
Top left- They're trying to tear down the gate!
Bottom left- Heh... I can't let this opportunity pass by
Onto the new chapter!
Update- Translation swapped out for a better one from onkei.
Chapter 7- The Gate of Darkness Opened
At the same time, Examon, who was on standby in the new Digital World, sensed disturbance from the Dark Area. Receiving a plea for help from Anubimon, Examon goes alone without orders to the Dark Area.

When he arrived at the entrance of the Dark Area, he saw masses of evil Digimon trying to break through the gate that was sealing them.

Examon, determining that the first course of action would be to maintain the balance between the old Digital World and the Dark Area, begins to eliminate the evil Digimon that had escaped from the netherworld.

The evil Digimon got pumped thinking that this would be their chance to take down a Royal Knight, but Examon shook off the numerous disadvantages against him as if they were nothing. He flattened one enemy after another, showing them his different level in strength as a Royal Knight.

The evil Digimon's vigor drained upon seeing his overwhelming power, but all of a sudden, they lost their fear of death and began a suicide attack from all sides. Their numbers were so great that Examon began to be pushed back. The mastermind who was controlling this swarm of thousands and thousands of evil Digimon was...

Lilithmon X who had X-evolved during this mayhem.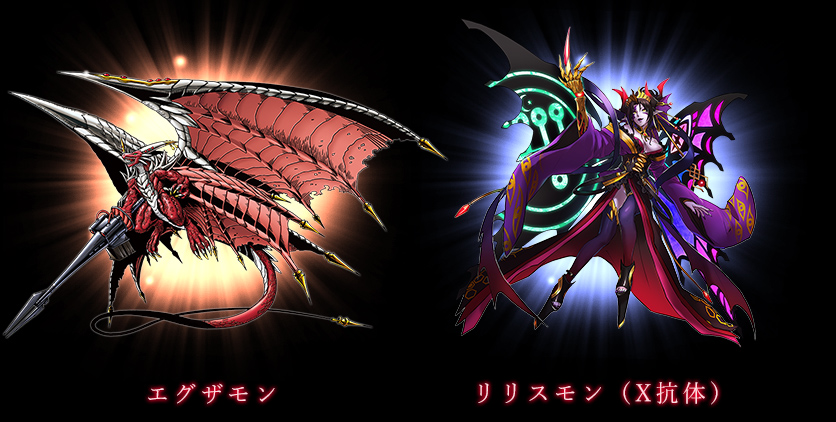 With a playful smile, Lilithmon X herself joined in the attack, defeating Examon. At last, the evil Digimon were free from the Dark Area.

News of this incident spread throughout the Dark Area in the blink of an eye. Hearing that one of the Seven Demon Lords had achieved a new X-evolution and defeated one of the Royal Knights increased the spirits of other evil Digimon.
On top of getting to see Lilithmon X, they gave us another teaser...
Chapter 8 is coming tomorrow!
So once again... more to come!