Show User Social Media
Hide User Social Media
Joined

Sep 8, 2006
Messages

17,360
Another update!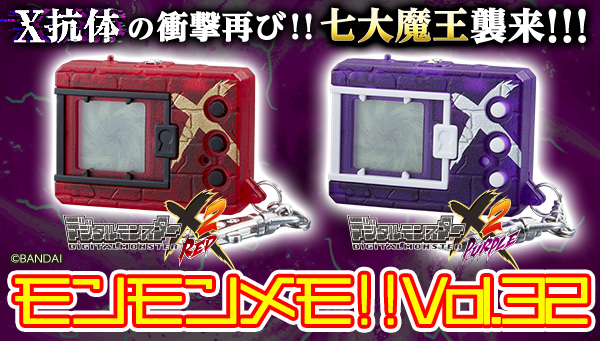 MonMon Memo 32
is up first!
They follow up on the recent announcement of
the Digital Monster X Version 2
!
They start by pointing out it's a direct sequel to the Digital Monster X, and the main theme is... 'The Coming of the Seven Great Demon Lords!'
They also reveal that their own shorthand for the new V-Pet is calling it the Digimon X2.
The Seven Great Demon Lords escaped the influence of the X-program in the Dark Area. And now we get to see the depiction of them moving with their new opportunities...
They know what we really care about is what their X-Evolved forms look like, they note you can see them in
the new V-Jump
!
They know another concern among fans is 'how' they gain their X-Evolved forms.
They've been revealing that in Digimon Chronicle X, which they recently have continued. They'll update the info of the world and story of the Digimon X2 from time to time, so they ask you not to miss it.
One element they changed for the new content is the idea of enjoying the story from the 'evil' point of view.
The key of the game this time is to raise a demon king Digimon and invade the old digital world! You can immerse yourself in the spirits of evil and watch the chronicle from that dark point of view.
They hope you enjoy the various ways you can do so.
The Digimon X2 has an evolution path filled with dark Digimon, but depending on what you do... you might end up on a good road.
They'll have more information when the product goes up, including in new MonMon Memos!
And on top of that, we have
Chapter 8 of Digimon Chronicle X
, translated thanks to onkei!
For those who need to catchup...
Chapters 1 and 2 in English can be found
here
.
Chapters 3 and 4 in English can be found
here
.
Chapters 5 and 6 in English can be found
here
.
Chapter 8- The Expanding Threat
While Lilithmon X was born, DarkKnightmon and the Seven Great Demon Lord Barbamon were off at another area skirmishing. DarkKnightmon, who'd been sealed inside the Dark Area due to his cruel nature, had previously been targeting the position of Seven Great Demon Lord as well as [Barbamon's] treasure. He challenged Barbamon to a fight.

When Barbamon and DarkKnightmon realized that the old Digital World and new Digital World were attempting to connect to each other, they fought each other to be the first to break through the Dark Area's gate in order to be the first to get their hands on the new Digital World's sleeping treasure.
And then, the two fated adversaries achieve X-evolution from the X-antibodies that they each obtain.

No Digimon there could stop the two X-antibody Digimon. All the Digimon there could do was shudder in fear from the after-effects of their fierce fighting as they waited for the Royal Knights to arrive.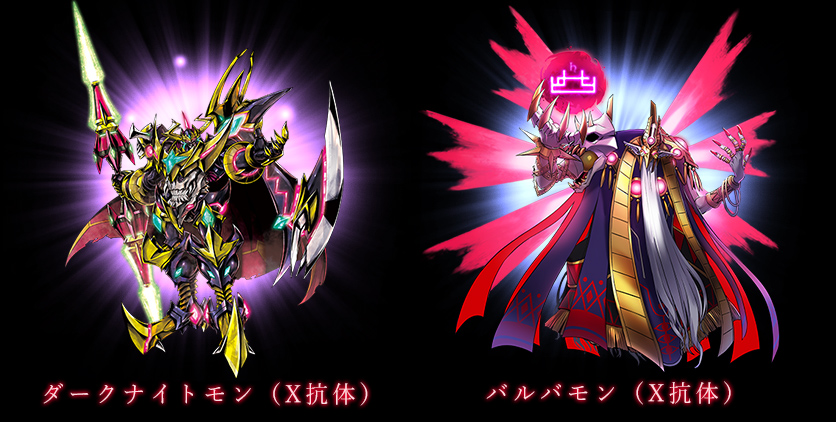 As the masses of evil Digimon continued to grow, another Seven Great Demon Lord began their move.

His name, Demon.

Demon, from achieving X-evolution after obtaining the X-antibody, now had power that was equal to the "Super-Ultimate level Digimon" that he himself had formerly plotted to revive. Demon X took advantage of the chaos that reigned between the Dark Area and the old Digital World to test his powers. He began to flex the limits of how violent he could be. However, it was only a preparatory phase for his revenge against the forces of good, his ultimate goal.

As Demon X waited impatiently for the arrival of the strongest of the forces of good, the Royal Knights, he continued to trample down the old Digital World and stored up his energy.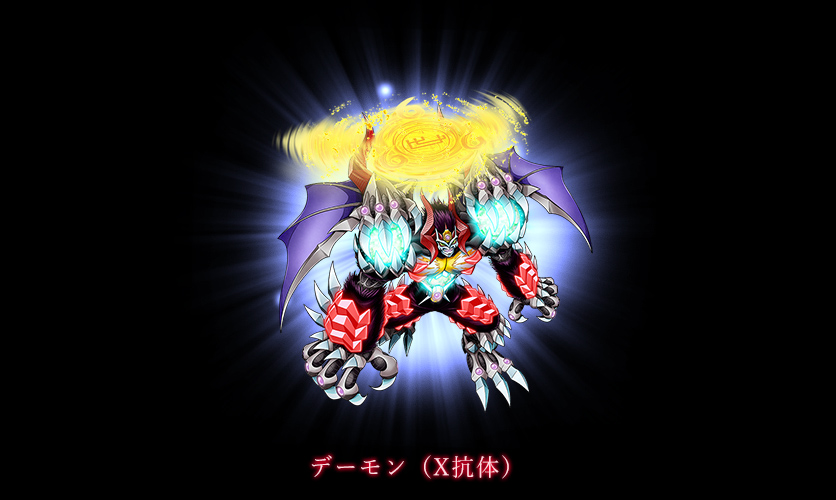 Chapter 9 is coming June 24th!
And for prior MonMon Memos...
Previous MonMon Memos have included:
Cold Mode
Copymon
New Virus Busters
New Nightmare Soldiers
Silver Blue Special Digi-Eggs
Silver Black Special Digi-Eggs, Plus ones in both!
Jogress Digimon
Password Digimon
Overview of the 20th Pendulum, Plus Enemies in Battle Mode
Kenji Watanabe Pendulum Interview
CSA Digivice tri. Memorial
Additional Digimon showing up in the Pendulum 20th 2nd Wave
RagnaLordmon, Jogress of the 20th Anniversary Legend Arms
Pendulum Art Book Sample Pages, Teasers, and Interview Details
Pendulum Art Book Update- Digimon Designer Round Table! Plus Shikishi Artwork
Introductions for the CSA Digivice 1999 and Terriermon Plush, plus X-Antibody Updates
CSA Digivice 1999 Details
RagnaLordmon and Finalized Wave 2 20th Pendulum Packaging
Pendulum Art Book Preview- Twitter, Armor Evos, Omegamon, Chronicle
Digimon in 2nd Wave of 20th Anniversary Pendulums & Art Book Preview
Digital Monster X and X-Antibody Teasers
Digital Monster X Booklet Details
Digital Monster X Digimon Info & CSA Digivice 1999 Booklet Details
Digital Monster X Map System Info
Digital Monster X Battle System Info
New X-Antibody (Finalized Diablomon X & Sakuyamon X) Digimon Artwork
Digital Monster X Training & Raising Features
The Digimon Lineup for the Digital Monster X & More Reveals
Digital Monster X Summary & Preview from MonMon Memo, plus more Digimon intros!
Digital Monster X Evolution Conditions from MonMon Memo!
The Movements of the Seven Great Demon Lords from MonMon Memo
Update- Fixed a typo.