Show User Social Media
Hide User Social Media
Joined

Sep 8, 2006
Messages

14,746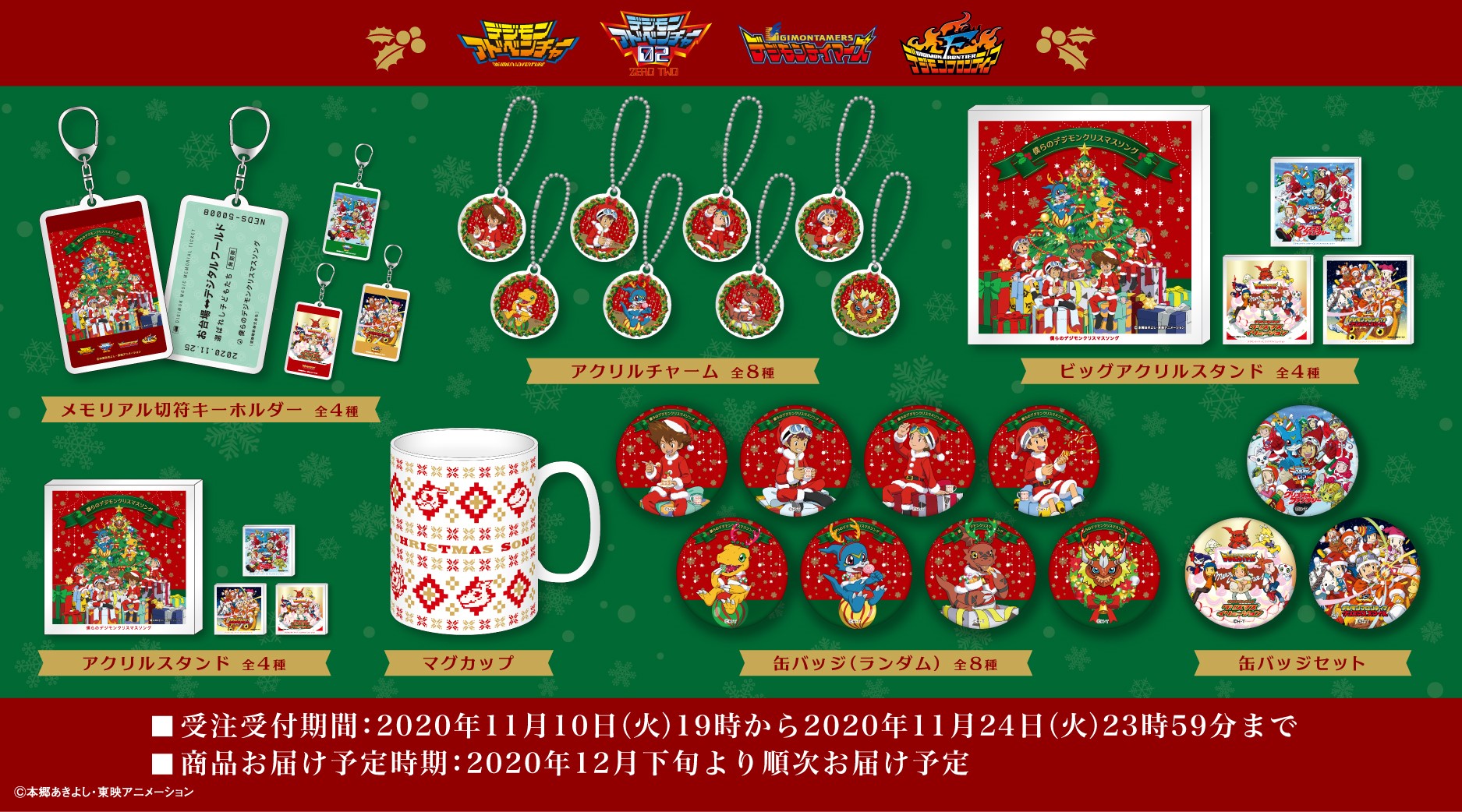 Some new Digimon Music related products!
Aniga-ter and FeelMee have partnered once again to do a number of products. This time featuring artwork that FeelMee has used for Digimon Christmas Albums,
including the new digital album
plus the original 02, Tamers, and Frontier Christmas albums.
These items will be available at Aniga-ter
through October 24th, unless they hit certain numbers, in which case they may stop pre-orders early to make sure they'll ship in December.
The products are...
Memorial keychains with the cover art on one side, and mock memorial tickets on the other. Each is 1,400 yen.
Our Digimon Christmas Carol
,
Zero-Two
,
Tamers
,
Frontier
Big acrylic stands. Each of these measure roughly 5.9 by 5.9 inches. Each is 3,300 yen.
Our Digimon Christmas Carol
,
Zero-Two,
Tamers
,
Frontier
Acrylic stands. Each of these measure roughly 3.5 by 3.5 inches. Each is 1,650 yen.
Our Digimon Christmas Carol
,
Zero-Two
,
Tamers
,
Frontier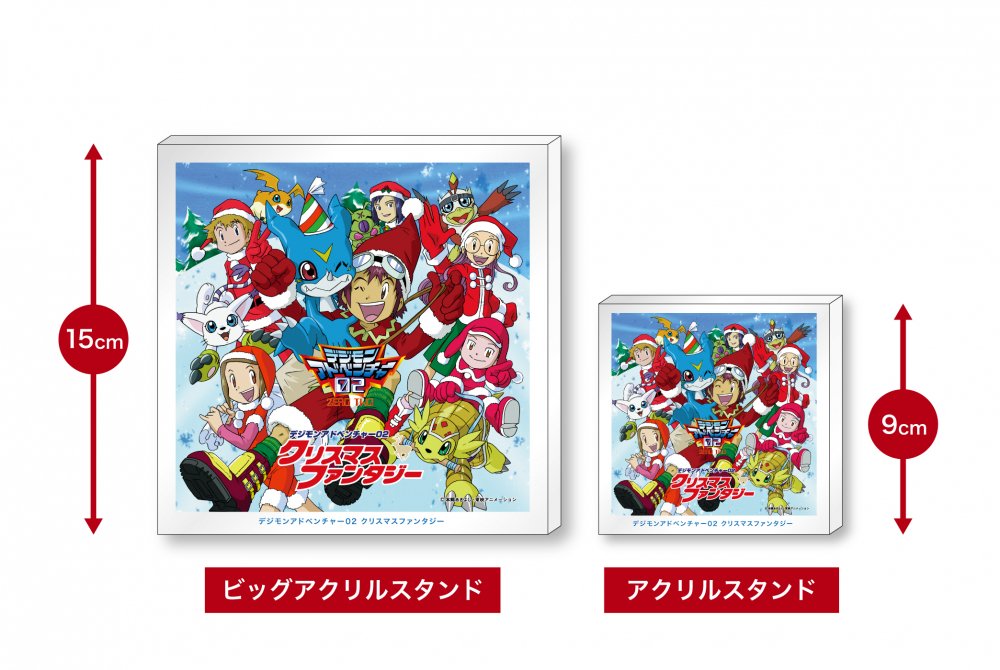 An image showing a comparison of the size between the 2 types of acrylic stands.
Can badges with the character art from the new album. A single random can badge is 500 yen and a set is 400 yen.
Single
,
Complete Set
A can badge set
featuring 3 can badges, each with the artwork from a different Digimon Christmas album- 02, Tamers, and Frontier. The set is 1,300 yen.
Acrylic charms featuring the character art from the Our Digimon Christmas Carol album. Each is 770 yen.
Taichi
,
Daisuke
,
Takato
,
Takuya
,
Agumon
,
V-mon
,
Guilmon
,
Agnimon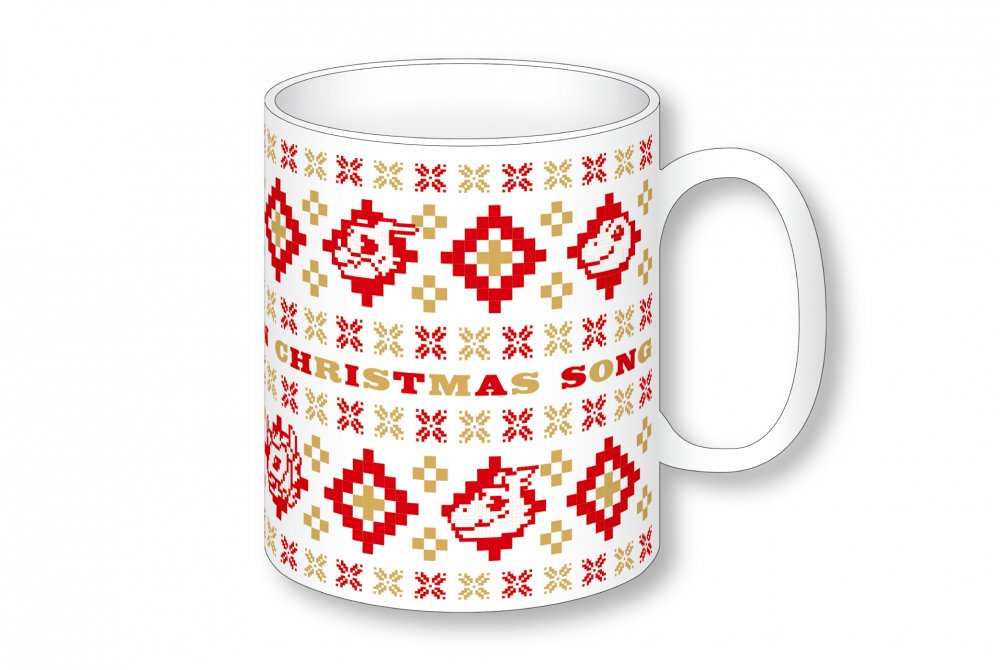 A mug
featuring Digimon sprite art and a Christmas sweater type motif. It's 1,980 yen.
Nice to see the really nice Digimon Christmas art get used for a wave of products, even if it'll only be available for a few weeks.
Aniga-ter has teamed up with world shopping to make international purchases easy, and it will show up on their site if it sees you are outside of Japan. If you'd rather use your own intermediary...
You'll want to contact an intermediary to get these items sent to you. WtW is not affiliated with any, but here are a selection of intermediaries that have worked well for various WtWers and their friends in the past:
From Japan
Rider Proxy
Nippon-Yasan
You'll want to provide your chosen intermediary with the link to the item. Just copy paste the link to the product pages for what you want and send them a message about it and they'll take care of it after they discuss pricing and their policies with you. The links embedded in the news article for the products are exactly what you'll need to send them.
Some of the intermediaries have a full storefront and may have the item listed, so you may want to check that first.
Last edited: