Show User Social Media
Hide User Social Media
Joined

Sep 8, 2006
Messages

15,196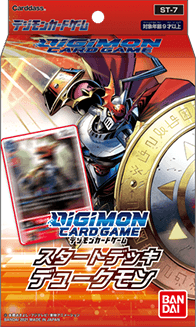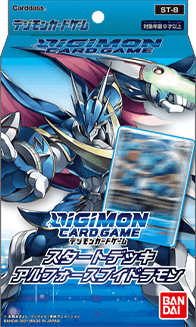 After lots of previews and teases we have the full card list for Starter Decks 7 & 8 for the Digimon Card Game!
The card list on the Digimon Card Game website (Deck 7)
(
Deck 8
) updated all of them. We're including images of every card, and due to the way starter decks are put together, we don't expect any parallel cards or variants of these (at least in the boxes, later we will almost certainly get some of as promo cards.)
The full embeds are smaller images from the gallery, linking to the full size ones when you click them. The set name links to the gallery.
Pre-orders at a number of easy to import from places for Starter Decks 7 and 8 are out.
Beneath these are some recent promo cards, to have them all in easy to find places.
Each starter deck includes 54 cards, made from a pool of 16 each. 12 of the cards are new, while 4 are parallel cards of pre-existing cards.
Starter Deck 7- Dukemon
















Starter Deck 8- ULForceV-dramon















And as mentioned above, recent
promo cards
. We've seen these all recently, but including them just in case anyone has missed them (with the first batch being relevant to the starter decks themselves.)






The
'delay' promo cards
. These cards introduce a new gameplay mechanic, and each card does the same for it's color. All 6 cards are included in the box with Starter Decks 7 & 8 as a bonus.





The
5th Tamer Battle Pack
along with the equivalent Winners Card.

The 2nd Pulsemon promo card
.






The 1 year anniversary promo cards.
This set of 6 cards is being given out to anyone who buys 500 yen or more of Digimon Card Game products in Japan.
A week to go until the new starter decks are out, and a month to go until Booster Set 6 Double Diamond is out!
We also recently got some new solid info on Booster EX-01 Classic Collection
!
And images from previous Digimon Card Game releases:
Previous Card previews for Starter Decks 7 and 8:
Previous card previews for Booster Set 6:
Last edited: