Show User Social Media
Hide User Social Media
Joined

Sep 8, 2006
Messages

17,396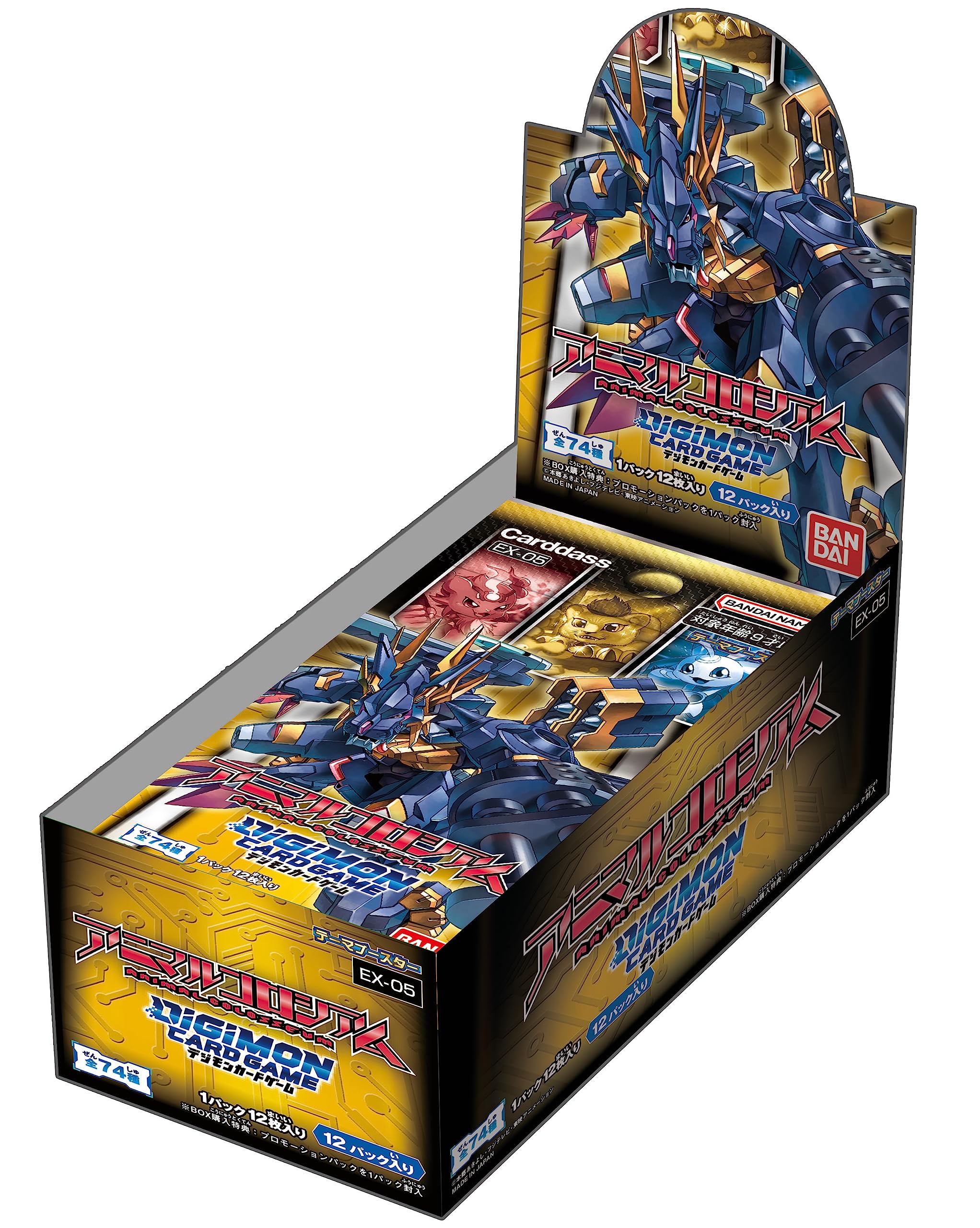 After a bunch of previews we have the full card lineup for Booster Set EX-05 Animal Colosseum for the Digimon Card Game!
The card list on the Digimon Card Game website has
added all the standard cards
.
Parallel cards will be added on the official site soon, we will wait until these clean images are available.
The full embeds are smaller images from the gallery, linking to the full size ones when you click them. The set name links to the gallery.
Digimon Card Game, Booster Set EX-05 Animal Colosseum
Booster Set EX-05 is a theme booster, smaller than the standard booster, with a single theme. The theme for EX-05 is any number of animal Digimon, along with the games Digimon Story: Sunburst/Moonlight (Digimon World: Dawn/Dusk)
The set is out on August 25th in Japan.
Booster Set EX-05 has 74 cards & the card distribution is:
22 Common
20 Uncommon
18 Rare
12 Super Rare
2 Secret Rares










































































After the 74, there are some additional cards included with EX-04 Alternative Being. These have matching card numbers to cards in the set, and for gameplay purposes are considered the same card, they are just variants.
First up...




















These 20 parallel cards are included in the standard card distribution for Booster Set EX-04 to the best of our knowledge, they are just quite rare. These are all identical to the normal 20 cards for gameplay purposes, they just have different art.






These 6 parallel cards are random box toppers. They feature the 6 baby cards from the set with a holofoil finish.[/URL]

This additional parallel card of MetalGarurumon X is designed to look like his original card from Hyper Colosseum. It's in the distribution of the standard packs in the set, just very rare.
No new clean promo cards released since the last clean image set, as the last batch was sizeable
Just a bit under a week until the new Booster Set is out!
And images from previous Digimon Card Game releases:
Previous previews for Booster Set EX-05 Animal Colosseum:
Packaging MetalGarurumon X, Coronamon, Lunamon, Koh & Sayo, Sayo & Koh, & Aquilamon Baihumon Ace Xuanwumon Ace Qinglongmon Ace & Zhuqiaomon Ace Tokomon & Elecmon Mercurymon V-Jump Previews Pajiramon & Caturamon Loyalty Deeper than the Sea & MetalGarurumon X Parallel Sandiramon & Mihiramon Huanglongmon & Cardinal Directions of the Holy Beasts Indaramon & Vajramon Frimon & Duftmon X Nyaromon, Hawkmon, & Garudamon Shakomon & Octomon Leviamon & Rostrum Rostrum & Dagomon BanchoLeomon & Flash Bancho Punch Firamon, Lekismon, & Apollomon Phoebus Blow, Goodnight Moon, & Dianamon Kudamon, Reppamon, & Tyilinmon Mitamamon, Xiaomon, & Labramon Dobermon X & Cerberumon X Anubimon, Sinduramon, & Kumbhiramon Etemon & MetalEtemon Leomon, GrapLeomon, & HeavyLeomon Liollmon, Liamon, & LoaderLeomon Antylamon, Majiramon, & Vikaralamon Sunmon, Moonmon, Flaremon, Crescemon, & GraceNovamon Sunmon, Moonmon, Flaremon, & Crescemon X-Antibody PF and Mitamamon & Mercurymon Parallel MetalEtemon, BanchoLeomon, & HeavyLeomon Parallel Leviamon & Anubimon Parallel Duftmon X & MetalGarurumon X Parallel X-Antibody PF, Coronamon, & Lunamon Parallel Apollomon, Dianamon, & GraceNovamon Parallel Baihumon Ace, Xuanwumon Ace, Qinglongmon Ace, & Zhuqiaomon Ace Parallel Huanglongmon Parallel
Last edited: