Show User Social Media
Hide User Social Media
Joined

Sep 8, 2006
Messages

17,382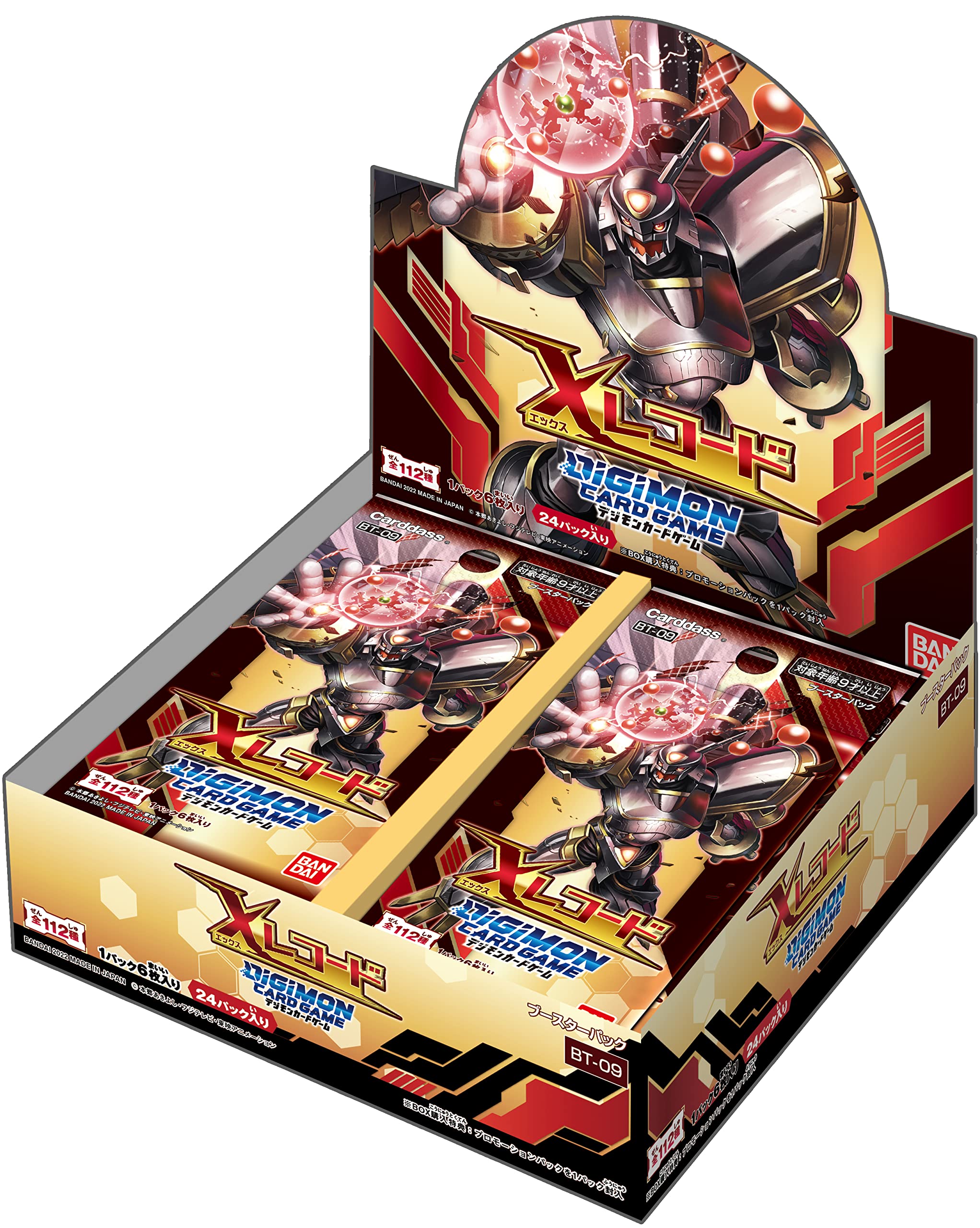 After a bunch of previews we have the full card lineup for Booster Set 9 X Record for the Digimon Card Game!
The card list on the Digimon Card Game website has
added all the standard cards
.
Parallel cards will be added once clean versions go up on the site soon. Update- We've added the parallel cards.
Also included are some recently released promo cards.
The full embeds are smaller images from the gallery, linking to the full size ones when you click them. The set name links to the gallery.
Pre-orders at a number of easy to import from places for Booster Set 9 are already sold out.
Digimon Card Game, Booster Set 9 X Record
The set is out on February 25th in Japan.
Booster Set 9 has 112 cards & the card distribution is:
44 Common
30 Uncommons
26 Rare
10 Super Rare
2 Secret Rares
















































































































After the 112 cards, there are some additional parallel cards. These have matching card numbers to cards in the set, and for gameplay purposes are considered the same card, they are just variants.
First up...


















These 18 parallel cards are included in the standard card distribution for Booster Set 9, they are just quite rare. These are all identical to the normal 18 cards for gameplay purposes, they just have different art.
Then box toppers!






Each booster box includes a box topper features a parallel card of the digitama cards, featuring Baby 2 characters (who have Baby 1 characters also on the art.) Each box topper pack includes 1 card. There are 6 of these total, and feature the same artwork as the normal cards, just larger with a fancy design background.
Then there are some recent promo cards.








Tamer's Evolution Box 2
included parallel cards of 7 anime heroes and one option card themed after the same characters.





The
10th Tamer Battle Pack
along with the equivalent Winners Card.






The
Special Promotion Pack 2022
was given to participants at Tamer Meeting events. These were the six promo cards that were seemingly delayed from earlier due to their numbering.






The
Update Pack
was announced as part of the celebration of the 2nd anniversary of the card game. It'll be given out per 1,000 yen spent on the card game beginning the same day Booster 9 is released.
And images from previous Digimon Card Game releases:
Previous Card previews for Booster Set 9:
Pack Art & Monochrome Flip Art Dukemon X & X-Antibody Alphamon Digitalize of Soul KausGammamon Greymon X Okuwamon X GrandisKuwagamon WereGarurumon X & Monochromon Mochimon & Takeru and Koushiro Nefertimon & Pegasmon Magnamon X & Awakening of the Golden Knight Meicrackmon: Vicious Mode Raguelmon Meicoomon & Meiko Ordinemon Preview & Magazine Previews- Dorumon, Agumon X, Plotmon X, Guilmon X, Gazimon X Jellymon & Bibi Thunder Igamon Gabumon X OmegaShoutmon X & Flare Rock Damashii Pomumon & LoaderLiomon Matadrumon Dracumon & Kuwagamon X Growmon X & Magazine Previews- WarGreymon X, Angewomon X, Leomon X, Death-X-Dorugamon, Grademon, Daigo, Maki, Kiyoshiro, & TeslaJellymon Grademon & Raptordramon Gaioumon Plotmon X & Holydramon X Garurumon X & Yamato and Sora V-Jump Minidekachimon & Atamadekachimon Plotmon TeslaJellymon & Kiyoshiro MetalGarurumon X Kokuwamon X Fujinmon & Raijinmon Suijinmon & Raidenmon Hangymon RizeGreymon X & Sunrise Buster Piranimon & Sangloupmon Bearmon & Daigo Omegamon: Merciful Mode Elecmon MegaloGrowmon X & Atomic Megalo Blaster Packaging Megadramon Bakumon & Maki Puyoyomon & Metal Storm Panjyamon X Baihumon & Kongou Ganimon & Zamielmon Tailmon X & Angewomon X Koromon & MetalGreymon X WarGreymon X, Agumon X, Taichi & Hikari, & Gaia Force ZERO Gryzmon & Gazimon X Mimi & Jou Cool Boy & X Program! Dorumon & X-Evolution! Alphamon: Ouryuken Starmon & DarkSuperStarmon MetalPiranimon Grandis Scissor Pagumon & Dinorexmon DinoTigermon & Ground Fang Ebidramon & ToyAgumon Guilmon X GrandDracumon & Eye of the Gorgon Tokomon X & Leomon X Death-X-Doruguremon & Metal Impulse Death-X-Dorugamon, Death-X-Evolution!!, Death-X-Dorugoramon, & Death-X-mon Dukemon X Parallel Magnamon X Parallel GrandisKuwagamon Parallel Gaioumon Parallel Gabumon X Parallel MetalGarurumon X Parallel Agumon X Parallel WarGreymon X Parallel Jellymon Parallel Death-X-Dorugoramon Parallel Grademon Parallel Alphamon Parallel Meicoomon Parallel Raguelmon Parallel Ordinemon Parallel Omegamon: Merciful Mode Parallel Death-X-mon Parallel Alphamon: Ouryuken
Last edited: