Show User Social Media
Hide User Social Media
Joined

Sep 8, 2006
Messages

17,421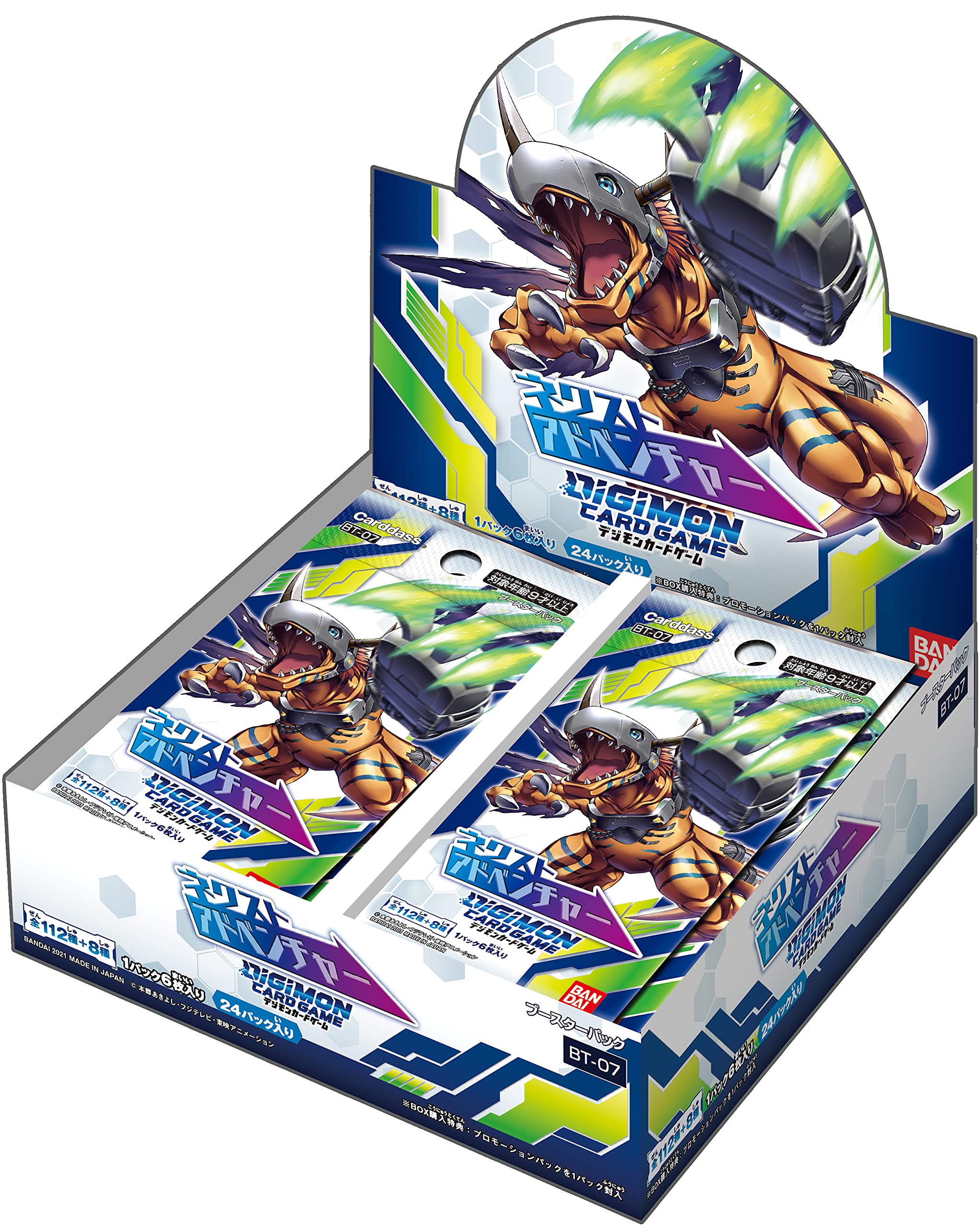 After a bunch of previews we have the full card lineup for Booster Set 7 Next Adventure for the Digimon Card Game!
The card list on the Digimon Card Game website has
added all the standard cards
.
Parallel cards will hopefully be added soon. We will wait to add those until we have clean versions of all. Update- Parallel cards added.
Also included are some recently released promo cards.
The full embeds are smaller images from the gallery, linking to the full size ones when you click them. The set name links to the gallery.
Pre-orders at a number of easy to import from places for Booster Set 7 are already sold out.
Digimon Card Game, Booster Set 7, Next Adventure
The set is out on August 27th in Japan.
Booster Set 7 has 112+8 cards & the card distribution is:
44 Common
30 Uncommons
26 Rare
10 Super Rare
2 Secret Rares
8 Campaign Cards
















































































































There are also 8 campaign cards included with Booster Set 7. These are numbered as promo cards, but are considered part of Booster Set 7.








The campaign cards are the Ultimate level Digimon from Digimon Adventure:, along with the kids on each card.
After the 112 and the 8 campaign cards, there are some additional parallel cards. These have matching card numbers to cards in the set, and for gameplay purposes are considered the same card, they are just variants.
First up...


















These 18 parallel cards are included in the standard card distribution for Booster Set 7, they are just quite rare. These are all identical to the normal 18 cards for gameplay purposes, they just have different art.
Then box toppers!






Each booster box includes a box topper features a parallel card of the tamer cards of the Frontier kids in the set. Each box topper pack includes 1 card. There are 6 of these total, and feature the same artwork as the normal cards, just larger with a fancy design background, with symbols that would be familiar to fans of Frontier.
Then there are some recent promo cards.



The 20th Anniversary Tamers promo cards
feature the 3 main lead Digimon from Digimon Tamers in their adult forms. All of these are parallel cards of existing cards.
These were first available to attendees of DigiFes 2021, and are also showing up at an event, with possible future distribution.
We also have the first news of
Booster Set 8 New Hero
.
And images from previous Digimon Card Game releases:
Previous Card previews for Booster Set 7:
V-Jump Takuya Promo Poster Photos w/ Card Previews of Whamon, Eyesmon, & Giga Storm Clean Poster & Magazine Previews of Frontier kids, Kouta, Dorumon, & Dorugoramon Cherubimon Vice Aldamon and KaiserGreymon Blitzmon and KaiserLeomon, plus Magazine Previews- Susanoomon, MetalGreymon, & Herissmon Line WarGreymon, Vikemon, HerculesKabuterimon, & Hououmon Campaign Cards MagnaGarurumon and BeoWolfmon Pulsemon, Bulkmon, and Boutmon Kazuchimon Tortamon and Mametyramon Lucemon: Falldown Mode & Option Card Dead or Alive Susanoomon & Option Card Ancient Evolution Doruguremon & Option Card Brave Metal Bokomon & Neemon MetalGarurumon, Rosemon, Seraphimon, and Ophanimon Campaign Cards Caprimon & Chaosdramon V-Jump Previews SkullKnightmon & DeadlyAxemon DarkKnightmon KaiserGreymon & MagnaGarurumon Parallel Cards
Last edited: