Show User Social Media
Hide User Social Media
Joined

Sep 8, 2006
Messages

17,385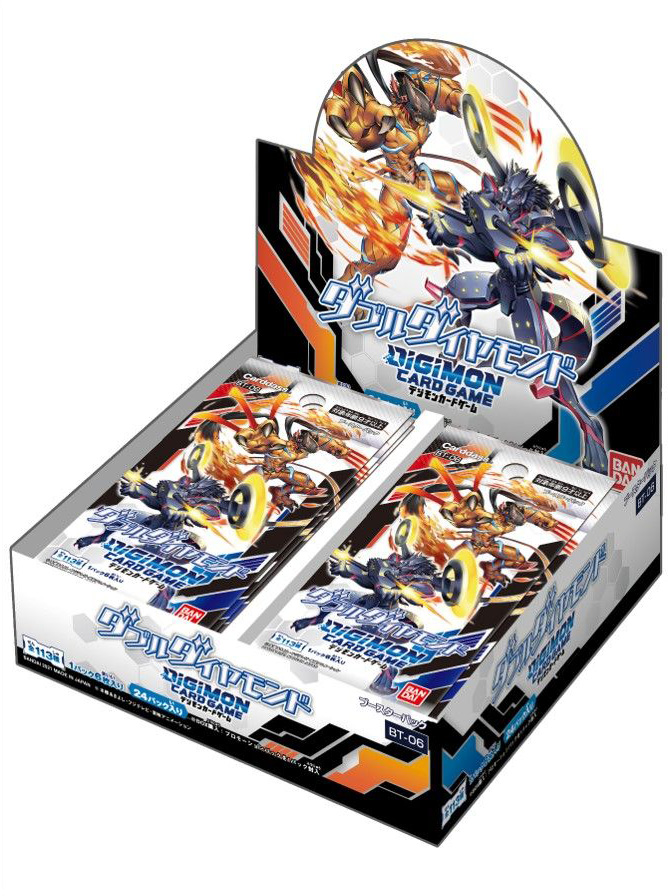 After a bunch of previews we have the full card lineup for Booster Set 6- Double Diamond for the Digimon Card Game!
The card list on the Digimon Card Game website hasn't updated with them yet. Rather,
some of the countries
that use the Japanese version of the card game as their local version already had their cards up, which should be the same images as the Japanese site will have up shortly.
Parallel cards will hopefully be added soon, but we are using the images we have for some of them now.
Also included are some recently released promo cards.
The full embeds are smaller images from the gallery, linking to the full size ones when you click them. The set name links to the gallery.
Pre-orders at a number of easy to import from places for Booster Set 6 are already sold out.
Digimon Card Game, Booster Set 6 (BT06), Double Diamond
The set is out on may 28th in Japan.
Booster Set 6 has 113 cards & the card distribution is:
44 Common
30 Uncommons
26 Rare
11 Super Rare
2 Secret Rares














































































































After the 113, there are some additional cards. These have matching card numbers to cards in the set, and for gameplay purposes are considered the same card, they are just variants. (Some are parallel cards to other pre-existing cards, rather than being from BT06.)
First up...


















These 18 parallel cards are included in the standard card distribution for Booster Set 6, they are just quite rare. These are all identical to the normal 18 cards for gameplay purposes, they just have different art.
And one more card included in the standard distribution of Booster Set 6.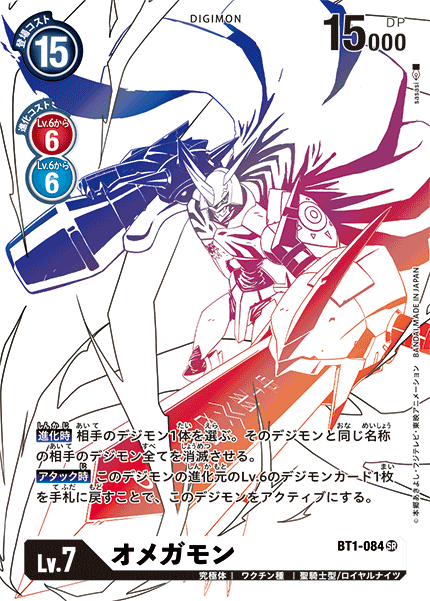 This Special Anniversary Parallel Omegamon card will be included in the distribution of Booster Set 6. It's a stylish minimal holofoil parallel card of the first Omegamon card, from Booster Set 1. While included in standard Booster Set 6 packs, it is extremely rare, moreso than most cards.
Then box toppers!






Each booster box includes a box topper features a parallel card of the Baby 2 Digimon in the set. There are 6 of these total, and feature the same artwork as the normal cards, just larger with a fancy design background.
And one more set of box toppers...










To celebrate the anniversary of the card games, a vote was held, where fans could vote on cards to get parallel cards in Booster Set 6. Cards had to have not gotten a parallel card at the time of their initial release. The top 10 were included as box toppers for Booster Set 6.
Before we move on from Booster Set 6, a few cards in the set make panorama images with other cards...
And one more panorama...
​
The standard Alphamon card from Booster Set 6 makes a panorama with the standard Omegamon X card from Booster Set 5. Both were drawn by As'Maria.
And as mentioned above, recent
promo cards
. We've seen these all recently, but including them just in case anyone has missed them.
































The 1st Anniversary Adventure Pack is a giveaway at various events. It's to celebrate the 1st anniversary of the card game and Adventure:. Each pack includes 4 cards out of 32. They are all parallel cards of existing cards. Each pack includes one of the kids and their Digimon in child, adult, and perfect form. The kids use pre-existing art, while the Digimon use new art. The 4 cards in each pack are of that specific kid/Digimon 'set'.
Update- Booster Set 6 is out in Japan, and clean images of all parallel cards have been added.
We've also gotten our
first details for Booster EX-01 Classic Collection
!
And images from previous Digimon Card Game releases:
Previous Card previews for Booster Set 6:
Sistermon Blanc & Sistermon Noir Titamon Dynasmon Kizuna Character Cards from V-Jump Gankoomon Pulsemon Packaging Preview, plus box topper Chaosmon: Valdur Arm Parallel Card Mojyamon, Shoutmon, Mamemon, Arbormon, Babmon, SkullGreymon, Grave Memory Booster, & Takeru and Hikari Flamon & Strabimon Machmon Bulkmon Kinkakumon & Ginkakumon ModokiBetamon Hackmon, plus Higher Resolution Packaging & Updated Looks at Agumon, Gabumon, Pulsemon, & Sistermon Noir and Blanc Jesmon Petaldramon Gundramon Reinforce Memory Boost Tamer Sora & Mimi & Magazine Previews of Bibimon and Parallel Cards of Agumon Bonds of Courage & Gabumon Bonds of Friendship Morphomon & Magazine 1st Look at Eosmon Ultimate plus more Agumon Tamer Menoa Taichi, Yamato, Eosmon Adult, & Parallel Cards of Agumon Bonds of Courage & Gabumon Bonds of Friendship Eosmon (Ultimate) Qinglongmon & More Majiramon Gewaltschwarmer MagnaKidmon Wizarmon Chikurimon Impmon BelleStarmon Alphamon & More
Last edited: