Show User Social Media
Hide User Social Media
Joined

Sep 8, 2006
Messages

17,421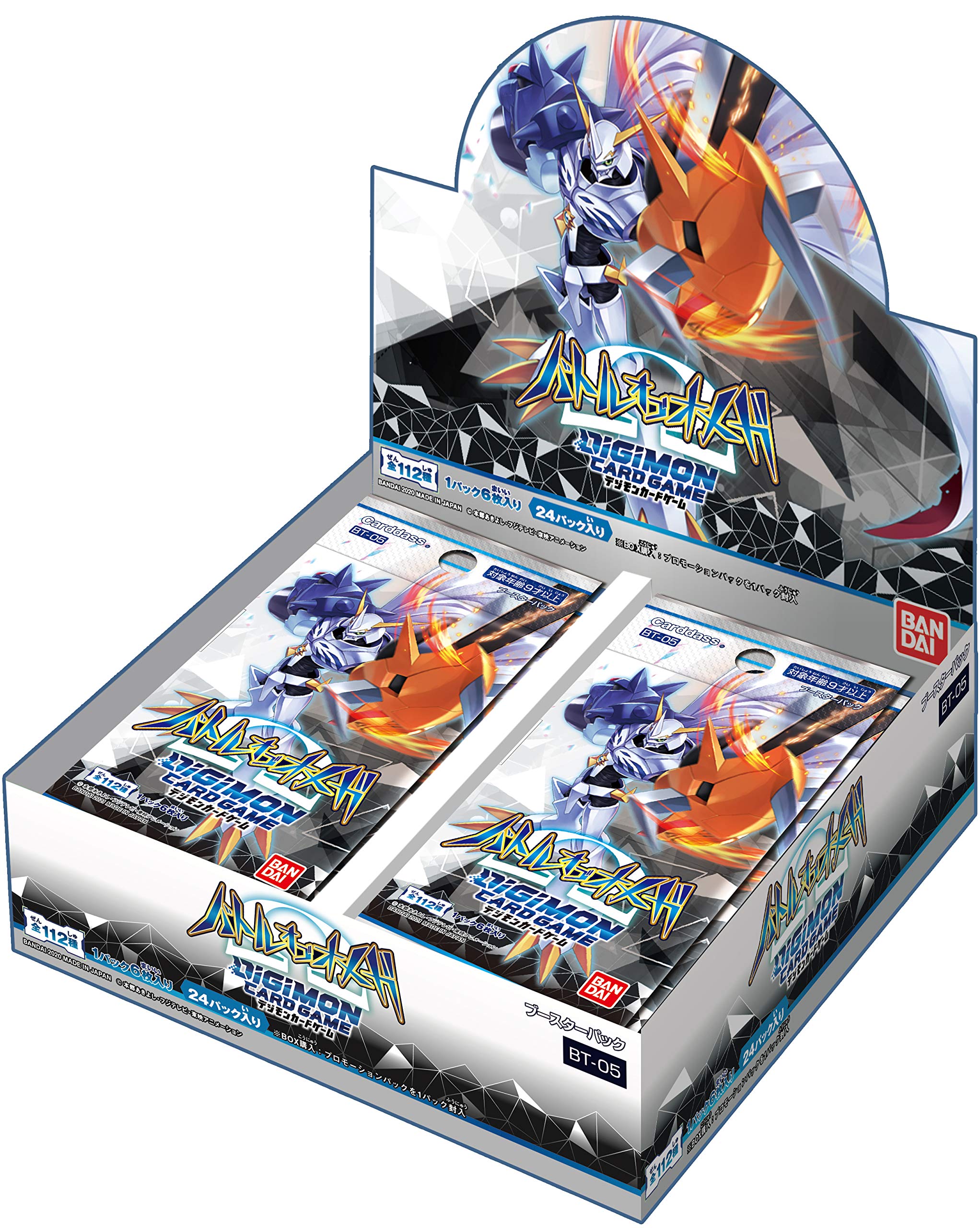 After a bunch of previews we have the full card lineup for Booster Set 5- Battle of Omega for the Digimon Card Game!
The card list on the Digimon Card Game website hasn't updated with them yet. Rather,
some of the countries
that use the Japanese version of the card game as their local version already had their cards up, which should be the same images as the Japanese site will have up shortly.
Parallel cards will hopefully be added soon, but we are using the images we have for some of them now.
Also included are some recently released promo cards.
The full embeds are smaller images from the gallery, linking to the full size ones when you click them. The set name links to the gallery.
Pre-orders at a number of easy to import from places for Booster Set 5 are already sold out.
Digimon Card Game, Booster Set 5 (BT5), Battle of Omega
The set is out on February 26th in Japan.
Booster Set 5 has 111 cards & the card distribution is:
44 Common
30 Uncommons
26 Rare
10 Super Rare
2 Secret Rares
















































































































After the 112, there are some additional cards. These have matching card numbers to cards in the set, and for gameplay purposes are considered the same card, they are just variants.






These parallel cards feature the 6 tamers who have cards in Booster Set 5.
The parallel tamer cards come 1 per booster box.
​
Then we have parallel cards of various Digimon. As far as we know these will all be mixed in with standard booster packs, just quite rare to get. These parallel cards all feature alternate art from the standard version of the cards in the set. As we get more of them, we will split these up until separate subsections.
Various cards make mini-panorama images with other cards.
The Omegamon X card features the classic artwork by As'Maria and features various card stylings from Hyper Colosseum (the original Digimon Card Game.)
Update- Swapped in the card game website version of each card. These are out of order to allow cards to be next to eachother that make a panorama. We've forced some alignment change to make the panorama cards appear close to eachother. We'll add joined versions of them shortly.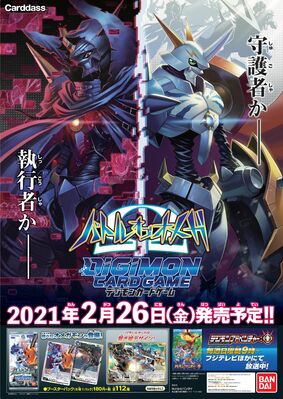 The promo art for Booster Set 5 features both Omegamon & Omegamon Zwart Defeat with artwork that hasn't appeared in the set. It's possible it's being held back for future parallel or promo card usage, since as far as we know we have images of every card from Booster Set 5.
And as mentioned above, recent
promo cards
. We've seen these all recently, but including them just in case anyone has missed them.





The
4th Tamer Battle Pack
along with the equivalent Winners Card. All of these are parallel cards of existing cards.

The
4th scene vote card
featuring Digimon Adventure: Last Evolution Kizuna.
Distribution for the 4th Battle Pack/Winner's Card and scene vote card were impacted due to the state of emergency in Japan. Various alternate distributions have been announced both
recent
and
upcoming
.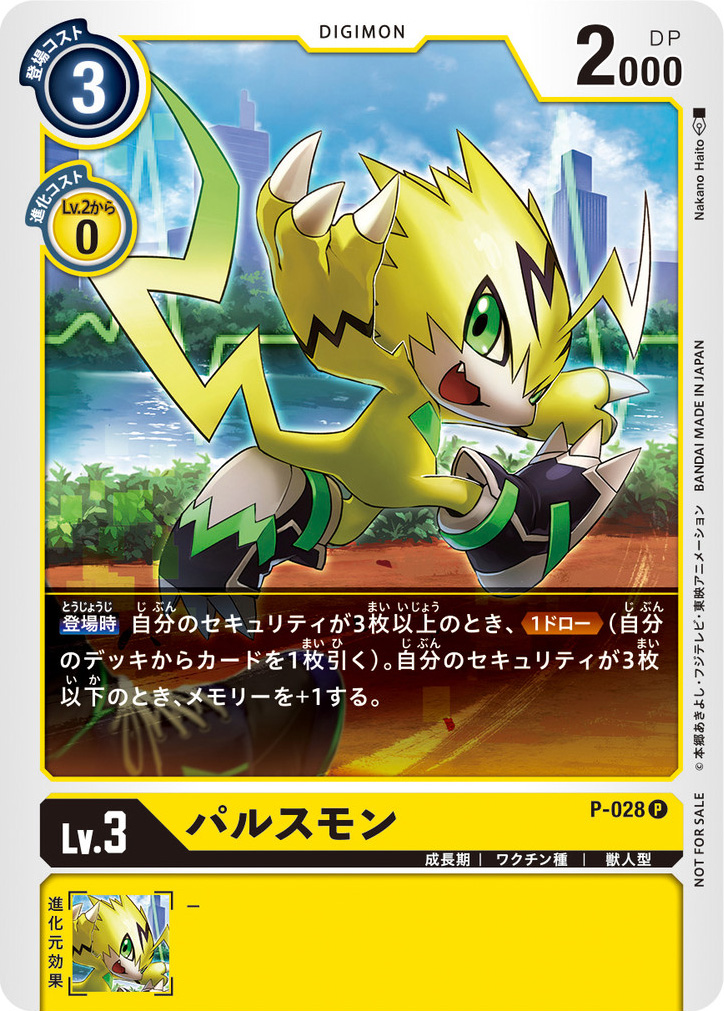 And while a bit early, since we have the details. A promo card of Pulsemon will be included with the Vital Bracelet next month. Future Pulsemon cards have been teased, without clarification if they will be parallel cards or 'new' cards.
Just about a week to go until Booster Set 5 is out!
Update- Swapped out Shoutmon DX for a panorama image of
the combined Omegamon & Shoutmon DX parallel cards
.
Update- Added all the parallel cards.
We also have begun to get details
about Booster Set 6 Double Diamond, plus Starter Deck 7 Dukemon & Starter Deck 8 ULForceV-dramon
.
And images from previous Digimon Card Game releases:
Previous card previews for Booster Set 5:
Hexeblaumon Pack packaging, Agumon, & Greymon Gabumon & Garurumon Starmons, ShootingStarmon, & SuperStarmon ChaosDukemon Terriermon Joshu & Fake Agumon Hakase & 1st Look at MetalGreymon: Alterous Mode & WereGarurumon: Sagittarius Mode Takumi Nokia WaruMonzaemon Guilmon & BlackGrowmon V-Jump- Omegamon Zwart, Shoutmon DX, Sakuyamon, MetalGarurumon, and Algomon (Ultimate) ZekeGreymon MoriShellmon MetalGarurumon (Black) Option Card Hot & Fierce Metal Storm, Omegamon, & Omegamon Zwart (Normal & Parallel) Megidramon Koromon & Tsunomon Battle of Omega High-Res Promo Poster Shoutmon BlackMegaloGrowmon BanchoLilymon Blucomon Omegamon Zassoumon & Magazine Previews OmegaShoutmon, Absolute Blast, Tactimon, Taichi & Yamato, MetalGreymon: Alterous Mode, WereGarurumon: Sagittarius Mode, & Rafflesimon Shademon & Omegamon Zwart Koushiro & Mimi Wisselen Jijimon Knightmon Ichi-no-tachi plus Magazine Previews of Arata, Keramon, Chrysalimon, Infermon, Diablomon, & Armagemon Piccolomon Monochromon & Triceramon Palmon Catastrophe Cannon Pyocomon Gigimon Paledramon Zanbamon & Magazine Preview of Omegamon Zwart Defeat MarineDevimon Grey Sword & Garuru Cannon Royal Nuts Omegamon X & Omegamon Zwart Defeat from Fun Digica All Delete Spiral Masquerade, plus Parallel Cards and more from Digimon Card Battle
Last edited: