Show User Social Media
Hide User Social Media
Joined

Sep 8, 2006
Messages

15,796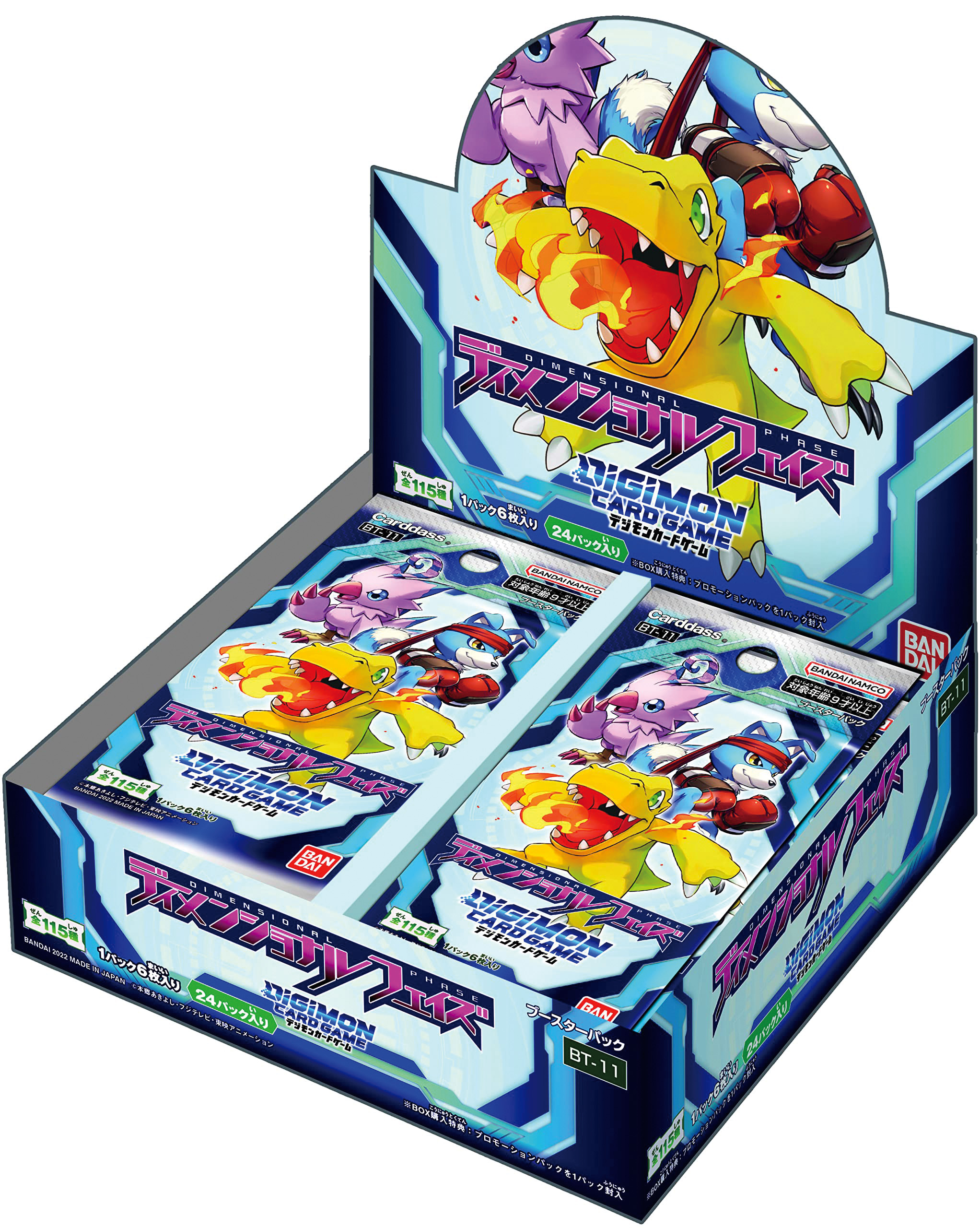 After a bunch of previews we have the full card lineup for Booster Set 11 Dimensional Phase for the Digimon Card Game!
The card list on the Digimon Card Game website has
added all the standard cards
.
Parallel cards will be added once clean versions go up on the site soon.
Also included are some recently released promo cards.
The full embeds are smaller images from the gallery, linking to the full size ones when you click them. The set name links to the gallery.
Digimon Card Game, Booster Set 11 Dimensional Phase
The set is out on September 30th in Japan.
Booster Set 11 has 115 cards & the card distribution is:
44 Common
30 Uncommon
26 Rare
12 Super Rare
3 Secret Rare
*3 of the 115 are special reprint parallel cards of cards from before BT11, so 112 cards numbered BT11
















































































































After the 112 main cards, there are some additional parallel cards. These have matching card numbers to cards in the set, and for gameplay purposes are considered the same card, they are just variants. That also includes 3 special reprint cards, which are not numbered as BT11.
Parallel cards and reprints will be added once clean cards are available in about a week.
Then there are some recent promo cards.





The
Special Promotion Pack 2022 v3
was given to participants at various events.





The
14th Tamer Battle Pack
along with the equivalent Winners Card.
And images from previous Digimon Card Game releases:
Previous previews for Booster Set 11 Dimensional Phase:
Packaging Piyomon, Agumon, Gaomon & Jijimon V-Jump Previews- Shoutmon x7, Bagramon, Lilithmon, & Reprint Mugendramon Kotemon & Koemon OmegaShoutmon & Shoutmon DX Shoutmon x7 Lilithmon Bagramon Astral Snatcher V-Jump Pages SnowGoburimon & Hyougamon Penmon, WaruSeadramon, & Maelstrom Tyranomon & Buster Dive MetalTyranomon & RustTyranomon Taiga Chumon & Sukamon Great King Sukamon & Engacho Kick Tuwarmon & MusouKnightmon Cutemon & Iguneetmon Mervamon Tanemon & Vegimon Palmon & Poison Powder Tokomon & ClearAgumon Centalmon Wanyamon & Nicolai Gaogamon & MachGaogamon MirageGaogamon ModokiBetamon & Igamon Panjyamon Bearmon & Gryzmon GrapLeomon Marsmon Analog Man Gigadramon & DG Dimension Mugendramon Birdramon & Garudamon Pyocomon & Akiho Hououmon & Crimson Flame Dracomon & MetalGreymon + CyberLauncher ZekeGreymon Tunomon & Dokunemon Soulmon & DarkLizamon Koromon & MetalGreymon X (Virus) Agumon X (Black) & Greymon X (Blue) BlackWarGreymon X Yuuya & Hades Force HerculesKabuterimon X & High Mega Blaster ClavisAngemon LadyDevimon Devimon & Evil Squall Angemon, Holy Sunshine, Angewomon, & Mirei BlueMeramon & Magma Bomb Justimon: Accel Arm V-mon & V-dramon AeroV-dramon Ice Statue Rina & ULForceV-dramon Etemon & MetalEtemon Geremon & Megalo Spark Tekkamon Chikurimon & MadLeomon: Armed Mode Shoutmon + Star Sword Shoutmon x3 Taiki & Kiriha & Nene Ogremon & Digitamamon Titamon Mamemon Destromon Bemmon, Fusionize, Snatchmon, & Ragnamon Jijimon Parallel Taiga Parallel Shoutmon x7 Parallel Bagramon Parallel Mervamon Parallel MirageGaogamon Parallel Nicolai Parallel Hououmon Parallel Akiho Parallel Marsmon Parallel Angewomon Parallel LadyDevimon Parallel Mirei Parallel BlackWarGreymon X Parallel Yuuya Parallel ULForceV-dramon Parallel V-Jump Preview- ULForceV-dramon Reprint Parallel Rina Parallel Ragnamon Parallel Mugendramon Reprint Parallel J-Jump Images ULForceV-dramon Reprint Parallel