Show User Social Media
Hide User Social Media
Joined

Sep 8, 2006
Messages

17,381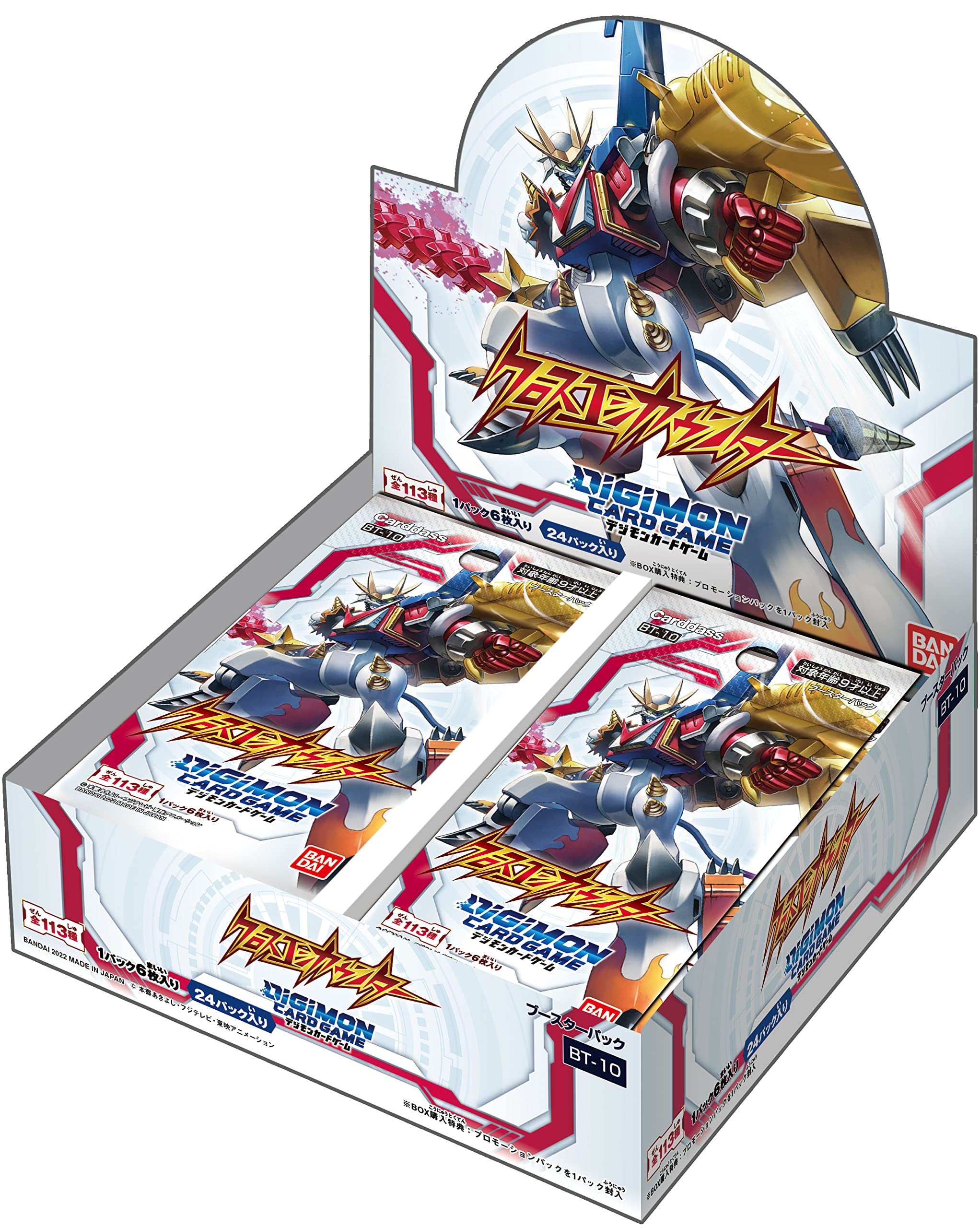 After a bunch of previews we have the full card lineup for Booster Set 10 Xros Encounter for the Digimon Card Game!
The card list on the Digimon Card Game website has
added all the standard cards
.
Parallel cards will be added once clean versions go up on the site soon. Update- They've been added.
Also included are some recently released promo cards.
The full embeds are smaller images from the gallery, linking to the full size ones when you click them. The set name links to the gallery.
Pre-orders at a number of easy to import from places for Booster Set 10 are already sold out.
Digimon Card Game, Booster Set 10 Xros Encounter
The set is out on May 27th in Japan.
Booster Set 9 has 113 cards & the card distribution is:
44 Common
30 Uncommons
26 Rare
10 Super Rare
3 Secret Rares (1 of which is in the official count but isn't a newly numbered card.)
















































































































After the 112 main cards, there are some additional parallel cards. These have matching card numbers to cards in the set, and for gameplay purposes are considered the same card, they are just variants. That also includes the 113rd card in the set, which is not numbered as BT10.
First up...


















These 18 parallel cards are included in the standard card distribution for Booster Set 10, they are just quite rare. These are all identical to the normal 18 cards for gameplay purposes, they just have different art.
Then box toppers!






Each booster box includes a box topper featuring a parallel card of the Xros Wars Tamer cards. Each box topper pack includes 1 card. There are 6 of these total, and feature the same artwork as the normal cards, just larger with a fancy design background.
And one more card included in the standard distribution of Booster Set 10.

This Alphamon card will be included in the distribution of Booster Set 10 and counts as the 113th card of the set. It's a stylish minimal holofoil parallel card of Alphamon card, from Booster Set 6. While included in standard Booster Set 10 packs, it is extremely rare, moreso than most cards, and generally referred to as a 'ghost rare'. It's thus far the 2nd ghost rare in the card game.
Then there are some recent promo cards.





The
Special Promotion Pack 2022 v2
was given to participants at various events.





The
12th Tamer Battle Pack
along with the equivalent Winners Card.


The Evolution Cup promo cards. Agumon is for those who place in top 8, Omegamon is for the winners. These are some of the earlier announced promo cards, delayed in release due to Coronavirus related issues (we had assumed they had been distributed in the past, but apparently not.) We first saw teh Omegamon card
nearly 2 years ago
.
And images from previous Digimon Card Game releases:
Previous previews for Booster Set 10 Xros Encounter:
Packaging, Shoutmon, Shoutmon x4, Taiki, & More Dorulumon & Ballistamon Pickmons & Starmons Gaossmon & MailBirdramon Troopmon & MadLeomon Bosamon & Angoramon SymbareAngoramon & Ruli Breaclaw & Pyon Dump Sanzomon Venusmon & Healing Therapy Tyutyumon & Damemon Bunbun Fist Magazine Previews- Sparrowmon, Shoutmon x5, Shoutmon x5B, Kiriha, Greymon, & MetalGreymon Blucomon & Regalecusmon Assaultmon & Cannondramon Asuramon & PileVolcamon Shoutmon x5 & Sparrowmon & DeckerGreymon Magazine Preview V-Jump Previews Minervamon Monimon & Hi-VisionMonitamon Coatlmon & Sandiramon Golemon & Gogmamon SkullKnightmon: Big Axe Mode & DarkKnightmon Renamon & Kyubimon Taomon & Strengthening Plug-In O Sakuyamon: Miko Mode & Defense Plug-in C Justimon: Critical Arm & Justice Kick Dondokomon Flying Hero! & The Immortal Champion Greymon, MetalGreymon, Kiriha, & Blazing Memory Boost!! plus MetalGreymon Parallel Card Deckerdramon & DeckerGreymon Plasma Deckerdra Launcher Jesmon X Burning Star Crusher Akari & Zenjirou Ajatarmon BloomLordmon & Gran del Sol WezenGammamon Canoweissmon Thetismon & Lamortmon Tinkermon & Darcmon Griffomon Baalmon & Beelzebumon Shoutmon x4B & Death the Cannon Shortmon & Weddinmon DarkKnightmon X Mushmon & Palmon RedVegimon Shoutmon King Version Babydmon Pulsemon & Impulse Memory Boost!! Tactimon Shoutmon x5B & Blastmon GulusGammamon Brachimon Jyureimon PetiMeramon Achillesmon & Option Card Lónkhē Adistakto Preview & Clean Packaging Sunflowmon Lotusmon Gankoomon X, Sistermon Ciel, Jesmon GX, & Seiken Meppa Yuu Tokomon, Soundbirdmon, Cyberdramon, Spadamon, & Omegamon X Monitamon & Nene Shoutmon x5 Parallel MetalGreymon Parallel DarkKnightmon X & Sparrowmon Parallel Angoramon Parallel Canoweissmon Parallel Thetismon Parallel Lamortmon Parallel Minervamon & Venusmon Parallel BloomLordmon Parallel Sakuyamon: Miko Mode & Alphamon Jesmon X & Gankoomon X Parallel Omegamon X Parallel Sistermon Ciel Parallel Shoutmon King Version Parallel Jesmon GX Parallel
Last edited: