Show User Social Media
Hide User Social Media
Joined

Sep 8, 2006
Messages

15,196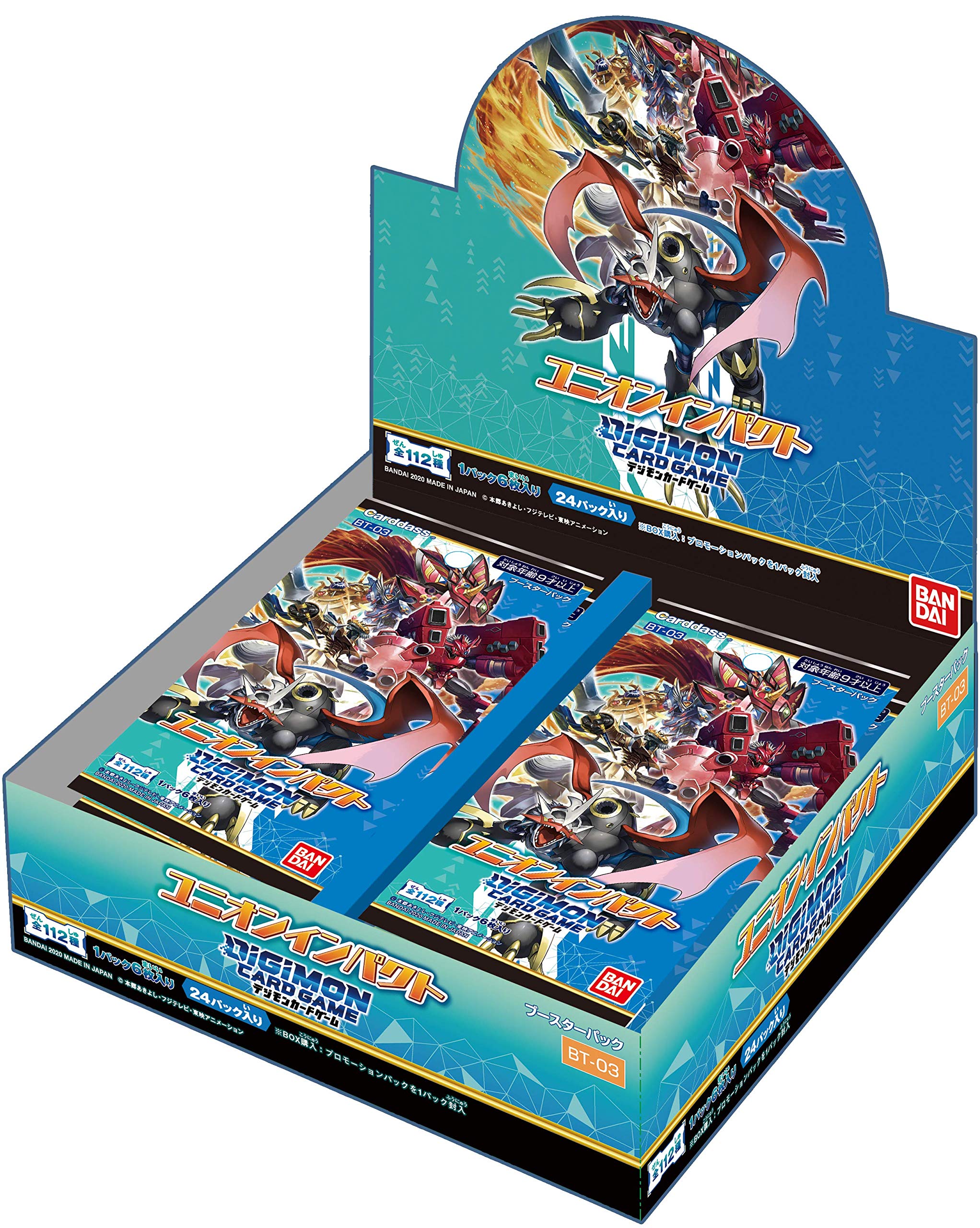 After a bunch of previews we have the full card lineup for Booster Set 3- Union Impact for the Digimon Card Game!
The card list on the Digimon Card Game website
updated with all of them. We're including images of every card, including some specialty variants that aren't being included on the official website yet. More parallel cards showing up wouldn't be a big surprise, so more cards are likely to be added later.
The full embeds are smaller images from the gallery, linking to the full size ones when you click them. The set name links to the gallery.
Pre-orders at a number of easy to import from places for Booster Set 3 are already sold out.
Digimon Card Game, Booster Set 3 (BT3), Union Impact
The set is out on October 30th in Japan.
Booster Set 3 has 112 cards & the card distribution is:
44 Common
30 Uncommons
26 Rare
10 Super Rare
2 Secret Rares















































































































After the 112, there are some additional cards. These have matching card numbers to cards in the set, and for gameplay purposes are considered the same card, they are just variants.






These parallel cards feature 6 adult Digimon who have cards in Booster Set 3.
The parallel tamer cards come 1 per booster box.










There are also parallel cards for 10 of the Ultimate level Digimon that are Super Rares. These feature unique artwork by longtime Digimon designer Kenji Watanabe. The distribution of these is random to the best of our knowledge
A week to go until Booster Set 3 is out!
Previous card previews for Booster Set 3:
BelialVamdemon & Dinobeemon from Fun Digica Angemon & Valkyrimon from Fun Digica MetalMamemon, MetalGreymon (Virus), and RagnaLordmon from Fun Digica V-mon and XV-mon Hawkmon & Aquilamon SaintGalgomon Cherubimon (Virtue) Wormmon, Stingmon, & Duftmon, plus more Fun Digica 46 Archnemon & Mummymon Commandramon & Psychmon Option Cards Bifrost & Cracker!!, Plus Saikyo Jump with Airdramon Option Cards God Bless & Jurou Daikatien Option Card It's a Rematch! Bastemon & Goddramon, Plus Mimi, Imperialdramon, Imperialdramon (Black), Paildramon, & BanchoStingmon Chibimon & Upamon Minomon & Kakkinmon Patamon & Penmon Necrophobia & Lilithmon Giromon & Tankmon Option Card Plasma Stake Option Card Desperado Blaster Preview & Adult Digimon Box Topper Parallels Option Card Dark Despair & Mastemon Antyramon ClavisAngemon Super Rare Parallel Previews from Fun Digica Previews from V-Jump December 2020 Terriermon & Galgomon Sukamon & Chumon Tsukaimon & Saberdramon Omegamon Alter-S from Digimon Card Batle Revelation of Hidden Power & Positron Laser