Show User Social Media
Hide User Social Media
Joined

Sep 8, 2006
Messages

17,360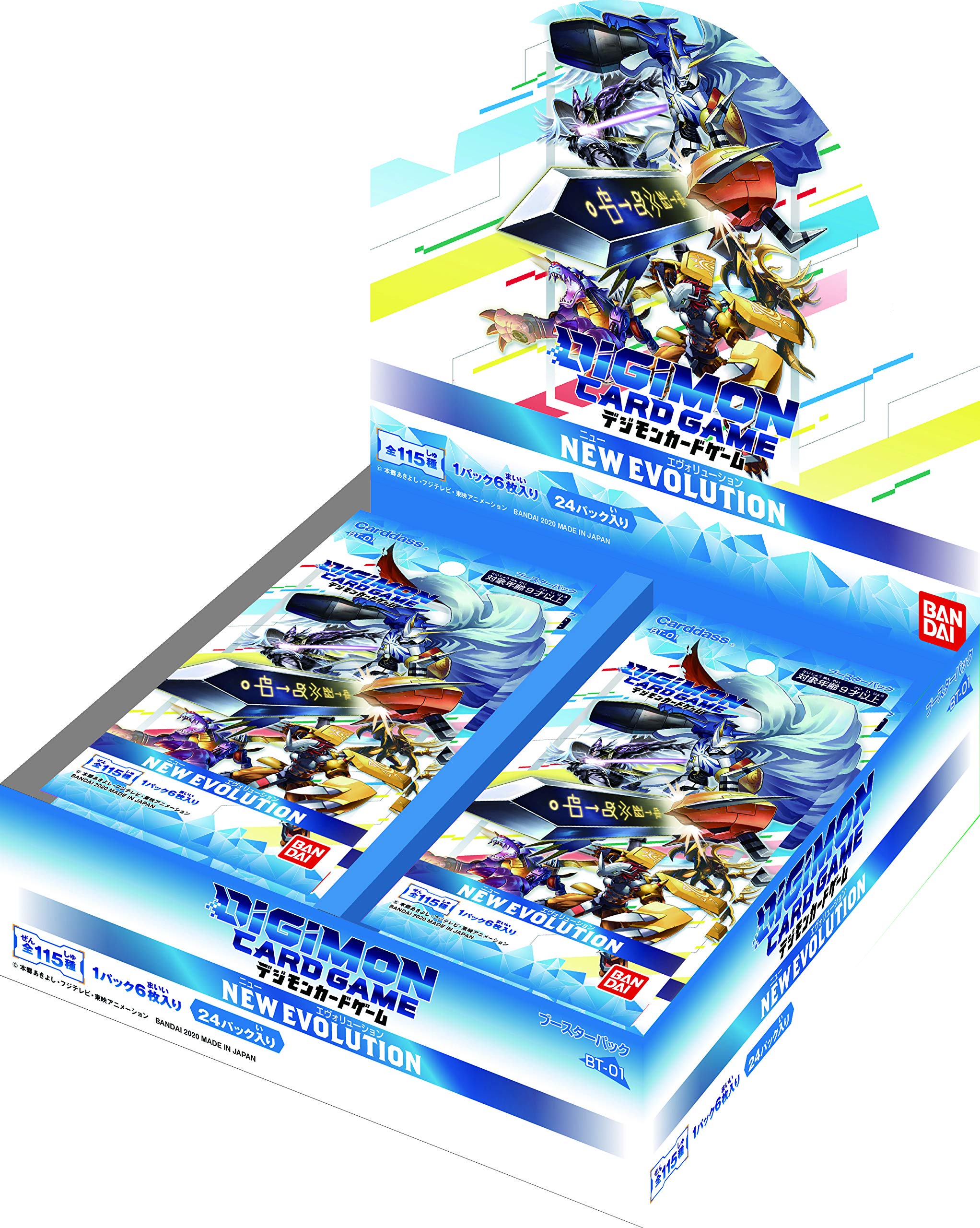 After a bunch of previews we have the full card lineup for Booster Set 1- New Evolution for the Digimon Card Game!
The card list on the Digimon Card Game website
updated with all of them. We're including images of every card, including some specialty variants that aren't being included on the official website.
The full embeds are smaller images from the gallery, linking to the full size ones when you click them. The set name links to the gallery.
Pre-orders at a number of easy to import from places for Booster Set 1 are already sold out.
Booster Set 2 Ultimate Power is out in July,
it can be pre-ordered at HLJ
. (Not an affiliate link, it does show it came from WtW.)
Details of that set can be found here
.
Digimon Card Game, Booster Set 1 (BT1), New Evolution
The set is out on May 15th in japan.
The set has 115 cards. Broken down that is:
45 Common
30 Uncommon
28 Rare
10 Super Rare
2 Secret Rare


















































































































After the 115, there are some additional cards. These have matching card numbers to cards in the set, and for gameplay purposes are considered the same card, they are just variants.





The parallel tamer cards feature the 5 Adventure: kids who have cards in Booster set 1, but also featuring their crests, along with an open border design.
The parallel tamer cards come 1 per booster box.






There are also parallel cards for 6 of the Super Rare cards. These feature unique artwork, also with an open border. We aren't sure of the distribution of these yet, but it looks like they might just be 'more rare' variants included in booster packs.


There are also parallel cards for the 2 Secret Rare cards. These both have unique art elements:
The MetalGreymon card uses Kenji Watanabe's profile artwork for MetalGreymon (Virus) and the card is themed to look very similar to a Hyper Colosseum card (the original Digimon card game, the first booster card used the same MetalGreymon art.)
The V-dramon art is new, and appears to be a different camera angle of a notable scene from V-Tamer where Zeromaru was defeating Triceramon, the first tag guardian Taichi and him come across in their Adventure. In addition, it appears he is punching so hard he is breaking elements of the card design.




Plus additional parallel cards!
Agumon features some fantastic anime styled art, along with Koromon and Botamon appearing on the card, with them all jumping out of a V-Pet.
Gabumon has a matching card to Agumon, with the anime style art and leaping out of a V-Pet. His also features Tsunomon and Punimon.
Flow Cannon, an option card based on Lilymon's attack, has artwork that almost comes across like a super robot beam attack, giving a dynamic feel.
Brave Shield, an option card based on WarGreymon's shield, goes with a back shot with the crest of courage on the shield lighting up as flames burn around WarGreymon.
Less than a week to go until Booster Set 1 is out!
Update- Added the new MetalGreymon parallel card.
Update- Added the new V-Dramon parallel card.
Update- Added the new Agumon parallel card.
Update- Added the Gabumon parallel card.
Update- Added the Flow Cannon parallel card.
Update- Added the Brave Shield parallel card.
On top of that, there was also a new episode of Fun Digica!
Episode 14 of Fun Digica went up earlier.
This episode has the hosts again previewing cards. The cards they preview are actually the 6 Super Rare parallel cards we showed up above (which is where the images are from.)
In addition they show the secret rares, which are the virus version of MetalGreymon, along with V-dramon.
Previous Episodes of Fun Digica:
Previous card previews for Booster Set 1:
Last edited: