Show User Social Media
Hide User Social Media
Joined

Sep 8, 2006
Messages

16,625
Digimon Card Battle is back with episode 9.
After the Starter Deck roundtable last week, this week is a bit more normal. It starts off with the show getting a brand new logo in the style of the classic legacy Digimon logo.
And with the show having a normal episode, we get a match, but as they point out, we've seen this before...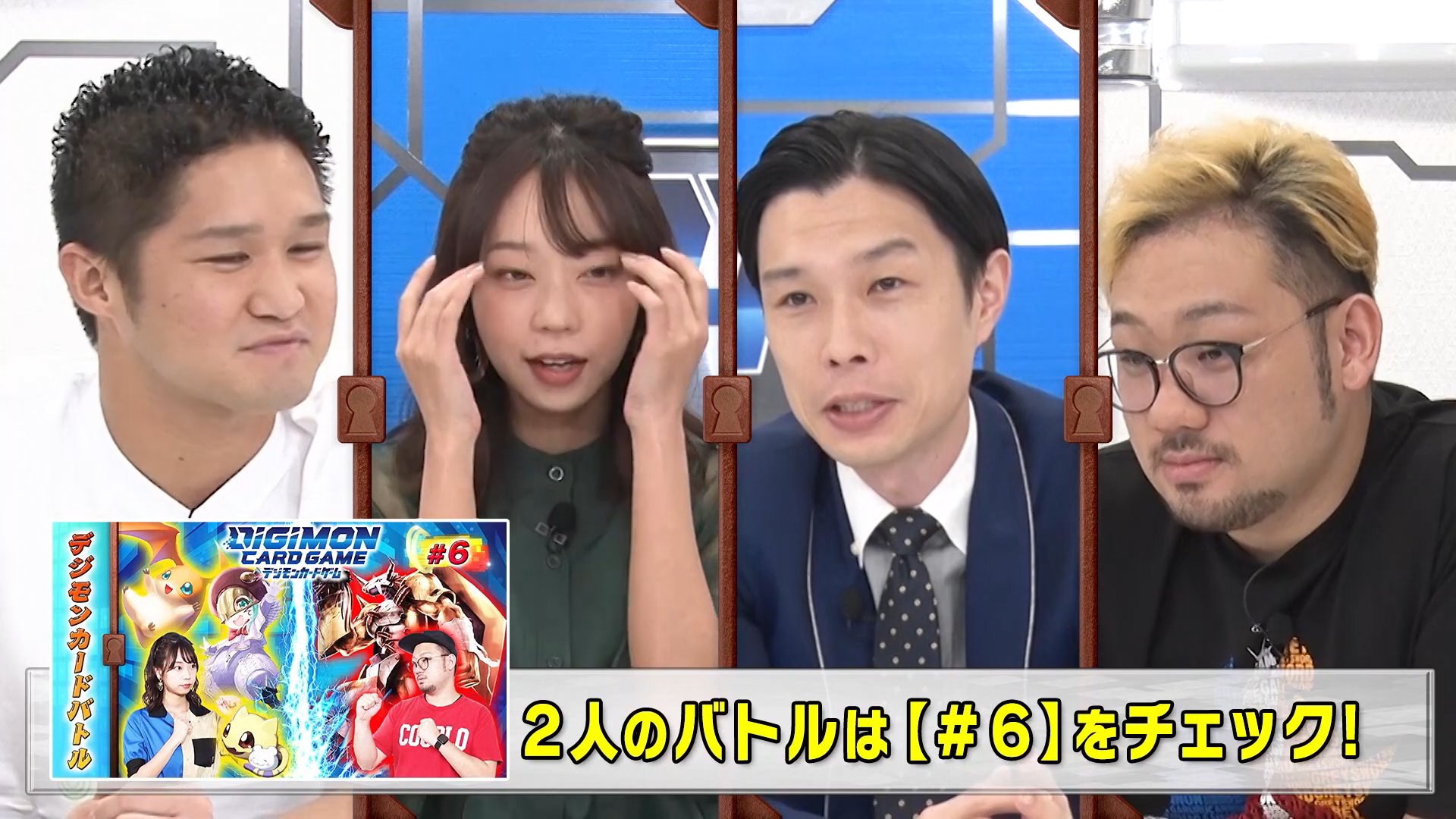 The match is a rematch of the card battle from just a few weeks ago.
Hosts Hikaru and Yamadeya face off once again, after showing off some of the key parts of the decks they'll be using.
And after the match they go over a number of products and upcoming events, which includes a look at some cards...
From Booster Set 4, we get Lilamon! Some really nice here, with a fun artsy background.
Then we get a promo card of Omegamon. It's a parallel of BT1-084, and it'll be given away as part of the Digimon Card Game Evolution Cup, an upcoming medium tier series of tournaments
that was announced awhile ago
. When it was announced they teased that there would be a special card. The card has a really nice angle and lighting to the art.
Last up is a better look at the
recently announced Greymon parallel card
. We only had a very small image of it before. It'll come with various apparel.
They tease guests for next week...
​
​
My tools can't read the names, but based on the humorous way Cocolo has been shoved to the side, I choose to believe they are comedians in the same vein.
It also looks like they will be unpacking Booster Set 4 booster packs and find a top tier card.
Previous card previews for Booster Set 4:
Promo Poster and 1st look at cards DoneDevimon Packaging Cards from V-Jump Flamon & Strabimon Meicoomon & Meicrackmon Lalamon & Sunflowmon Chaosmon & Chaosmon: Valdur Arm Darkdramon Tamer Cards Masaru, Touma, and Yoshino Tamer Cards Taichi & Koushiro Commandramon, Sealsdramon, & Early Magazine Previews 10 Card Previews from Fun Digica 58 Sakuttomon, Pukamon, Koromon, Liolmon, Agnimon, Gaomon, Falcomon, & Gotsumon Budmon, Missimon, & Xiaomon Brahmastra & Trident Revolver
We have clean images for Starter Decks 4, 5, and 6!
Plus Tamer Battle Pack 2, the 2nd Winner's Card, and the 1st 2 scene vote cards featuring Adventure and 02.
We've also started to get previews from Booster Set 4 Great Legend. It's scheduled for release on December 18th.
We've begun to get info on Booster Set 5 Battle of Omega. It's scheduled for release on February 26th.
And images from previous Digimon Card Game releases:
Starter Decks 1, 2, and 3, and first 10 promo cards
Booster Set 1 New Evolution
Booster Set 2 Ultimate Power
V-Tamer Promo Cards
Purple/Black Promo Set
Tamer Battle Pack 1 and Tamer Battle Winner's Card
Booster Set 3 Union Impact
Index of Fun Digica & Card Battle episodes: