Show User Social Media
Hide User Social Media
Joined

Sep 8, 2006
Messages

15,196
Digimon Card Battle is back with episode 7.
This episode begins with various bits of card talk (and they do a lot after the match), as normal. A lot of going over the new starter decks with them only being a week way.
This time we get 2 different matches with a number of people who appear on Card Battle on a regular basis. This match includes cards from Starter Decks, 4, 5, and 6 mixed in, so if you watch the matches you'll see a few upcoming cards...
Everyone shows some of their key cards before their matches.
The first match features Makuro against host Yuki Iwa
The second match features host Hikaru against Hideyoshi from Fun Digica.
And after the match we get a preview of a new card...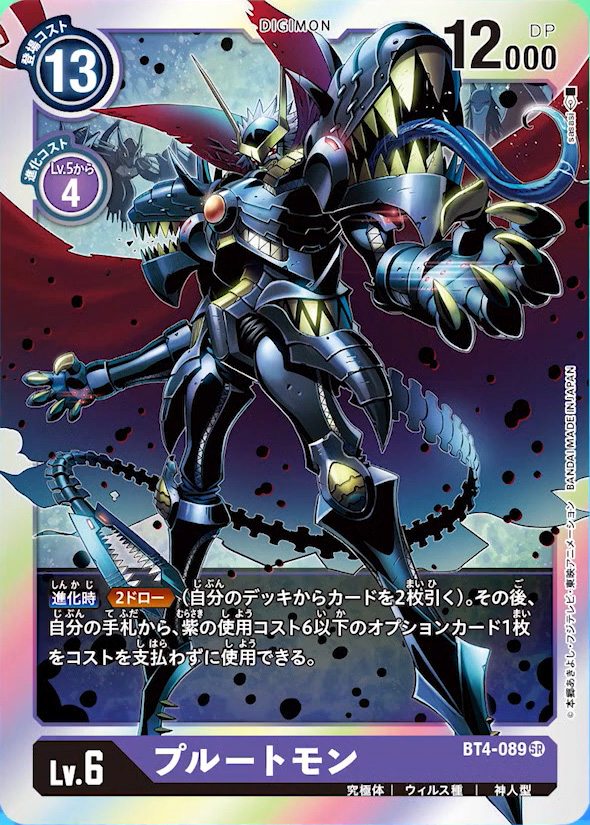 With the new starter decks out in a week, they are moving on from previews of those to showing off Booster Set 4.
It's Plutomon! Not a Digimon who shows up that much, he looks quite fantastic here. Uniquely, he's colored blue instead of black, as he normally is (I can't recall if I've ever seen him colored blue.)
Previous Card previews for Starter Decks 4, 5, and 6:
Previous card previews for Booster Set 4:
Booster Set 3 Union Impact
is out and we have the full card list right
here
!
We've also recently gotten details for Booster Set 4 Great Legend
, coming in December.
Pre-orders for the Green, Purple, and Black starter decks have opened
. They are out in November.
And we recently got our first images of the decks.
And images from previous Digimon Card Game releases:
Starter Decks 1, 2, and 3, and first 10 promo cards
Booster Set 1 New Evolution
Booster Set 2 Ultimate Power
V-Tamer Promo Cards
Purple/Black Promo Set
Tamer Battle Pack 1 and Tamer Battle Winner's Card
Index of Fun Digica & Card Battle episodes: