Show User Social Media
Hide User Social Media
Joined

Sep 8, 2006
Messages

15,196
Digimon Card Battle is back with episode 63!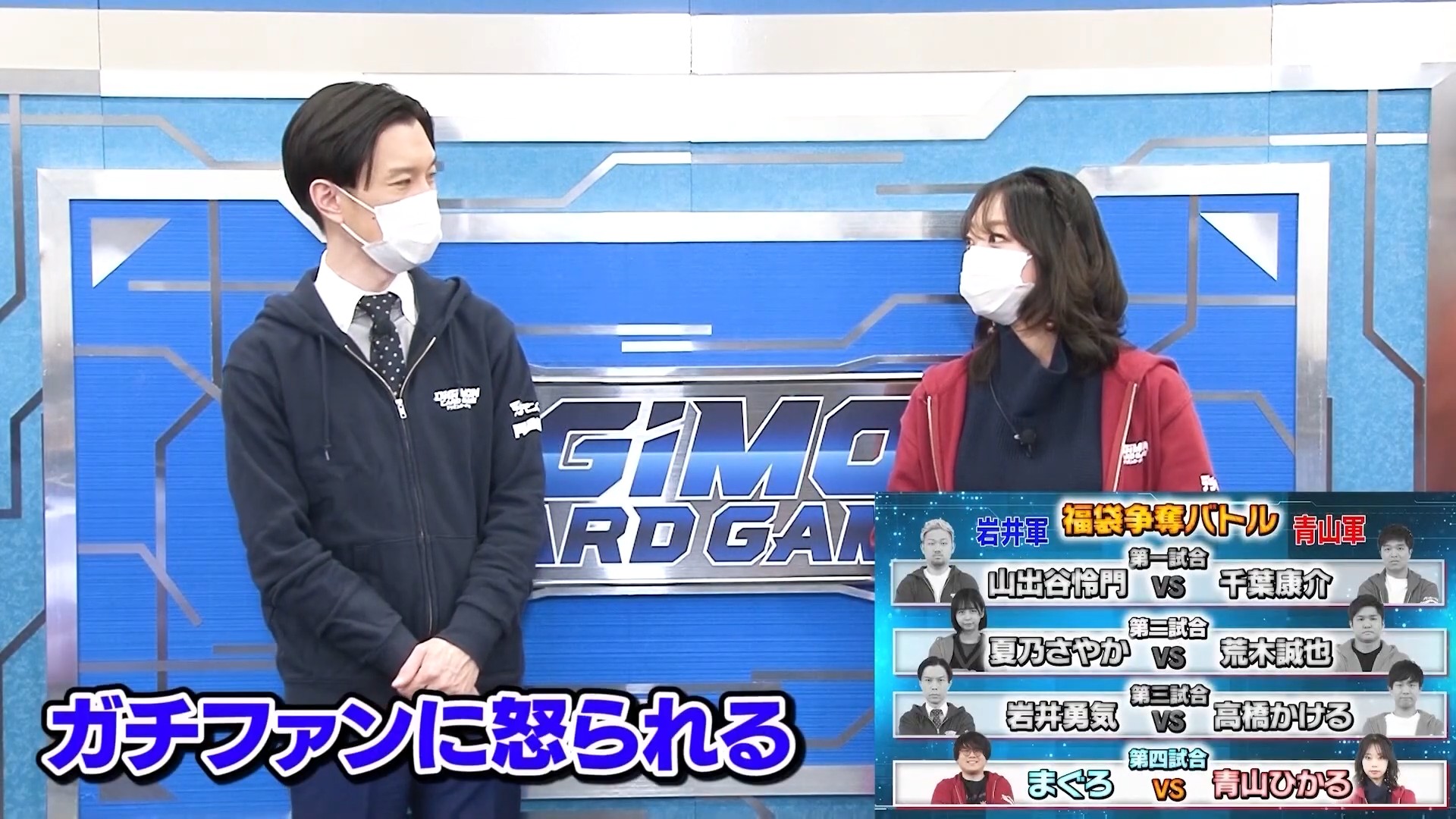 They finish their New Year's 4v4 Tournament. The winners get a special New Year's gift.
Cards are up to date with Booster EX-02.
The match this time is Maguro vs. Aoyama.
After the tournament the prizes are given out. They are given in traditional packaging, so I didn't actually catch what it was, but they did seem to laugh at Iwai giving them out akin to a father giving out New Year's gifts.
Also after the match get a card preview for Booster Set 9 X Record during the post match housekeeping (going over products, etc.)
​
We get a preview of Omegamon: Merciful Mode.
Merciful Mode gets some really nice crisp looking art with some nice lighting effects. It's also another higher level Digimon in the set to get very actiony atwork from a side profile.
Shortly after the episode a better quality version (with sample text) was put up by the
Digimon Card Twitter
. Both versions are included above.
Previous previews for Booster Set 9 X Record:
Pack Art & Monochrome Flip Art Dukemon X & X-Antibody Alphamon Digitalize of Soul KausGammamon Greymon X Okuwamon X GrandisKuwagamon WereGarurumon X & Monochromon Mochimon & Takeru and Koushiro Nefertimon & Pegasmon Magnamon X & Awakening of the Golden Knight Meicrackmon: Vicious Mode Raguelmon Meicoomon & Meiko Ordinemon Preview & Magazine Previews- Dorumon, Agumon X, Plotmon X, Guilmon X, Gazimon X Jellymon & Bibi Thunder Igamon Gabumon X OmegaShoutmon X & Flare Rock Damashii Pomumon & LoaderLiomon Matadrumon Dracumon & Kuwagamon X Growmon X & Magazine Previews- WarGreymon X, Angewomon X, Leomon X, Death-X-Dorugamon, Grademon, Daigo, Maki, Kiyoshiro, & TeslaJellymon Grademon & Raptordramon Gaioumon Plotmon X & Holydramon X Garurumon X & Yamato and Sora V-Jump Minidekachimon & Atamadekachimona Plotmon TeslaJellymon & Kiyoshiro MetalGarurumon X Kokuwamon X Fujinmon & Raijinmon Suijinmon & Raidenmon Hangyomon RizeGreymon X & Option Card Piranimon & Sangloupmon Bearmon & Daigo
Booster Set 9 X Record will be out on February 25th in Japan.
More next time!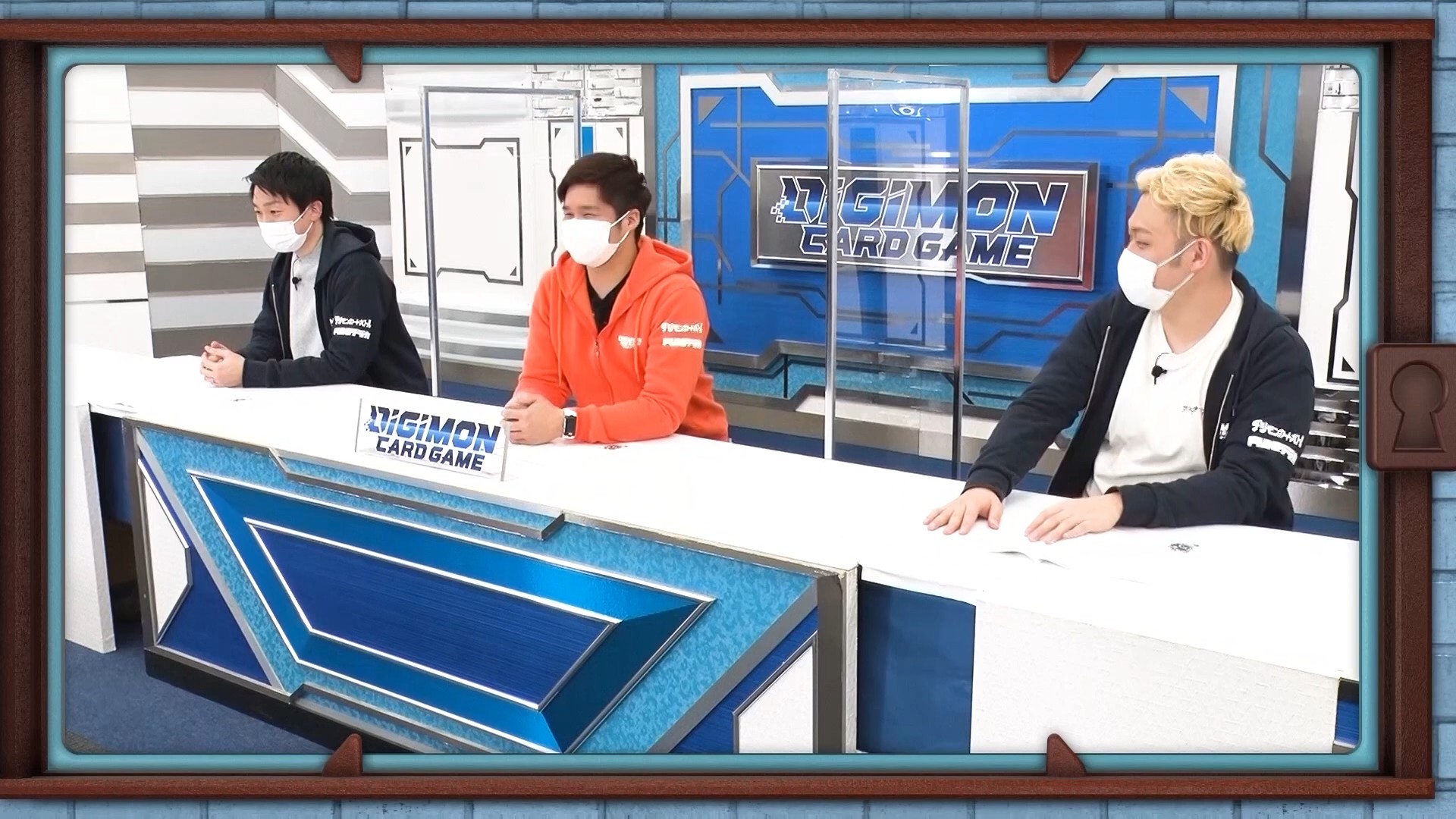 We have clean card images from
Booster Set EX-02 Digital Hazard & Limited Card Set Online
.
Previews are ongoing for
Booster Set 9 X Record
.
We have the first details for
Starter Decks 12 & 13 Jesmon & RagnaLordmon
.
And images from previous Digimon Card Game releases:
Starter Decks 1, 2, and 3, and first 10 promo cards
Booster Set 1 New Evolution
Booster Set 2 Ultimate Power
V-Tamer Promo Cards
Purple/Black Promo Set
Tamer Battle Pack 1 and Tamer Battle Winner's Card
Booster Set 3 Union Impact
Starter Decks 4, 5, & 6, plus Tamer Battle Pack 2 & winner's Card 2, & 1st 2 scene vote cards
Booster Set 4 Great Legend, Tamer Battle Pack 3, 3rd Scene Vote, Dark Digimon Promo Pack, & Apparel Cards
Booster Set 5 Battle of Omega, plus Tamer Battle Pack 4, 4th Scene Vote, & Vital Bracelet Pack-In Cards
Starter Decks 7 & 8, plus Delay Promos, Tamers Battle Pack 5, 1st Anniversary Promos, & Pulsemon
Booster Set 6 Double Diamond Cards, the 1st Anniversary Adventure Pack, and more
Booster Set EX-01 Classic Collection, plus Tamer Battle Pack 6 & 7, Tyranomon & dual Zeromaru Promo Cards
Booster Set 7 Next Adventure, Campaign Cards, & Tamers 20th Promo Cards
Starter Decks 9 & 10, plus Tamers Battle Pack 8, Ghost Game Promos, Online Promos, Tamers Evolution Box 1, & Amazon Starter Promos
Booster Set 8 New Hero, Starter Deck 11, plus Tamer Battle Pack 9 & Event Cards
Index of Fun Digica & Card Battle episodes:
Fun Digica English Special Edition Episode #1- Introduction to What is Out Today Episode #2- How to Play Episode #3- Red/Blue vs. Black/Purple Deck Match, Plus New Host Episode #4- Release Info, plus Memorial Pack Promos & Tournament Kits with Promo Cards & Tamer Battle Pack 1 Fun Digica Episode #0- Preview/Announcement of Show Episode #1- Basic Rules Episode #2- Gaia Red Starter Deck Details Episode #3- Cocytus Blue Starter Deck Details Episode #4- Heaven's Yellow Starter Deck Details Episode #5- Starter Deck Battle Episode #6- Starter Deck Battle Part 2 Episode #7- Free Play Battle from Teaching App Episode #8- Rule Questions Episode #9- Starter Deck Battle Part 3 Episode #10- Mixed Deck Match Episode #11- Which Is Stronger? Level Mismatch Battle Episode #12- Booster Set 1 Card Previews Episode #13- Double Starter Deck Match Episode #14- More Parallel Cards Plus Secret Rare Cards Episode #15- Double Starter Deck & Promo Match Episode #16- Booster 1 Unboxing Episode #17- Booster Set 1 Battle Episode #18- Viewer Suggestion Battle Episode #19- Viewer Suggestion Battle Part 2 Episode #20- Viewer Suggestion Battle Part 3 Episode #21- Viewer Suggestion Battle Part 4 Episode #22- What to Say Before a Match Episode #23- Booster Set 2 Card Previews Episode #24- Rule Questions (Part 1) Episode #25- Rule Questions (Part 2) Episode #26- Booster Set 2 Secret Rare & Parallel Cards Episode #27- Booster Set 2 Black vs. Purple Battle Episode #28- Booster Set 2 Unboxing Episode #29- Booster Set 2 Rule Questions Episode #30- Booster 2 Serious Match Episode #31- Booster 2 Match Episode #32- Viewer Suggestion Battle Episode #33- Viewer Suggestion Battle Part 2 Episode #34- Viewer Suggestion Battle Part 3 Episode #35- Viewer Suggestion Battle Part 4 Episode #36- Viewer Suggestion Battle Part 5 Episode #37- Viewer Suggestion Battle Part 6 Episode #38- Viewer Suggestion Battle Part 7 Episode #39- Viewer Suggestion Battle Part 8 Episode #40- Monochrome Tournament Part 1 Episode #41- Monochrome Tournament Part 2 Episode #42- Monochrome Tournament Part 3, plus card previews Episode #43- Monochrome Tournament Part 4- SemiFinals, plus card previews Episode #44- Monochrome Tournament Part 5- Finals, plus card previews Episode #45- Cocolo Double Match Episode #46- Booster Set 3 Card Previews Episode #47- More Cocolo Episode #48- Versus Dannayome Channel with Freedom Evolution Ruleset #48 Followup- Fun Digica at Dannayome Channel Episode #49- Booster Set 3 Super Rare Parallel Cards Episode #50- Booster Set 3 Match Episode #51- Booster Set 3 Unboxing Episode #52- Booster Set 3 Battle Episode #53- Booster Set 3 Battle Episode #54- Booster Set 3 Battle Episode #55- Booster Set 3 Rule Questions Episode #56- Booster Set 3 More Rule Questions Episode #57- Guest in Green vs. Green Battle Episode #58- Booster Set 4 Card Previews Episode #59- Small Tweaks to Starter Decks Battle Episode #60- Booster Set 4 Battle & Booster Set 4 As'maria Parallel Cards Episode #61- Booster Set 4 Match & More Parallel Cards Episode #62- Special Rules (Double Effects) Match with Maguro Episode #63- Booster Set 4 Match Episode #64- New Year's Greeting Episode #65- Plant vs. Blue Source Deck Episode #66- Viewer Suggestion Battle Episode #67- Viewer Suggestion Battle Episode #68- Viewer Suggestion Battle Episode #69- Booster Set 5 Card Previews Episode #70- Viewer Suggestion Battle Episode #71- Viewer Suggestion Battle Episode #72- Secret Rares & Recommended Cards Episode #73- Booster Set 5 Battle Episode #74- Booster Set 5 Battle Episode #75- Booster Set 5 Unboxing Episode #76- 1st Anniversary Parallel Card Vote Winners Announced, 10 Parallel Cards for Booster Set 6 Episode #77- Booster Set 5 Battle Episode #78- Booster Set 5 Match Episode #79- Rule Questions & Answers Episode #80- Rule Questions & Answers Episode #81- Rocks Chiba Wafer DigiCard Match Episode #82- 1st Anniversary Promo Pack Match Episode #83- 1st Anniversary Promo Pack Match Episode #84- Starter Deck 7 & 8 Match Episode #85- 1st Anniversary Adventure Pack Card Previews Episode #86- Match with Rocks Chiba Episode #87- Booster Set 6 Card Previews Update- Cody Leaving New Member Auditions, Part 1 New Member Auditions, Part 2 The New Cohost is... Episode #88- New Cohost Introduction Episode #89 & #90- Matches and EX-01 Previews Episode #91- Match Episode #92 & 93- Match & Booster Set 7 Campaign Card Previews Episode #94- Booster Set 7 Campaign Card Previews Episode #95- Booster Set 7 Unboxing Episode #96- Booster Set 7 Match Episode #97- Digimon Adventure: Match Episode #98- Booster Set 7 Secret Deck Match Episode #99 & 100- Rule Questions & Answers Episode #101- 100 Episodes Special- Highlander Deck Battle vs. Goto P Episode #102- New Effect "Jogress Evolution" Explanation Episode #103- New Starter Decks Match Episode #104- My Deck Demonstration & How Hideyoshi Builds Decks Episode #105- Booster Set 8 Card Previews, and Maybe an Art Easter Egg? Episode #106- Booster Set 8 Card Previews Part 2 Episode #107- Starter Deck 11 Mirror Match Episode #108- Booster Set 8 Unboxing Episode #109- Online Card Event Coverage Episode #110- Booster Set EX-02 Card Previews Episode #111- Booster Set EX-02 Card Previews Part 2 Episode #112- Booster Set EX-02 Unboxing Episode #113- 2021 Look Back Episode #114- Booster Set EX-02 Match Episode #115- Booster Set EX-02 Match Card Battle (Series 1, Tournament) Episode 1 Episode 2 Episode 3 Episode 4 Episode 5 Episode 6 Episode 7 Episode 8 Episode 9 Episode 10 Card Battle (Series 2- News, Battles, & Preview) Episode 1 Episode 2 Episode 3 Episode 4 Episode 5 Episode 6 Episode 7 Episode 8 Episode 9 Episode 10 Episode 11 Episode 12 Episode 13 Episode 14 Episode 15 Large Tamer Exchange Meeting Report Stream Episode 16 Episode 17 Episode 18 Episode 19 Episode 20 Episode 21 Episode 22 Episode 23 Episode 24 Episode 25 Episode 26 Episode 27 Episode 28 Not Quite Digimon Card Battle, Digimon Card Latest Info Update Episode 29 Episode 30 Episode 31 Episode 32 Episode 33 Episode 34 Episode 35 Episode 36 Episode 37 Episode 38 Episode 39 Episode 40 Episode 41 Episode 42 Episode 43 Episode 44 Episode 45 Episode 46 Episode 47 Episode 48 Episode 49 Episode 50 Episode 51 Episode 52 Episode 53 Episode 54 Episode 55 Episode 56 Episode 57 Episode 58 Episode 59 Episode 60 Episode 61 Episode 62