Show User Social Media
Hide User Social Media
Joined

Sep 8, 2006
Messages

16,625
Digimon Card Battle is back with episode 38!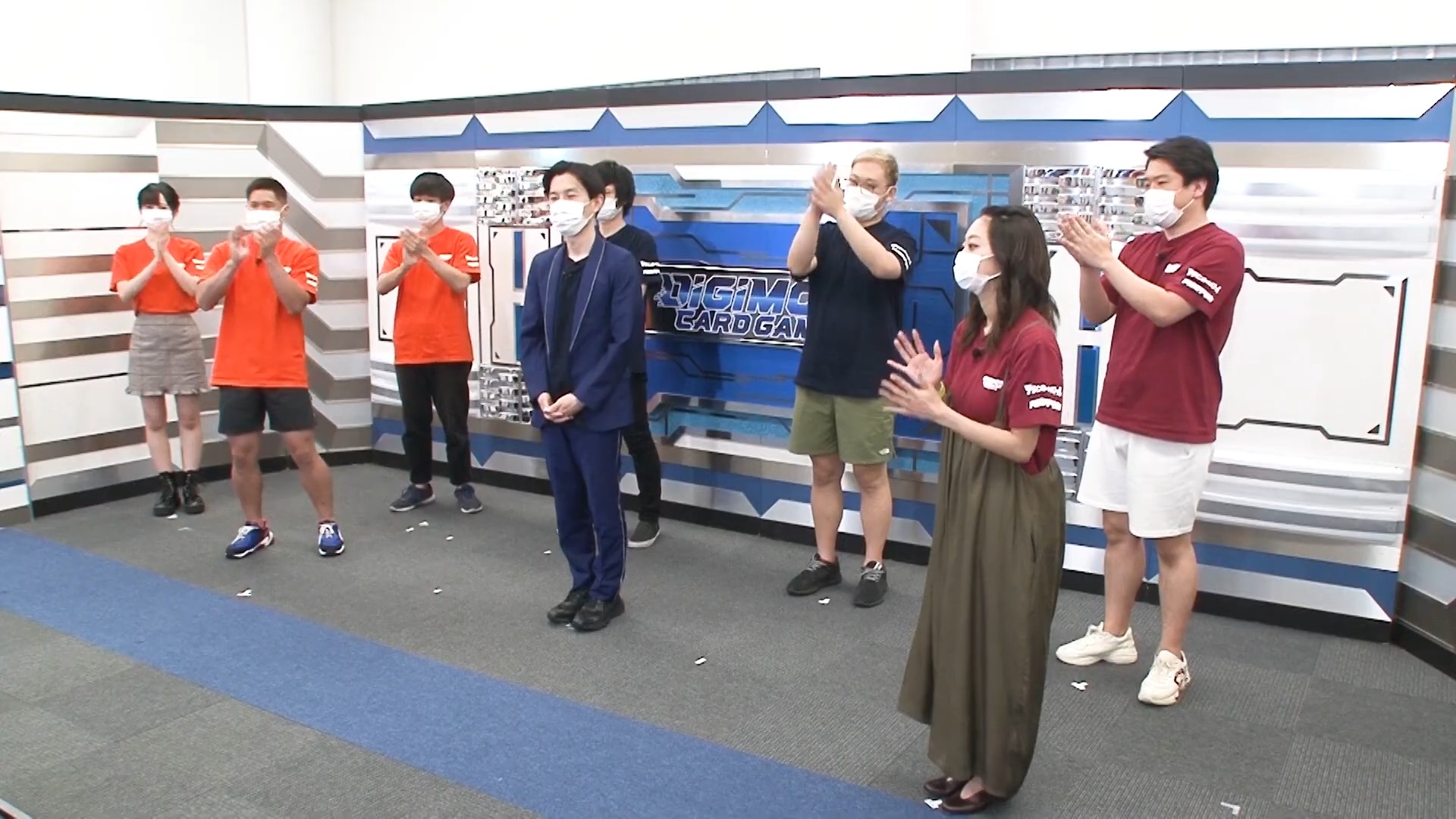 This week Digimon Card Battle has a match with Booster Set EX-01 in the decks, and nearly everyone is back and at hand.
Before the match they go over some of their cards and other details.
This time the match is Yamadeya vs. Sayaka
And after the match we get a card preview for Booster Set 7 during the post match housekeeping (going over products, etc.)
​
Takuya! The first Tamer card shown off from BT-07 gives Takuya some nice new art in the short art-style of Digimon Frontier.
We also get to see the Japanese version of the logo for BT-07, and the booster pack packaging, which features MetalGreymon.
Previous Previews of Booster 7:
V-Jump
Booster 7 Next Adventure will be out on August 27th in Japan.
For the next episode we get 2 matches!
We have
clean card images from Booster Set Ex-01 Classic Collection
!
We've also gotten early details for
Booster Set 7 New Adventure
!
And images from previous Digimon Card Game releases:
Starter Decks 1, 2, and 3, and first 10 promo cards
Booster Set 1 New Evolution
Booster Set 2 Ultimate Power
V-Tamer Promo Cards
Purple/Black Promo Set
Tamer Battle Pack 1 and Tamer Battle Winner's Card
Booster Set 3 Union Impact
Starter Decks 4, 5, & 6, plus Tamer Battle Pack 2 & winner's Card 2, & 1st 2 scene vote cards
Booster Set 4 Great Legend, Tamer Battle Pack 3, 3rd Scene Vote, Dark Digimon Promo Pack, & Apparel Cards
Booster Set 5 Battle of Omega, plus Tamer Battle Pack 4, 4th Scene Vote, & Vital Bracelet Pack-In Cards
Starter Decks 7 & 8, plus Delay Promos, Tamers Battle Pack 5, 1st Anniversary Promos, & Pulsemon
Booster Set 6 Double Diamond Cards, the 1st Anniversary Adventure Pack, and more
Index of Fun Digica & Card Battle episodes:
Fun Digica English Special Edition Episode #1- Introduction to What is Out Today Episode #2- How to Play Episode #3- Red/Blue vs. Black/Purple Deck Match, Plus New Host Episode #4- Release Info, plus Memorial Pack Promos & Tournament Kits with Promo Cards & Tamer Battle Pack 1 Fun Digica Episode #0- Preview/Announcement of Show Episode #1- Basic Rules Episode #2- Gaia Red Starter Deck Details Episode #3- Cocytus Blue Starter Deck Details Episode #4- Heaven's Yellow Starter Deck Details Episode #5- Starter Deck Battle Episode #6- Starter Deck Battle Part 2 Episode #7- Free Play Battle from Teaching App Episode #8- Rule Questions Episode #9- Starter Deck Battle Part 3 Episode #10- Mixed Deck Match Episode #11- Which Is Stronger? Level Mismatch Battle Episode #12- Booster Set 1 Card Previews Episode #13- Double Starter Deck Match Episode #14- More Parallel Cards Plus Secret Rare Cards Episode #15- Double Starter Deck & Promo Match Episode #16- Booster 1 Unboxing Episode #17- Booster Set 1 Battle Episode #18- Viewer Suggestion Battle Episode #19- Viewer Suggestion Battle Part 2 Episode #20- Viewer Suggestion Battle Part 3 Episode #21- Viewer Suggestion Battle Part 4 Episode #22- What to Say Before a Match Episode #23- Booster Set 2 Card Previews Episode #24- Rule Questions (Part 1) Episode #25- Rule Questions (Part 2) Episode #26- Booster Set 2 Secret Rare & Parallel Cards Episode #27- Booster Set 2 Black vs. Purple Battle Episode #28- Booster Set 2 Unboxing Episode #29- Booster Set 2 Rule Questions Episode #30- Booster 2 Serious Match Episode #31- Booster 2 Match Episode #32- Viewer Suggestion Battle Episode #33- Viewer Suggestion Battle Part 2 Episode #34- Viewer Suggestion Battle Part 3 Episode #35- Viewer Suggestion Battle Part 4 Episode #36- Viewer Suggestion Battle Part 5 Episode #37- Viewer Suggestion Battle Part 6 Episode #38- Viewer Suggestion Battle Part 7 Episode #39- Viewer Suggestion Battle Part 8 Episode #40- Monochrome Tournament Part 1 Episode #41- Monochrome Tournament Part 2 Episode #42- Monochrome Tournament Part 3, plus card previews Episode #43- Monochrome Tournament Part 4- SemiFinals, plus card previews Episode #44- Monochrome Tournament Part 5- Finals, plus card previews Episode #45- Cocolo Double Match Episode #46- Booster Set 3 Card Previews Episode #47- More Cocolo Episode #48- Versus Dannayome Channel with Freedom Evolution Ruleset #48 Followup- Fun Digica at Dannayome Channel Episode #49- Booster Set 3 Super Rare Parallel Cards Episode #50- Booster Set 3 Match Episode #51- Booster Set 3 Unboxing Episode #52- Booster Set 3 Battle Episode #53- Booster Set 3 Battle Episode #54- Booster Set 3 Battle Episode #55- Booster Set 3 Rule Questions Episode #56- Booster Set 3 More Rule Questions Episode #57- Guest in Green vs. Green Battle Episode #58- Booster Set 4 Card Previews Episode #59- Small Tweaks to Starter Decks Battle Episode #60- Booster Set 4 Battle & Booster Set 4 As'maria Parallel Cards Episode #61- Booster Set 4 Match & More Parallel Cards Episode #62- Special Rules (Double Effects) Match with Maguro Episode #63- Booster Set 4 Match Episode #64- New Year's Greeting Episode #65- Plant vs. Blue Source Deck Episode #66- Viewer Suggestion Battle Episode #67- Viewer Suggestion Battle Episode #68- Viewer Suggestion Battle Episode #69- Booster Set 5 Card Previews Episode #70- Viewer Suggestion Battle Episode #71- Viewer Suggestion Battle Episode #72- Secret Rares & Recommended Cards Episode #73- Booster Set 5 Battle Episode #74- Booster Set 5 Battle Episode #75- Booster Set 5 Unboxing Episode #76- 1st Anniversary Parallel Card Vote Winners Announced, 10 Parallel Cards for Booster Set 6 Episode #77- Booster Set 5 Battle Episode #78- Booster Set 5 Match Episode #79- Rule Questions & Answers Episode #80- Rule Questions & Answers Episode #81- Rocks Chiba Wafer DigiCard Match Episode #82- 1st Anniversary Promo Pack Match Episode #83- 1st Anniversary Promo Pack Match Episode #84- Starter Deck 7 & 8 Match Episode #85- 1st Anniversary Adventure Pack Card Previews Episode #86- Match with Rocks Chiba Episode #87- Booster Set 6 Card Previews Update- Cody Leaving New Member Auditions, Part 1 New Member Auditions, Part 2 The New Cohost is... Episode #88- New Cohost Introduction Episode #89 & #90- Matches and EX-01 Previews Card Battle (Series 1, Tournament) Episode 1 Episode 2 Episode 3 Episode 4 Episode 5 Episode 6 Episode 7 Episode 8 Episode 9 Episode 10 Card Battle (Series 2- News, Battles, & Preview) Episode 1 Episode 2 Episode 3 Episode 4 Episode 5 Episode 6 Episode 7 Episode 8 Episode 9 Episode 10 Episode 11 Episode 12 Episode 13 Episode 14 Episode 15 Large Tamer Exchange Meeting Report Stream Episode 16 Episode 17 Episode 18 Episode 19 Episode 20 Episode 21 Episode 22 Episode 23 Episode 24 Episode 25 Episode 26 Episode 27 Episode 28 Not Quite Digimon Card Battle, Digimon Card Latest Info Update Episode 29 Episode 30 Episode 31 Episode 32 Episode 33 Episode 34 Episode 35 Episode 36 Episode 37