Show User Social Media
Hide User Social Media
Joined

Sep 8, 2006
Messages

13,484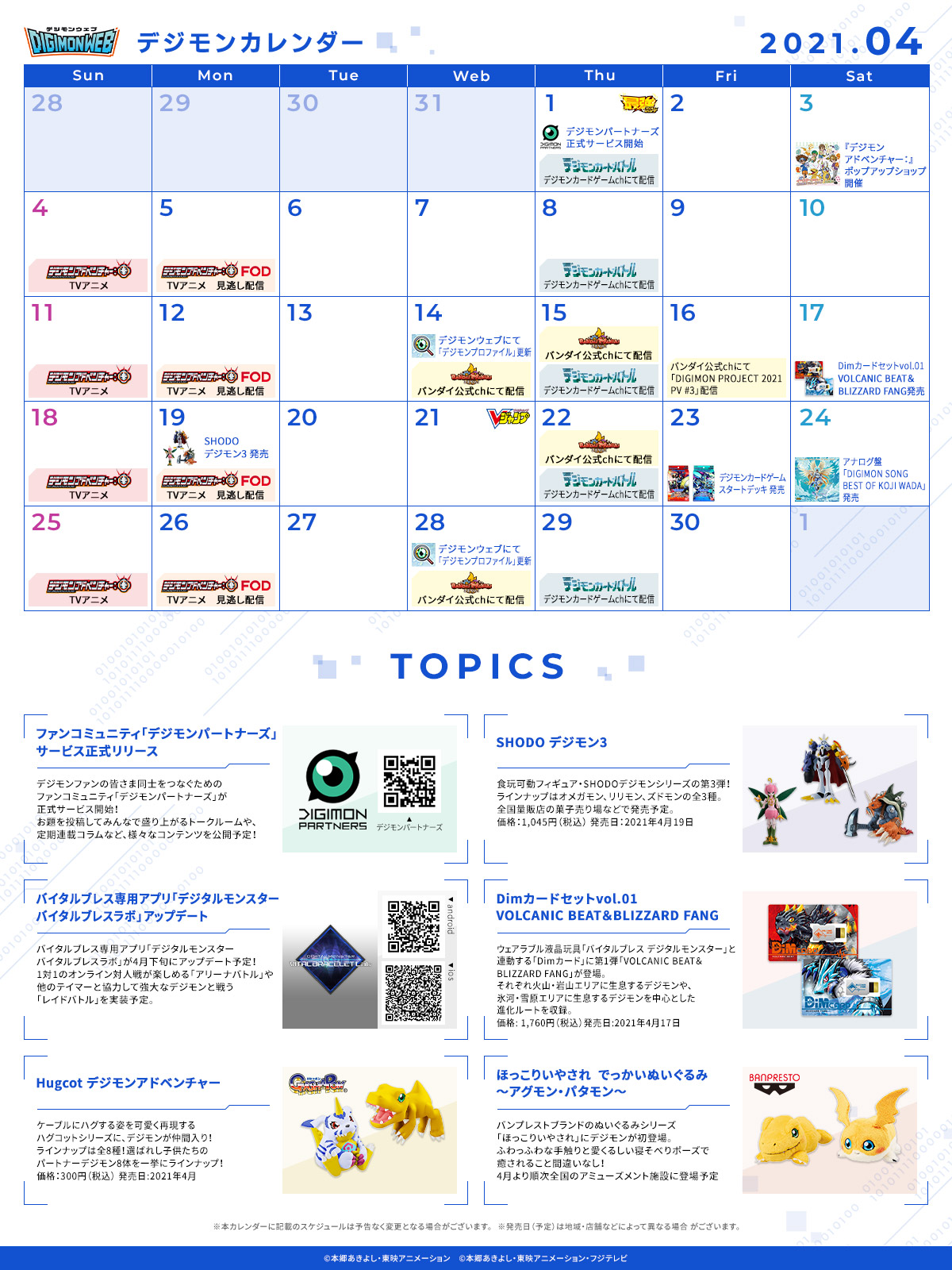 Digimon Web has announced
a new bit of information to make it easier for Digimon fans to keep track of what is coming...
'Digimon Calendar' will be delivered at the beginning of each month to allow easy 'at a glance' Digimon updates for what is coming up.
Digimon Calendar will be made of two sections...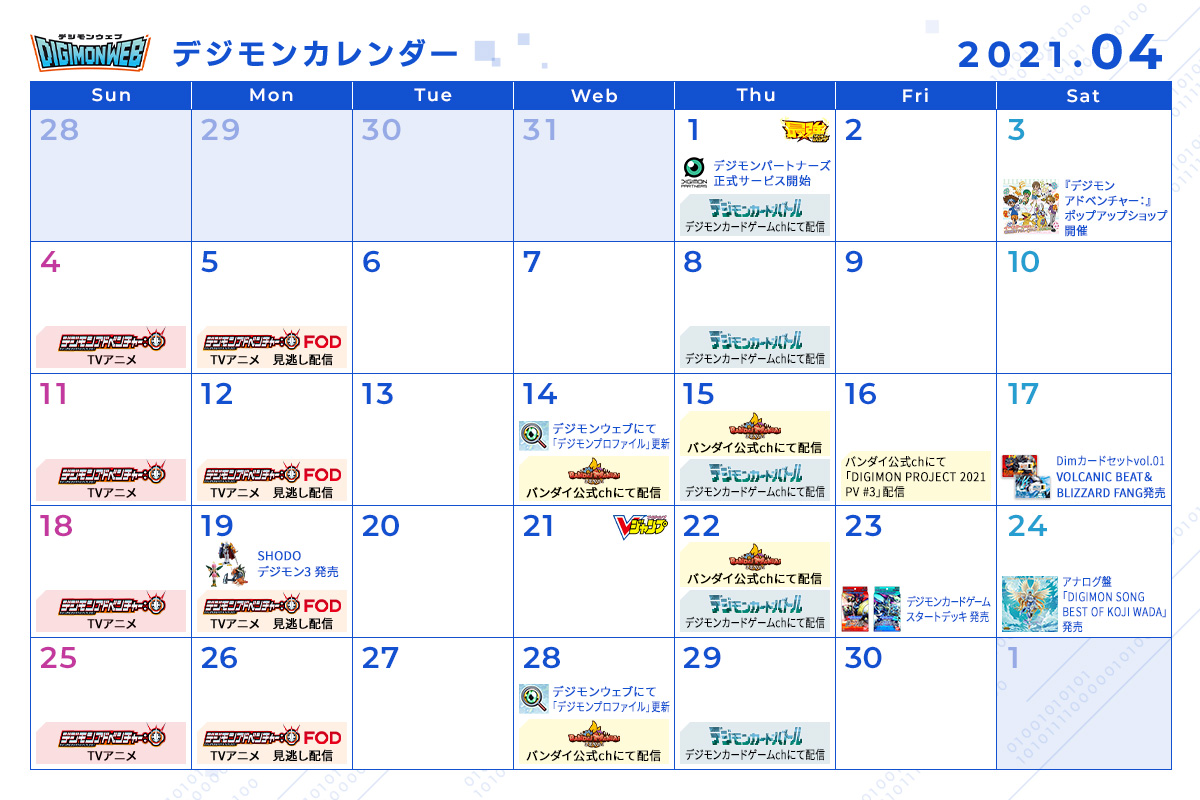 The actual calendar, which is quick at a glance details. (Dates/days are for Japan, based on on where you live it might be off slightly.)
It should be noted, the info, while decently wide, is not comprehensive. For example, they aren't showing Fun Digica and various other things which might be released as a surprise, along with some things that they just aren't announcing specific dates for (and some things that they've just chosen not to list.)
If there is a symbol in the top right, that means there is a magazine with planned Digimon content (the 21st for V-Jump for example.)
The reddish box on Sundays is for episodes of Digimon Adventure: (with the orange box on Monday being on demand repeats.)
Yellow boxes are for videos delivered via Bandai (the ones with the logo are delivered by Bandai Mania, which has been Digimon Classroom, Road to Digimon Card Master, etc.) the 16th has the 3rd Vital Bracelet short.
The slightly greyish boxes on Thursday are for Digimon Card Battle episodes.
There are also various uncolored boxes for April:
Digimon Partners community site (opening today in Japan)
The pop-up shop opening on the 3rd
Digimon Profile reports on the 2nd and 4th Wednesday of the month.
Dim Cards Volume 1 coming out on the 17th.
The 3rd wave of Shodo figures on the 19th.
Starter Decks 7 and 8 on the 23rd.
The first Digimon vinyl record on the 24th.
On top of the calendar itself...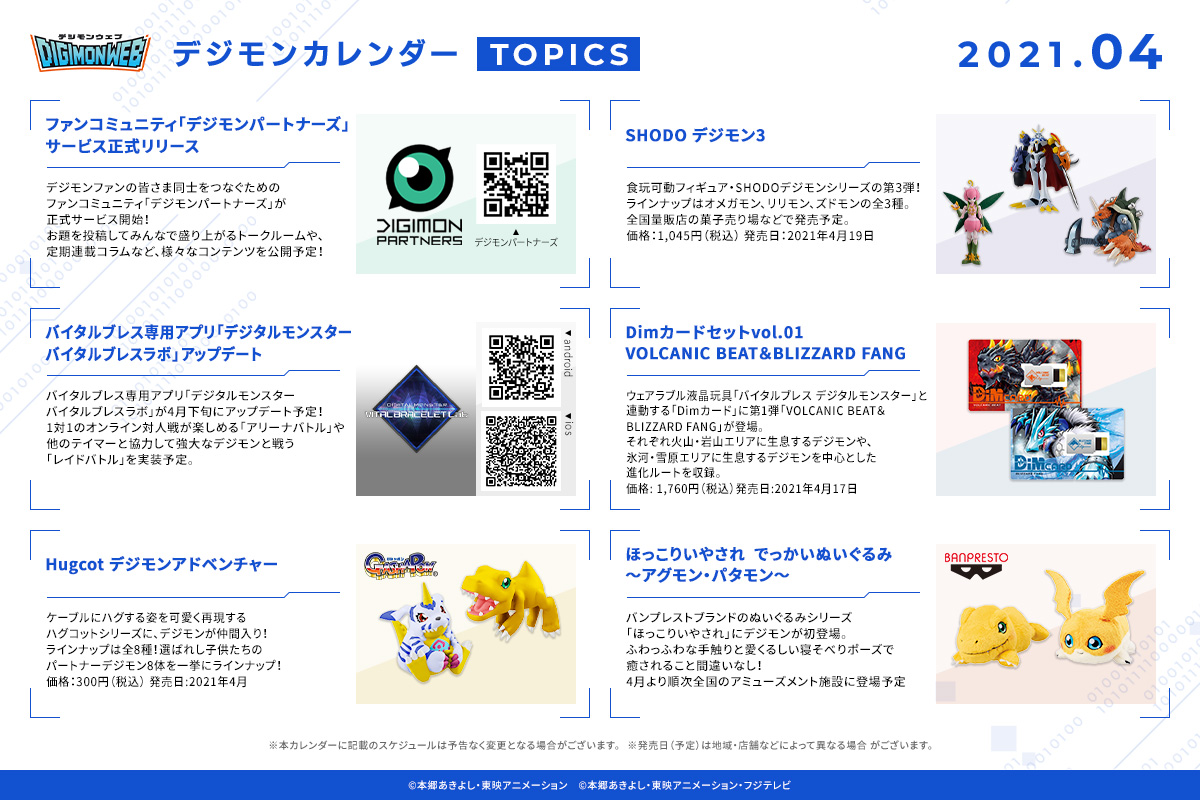 Topics covers a few specific items of note.
Digimon Partners- Opens today, it explains they will have a place to chat and regular columns.
Vital Bracelet App- An update in late April will allow one on one online battles. They are also working on adding raid battles, where you work together with other tamers to battle powerful Digimon.
Hugcots- The Digimon cable holders are scheduled for this month.
Shodo- Series 3 of the Shodo figures featuring Omegamon, Lilymon, and Zudomon are scheduled for April.
Dim Cards- Volume 1 of the Dim Cards are available this month.
Crane Game plushies- Agumon and Patamon crane game plushies will be available this month.
Digimon Calendar is a welcome addition, and seems far more useful than the mini-calendar from the mini DigiNavi news updates.