Show User Social Media
Hide User Social Media
Joined

Sep 8, 2006
Messages

17,371
Now that we are in 2016 and tri. part 1 has been out for a bit, I thought I'd update everyone where it is business wise, along with other recent Digimon BD and DVDs.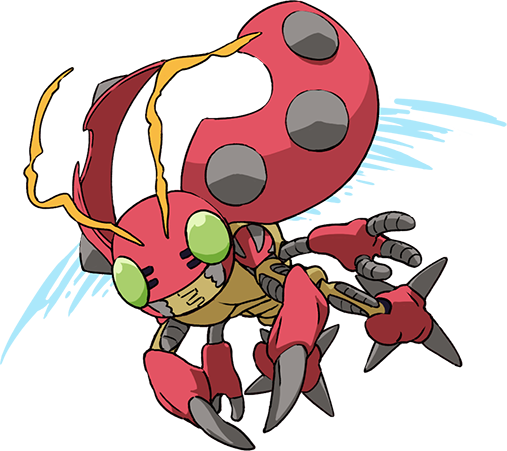 tri. Part 1 had week 1 sales of 6,074 copies on Blu-ray and 1,748 copies on DVD (charting 5th for anime BDs and 10th for anime DVDs that week.)
Since then, up through January 10th, it's total sales are 11,455 for the Blu-ray and 3,588 for the DVD, nearly doubling it's week 1 sales in it's month on the charts (tri. part 1 came out at the tail end of a week, so it's been out as far as sales are concerned for a month.)
In the most recent anime sales charts (through January 10th) the Blu-ray is still placing 13th and the DVD is 12th (on their respective charts.)
We don't know if sales numbers include the Amazon Exclusive versions of the DVD and BD, and it seems unlikely that the theater exclusive version of the Blu-ray is included in these numbers.
The Digimon the Movies Boxset recently was split up into single disk re-releases that came out a few days ago. The only disk that charted high enough for us to have numbers for was Disk/Volume 1, which contains Digimon Adventure (the movie) and Bokura no War Game.
It sold 780 copies and was 12th on the anime on Blu-ray charts.
For the 2 Blu-ray boxes that came out in 2015... (these numbers aren't up to date, but are taken from the most recent totals from when it charted and available information. So basically, these are guaranteed sales, but the numbers are definitely higher)
Digimon the Movies Blu-ray box sold 5,463 copies.
Digimon Adventure 15th Anniversary Blu-ray box sold 13,913 copies.
And since tri. part 1 appears to be fully removed from theaters now, we know what tri. part 1 grossed during it's run (these numbers don't take into account the last few days of it's theatrical run where it was doing 4 screenings a day between 2 theaters.)
tri. part 1 grossed 229 million yen during it's theatrical run.
For 2016 what we know of thus far for home video is... (All links are CDJapan affiliate links, minus the Amazon versions which are normal links to Amazon Japan.)
Digimon Adventure Zero-Two will get a BD-Box on March 2nd in 3 versions
Digimon Adventure Zero-Two 15th Anniversary Blu-ray Box
Digimon Adventure Zero-Two 15th Anniversary Blu-ray Box (Jogress Edition)
Digimon Adventure Zero-Two 15th Anniversary Blu-ray Box (Jogress Edition, Amazon Exclusive Version)
The Jogress Edition is listed as coming with a Jogress themed art case, 2 settings books, and 2 posters (the posters are listed as 'original' which likely means new art.)
The Amazon Version is the Jogress Edition but also includes a steel case that can hold 2 CDs and a cloth poster.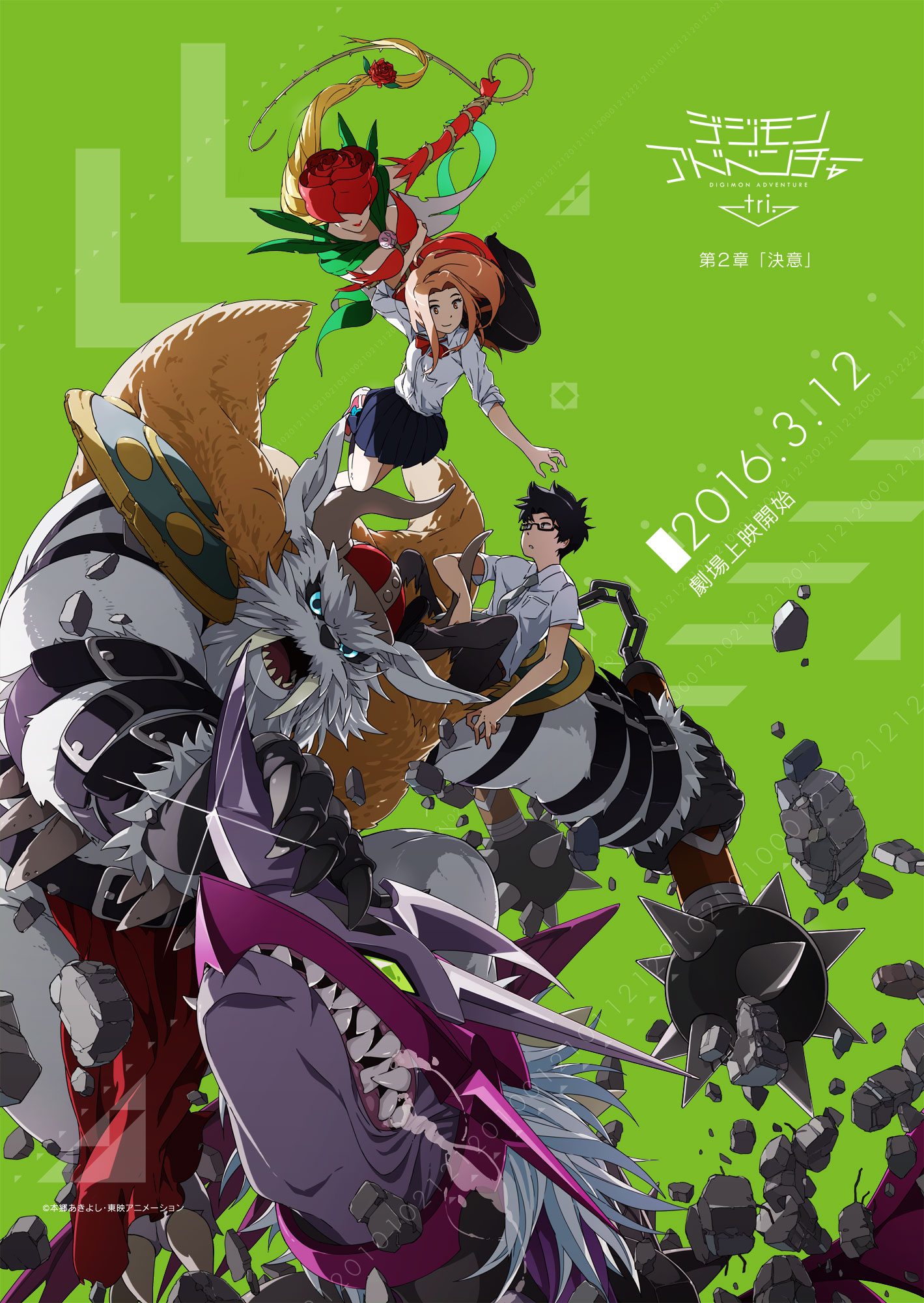 tri. Part 2 will be released on April 2nd in 5 versions
Digimon Adventure tri. Part 2 DVD
Digimon Adventure tri. Part 2 DVD (Amazon Exclusive Version)
Digimon Adventure tri. Part 2 Blu-ray
Digimon Adventure tri. Part 2 Blu-ray (Amazon Exclusive Version)
Digimon Adventure tri. Part 2 Blu-ray (Theater Version)
For tri. Part 2, all versions (minus the theater version) will have a First Press version. This will contain a second 16 page booklet and packaging featuring a digipak and a clear sleeve. The first press version will be the first printing of Digimon Adventure tri. part 2 (so pre-orders and day 1 stock.) Once this is sold out and they reprint, they will remove the second booklet and move to a normal Blu-ray case and insert.
The Amazon version includes a cloth poster with new artwork (likely Mimi and Jou.)
The theater version of the Blu-ray will likely match what part 1 got in it's theater version. It will come in a normal Blu-ray case using the part 2 poster art on the case insert instead of new artwork. The case itself will come with a paper sleeve that matches the artwork for the theater version. The disk will have a different label. It likely will not include the first press booklet. If you would like this version you should get in touch with an intermediary ASAP. This version will only be available in theaters airing part 2 in March. Part 1's theater version Blu-ray seemingly sold out the first day. The on disk content for the theater version will be the same as the normal Blu-ray
The
tri. Part 1 import and playback guide
will apply for both Part 2 of tri. and the Zero-Two Blu-ray box.
We are
currently taking donations
to get tri. part 2 and the Zero-Two Blu-ray box for the site.
While tri. Part 3 and even tri. Part 4 are possible for 2016 (based on if they keep the schedule from Part 1 to Part 2) only confirmed home video releases are being listed above. The digital release for tri. Part 2 is scheduled for March 12th, the same day the theater run begins.
And as for why I put a Tentomon image above... I like Tentomon and he always pops up with information.
Here are the previous
box office
and
tri. sales
threads.
Much of the sales and box office information was sourced from various places including:
ANN
,
BoxOfficeMojo
, and
SomeAnithing
.