Show User Social Media
Hide User Social Media
Joined

Sep 8, 2006
Messages

12,234
The newest V-Jump is out, and despite various early leaks of images, there was a lot we didn't see.
Luckily, now we have the entire Digimon and Appmon section from the newest V-Jump.
Some of these pages we already got information from prior, but quite a few of these we haven't seen.
Small spoiler warning- We see clear images of rubber straps revealing some characters showing up in tri. part 4. We've seen the straps before, but if you've been avoiding 'anything' resembling spoilers for 4, you'll want to avoid. I will not be spoiler texting who they are down below.
And for some of the information we have translations thanks to garm!
Let's start with Appmon!
The first page up above has information on new Appmon chips!
Appmon Chip Ver 3.0 (out February 18)
Globemon - An Ultimate Grade Appmon who is capable of inferring the opponent's movements with its superb analytic skills, almost as if predicting them.
Oujamon - An Ultimate Grade Appmon with a heart of justice, it is capable of using all sorts of martial arts and wielding all sorts of weapons!
The SR/PR chips can be scanned into the 3DS [Cyber Arena] game in order to get them in-game.
PR: Globemon
SR: Oujamon, Globemon, Entamon, Revivemon
R: Medicmon, Weatherdramon, Effecmon, Dreamon
Then we have some new content for
Appmon Gatchinko Bingo
, an Appmon arcade game (link is to a thread where Ukyou gave us some information about the game.)
Appmon Gatchinko Bingo (3rd set out late February)
New Bingo version chips will be added: Dogatchmon Plus Sakushimon, Dosukomon Plus Navimon, Scopemon Plus Jetmon, Globemon, Revivemon.
They also reiterate dates for
new "Apprealize Action" action figures
along with images of them (link is to the recent thread for Appralize Action toys.)
This page ends with some bits regarding the series.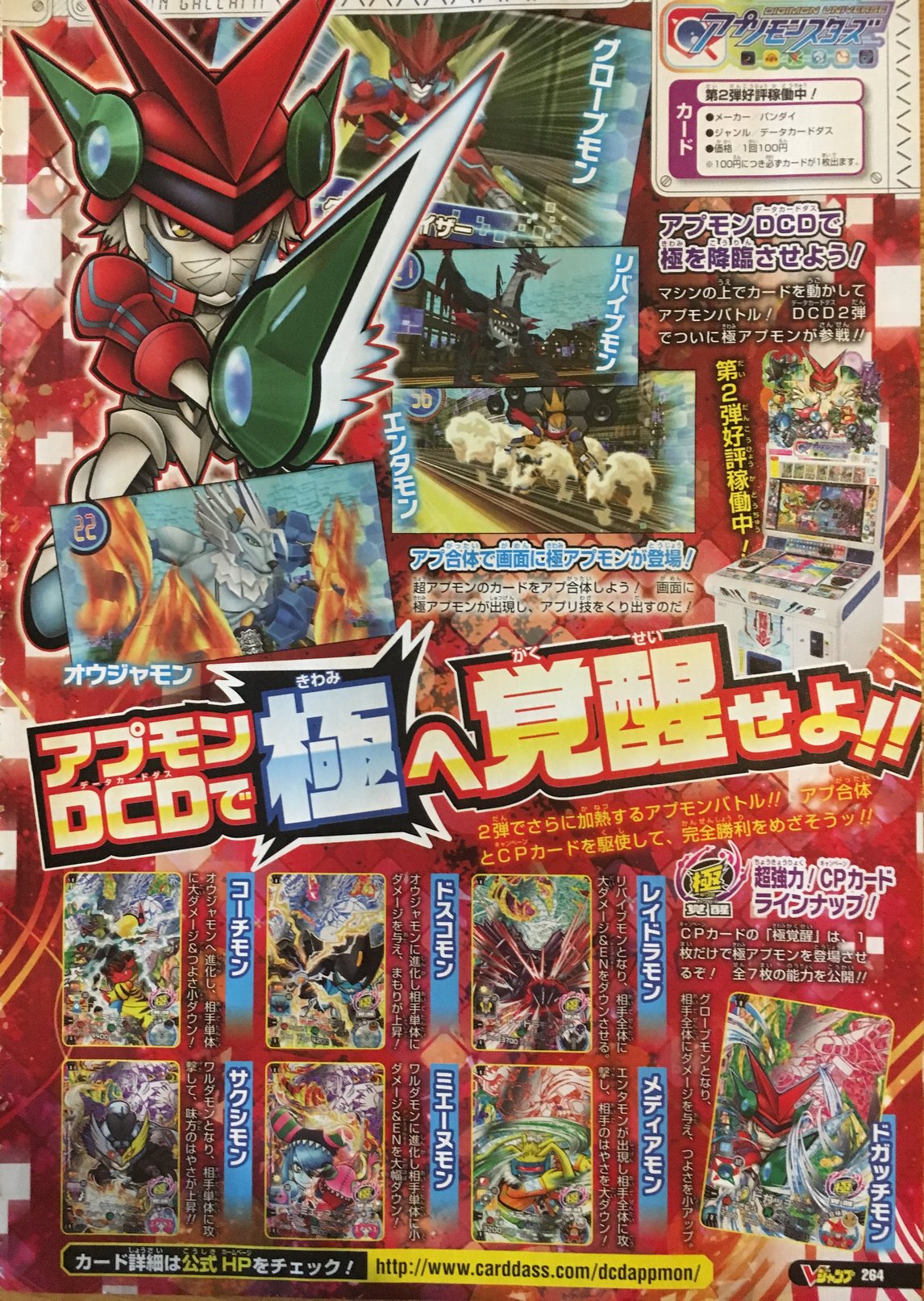 Various bits having to do with the Appmon Carddass game and it's arcade component.
Various bits having to do with the stand-alone Appmon card game.
We finish Appmon with some nice artwork of Globemon and bits about the Appmon 3DS game.
On to Next Order!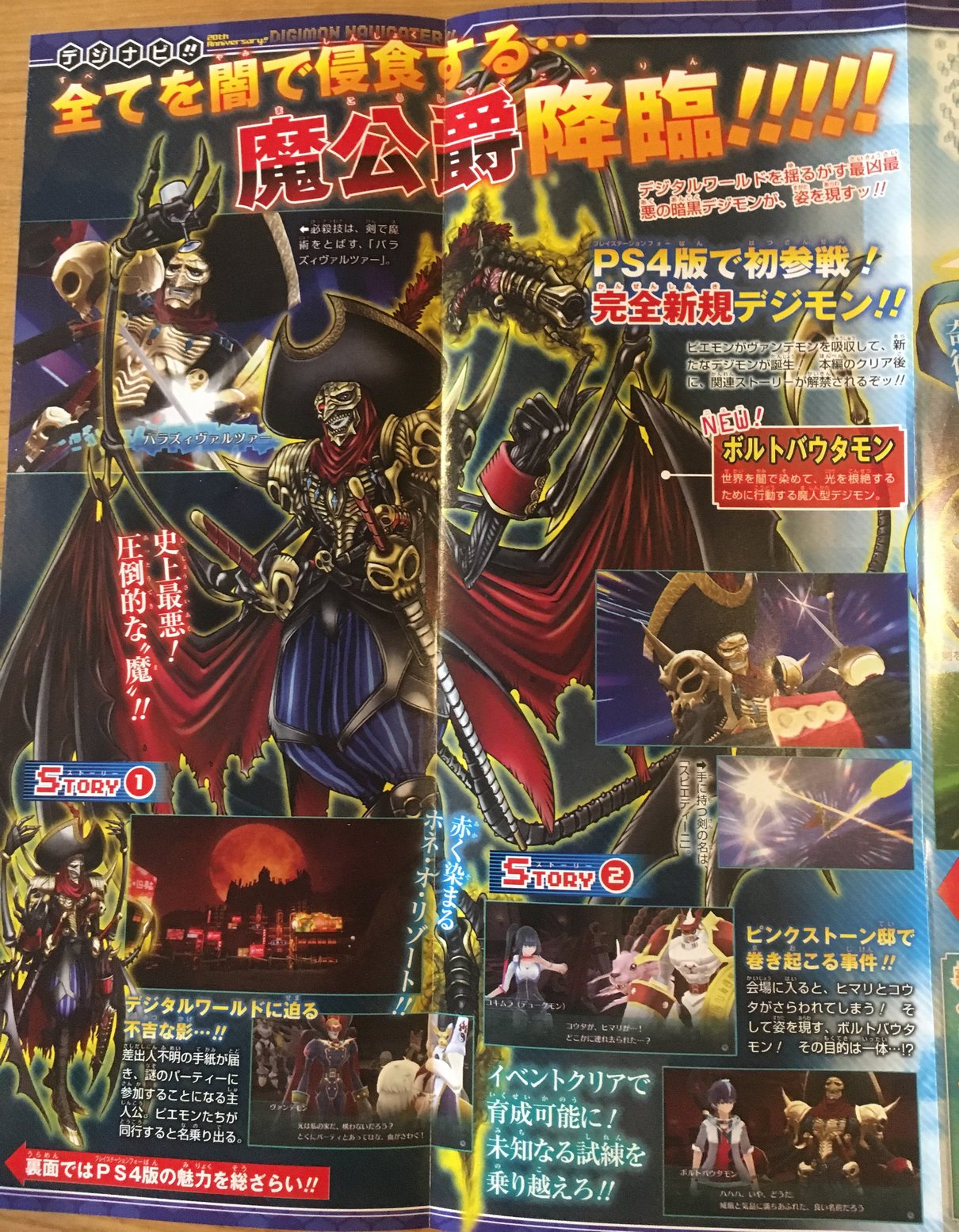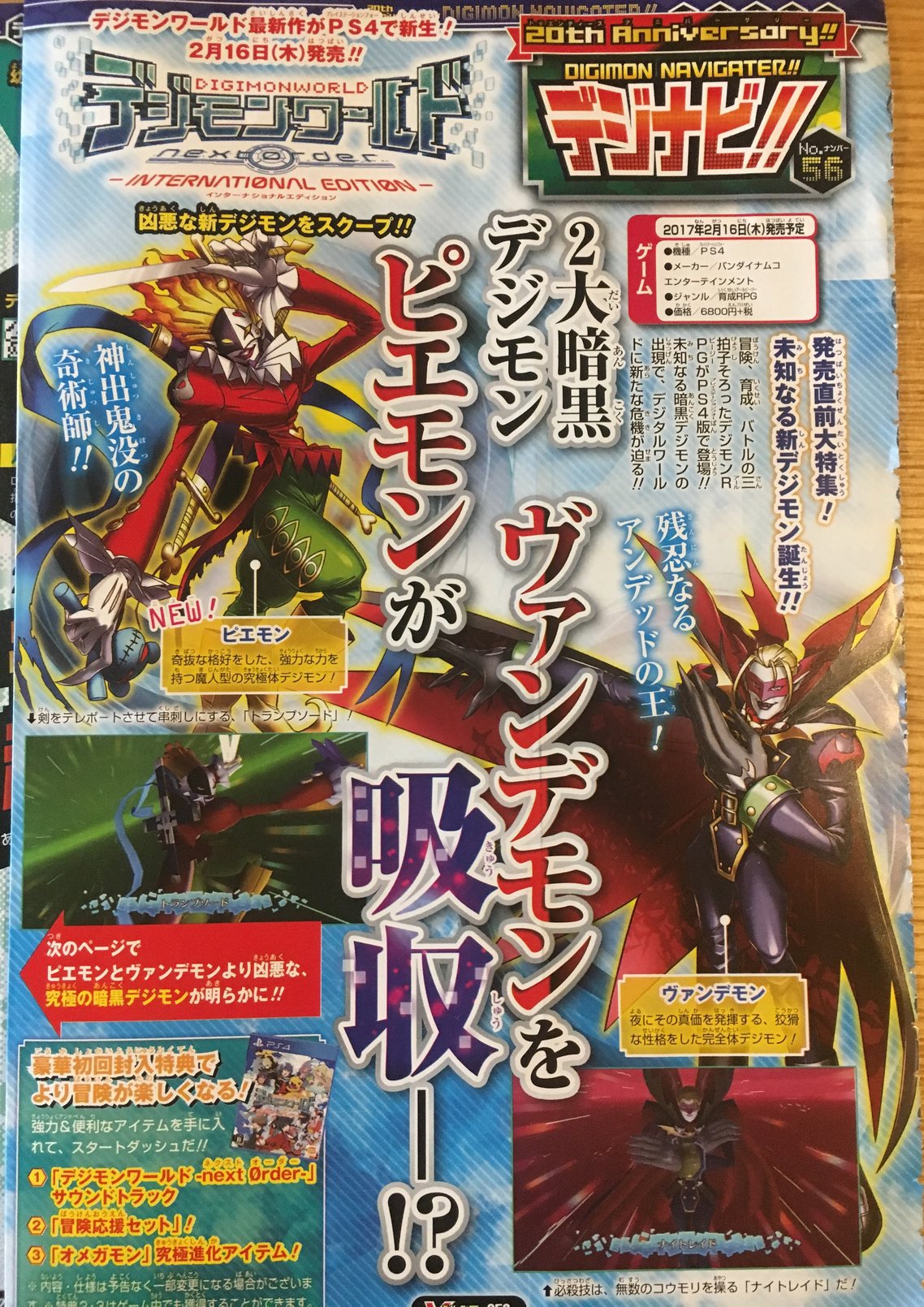 We already knew quite a bit about Boltboutamon
and him coming about via a fusion between Piemon and Vamdemon, but here's a translation of most of the text (link is to the thread where Boltboutamon was first shown off and discussed.)
It erodes all with darkness...the demonic duke descends!!!

The most evil and brutal dark Digimon appears, leaving the Digital World trembling in its wake!!

Boltboutamon: A Demon Man Type Digimon who strives to eradicate all light and dye the world in darkness.

With its Special Technique, Palazzi Valzer, it uses its sword to dish out magic attacks.

The most evil in history! An overwhelming "demon"!!
Story 1 - A shadow of misfortune that creeps over the Digital World...!! - The protagonist attends a party, having received a letter of invitation from an unknown sender. Piemon and the others [Vamdemon?] introduce themselves and go with the protagonist.

Story 2 - An incident unfolds over at Pink Stone Mansion!! - As soon as you enter the meeting place, Himari and Kouta get kidnapped! And at that moment, Boltboutamon makes its appearance! What is its true intent...!?

[Boltboutamon] becomes raiseable after completing the event! Overcome the unknown trials that await!
This spread goes over various Next Order details.
The info about
Zubamon and the 20th Anniversary V-Pets
we already had, but this is a significantly better quality image (link is to the 20th V-Pet thread.)
We make a small detour back to Next Order, and then onto tri. (Last change to avoid the tri. spoiler...)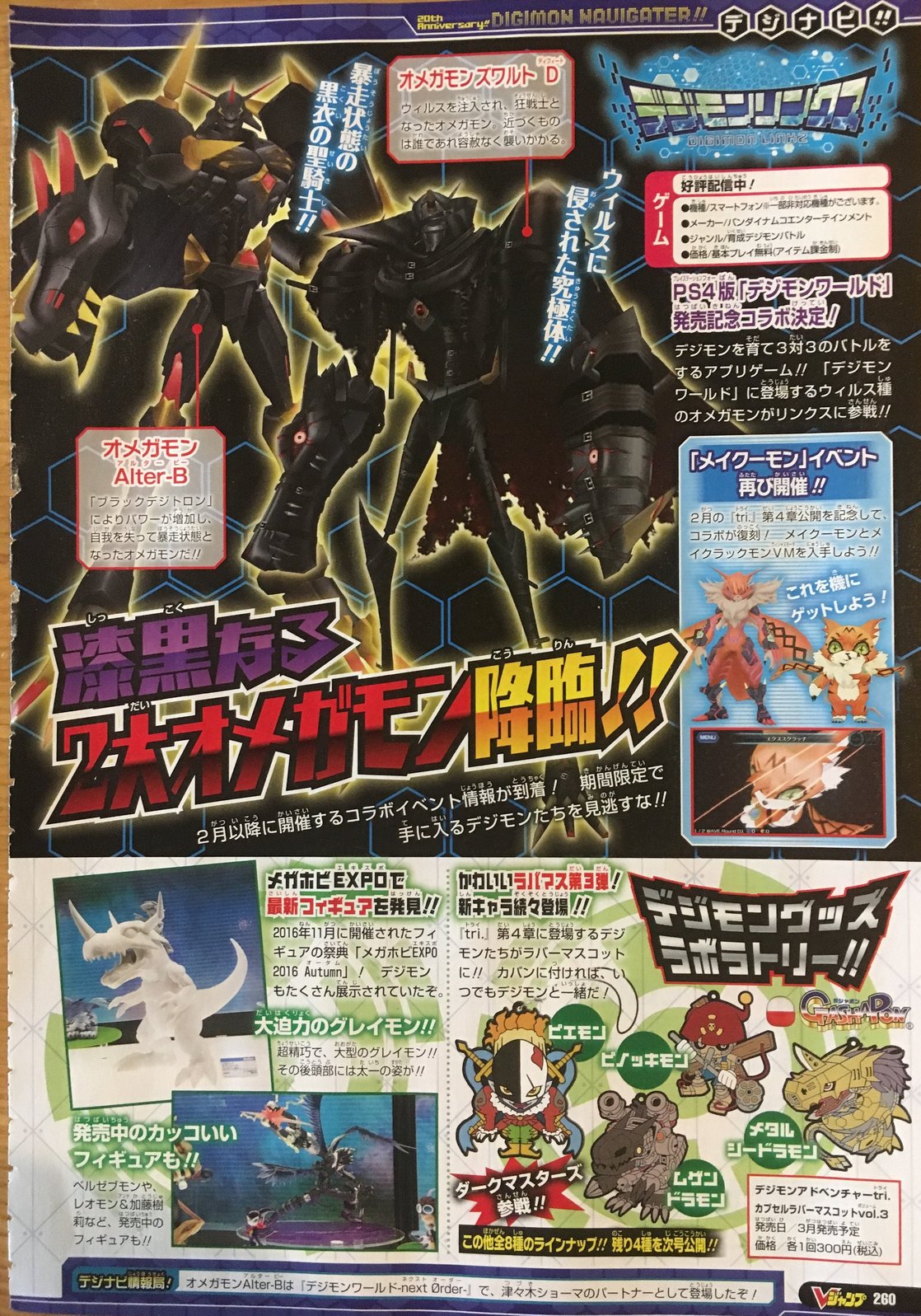 The last Next Order bits are regarding some of the newer Digimon showing up in Next Order.
Zwart D: An Omegamon that was infected by a virus and turned into a frenzied warrior. It attacks all who approach it without mercy.

Alter-B: An Omegamon who gained power from the 'Black Digitron', resulting in it losing its sense of self and going into a state of rampage!!
It also shows Meicoomon and Meicrackmon!
We get another look at the upcoming Megahouse GEM Taichi and Greymon, and the previously released Beelzebumon.
It also shows clean images of the designs for the Dark Masters from
Digimon Adventure tri. Capsule Rubber Mascot Volume 3
which was announced awhile back (link is to the thread where we first found out about these.) Each of these will be 300 yen. In the next issue they will show clean images of four more! We know 3 of the 4 from early previews of the straps- A Taichi/Yamato duo strap, Elecmon, and Jesmon. One is still a mystery.
We finish up with some tri. part 4 stuff, along with a
preview of the tri. card expansion
. (link to the tri. card thread.)
Most of the tri. part 4 text is just going over synopsis stuff we've seen before, but we have a nice profile for Hououmon.
Hououmon: A holy Digimon with 4 wings that shine golden. It wears Holy Rings on its legs!!
Lots of info, some we've seen recently, but some good stuff we haven't.
Big thanks to Jay_Ukyou for getting good images of all the Appmon and Digimon V-Jump stuff for us.
Update- Since a few people wanted better looks at the Imperialdramon and Kuwagamon card Ukyou tried to get closer shots of them.