Show User Social Media
Hide User Social Media
Joined

Sep 8, 2006
Messages

14,712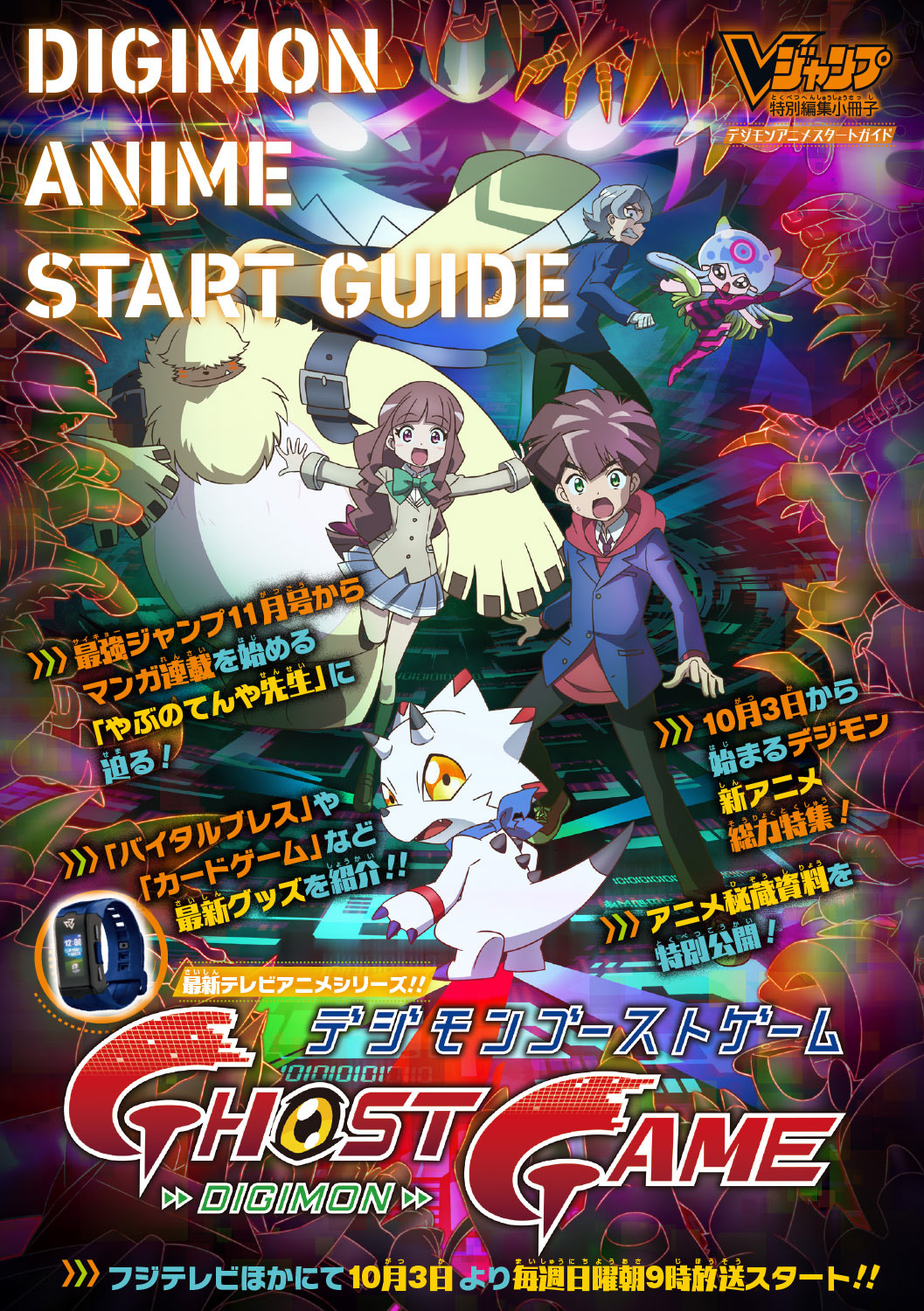 With Ghost Game starting soon, the staff of V-Jump has produced another Digimon guide, this time with Ghost Game as the main feature.
To get a PDF of the start guide, follow Digimon Web and RT
this tweet.
They will also be giving away 100 Amazon JP gift certificates per day.
Minimal translations for now, we will try and update as time allows. Update- Thanks to onkei a lot below has been updated.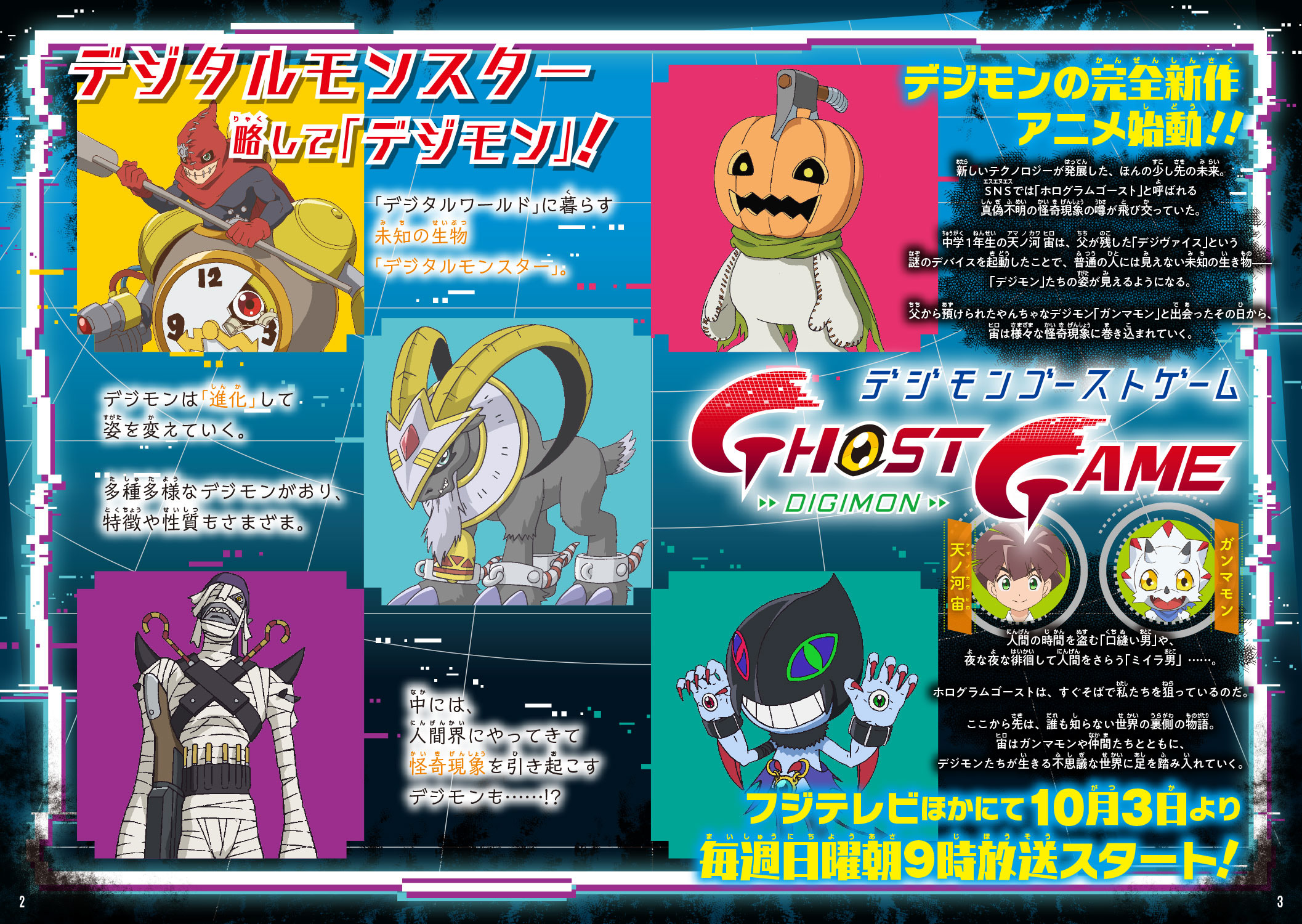 Explanation that a new Digimon anime is starting. Goes over various plot details, explains how Digimon can evolve, etc. It shows off various Digimon that will appear.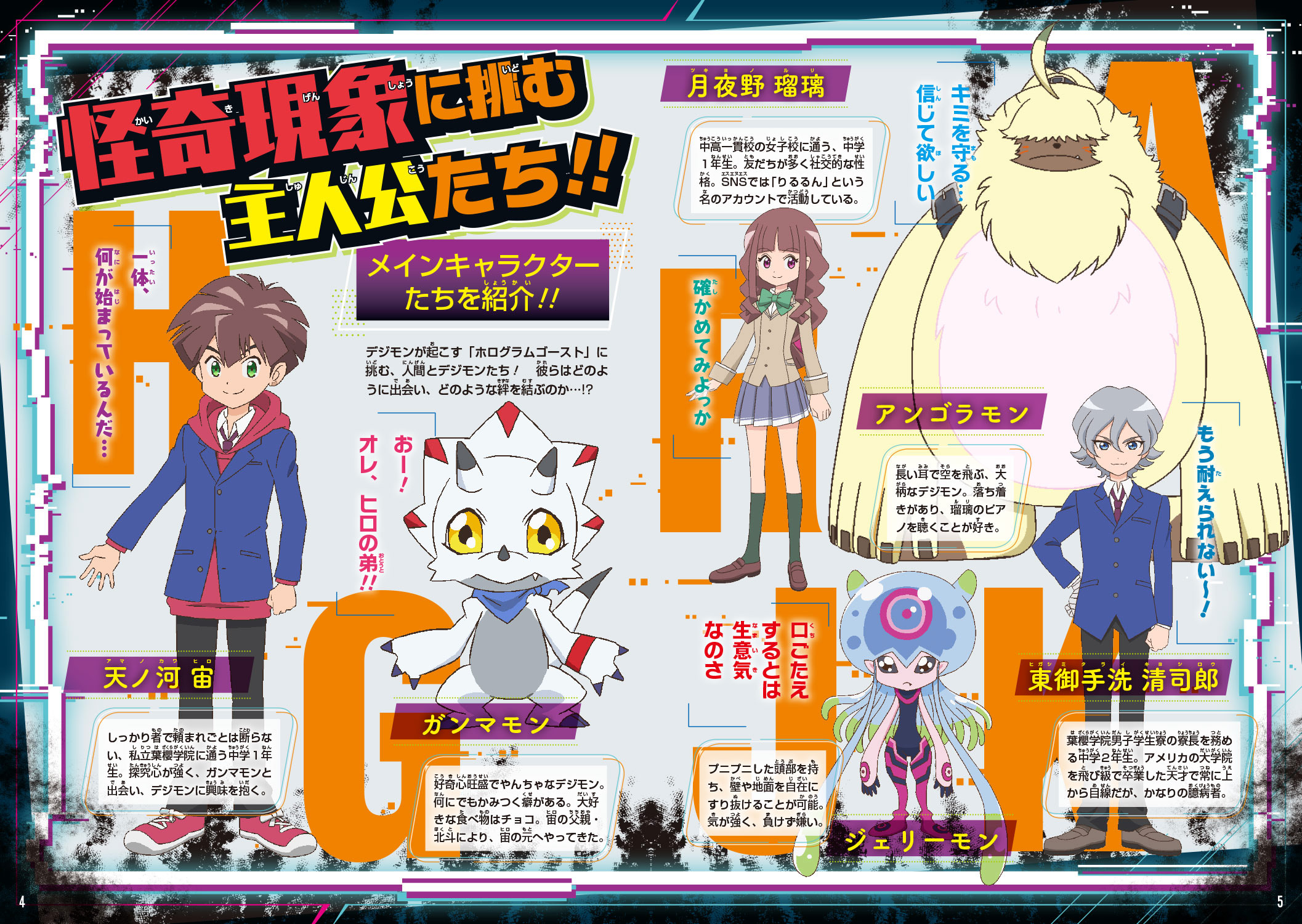 Character art and profile details for the main characters.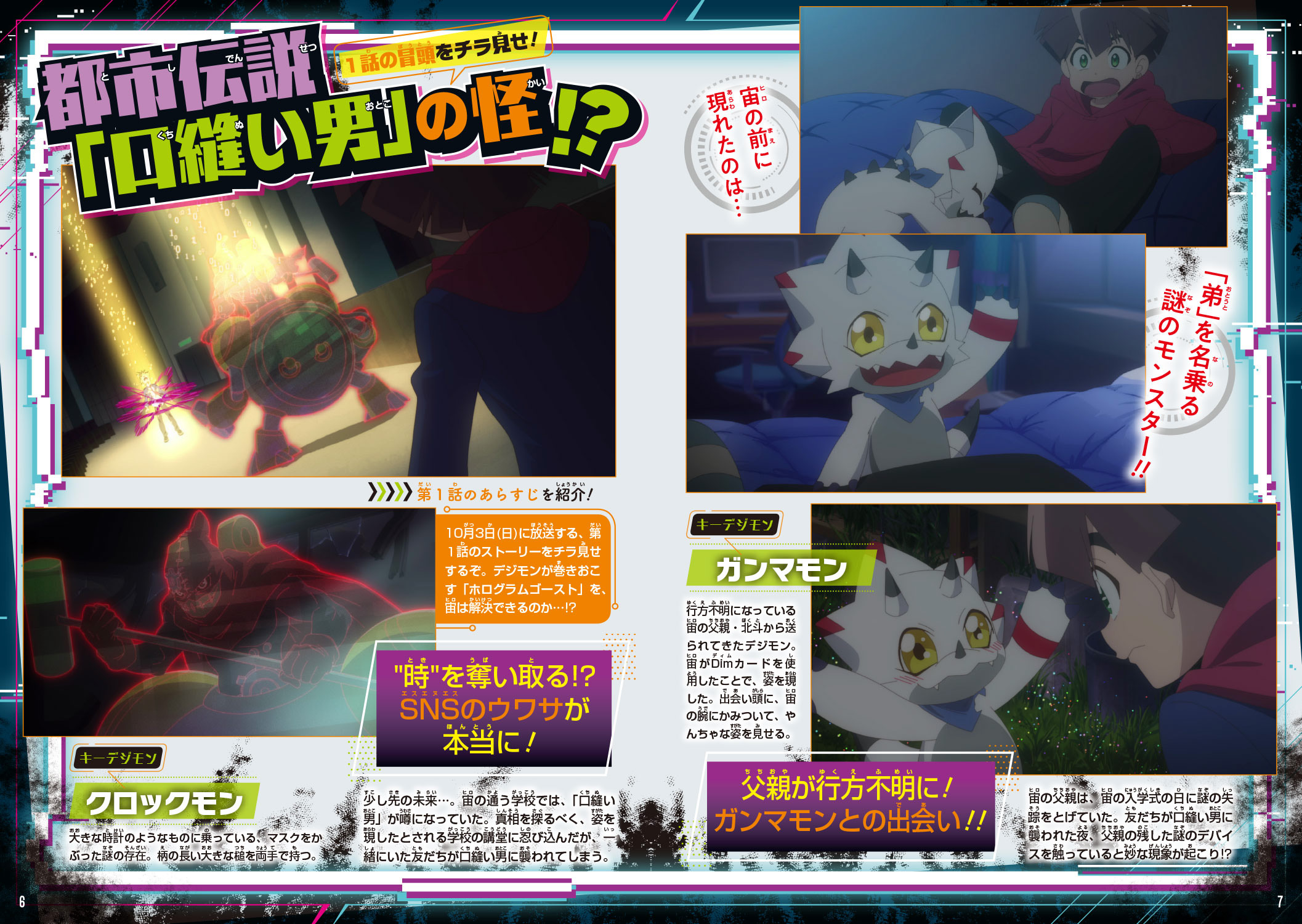 A sneak peek of episode 1! The monster from the urban legend "stitched mouth man"?!
Here is the summary of episode 1: A bit ahead in the future... The rumor of the "stitched mouth man" spreads throughout Hiro's school. Hiro sneaks into the school's lecture hall where it is rumored it appears, but the friend who comes with him is attacked by the stitched mouth man.
Key Digimon - Clockmon. A mysterious masked being who rides a large clock. He holds a long mallet in both hands.
Appearing before Hiro is a mysterious monster who calls himself Hiro's "younger brother"!!
Key Digimon - Gammamon. A Digimon sent to Hiro by his father Hokuto, who has gone MIA. He makes his appearances after Hiro uses a Dim card. Upon meeting Hiro, Gammamon bites his arm and shows a naughty personality.
Hiro's father had mysteriously vanished on the day Hiro entered junior high school. On the night that his friend is attacked by the stitched mouth man, Hiro touches the mysterious device that his father had left him and something strange occurs?!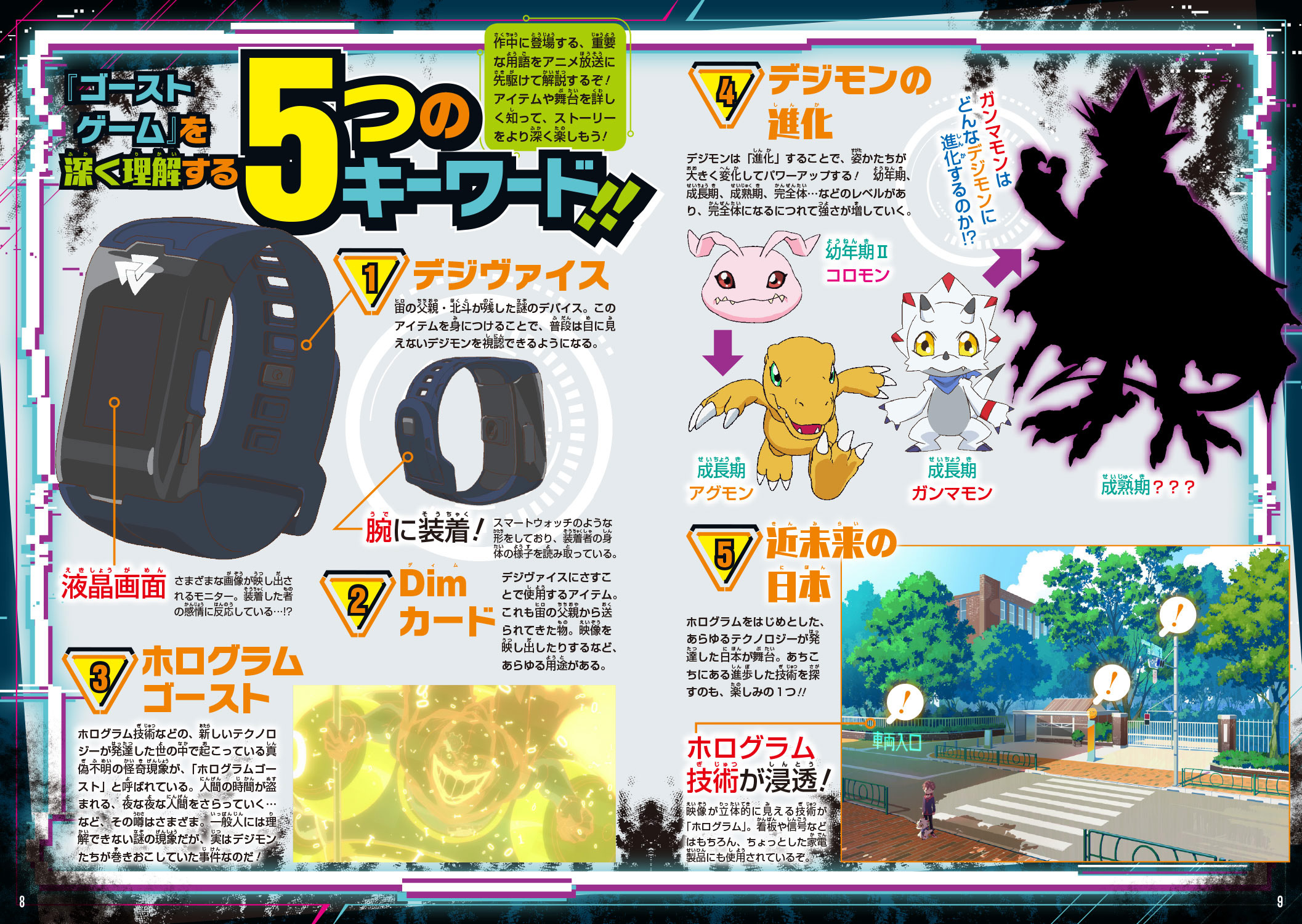 5 key words that will help you understand "Ghost Game" better!!
(1) Digivice - The mysterious device that Hiro's father Hokuto left him. By wearing it, one is able to see Digimon that aren't usually visible by the naked eye.
It has an LCD screen, a monitor where various images can be displayed. It also reacts to the emotions of its wearer...?!
(2) Dim card - An item used by inserting into the Digivice. This was also sent to Hiro by his father. It has various uses, such as showing video.
(3) Hologram Ghost - Bizarre phenomena of dubious background, in a world where new hologram technology has progressed, are called "hologram ghosts." They are of various rumors, such as one who steals human's time, or kidnaps humans during the night. While they are mysterious phenomena that are not understood by the average person, they are all actually incidents that are caused by Digimon!
(4) Digimon evolution - By "evolving," Digimon change their appearance greatly and power up! There are levels like Baby, Child, Adult, Perfect, etc... becoming a Perfect level increases their strength.
What sort of Digimon would an evolved Gammamon be?!
(5) Japan in the near future - Japan in a world where hologram and other technology has advanced is the setting of the story. Finding technology here and there that have developed would be another way of enjoying the show!!
Hologram technology has permeated through the country! Technology where images look 3-dimensional are "holograms." It's used not only for billboards and traffic lights, but also for some consumer electronics.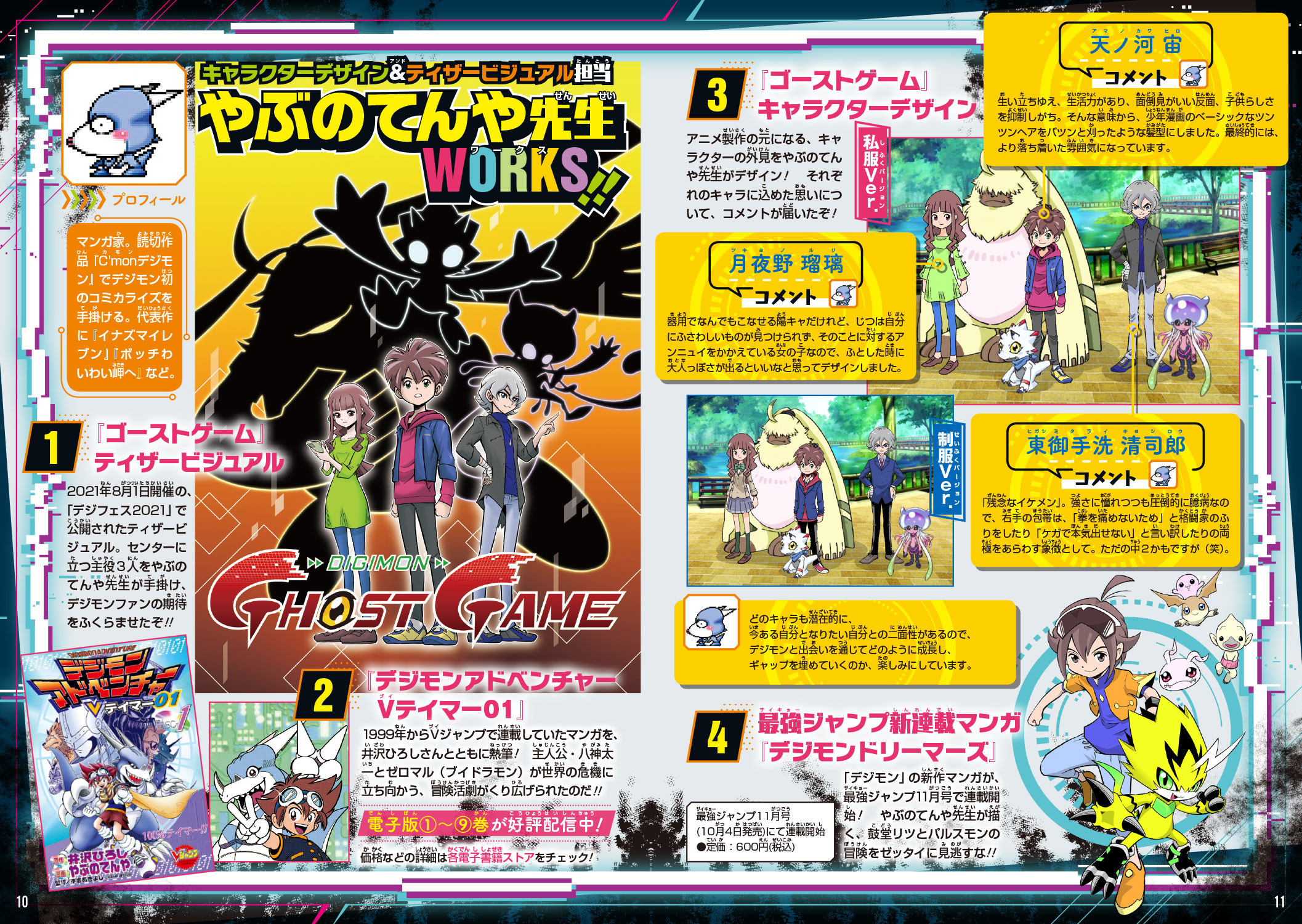 Tenya Yabuno works.
It mentions how he worked on C'mon Digimon, the first Digimon manga.
1- Ghost Game poster
2- V-Tamer
3- Tenya Yabuno's comments on his Ghost Game character designs.
Hiro Amanokawa: Due to his upbringing, while he is energetic and caring of others, he tends to suppress his childlike side. In that sense, I based his hairstyle on the basic spiky hairstyle that you see in shonen manga, except with the ends cut off. He comes off looking quite calm and composed in the final design.
Ruri Tsukiyono: While she is an outgoing girl who is dexterous and can pretty much do anything, she actually has trouble finding things that she deems are suitable for her, and so has a sense of ennui about that. This is why I designed her like this with the hope that she would, at unexpected times, give off a mature atmosphere.
Kiyoshiro Higashimitarai: "An unfortunate hottie." While he longs for strength, he is devastatingly cowardly, which is why his right hand is wrapped in bandages as a symbol of two extremes - one where he pretends to be a martial artist who does it "so as not to hurt his fist" and the other where he makes the excuse that "by injuring it, he can't give it his all." He might just be suffering from eight-grade syndrome though (lol).
Closing comment: All of the characters have latent potential, with the dual nature of who they are now and who they want to be. I look forward to seeing how, through their encounter with Digimon, they close that gap and grow.
4- The new manga, Digimon Dreamers in Saikyo Jump. The lead character, and Pulsemon's partner, is Ritsu Kodo.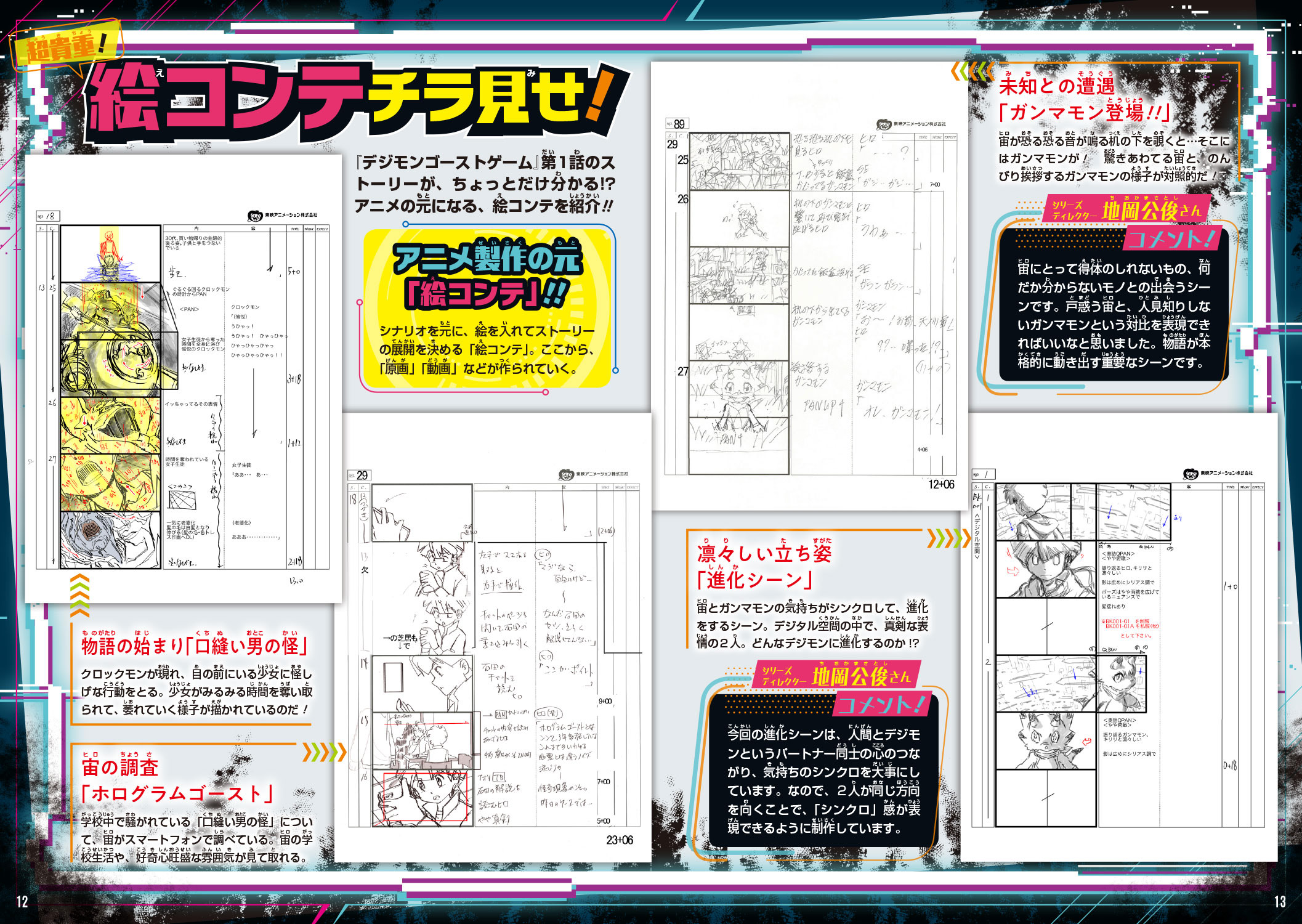 Storyboard of Ghost Game episode 1.
The beginning of the story with "the stitched mouth man" - Clockmon appears and makes suspicious motions to the young girl in front of him. The girl can be seen having her time sucked away and withering!
Hiro's investigation of "hologram ghosts" - Hiro uses his smartphone to investigate on the "stitched mouth man" that's the talk of his school. You can see his school life and his curiosity in action.
Encounter with an unknown life form "Gammamon's appearance!!" - As Hiro cautiously peers beneath the desk where there's a ringing sound... out comes Gammamon! Hiro's yelps of surprise while Gammamon greets him in a relaxed manner are polar opposites!
Comment from Kimitoshi Chioka: This is the scene where Hiro meets something unknown, something he cannot explain. I hope the contrast is easily conveyed - Hiro who is dreadfully confused while Gammamon shows no shyness or hesitancy. It's an important scene where the story makes its first big move.
Their imposing standing postures, the "evolution scene" - The scene where Hiro and Gammamon's feelings synchronize and they evolve. The two wear serious expressions within the digital space. What kind of Digimon does he evolve into?!
Comment from Kimitoshi Chioka: The evolution scene this time places emphasis on the emotional bond between human and their Digimon partner, and that their feelings synchronize. This is why, in production, the two face in the same direction, to show that they are "in sync."
The various bits written on the storyboards:
Storyboard of episode 1.
The backside of a housewife in her 30s going home from grocery shopping. She is holding the hand of a child as she walks.
Clockmon's clock spins as the shot pans out.
Clockmon receives the time he stole from a female student and laughs manically as the time washes over his entire body.
His face looks like he's gone mad.
The female student as her time is stolen shrivels into an old withered form instantly. Her hair turns white and long.

Hiro holds his smartphone in his left hand while swiping with his right.
He opens up a chat page and sees that Ishida has sent him a message.
He reads Ishida's chat, with a rather serious expression on his face.
Spoken lines: "Would be cool if it was real though..."
"What the heck, that Ishida just sent me a really long explanation..."
"Here's the main point."
"Hologram ghosts, unlike traditional ghosts, describe bizarre phenomena mixed with static noise. These incidents have increased in number in the past 2-3 years. As for yesterday's case..."

Hiro fearfully looks under the desk. Gammamon is slowly biting on something [onkei can't read this part clearly, but it appears to be 'outdoor cooking utensils'.]
Hiro gets scared seeing Gammamon and tries to leave. Gammamon throws the thing he's chewing on and comes out from underneath the desk.
Gammamon's spoken line: "Heyyy! You're Hiro Amanokawa!"
Hiro's spoken line: "?? ...You can talk?!"
Gammamon greets him.
Gammamon's spoken line: "I'm Gammamon!"
A layout going over the Digivice V product and Dim Cards.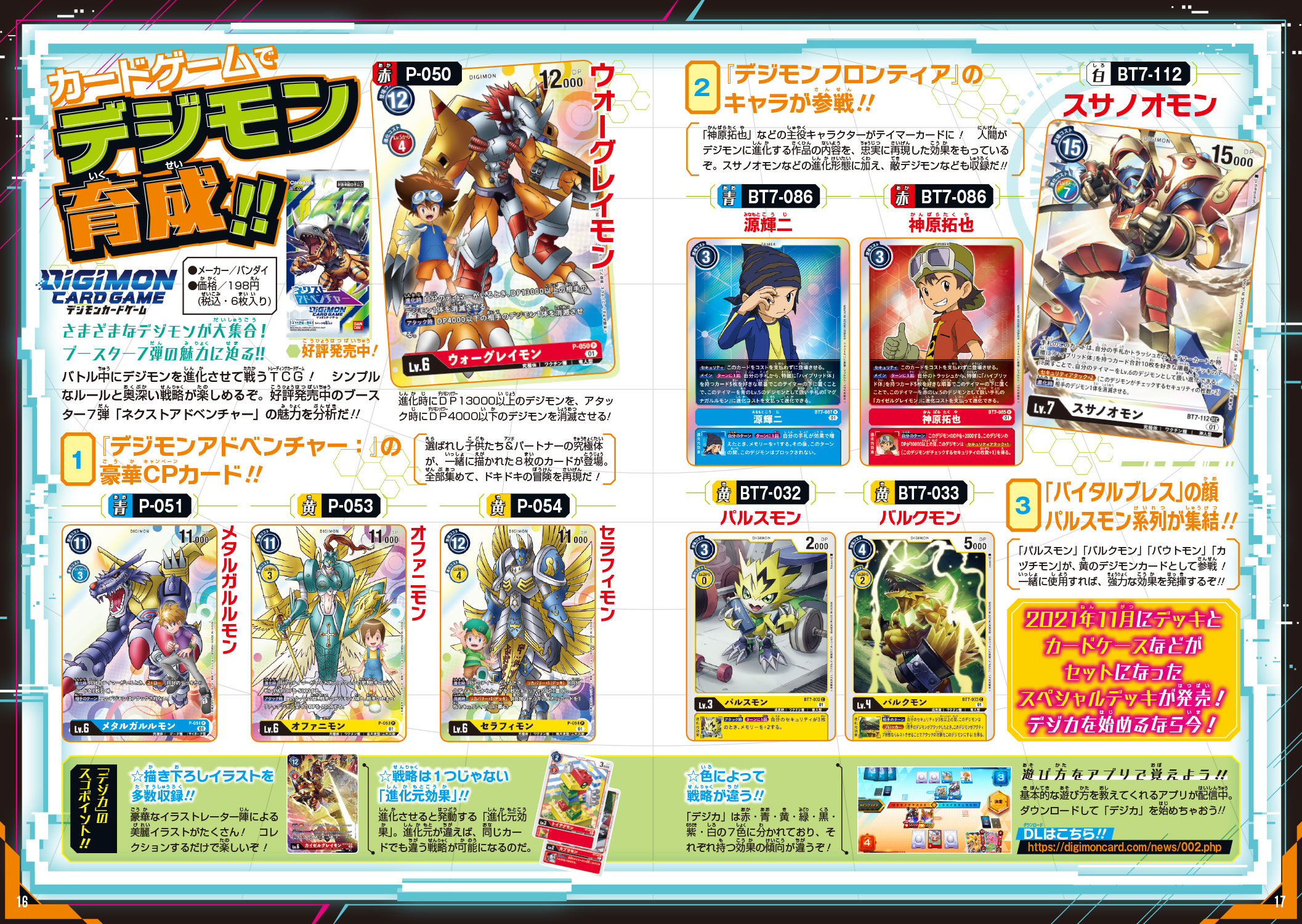 Layout going over the card game.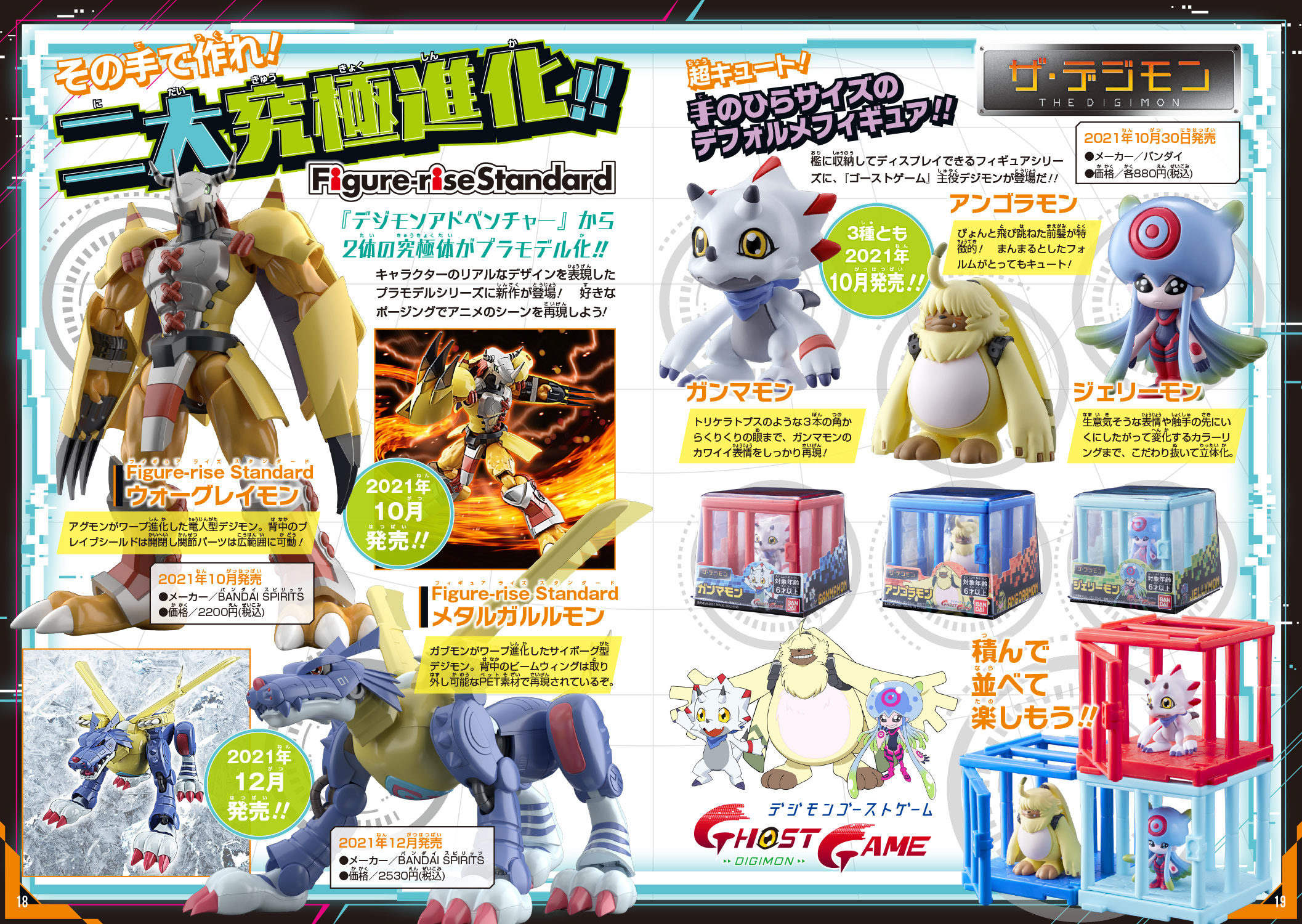 Upcoming model kits and the Ghost Game 'The Digimon' Figures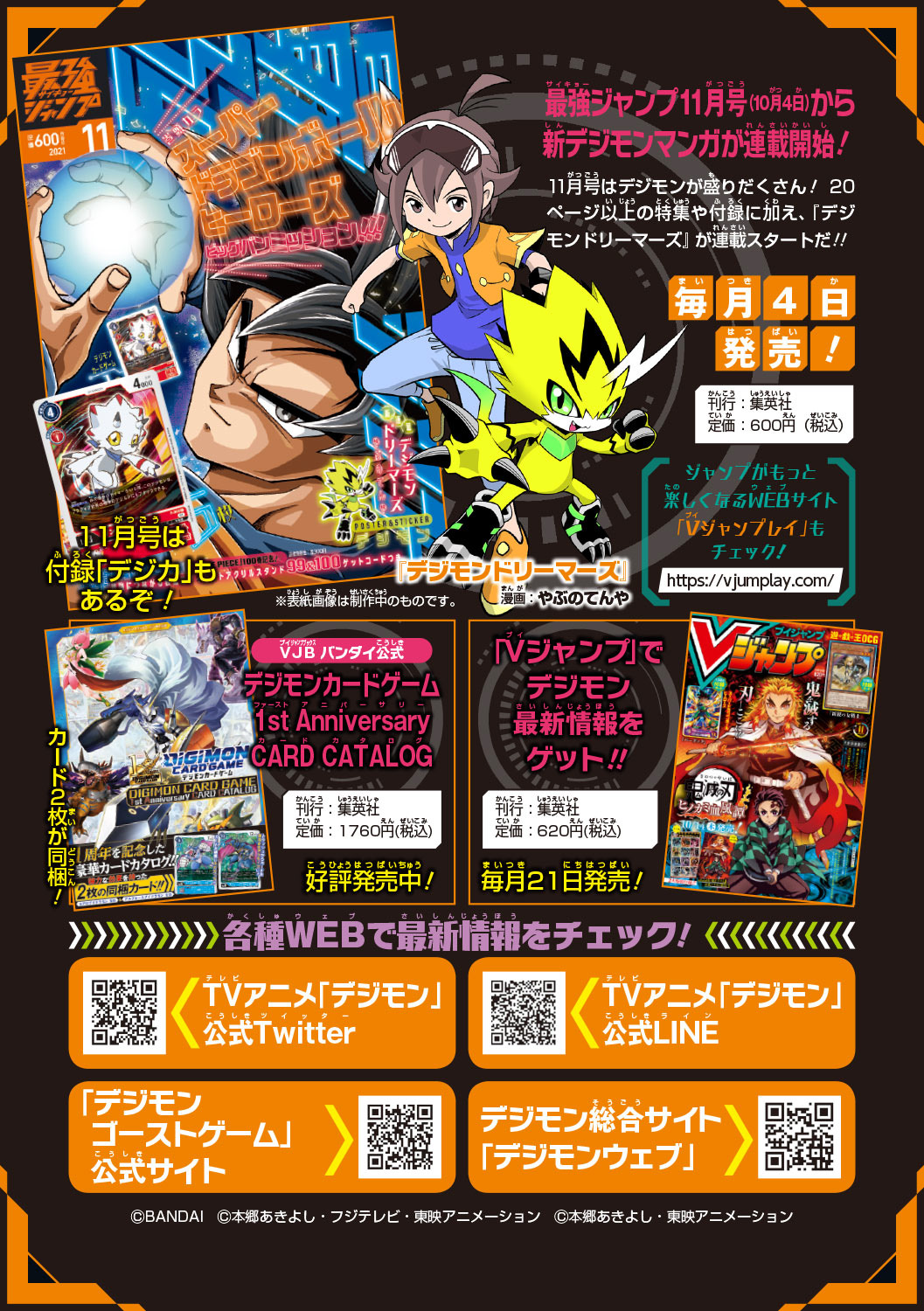 And it finishes with updates of magazines Digimon fans will want to keep an eye on. Saikyo Jump, V-Jump, along with the recent release of the Digimon Card Game catalog magazine.
Very Ghost Game heavy as you would expect, while also going over various brand related things.
Last edited: