Show User Social Media
Hide User Social Media
Joined

Sep 8, 2006
Messages

17,381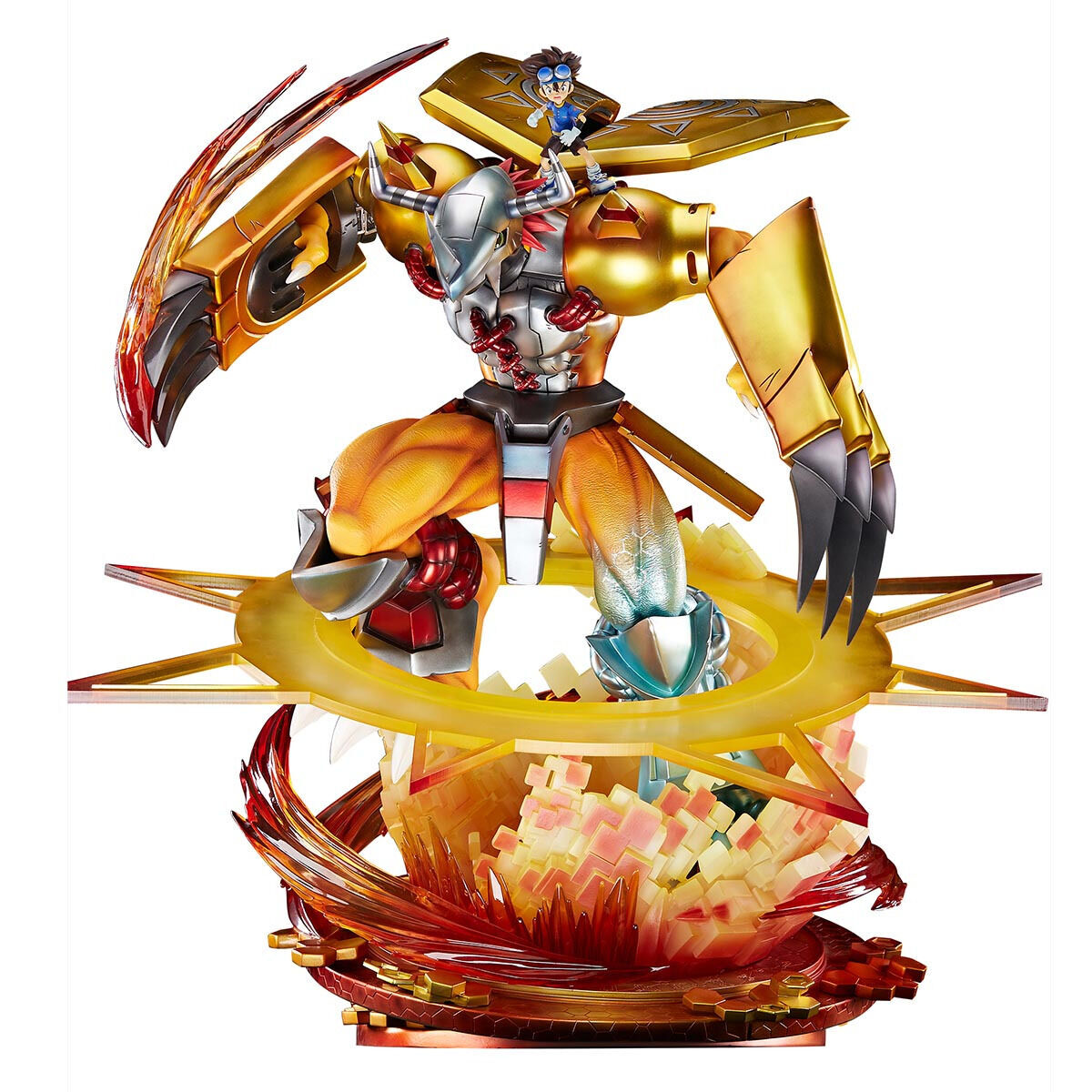 Time for a new figure, and this one is a bit bigger, and more expensive, than most.
Digimon Adventure Large Statue Series WarGreymon, the newest Digimon figure, is a massive statue of WarGreymon and Taichi.
The long advertising image shows it off at various angles and details it.
The figure is roughly 23.6 inches tall, 23.6 inches deep, and about 21.6 inches wide.
The figure is described as...
Taichi Yagami, the leader of the "Chosen Children", and his partner Digimon WarGreymon finally appear in a super-sized statue measuring over 60cm in height!

Agumon, evolve!

Taichi calls out to WarGreymon, and the ultimate evolution of Wargreymon takes place.
The figure has been sculpted to look like a heroic figure about to face a powerful enemy.


The super metal "Chrome Digizoid" armor, "Dramon Killer" and
Brave Shield" reproduces the texture full of a sense of gravity.

The "crest of courage" that is the emblem of Taichi and the evolution scene are reproduced in the image.
The pedestal is represented with clear parts to give a sense of dynamism and strength.

The strongest dragon warrior of the Greymon series, born from the bond between Taichi and his partner after many battles.
Enjoy the sight of the strongest dragon warrior of the Greymon series and his partner from all angles in 360 degrees.
A look at the figure from various angles...
Really impressive detailing, from the energy/speed lines on the claw, to the detailed base, including a crest of courage, and evolution energy appearing on his leg. They've included the hexagons the franchise has enjoyed adding for the last 7 or so years to things, and the coloring is beyond nice.
Pre-orders open at Premium Bandai a bit over 28 hours from the time of this post
for an eye-watering 99,000 yen. It ships in February 2023.
デジモンアドベンチャー 大型スタチューシリーズ WARGREYMON
It's noted shipping is an extra 5,000 yen.
In addition, the item is made and sold by Plex, and is not exclusive to Premium Bandai, they just have the initial announcement.
Fancy figure, and very expensive. Few will end up with it for sure. It'll be interesting to see if more get made since they refer to it as a series.
A few extra bits...
Premium Bandai Japan is currently harder to access, so a bit extra for those who want to pre-order and not wait to see if there is an international release.
Some intermediaries will want not only want the urls of the items above, but may ask for the product name in Japanese as written on the page. Those names are given above, directly below the pre-order links.
If you want to be sure to nab something...
We've currently pared down the list of intermediaries we list due to some places closing and others becoming iffy in their communication, calling into question their reliability. If you have any stories, positive or negative, about any intermediaries, DM me with them so we can figure out who might be worth adding (or re-adding), since these aren't affiliate links or anything, simply suggested ways to make it easier for fans to nab stuff.
You'll want to contact an intermediary to get these items sent to you. WtW is not affiliated with any, but here are a selection of intermediaries that have worked well for various WtWers and their friends in the past:
From Japan
Rider Proxy
You'll want to provide your chosen intermediary with the link to the item. Just copy paste the link to the product pages for what you want and send them a message about it and they'll take care of it after they discuss pricing and their policies with you. The links embedded in the news article for the products are exactly what you'll need to send them.
Some of the intermediaries have a full storefront and may have the item listed, so you may want to check that first.