Show User Social Media
Hide User Social Media
Joined

Sep 8, 2006
Messages

17,371
The set is out and after much scanning, editing, and screencapping I can start writing.
First thing I gotta do is thank the people who donated so we could get the set.
I won't be going over the show itself, just the actual BD-Box
I scanned everything at 1600dpi. I edited it all minorly, made it a size that was more viewable, saved it, then jpg compressed it all. I'll be throwing up more high resolution stuff and PNGs later (want to get it up now without to much of a hit on the server.)
The screencaps themselves will all be lossless PNGs from moment one (and I did so much that I'll be using off site hosting for them so it won't murder the server.)
I'll embed the JPGs but not the screencaps themselves because they are very large.
First up is the box itself, with a mostly clear slipcover.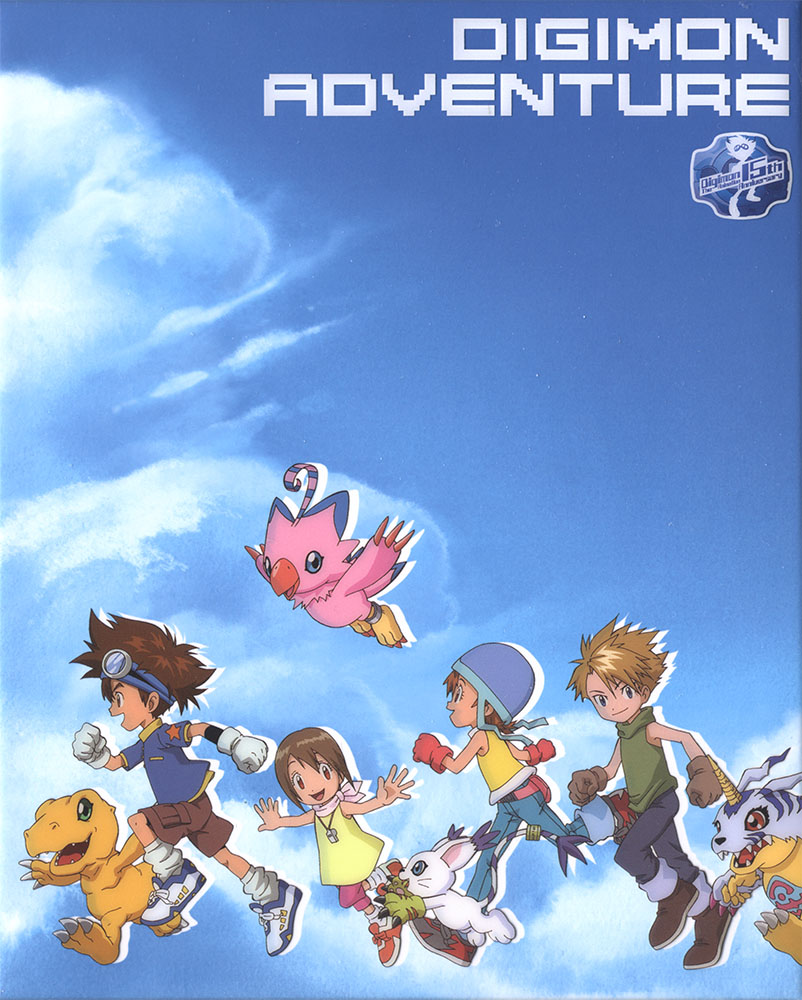 Due to the fact that the case actually curves slightly in each corner, doing flat scans makes it quite hard to reassemble into a single clean image. I'll try and do some of that when I have some free time...
Next up is the same box, but without the hard plastic slipcover.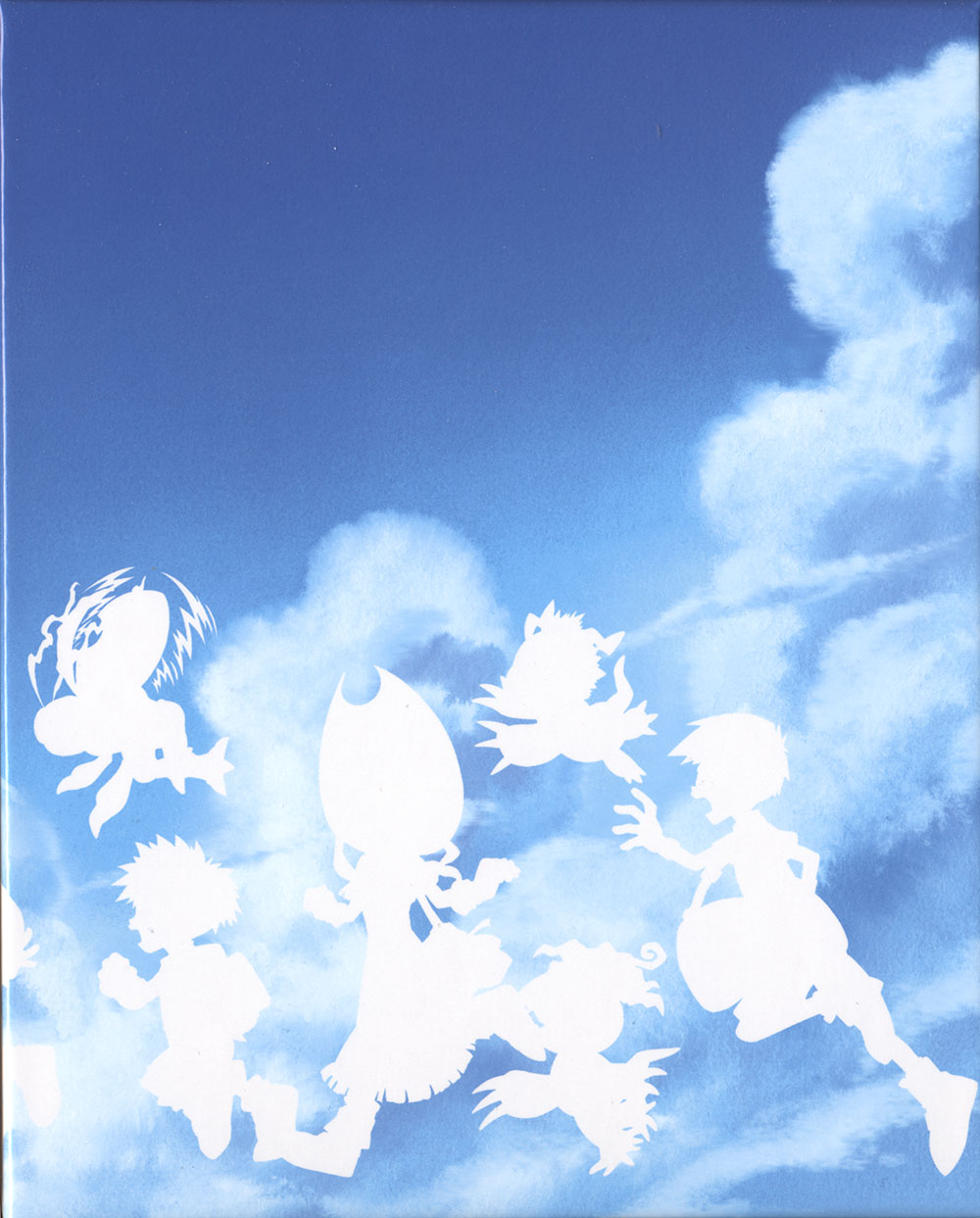 I rather like how when the slipcover is on, the white backing images aren't completely lined up, which gives it a fun effect akin to a drop shadow or an embossing. The new art of the kids brings it all together for a really minimal box design.
The bottom of the box has various technical and legal info along with the barcode.
Now onto the actual set.
First up we have a booklet. The booklet itself based on information on the set is just a reprint of the prior book that came with the prior DVD box. There is some new interview material that I'll try and track down someone to translate. This is just the front and back cover for now.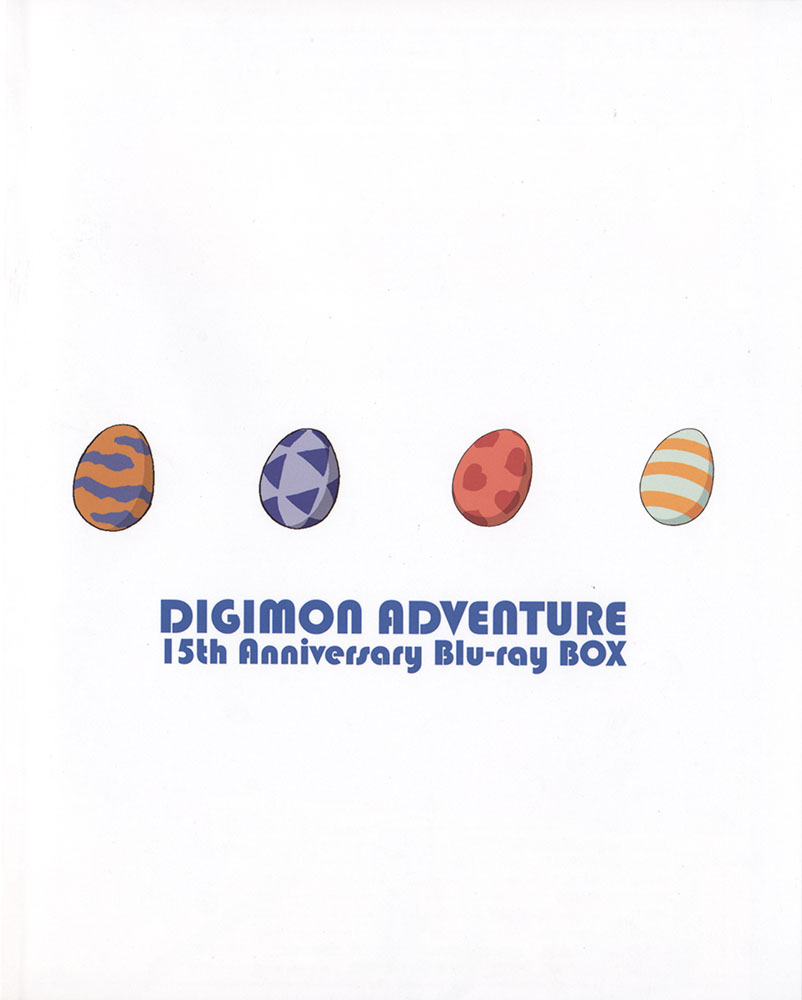 The CD that comes with the initial printing has new audio drama content. Unfortunately I don't speak Japanese but I'm sure someone will go over it in more detail (I know Palmon evolves into Rosemon and some other bits, but someone else can go into more detail.)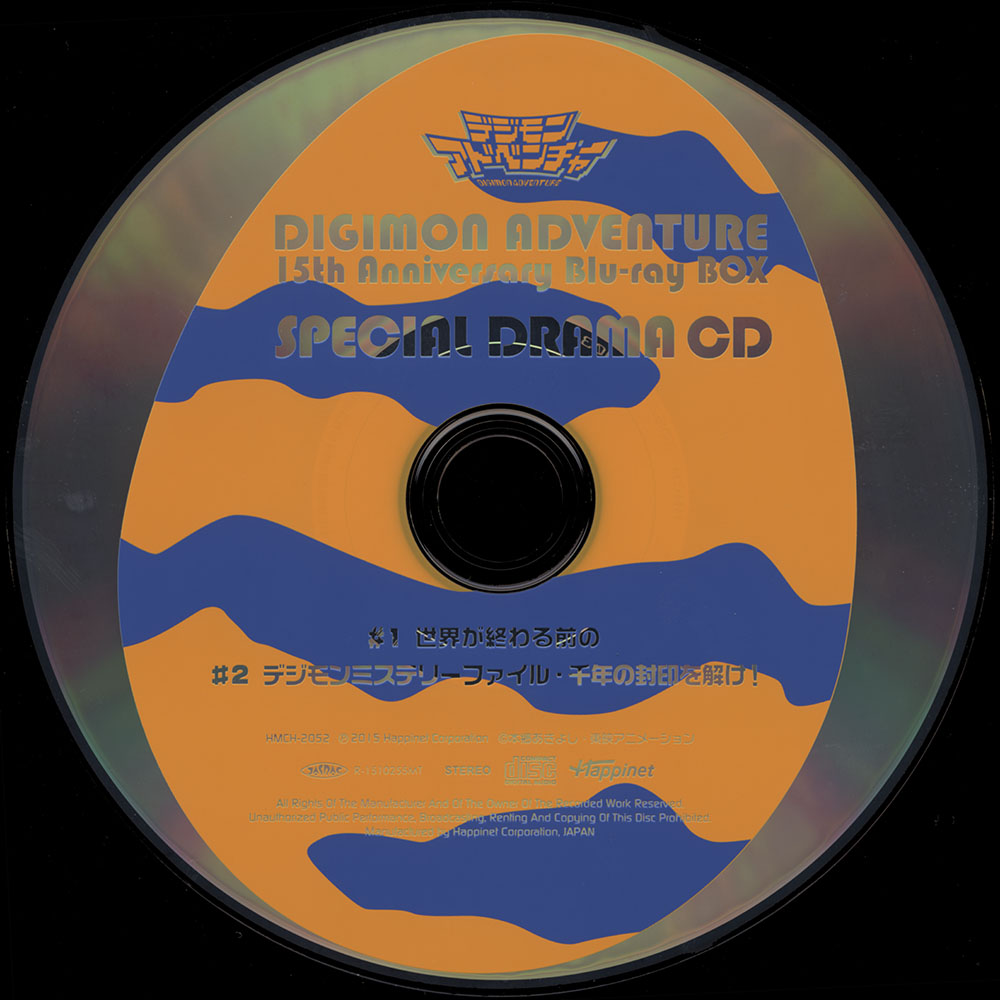 The small insert was 4 pages that unfolded.
First up is the 2 on the outside when it's in the case.
Then you flip that around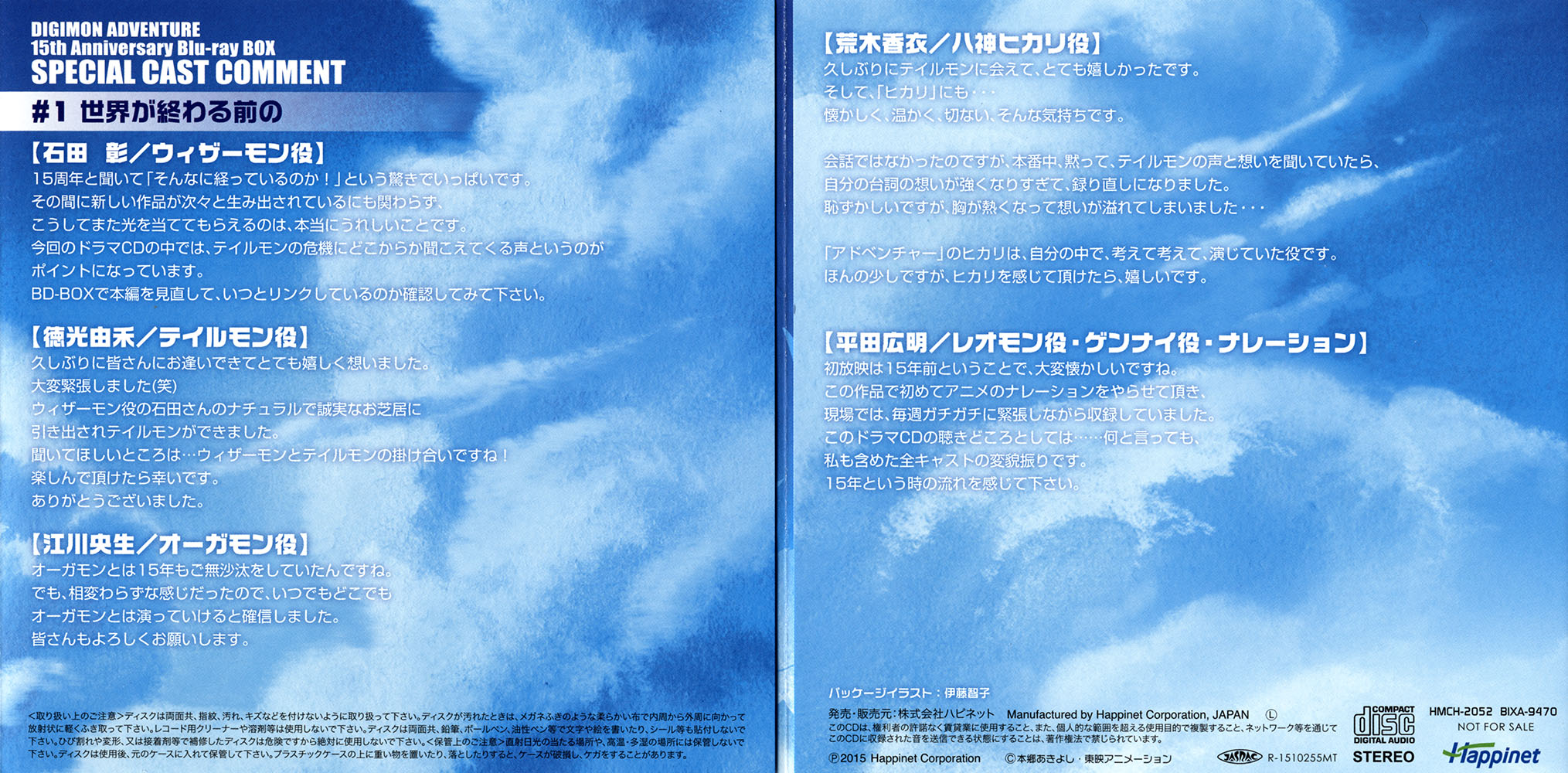 Then when you open it up you get 4 in a row, which i had to scan apart to get a good clean scan.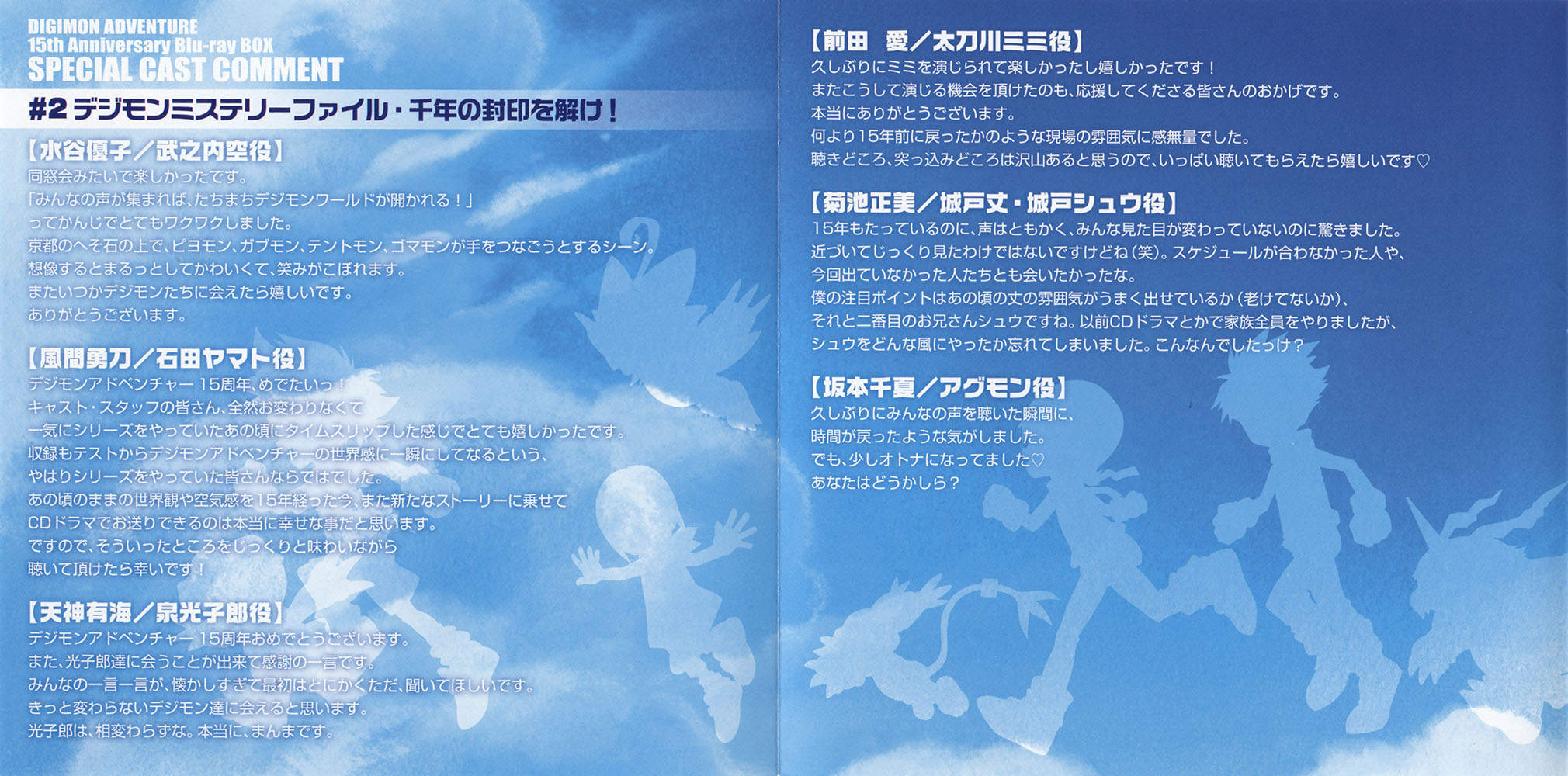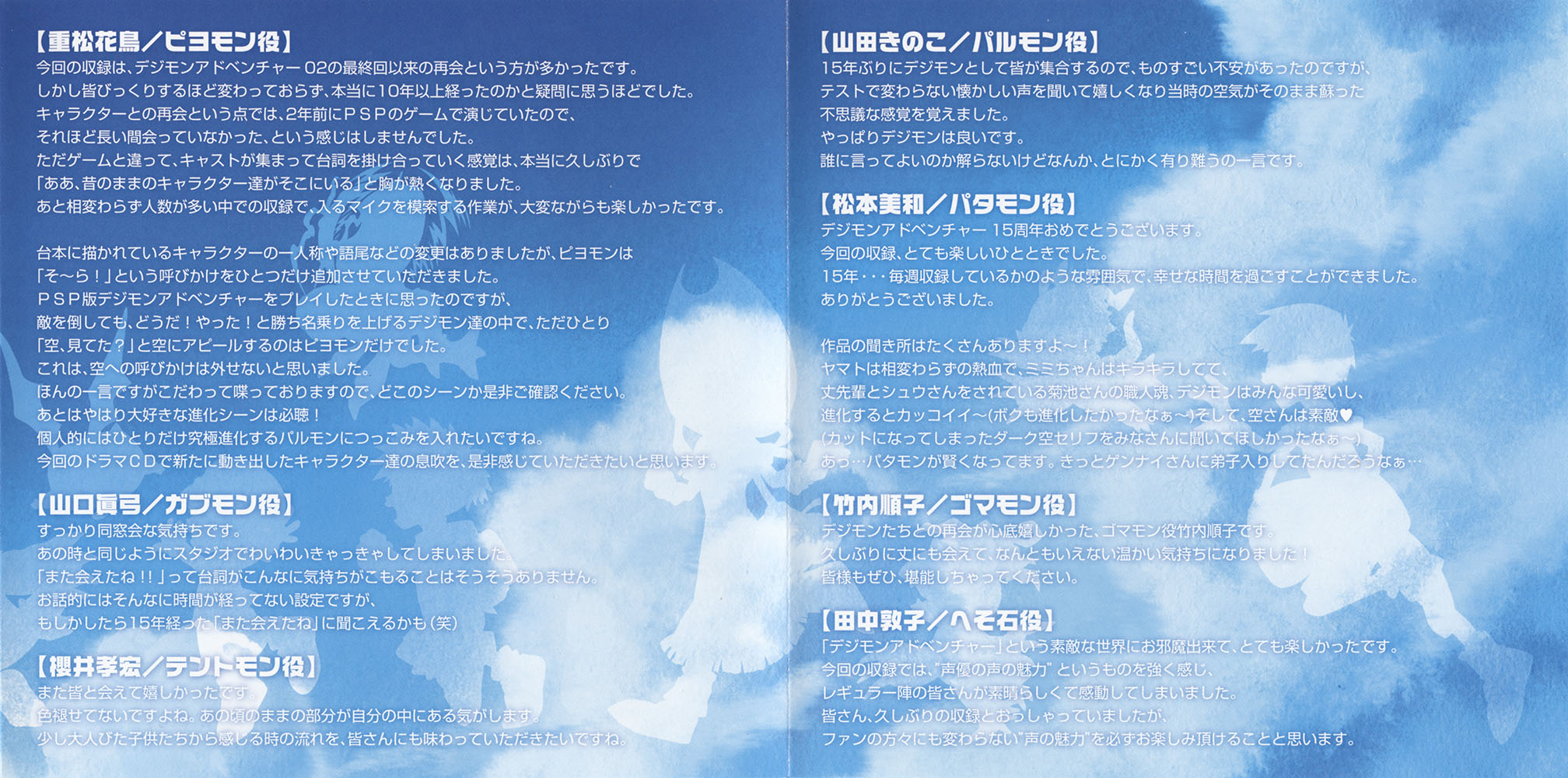 Inside the big box we have 2 smaller 'book' style boxes. The outside of each book has a nice piece of new artwork. The inside of box 1 just has shots of the eggs, box 2 has a generic scenery shot.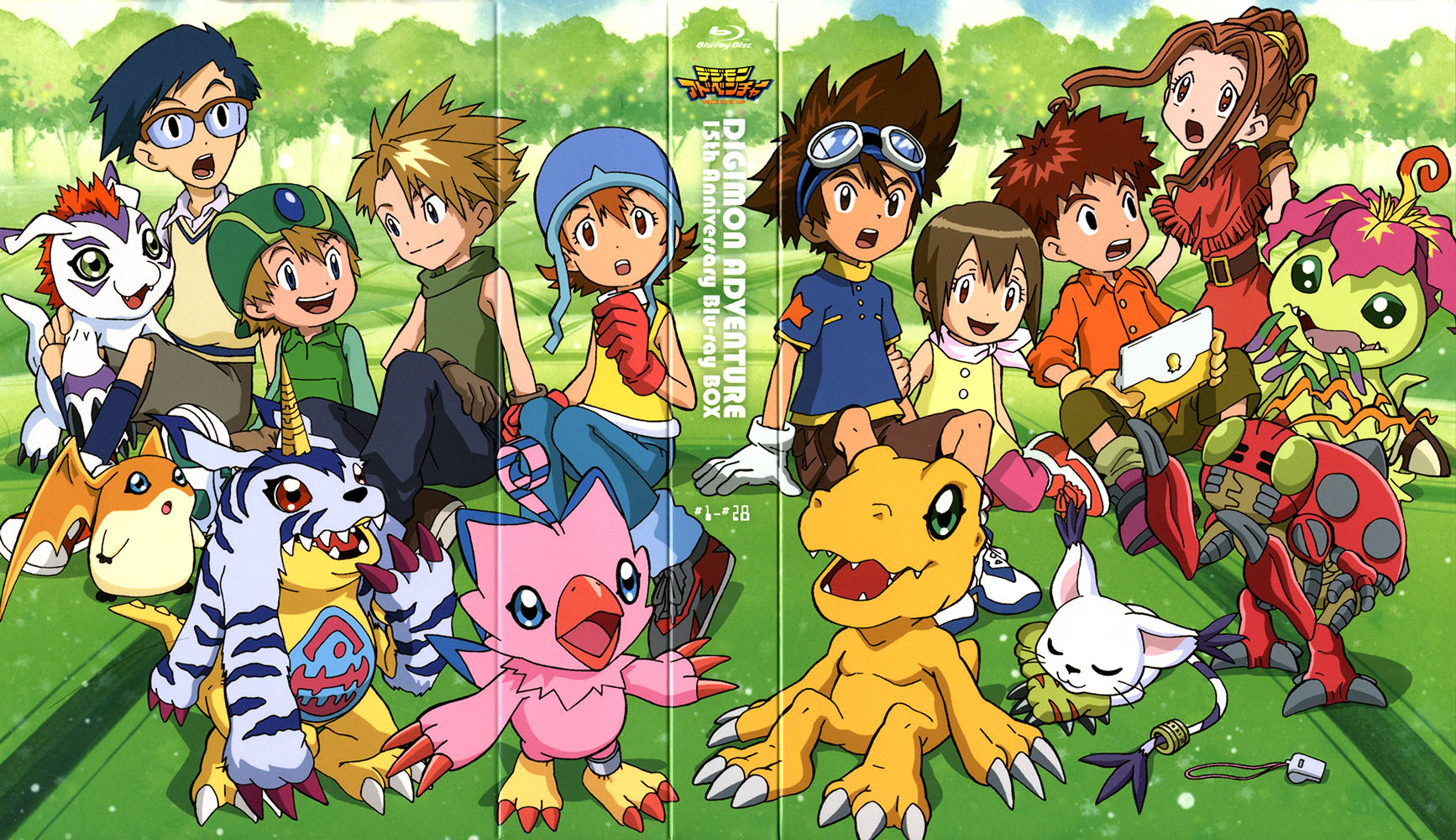 New clean art of the kids and the Digimon here. A few details seem slightly off to me... perhaps the biggest being that for some reason the placement of Piyomon's eyes freak me out... they look weird.
The first 4 disks are in this case using cover from the front along with zoomed in eye shots of each Digimon.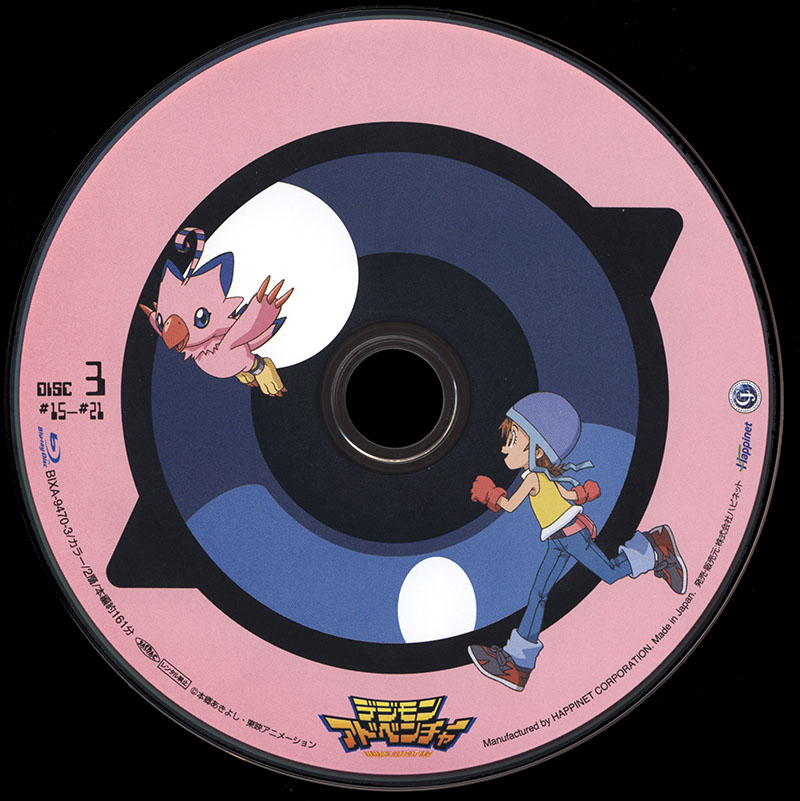 The second case I really like the art of. A nice huge shot of all the villains and the final forms of all the main Digimon. Piemon's eyes seem weird to me... almost cute looking?
The last 4 disks are in this case with the same design theme as the first 4.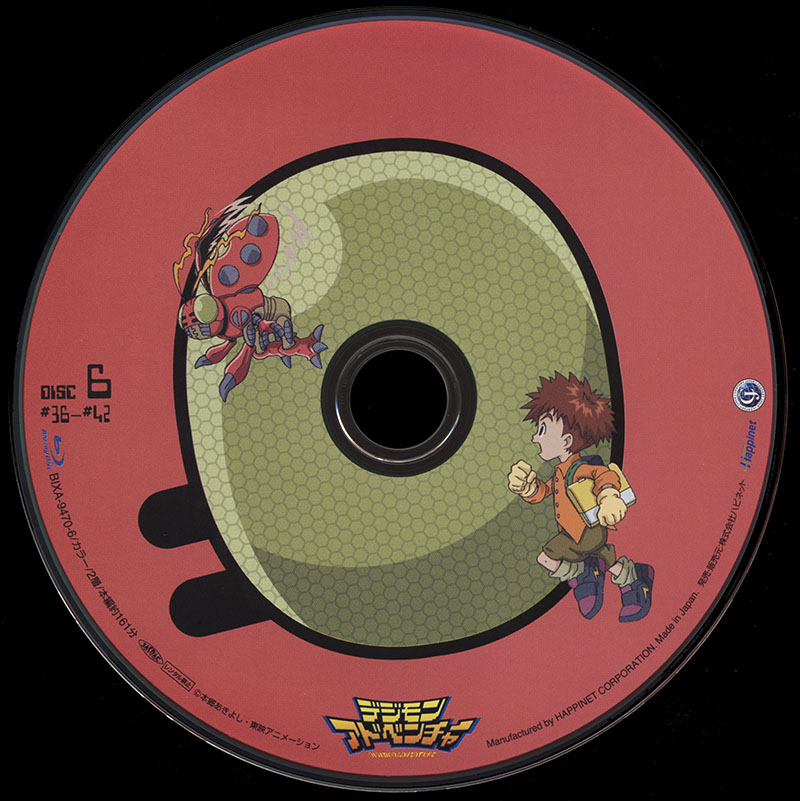 Now as I said, the inside of the cases are completely boring in every way... minus one easter egg... in the second case, when you remove the last disk they hide something in the background image under the disk, so you don't see it until you remove that last disk and it's a bit of a doozy...
No embed for this one...
http://images.withthewill.net/adventure_case2_easteregg.jpg
Now onto the episodes themselves. All the video info and caps are from episode 1.
http://images.withthewill.net/adventure-bd-16.png
The video is encoded using AVC at an average bitrate of roughly 31 Mbps. Rather good bitrate overall for animated content. The episodes are encoded at 1080i. This in and of itself was expected because of the way the show was made and the way the BD spec is (Digimon was made with mixed framerate, which Blu-ray can't do, but via trickery that I've never 100% understood using 1080i mixed framerate content is apparently possible.)
http://images.withthewill.net/adventure-bd-46.png
The 1080i encoding itself appears to have been done properly, so any standard hardware can deinterlace the picture to 1080p without any visual oddities.
The audio itself is standard 2 channel uncompressed PCM and is exactly what you would expect for a show of the era (and not even inherently different than most anime coming out on Blu-ray today in fact.)
http://images.withthewill.net/adventure-bd-52.png
The episodes themselves have their master tapes encoded at 480i, so the set as expected was upscaled. The upscale overall is actually rather good in general. Most shots appear smeary to some degree, although it's definitely more visible in screencaps than it is in motion. The quality of the upscale shot to shot seems more based on how the shots themselves look than any other factor. This tends to mean the video quality jumps all around, but I'd say it's far superior to the DVDs (both sets of DVDs. The original Digimon Adventure set was deinterlaced, the later set left the episodes interlaced.)
There is composite rainbowing at times (which seems to cause the most oddities in the upscale.) Dot crawl does exist, but appears to be minor overall, with most bits of it seemingly obliterated by the filter used to upscale from 480 to 1080. It'll be hard to say for awhile if there are any specific weak or strong scenes in the show as a whole, as it'll take days, if not weeks to look at everything in depth.
http://images.withthewill.net/adventure-bd-11.png
While I'm sure it'd be possible to upscale better if plenty of time and care was taken, I'd say this is better than expected, and certainly better than many anime titles have gotten (I'd hold up FLCL as something that just looks like smeary crap.)
http://images.withthewill.net/adventure-bd-43.png
The disks themselves each have a menu design based on the design of the disks themselves.
http://images.withthewill.net/adventure-bd-menu.png
Nice, clean, and useable. Just the way I like my menus.
Overall it isn't pristine but unlike the movie set which was done rather lazily, it appears some actual effort was put into the Adventure BD-Box.
The video is on the whole the best the show has looked even if there are random scenes that clearly didn't upscale as well as others. I plan to throw the disks in my BD player hooked up to a TV to watch them a bit, as watching on the computer tends to heighten issues because of how close I sit to the computer screen. Audio is roughly what you'd expect. The packaging is rather nice, although truth be told, I'm not a fan of the 'book' style of packaging. I tend to prefer standard BD cases in a box.
Let me know what you think, ask any questions you have, request screenshots of specific scenes, etc. and feel free to discuss the set. If you got the set, let us know what you think. Did I hit the nail on the head, or do you think I'm completely wrong?
There is still more stuff to put up eventually (photos taken of the box before I opened it, various screencaps from other episodes as people request them...)
I also plan to try and clean up the seams on various scans and put up massive PNG wallpapers if that's something everyone would like to see (the majority of the scans in the article are JPGed versions of my raw scans and edits, and most of them are under 10% of the full size of what I've done so far.)
Here is almost 60 screenshots from episode 1 as lossless PNGs (edit- imgur is converting many of them to JPG because of how large they are. I will fix it shortly. For now any caps in the article itself I've hosted directly on the server.)
https://imgur.com/a/EZDn6
Caps were taken at random while I was watching episode 1. Caps weren't removed for any reason, everything is left warts and all (generally you would remove the occasional cap because it just doesn't look right, but I left them all here. I even left the black bars so they were never even in an editing program.) The caps embedded were chosen at random.
As I've mentioned, request what you want and I will screencap it. Just please give me an episode and a timecode.
I'm rather happy with how this set came out on the whole. Hopefully the other Digimon series will get sets equivalent to this.
Edit- Thanks to
ANN
we know the set sold 12,094 copies during week 1 beating the series box set of My Teen Romantic Comedy SNAFU and volume 1 of Saekano among others. It placed 2 overall among animation BDs.
Some further sales details and analysis later
in the thread here
.