Show User Social Media
Hide User Social Media
Joined

Sep 8, 2006
Messages

15,593
Time for the 20th Anniversary Pendulum!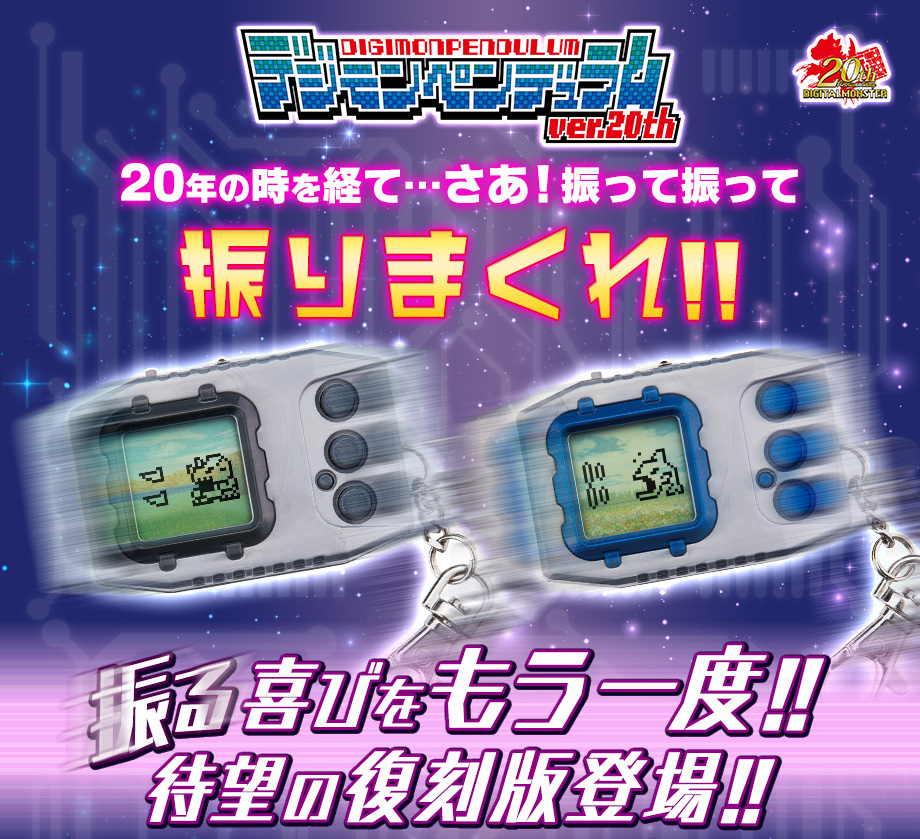 The 20th Anniversary Digimon Pendulum is following up on the very popular 20th Anniversary Digimon V-Pets from last year.
We finally have a bunch of information about them, so let's get started.
First up...
Between both colors there will be over 200 Digimon available!
The 20th Pendulum's will each have the contents of the original 6 Pendulum's, with 3 contained in each of the new ones.
The Digimon from the .5 re-releases/revisions will also be included.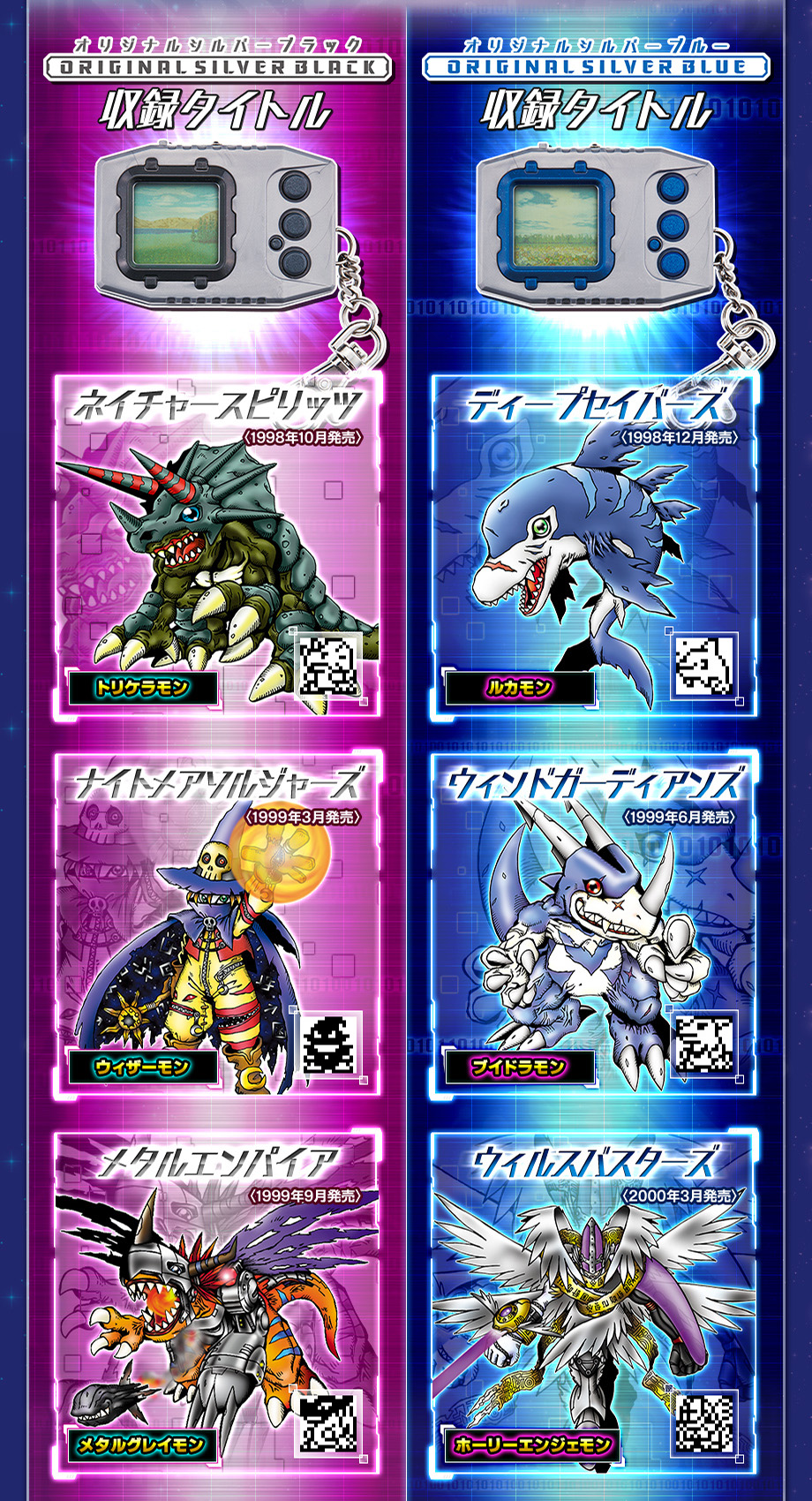 Original Silver Black will contain Digimon from: Nature Spirits, Nightmare Soldiers, Metal Empire
Original Silver Blue will contain Digimon from: Deep Savers, Wind Guardians, Virus Busters
Of course, since it's a special release, we need some new Digimon...
A selection of new Digimon will also be added to Nightmare Soldiers and Virus Busters!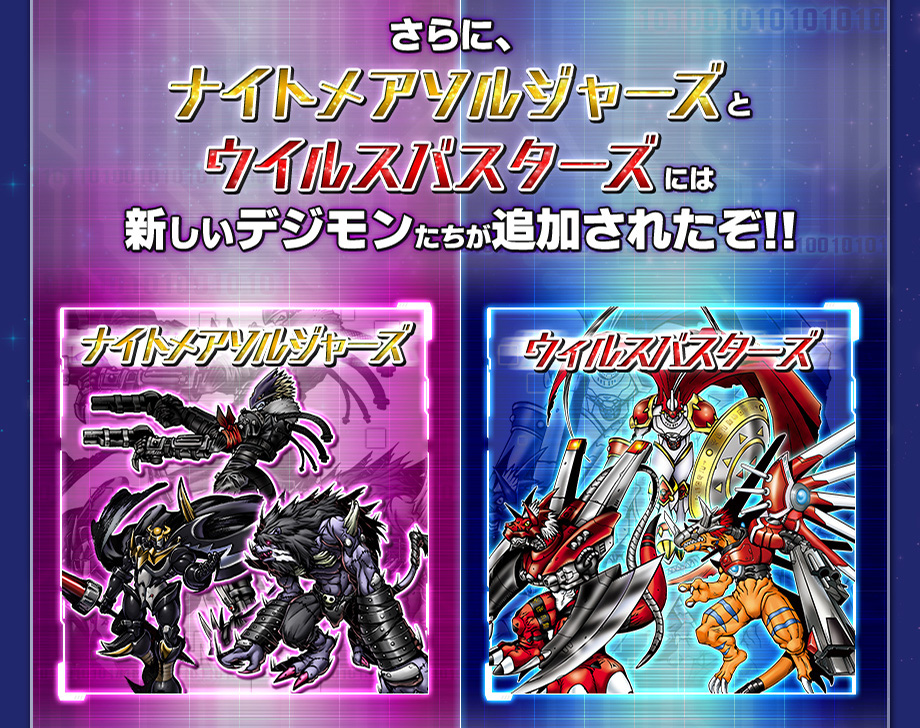 Some really exciting choices being previewed from the new Digimon, all from after the original Pendulum's were released.
Original Silver Black has: Beelzebumon, DarkKnightmon, and MadLeomon.
Original Silver Blue has: Dukemon, MegaloGrowmon, and RizeGreymon.
What other Digimon may appear in the updated Nightmare Soldiers and Virus Busters lineup is currently unknown.
And then there will be some special digi-eggs...
Special digi-eggs will appear based on various conditions to be met such as number of victories in battle mode and Digimon registered in the album.
The Digimon shown off for this are Terriermon and Meicrackmon Vicious Mode for Silver Black and Lopmon and Ryudamon for Silver Blue!
There will be over 40 Digimon raiseable via special digi-eggs (this likely includes evolutions.)
Then we have the new signature Digimon for the Pendulum 20th who will be obtainable regardless of which color you get!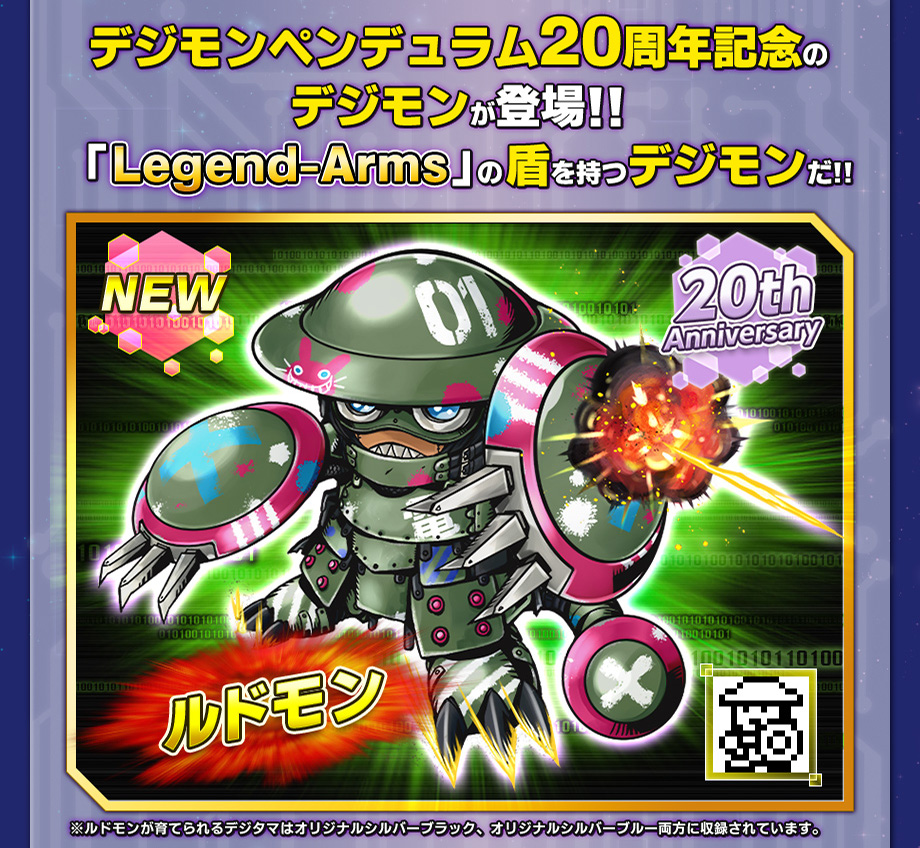 Rudomon!
We first found out about him during previews of the 20th Pendulum, but they've also included a more detailed description.
One of the 'Legend-Arms', who are capable of transforming themselves into weapons. It is the only one among the 'Legend-Arms' capable of transforming itself into a shield. It wields sturdy, steel shields on its head and on both arms, protecting it from attacks coming from any direction. As a Digimon made with protection in mind, there have been records of it protecting areas being targeted by the D-Brigade.

Its Special Move is Wall Rake. Rudomon is able to exhibit its defensive abilities at their maximum strength while it is transformed into a shield.
We also get a preview of Rudomon's evolution line...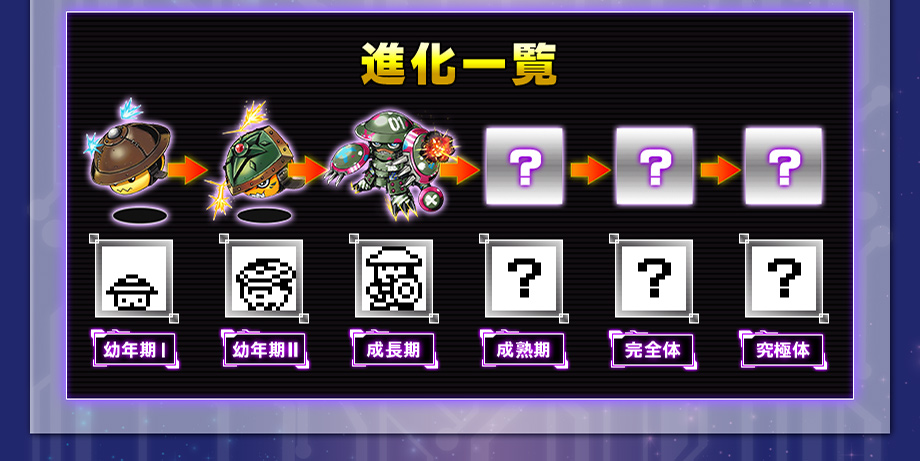 For now they show us his two Baby forms.
Then we get various details regarding raising and battling!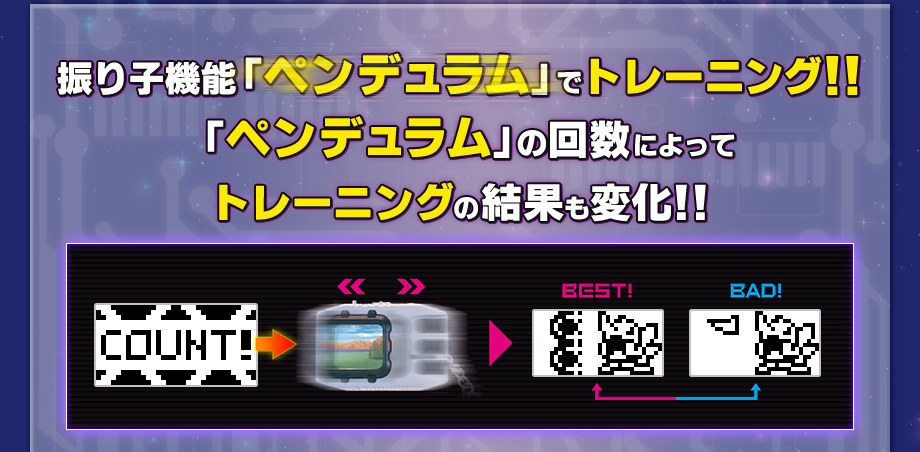 Train while using the pendulum function (shaking the v-pet)! Training results can change based on the pendulum number!
Just like the 20th V-Pet, raise 2 Digimon at the same time!
Much like the 20th V-Pet, it'll also have an updated life cycle.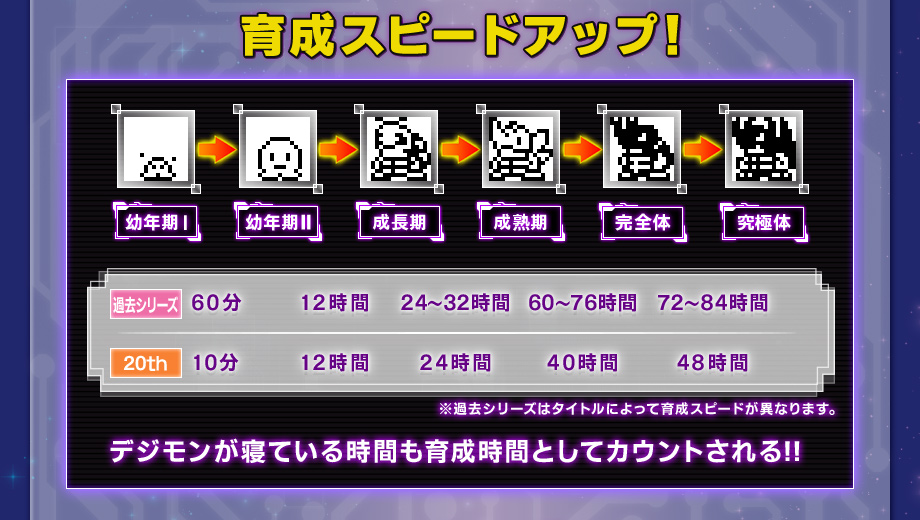 While the life cycle has been updated, it isn't identical to the 20th V-Pet.
Baby 2 is 10 minutes, Child is 12 hours, Adult is 24 hours, Perfect is 40 hours, and Ultimate is 48 hours.
The overall 2 day timeline is the same as the 20th V-Pet, they've just spread out things a bit more evently.
Then we get jogress!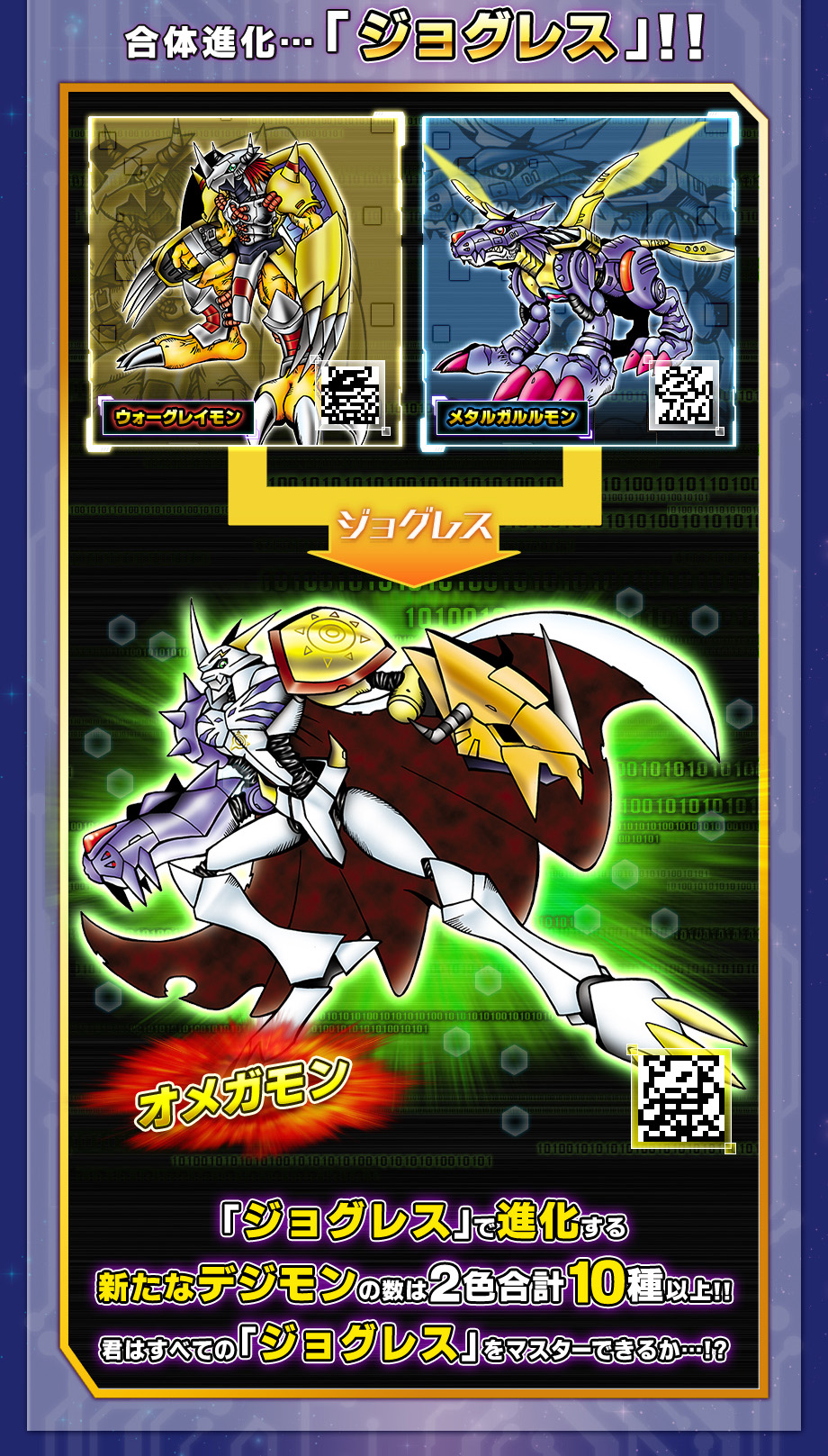 They show off WarGreymon and MetalGarurumon combining into Omegamon, but they make clear that between the 2 colors of the 20th Pendulum there will be more than 10 Digimn that you'll need to jogress to get.
Time for something new!
Copymon!
An upgrade of the copy function of the 20th V-Pet, you can get a Copymon from another Pendulum 20th (you can also get a Copymon from a 20th V-Pet, but the Pendulum 20th can't transfer anything to the V-Pet 20th.)
This will fill in the data in the album/gallery.
But in the actual appearance of it in the raising area, it will appear tiny due to compression!
Copymon will always appear onscreen to make your raising area more exciting!
If you tag battle the Copymon will gain it's original appearance temporarily.
And back to the pendulum feature!
Attack power will change based on the Pendulum number!
And for those who have collected other V-Pets...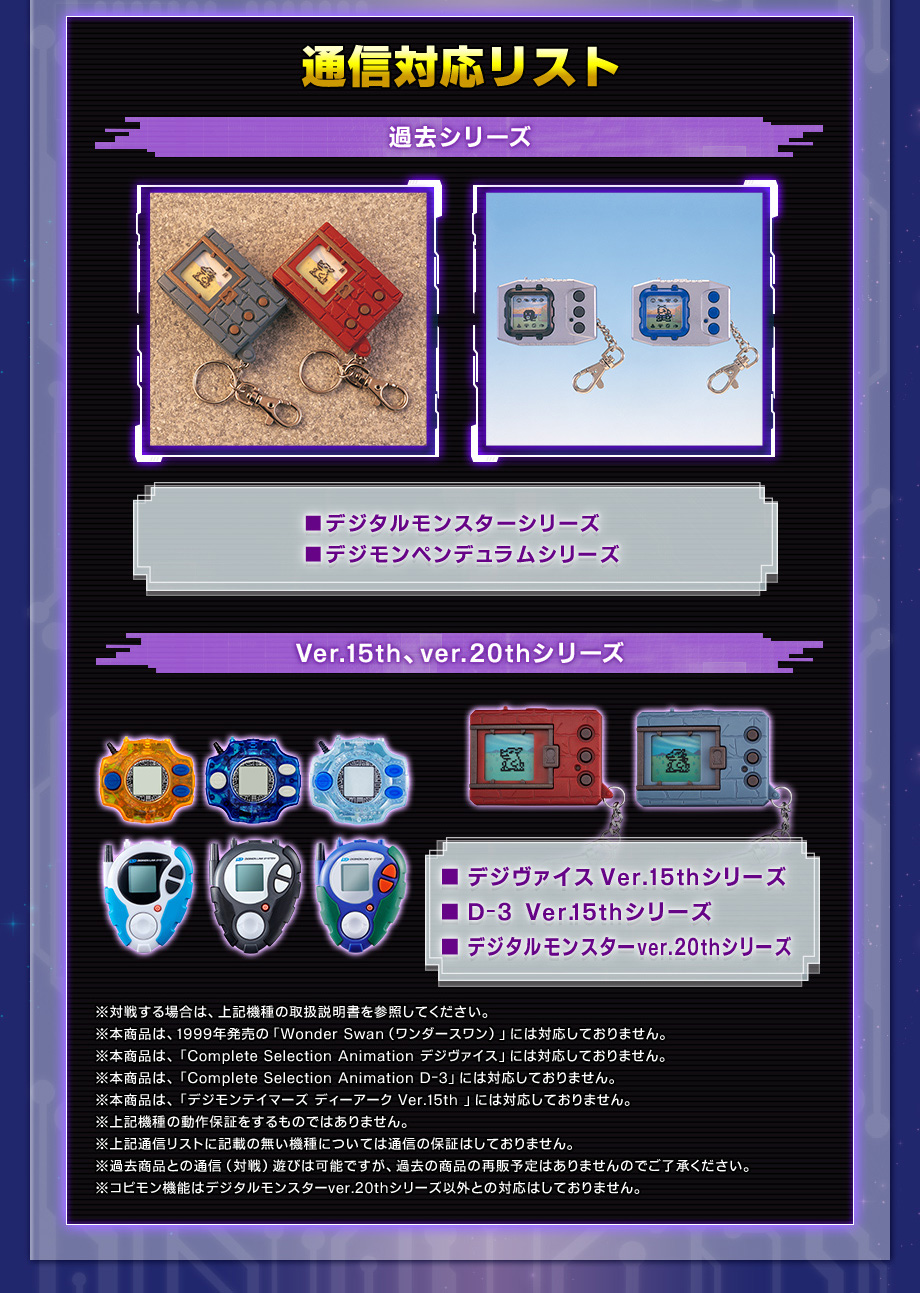 The original Digimon V-Pets and Pendulums will work. In addition the 15th Anniversary Digivice, the 15th Anniversary D-3, and the 20th Anniversary V-Pets all link to it.
They list a bunch of stuff that won't work for linking including:
The 1999 WonderSwan
CSA Digivice
CSA D-3
Digimon Tamers D-Ark 15th Anniversary Version
They mention if something isn't listed there is no guarantee if it will/won't work.
In addition they mention that even if it does work, they will not be reselling old models.
V-Jump has also put up a video preview of the new 20th Pendulum!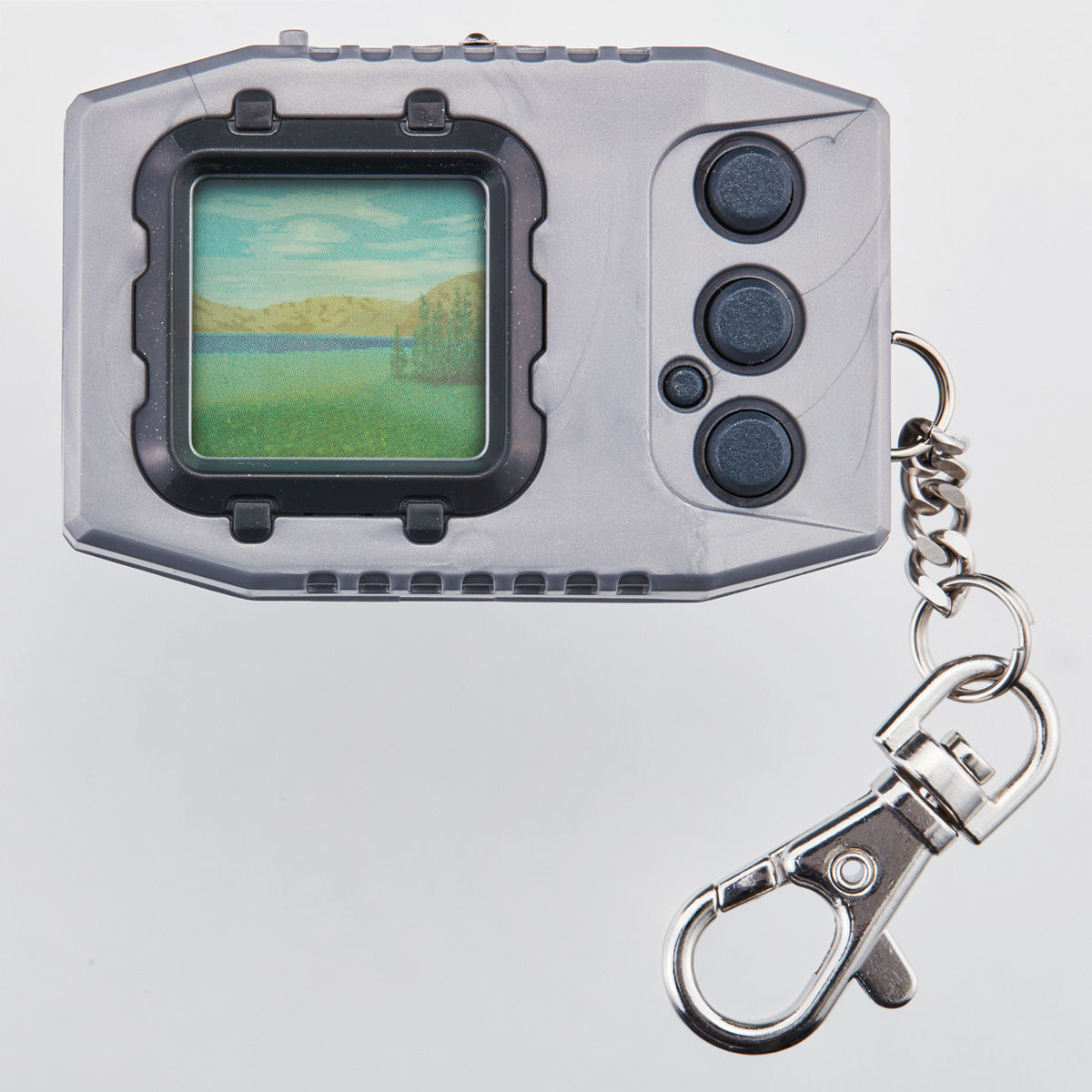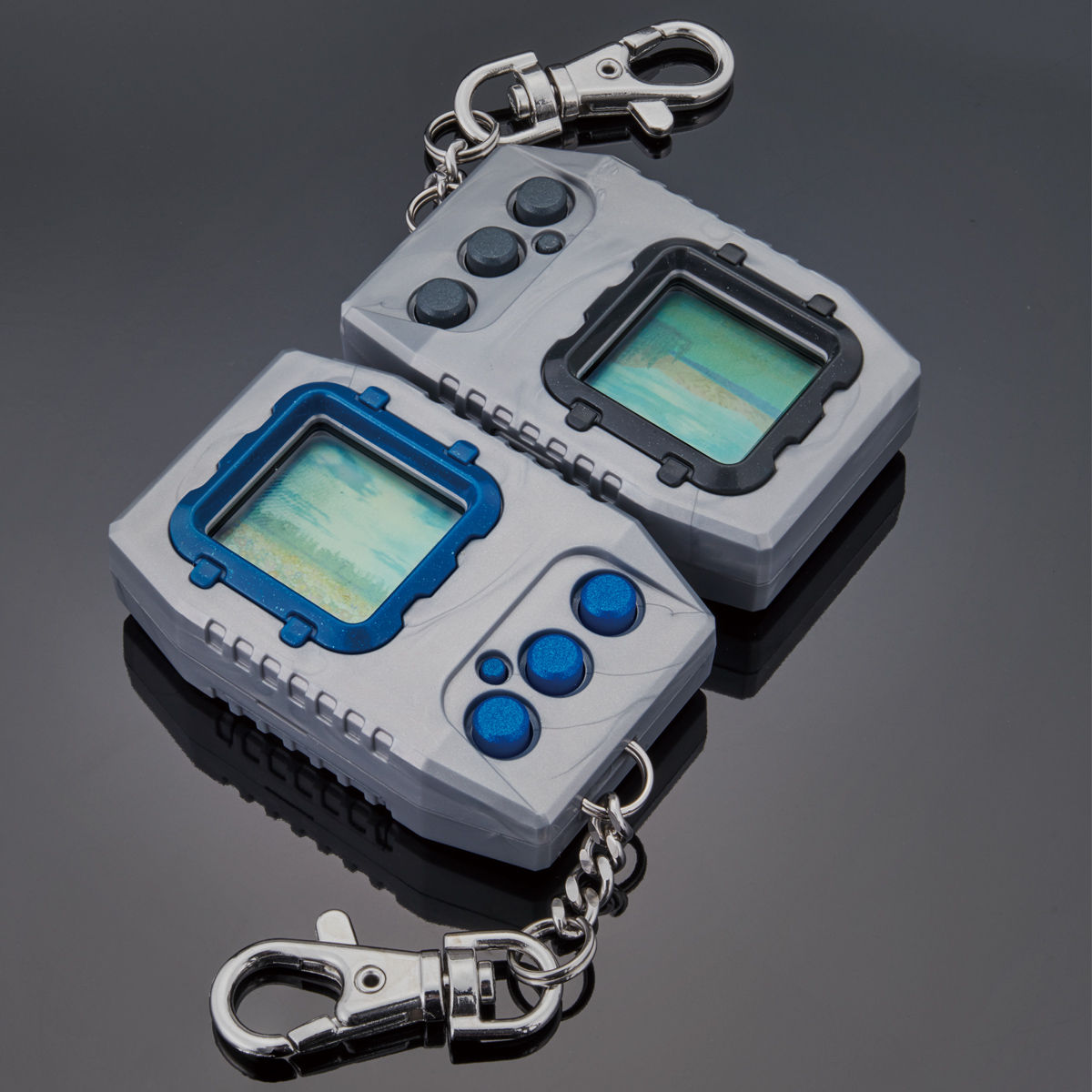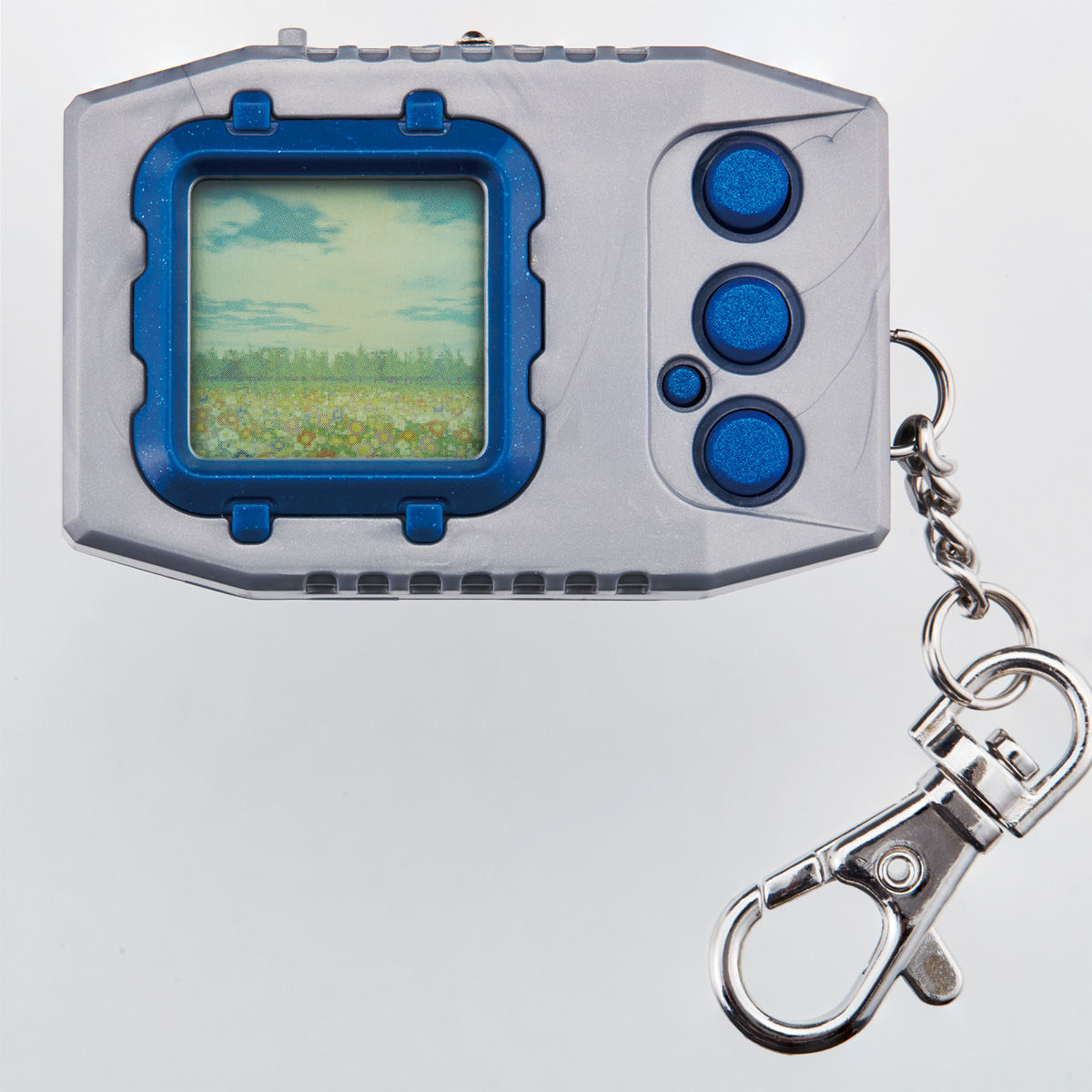 If you want to order a 20th V-Pet for yourself pre-orders are currently open
Premium Bandai
has them up for pre-order 3,996 yen.
Pre-Orders close March 29th and they will ship in June.
Update- Changed the above now that pre-orders are open.
Update- Premium Bandai affiliate DEJapan has given us a coupon for WtW users. No affiliate deal, just 350 yen off to save you guys a few bucks.
Coupon Code- PENDULUM20WTW
Original Silver Black at DEJapan
Original Silver Blue at DEJapan
Also...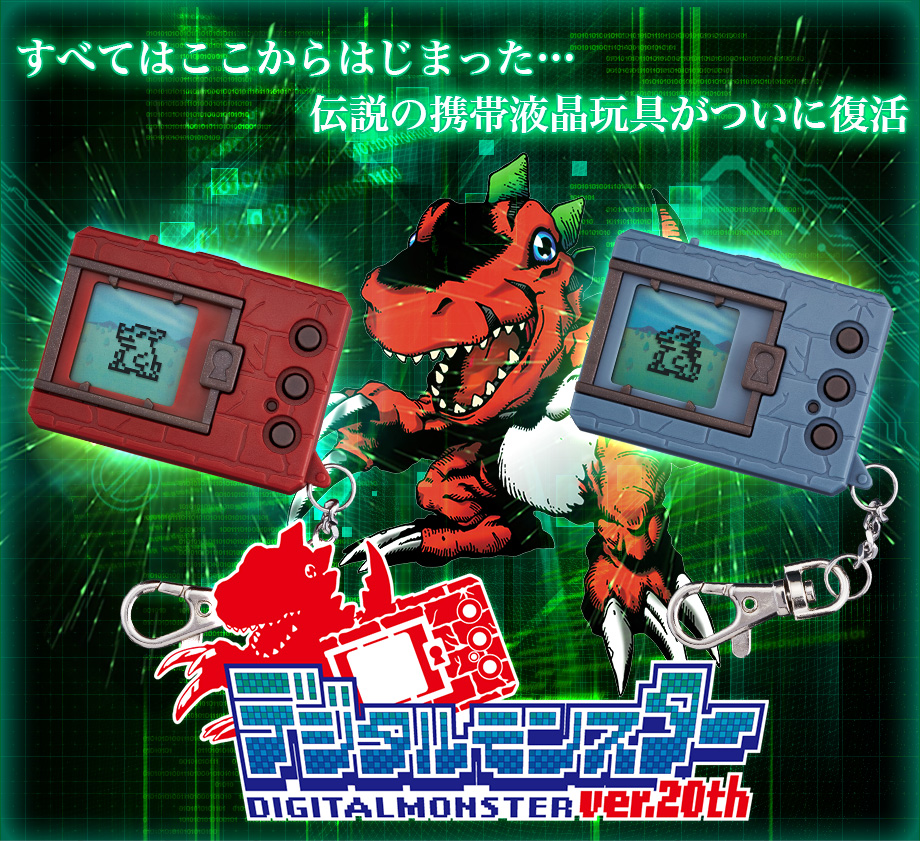 To celebrate the Pendulum 20th going up for pre-order Bandai is giving people in Japan another change to get a V-Pet 20th!
Those in Japan need to follow the
Bandai Digimon account
and retweet
this tweet
. 6 of the 2nd wave 20th V-Pets will be given away at random.
Premium Bandai is also hosting
an English information page
for the Pendulum 20th.
They're also heavily mentioning on their social media and website that they will be available outside of Japan, but for the time being it appears for most of us that just means the 'offiical' intermediary system they've used for awhile. If that changes we will let you know.
Thanks to shin and garm for translation help.
You'll want to contact an intermediary to get these items sent to you. WtW is not affiliated with any, but here are a selection of intermediaries that have worked well for various WtWers and their friends in the past:
From Japan
Rider Proxy
Nippon-Yasan
The Bandai Premium store has also chosen to affiliate themselves/recommend a few potential shops to be used as intermediaries for non-Japanese buyers:
Buyee
From Japan
(this From Japan link shows various items that they waive commission fees for.)
Samurai Buyer
DEJapan
You'll want to provide your chosen intermediary with the link to the item. Just copy paste the link to the product pages for what you want and send them a message about it and they'll take care of it after they discuss pricing and their policies with you. The links embedded in the news article for the products are exactly what you'll need to send them.
Some of the intermediaries have a full storefront and may have the item listed, so you may want to check that first.