Show User Social Media
Hide User Social Media
Joined

Sep 8, 2006
Messages

12,052
The 20th Anniversary Countdown has ended!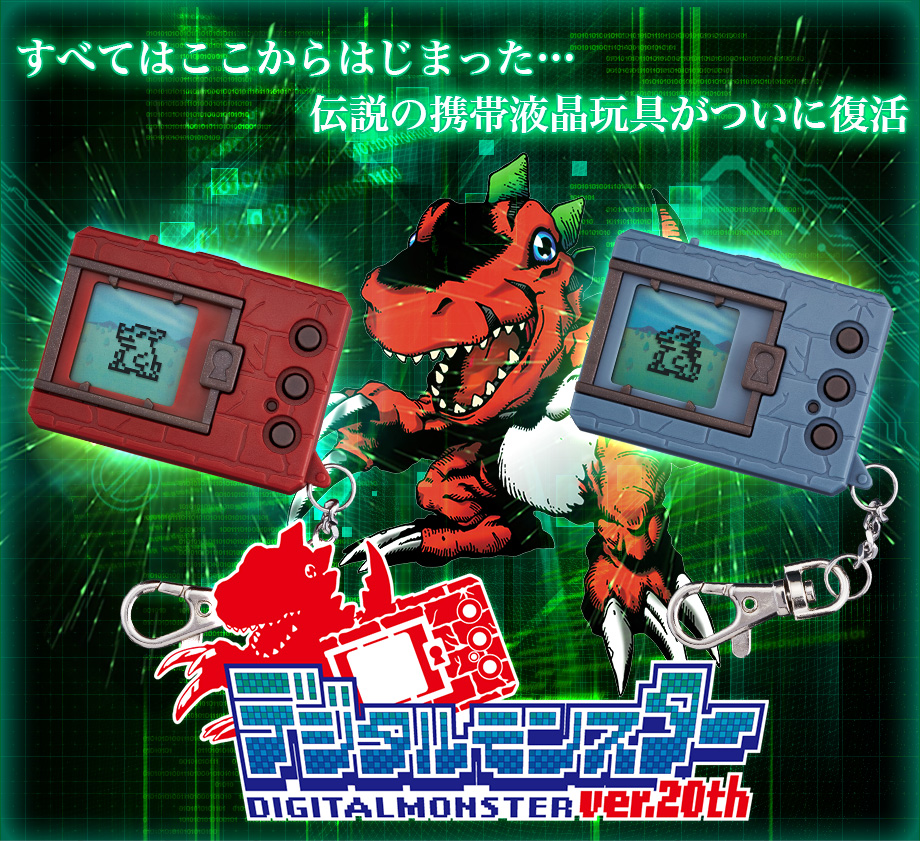 With the end of the countdown we get TONS of new (and further fleshed out) details about the 20th Anniversary V-Pet.
Along with that we also get information about the new Digimon made for the 20th Anniversary!
Lots of stuff to go through...
First up...
2 colors will be available called- Original Brown and Original Blue (I mean... the first one is red, but they can call it what they want...)
They reiterate it will feature Digimon from the v1 thru v5 V-Pets. They show off one each from the original V-Pets:
MetalGreymon (v1)
SkullGreymon (v2)
Andromon (v3)
Megadramon (v4)
MetalTyranomon (v5)
For those who like special stuff...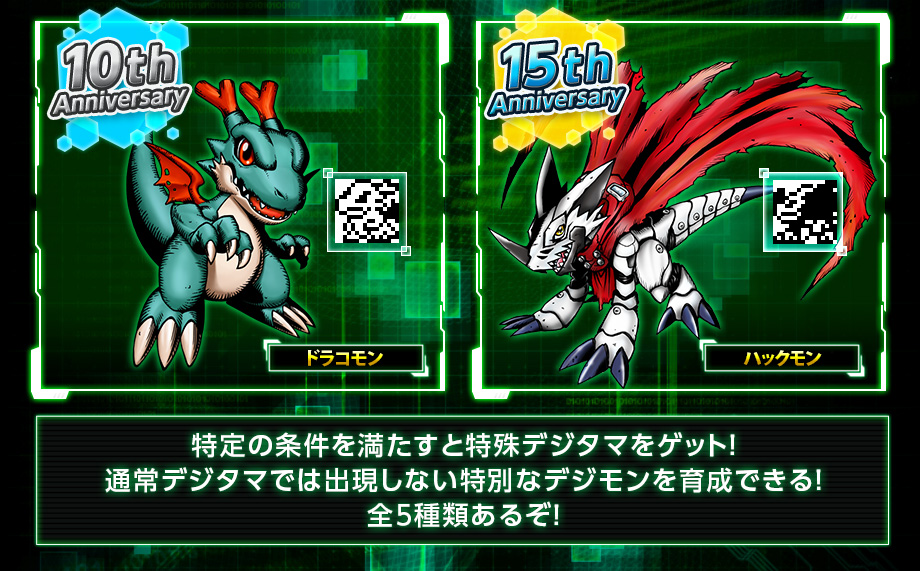 There will be five special digieggs. Included in these will be Dracomon (the 10th anniversary Digimon) and Hackmon (the 15th anniversary Digimon.)
We don't have the full list of 5 yet... but we do know the third...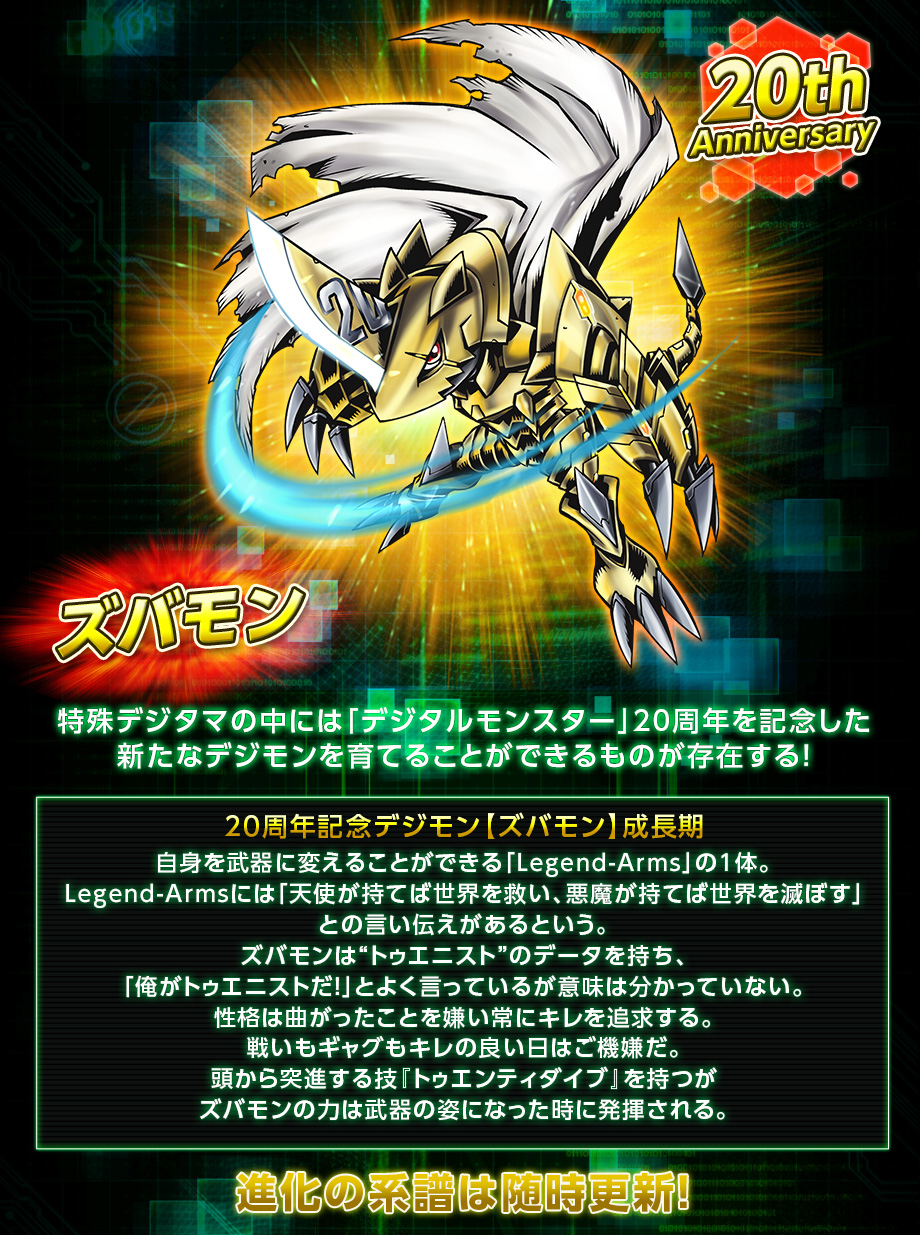 Zubamon, the new 20th anniversary Digimon. He is a child/rookie level, and we already have a profile for him:
One of the 'Legend-Arms', it is capable of transforming its whole body into a weapon. Legend says that "If an angel possesses the Legend-Arms, they can save the world- but if evil were to possess it, they could destroy the world."

Zubamon carries the "Twentiest" data and often shouts out that "I am the Twentiest!!" without really understanding what it means.

Its personality is such that it despises twistedness/crookedness, and is constantly seeking sharpness. A day where its battles and jokes go well and its sharpness feels good will leave it in high spirits.

Zubamon will charge from the start using it's technique "Twenty Dive" where it's power to turn into the form of a weapon is on full display.

His evolutionary line will be updated at a later date!
Anime fans will be pleased with this next bit of info...
Brown will have Agumon's digiegg and blue will have Gabumon's digiegg. Both of these have full evolution lines including Omegamon.
They then have a section about evolution.
BanchoMamemon, SkullMammon, HiAndromon, Aegisdramon, KingEtemon, Mugendramon, Titamon, Pinocchimon.
Specific Digimon will be able to evolve to Perfect! And of course, beyond that to Ultimate.
And as for some of the strongest Digimon...
You'll need to fuse! They push you to aim for the strongest Digimon!
If you continue to use Slayerdramon and Breakdramon in tag battles they will be able to fuse into Examon!
"And there is a fusion that exists that has not yet been revealed?!"
Next they bring up a bunch about raising your Digimon.

You'll be hatching eggs from v1 thru v5.
You will raise two Digimon at once (which they note is a first.)

The Digimon will eat together, sleep together, and, of course, poop together.
This new V-Pet is making a big change that will no doubt excite fans of Digimon V-Pets: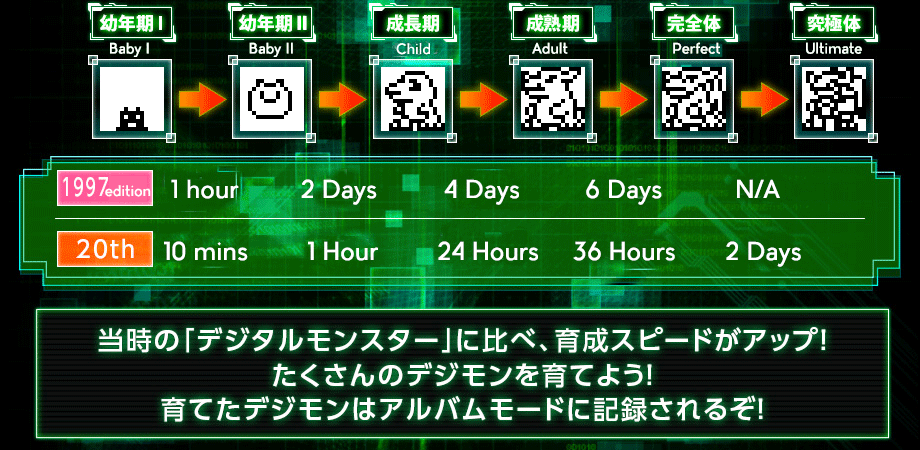 A more timely life cycle. Not just adding the Ultimate Digimon to the game, they've redone the life cycle period entirely.
The entire Digimon life cycle is now 2 days. It took that long for Baby 2 in the original! It should make raising much more fun and dynamic.
Then we get quite a few details on battles and connections.

Two Digimon can tag battle together!

Two gauges control the battle. The left is timing, the right is intensity. The two of these affects your attack power!
When you've been attacked, you can rotate in other Digimon. This lets you join forces to defeat the enemy!
You can Tag Battle with your friends! You can also battle against a copy of your friend's Digimon when you link up to their 20th V-Pet.
If you've thinking you've mastered raising Digimon you'll have a challenge to do also...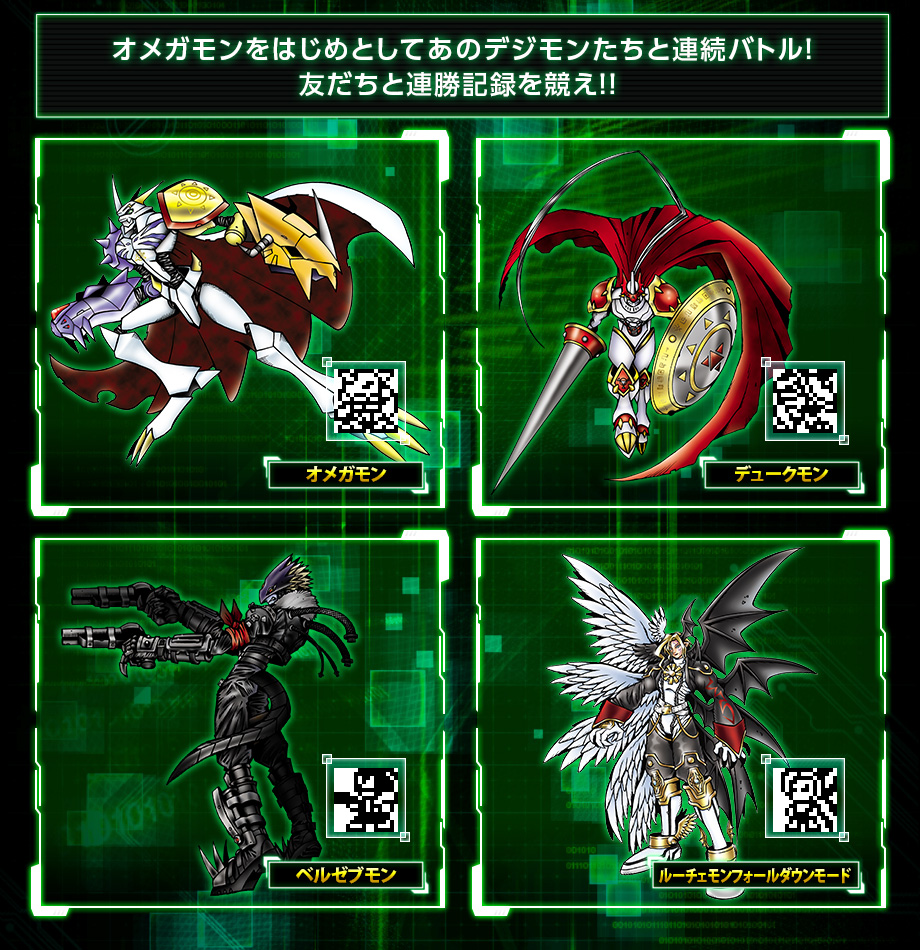 Endurance Mode! You'll do consecutive battles against Omegamon, Dukemon, Beelzebumon, and Lucemon Falldown Mode. They aren't teasing additional Digimon for this mode, nor do they specifically say it's only those 4.
See if you can beat more than your friends!
And for those who have collected other V-Pets...
The original Digimon V-Pets work, the 15th Anniversary Digivice, and the 15th Anniversary D-3 all link to it.
They list a bunch of stuff that won't work for linking including:
The 1999 WonderSwan
CSA Digivice
CSA D-3
Digimon Tamers D-Ark 15th Anniversary Version
They mention if something isn't listed there is no guarantee if it will/won't work.
In addition they mention that even if it does work, they will not be reselling old models.
Those who like to compete will also have something to look forward to...
You'll also be able to register the Digimon you've raised on the internet. Then your Digimon will be able to compete in the return of the D-1 Grand Prix. This new version will be done over the internet and they will announce details later.
Update-
Dengeki
has an additional bit of info that many people will find interesting.
They report there will be 134 trainable Digimon and 154 total will appear (so the 134 plus 20 who will show up in non 'playable' roles.)
Each of the original V-Pet's had 14 Digimon... 5 of those... so 70 total.
So 64 Digimon that weren't in the original V-Pet will be obtainable, nearly doubling the amount.
Now, if you want to order a 20th V-Pet for yourself.
Premium Bandai has them up for pre-order.
They are 3,780 yen each.
Pre-Orders close March 27th and they will ship in June.
Update- The original pre-orders were closed early when Bandai sold out of what they planned to make awhile ago, but they've announced a second wave.
Details are the same, except this new wave will ship in July. The end date for pre-orders will once again be March 27th (unless they sell out early again.)
They are using a new url for this second wave-
Premium Bandai store
.
Thanks to shin for tons of translation help with this and garm for some touch up details.
You'll want to contact an intermediary to get this item sent to you. WtW is not affiliated with any, but here are a selection of intermediaries that have worked well for various WtWers and their friends in the past:
From Japan
Rider Proxy
Nippon-Yasan
Japan Hero
The Bandai Premium store has also chosen to affiliate themselves/recommend three potential shops to be used as intermediaries for non-Japanese buyers:
Buyee
From Japan
(this From japan link shows various items that they waive commission fees for.)
Samurai Buyer
You'll want to provide your chosen intermediary with the link to the item. Just copy paste the links to the product pages for what you want and send them a message about it and they'll take care of it after they discuss pricing and their policies with you. The links embedded throughout the news article for the product items are exactly what you'll need to send them.
Some of the intermediaries have a full store front and may have the item listed, so you may want to check that first.
Previous 20th
Anniversary
Digimon V-Pet
threads
are here.
Edit- Original bits below...
Just a
couple minutes left
.
We will update this news post as necessary.
Update- As expected, it's finalized details for the 20th V-Pet.
We are translating the various text and images right now and will update shortly.
Update- Images of Zubamon's Baby 1 and Baby 2 forms from the new V-Jump.
The Baby 1 is Sakumon: round, yellow Digimon with a large horn on its head.
The Baby 2 is Saktmon: It can walk around on its four feet and it's body features two blades on its sides. (The name could actually be any number of similar things, but for now it keeps it in slightly closer in like with how Sakumon is translated.)
Thanks to Nightwing for the heads up and
kimi_463
for the image.