Show User Social Media
Hide User Social Media
Joined

Sep 8, 2006
Messages

17,396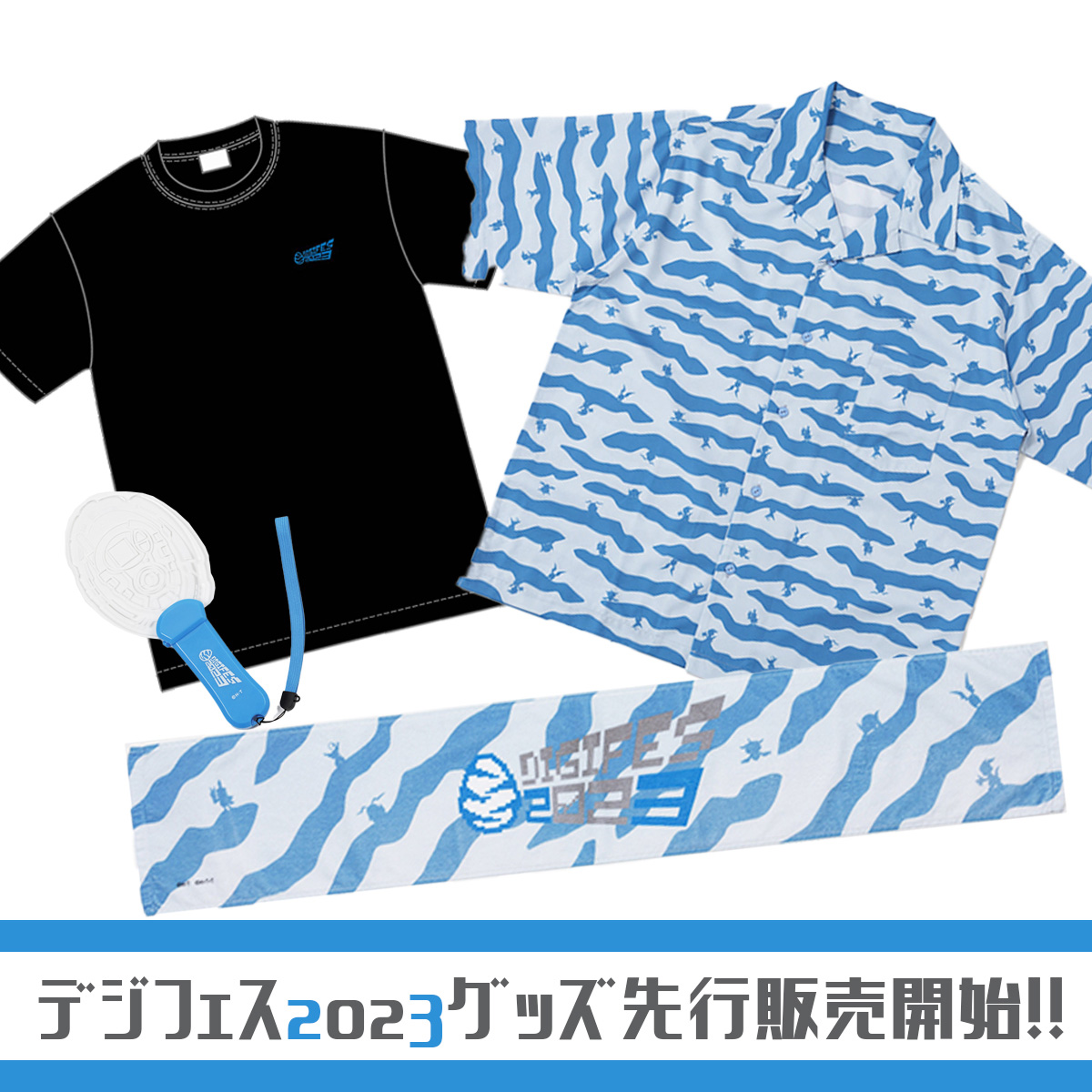 The DigiFes 2023 merchandise that will ship before the event is up to order at Digimon Partners!
Due to the popularity of it, the aloha shirt is already sold out. We're listing the images so they are here, and in case they decide to do more (although it appears they aren't.)
Pre-orders close on July 10th, and items ship the next day, in the order they were sold.
The DigiFes 2023 Digitama Aloha Shirt
is a Hawaiian themed shirt designed after a digitama, along with the silhouettes of the Digimon from 02: The Beginning. It costs 7,700 yen.
デジフェス2023 デジタマ柄アロハシャツ
Shirt size is: Total length 74cm, Width 62cm, Shoulder width 50cm, Sleeve length 28cm
​
The DigiFes 2023 D-3 Penlight
is your standard event penlight, with a D-3 shaped light-up at the end, which lights up in 7 colors inspired by 02: The Beginning. It costs 1,980 yen.
デジフェス2023 D-3型ペンライト
The DigiFes 2023 Muffler towel is a wearable towel
with the same design styling as the aloha shirt, along with a big DigiFes 2023 logo on it. It's about 43 inches long and costs 1,760 yen.
デジフェス2023 デジタマ柄マフラータオル
The DigiFes 2023 T-shirt
is a black shirt, with the DigiFes 2023 printed on the back, and a small DigiFes logo on the front. It costs 3,850 yen.
デジフェス2023 Tシャツ
The size choices are:
M: Length: 70cm, Width: 52cm, Shoulder width: 47cm, Sleeve length: 20cm
L: Length: 74cm, Width: 55cm, Shoulder width: 50cm, Sleeve length: 22cm
XL: Length: 78cm, Width: 58cm, Shoulder width: 53cm, Sleeve length: 24cm
We knew about all of these minus the standard shirt I believe. Decent, if standard merchandise, with the standout being the design for the towel and aloha shirt, which went quick. Just a few days to nab
A few extra bits...
Digimon Partners blocks those from outside of Japan from viewing and ordering their store, so you'll need an intermediary to order for you...
Some intermediaries will want not only want the urls of the items above, but may ask for the product name in Japanese as written on the page. Those names are given above, directly below the pre-order links.
If you want to be sure to nab something...
We've currently pared down the list of intermediaries we list due to some places closing and others becoming iffy in their communication, calling into question their reliability. If you have any stories, positive or negative, about any intermediaries, DM me with them so we can figure out who might be worth adding (or re-adding), since these aren't affiliate links or anything, simply suggested ways to make it easier for fans to nab stuff.
You'll want to contact an intermediary to get these items sent to you. WtW is not affiliated with any, but here are a selection of intermediaries that have worked well for various WtWers and their friends in the past:
From Japan
Rider Proxy
You'll want to provide your chosen intermediary with the link to the item. Just copy paste the link to the product pages for what you want and send them a message about it and they'll take care of it after they discuss pricing and their policies with you. The links embedded in the news article for the products are exactly what you'll need to send them.
Some of the intermediaries have a full storefront and may have the item listed, so you may want to check that first.