Show User Social Media
Hide User Social Media
Joined

Sep 8, 2006
Messages

17,369
With DigiFes 2022 under a month away, we finally have details of
the merchandise that'll be sold at the event
!
Ticket holders will be able to buy items outside the venue, no sales will be inside the venue.
Numbered tickets will be distributed starting at 8:30am, and event tickets will need to be shown to get one.
Sales begin at 9am and close at 6:30pm. Once the evening event ends there will be no more sales.
The Digimon Partners shop
will begin to sell items at 8am the same day.
Onto the products!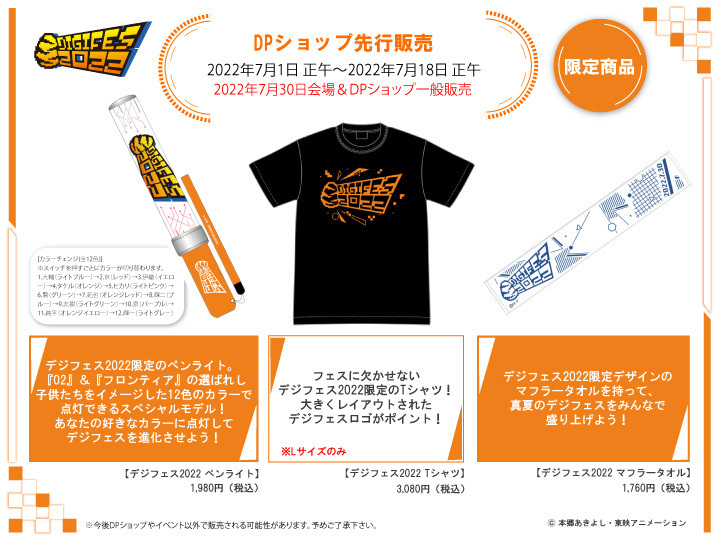 The pre-sale items we found out about awhile ago
...
DigiFes 2022 penlight is 1,980 yen. Hitting a button on it cycles through all 12 Adventure and 02 kids colors.
DigiFes 2022 shirt is 3,080 yen. The only size is large.
DigiFes 2022 muffler towel is 1,760 yen.
Then we have items that will go on sale the day of...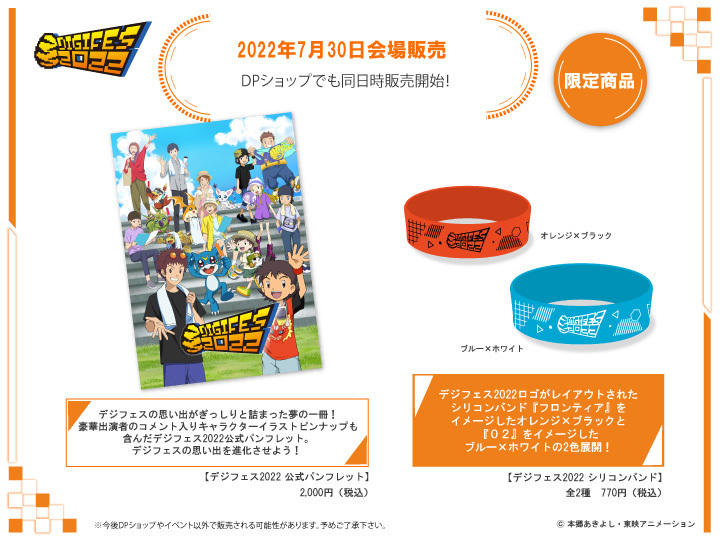 An event souvenir brochure/booklet is 2,000 yen. It will have illustrations and cast comments.
Silicon wristbands will be 770 yen each. It will be available in orange/black and blue/white.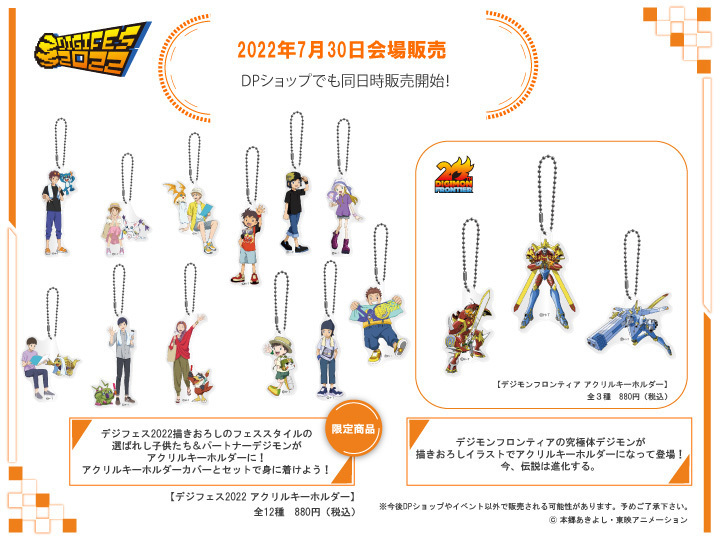 DigiFes keychains are 880 yen each. All 6 Frontier kids are available, along with all 6 02 kid/Digimon duos.
Frontier keychains are also 880 yen each. These feature new art of KaiserGreymon, MagnaGarurumon, and Susanoomon.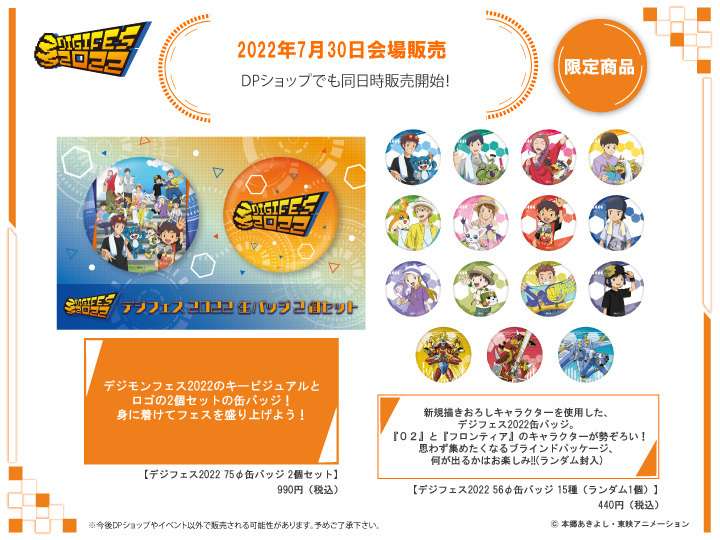 A DigiFes can badge set of 2 can badges is 990 yen.
Can badges featuring the separate key art of all 6 02 duos, all 6 Frontier kids, and 3 of the Frontier Digimon will be blindpacked for 440 yen each.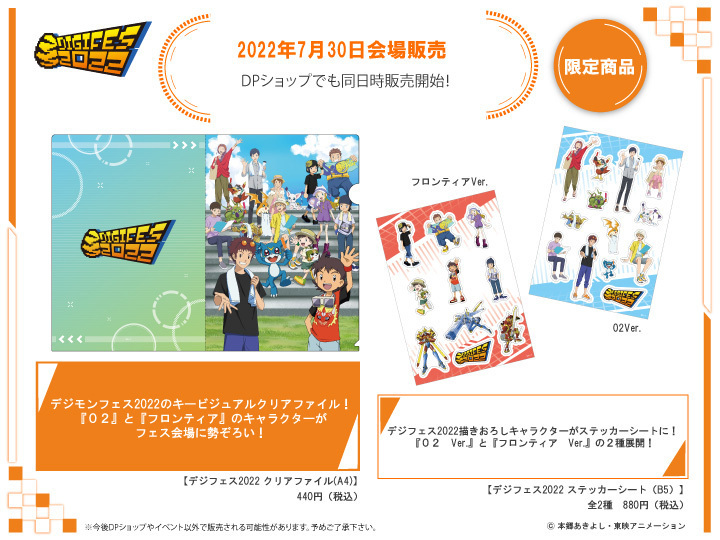 An A4 size clear file is 440 yen. It has the key art on one side and the DigiFes logo on the other side.
Sticker sheets featuring 02 and Frontier will be 880 yen each.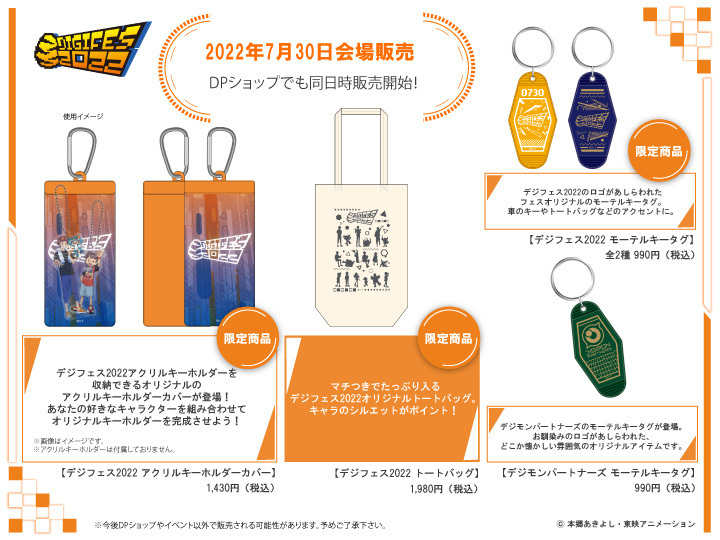 Acrylic keychain covers are 1,430 yen.
A tote bag is 1,980 yen.
DigiFes 2022 themed key/bag tags are 990 yen each, both blue and yellow are available.
A Digimon Partners themed key tag is also available for 990 yen.
Overall a basic but nice looking product lineup.
DigiFes 2022 will be July 30th.
Prior details, including guests, for DigiFes 2022 can be found
here
,
here
, and
here
.
Digimon Partners Shop
isn't accessible outside of Japan.
The items aren't currently up, we will see about adding more info once they are.
If you want to be sure to nab something...
We've currently pared down the list of intermediaries we list due to some places closing and others becoming iffy in their communication, calling into question their reliability. If you have any stories, positive or negative, about any intermediaries, DM me with them so we can figure out who might be worth adding (or re-adding), since these aren't affiliate links or anything, simply suggested ways to make it easier for fans to nab stuff.
You'll want to contact an intermediary to get these items sent to you. WtW is not affiliated with any, but here are a selection of intermediaries that have worked well for various WtWers and their friends in the past:
From Japan
Rider Proxy
You'll want to provide your chosen intermediary with the link to the item. Just copy paste the link to the product pages for what you want and send them a message about it and they'll take care of it after they discuss pricing and their policies with you. The links embedded in the news article for the products are exactly what you'll need to send them.
Some of the intermediaries have a full storefront and may have the item listed, so you may want to check that first.