Show User Social Media
Hide User Social Media
Joined

Sep 8, 2006
Messages

16,448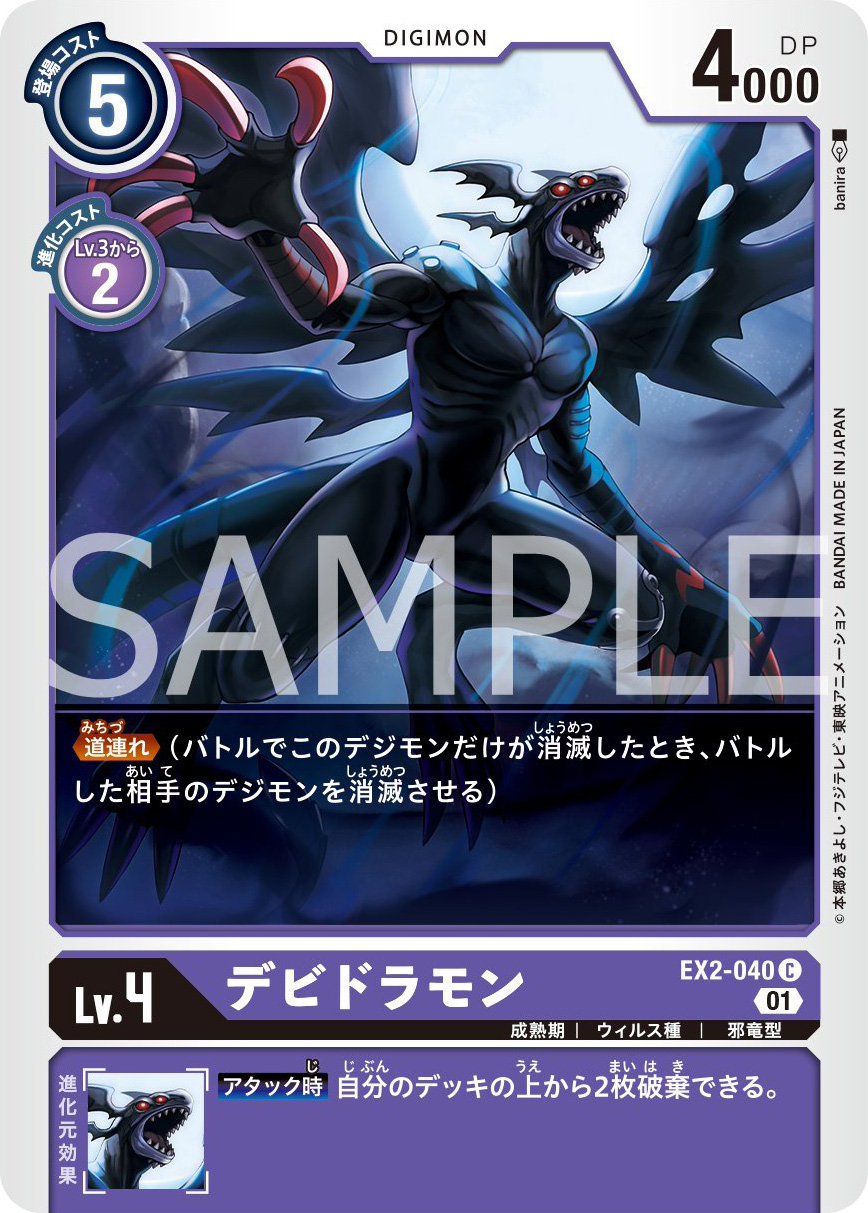 The Digimon Card Game Twitter
has updated with a card preview from Booster Set EX-02 Digital Hazard. This time it's Devidramon.
Devidramon gets some really nice 'anime plus' type artwork featuring him at night with the moon behind him. The lighting in this one really shows off the character well with a slightly fancier overall look than he often gets.
Plus a bit more...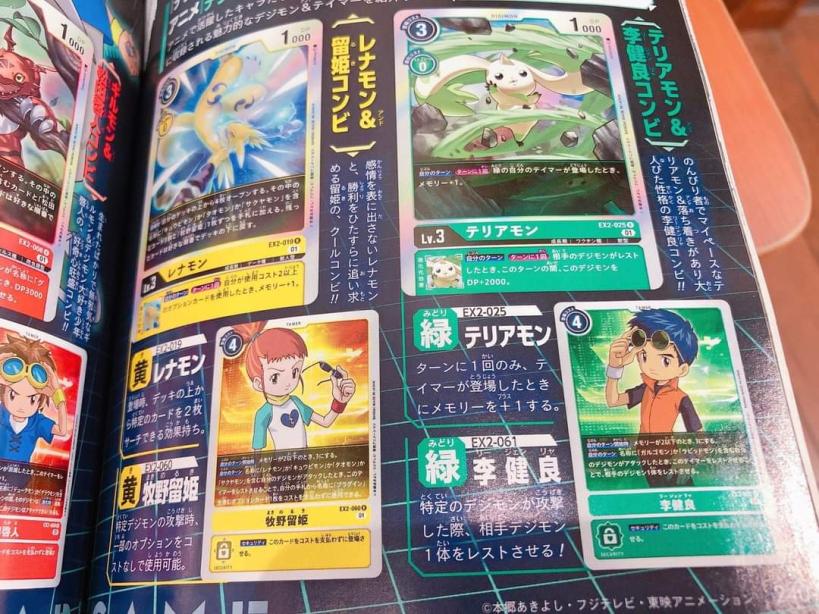 EX-02 gets shown off in a magazine. We aren't sure of the exact magazine at the moment, as various magazines are coming out around now that it could be.
From a photo, we get previews of Ruki and Jenrya, both looking stylish in new artwork, continuing the theme from Takato of having artwork based on poses from towards the end of the Tamers OP.
Thanks to
K.K.
for the photo.
Previous previews for Booster Set EX-02 Digital Hazard:
Booster Set EX-02 Digital Hazard will be out on December 24th in Japan.
We have clean card images from
Booster Set 8 New Hero, Starter Deck 11, plus Tamer Battle Pack 9 & Event Cards
.
We have the first info for
Booster Set 9 X-Record
.
We have details for the
2nd Theme Booster, Digimon Tamers.
And images from previous Digimon Card Game releases:
Starter Decks 1, 2, and 3, and first 10 promo cards
Booster Set 1 New Evolution
Booster Set 2 Ultimate Power
V-Tamer Promo Cards
Purple/Black Promo Set
Tamer Battle Pack 1 and Tamer Battle Winner's Card
Booster Set 3 Union Impact
Starter Decks 4, 5, & 6, plus Tamer Battle Pack 2 & winner's Card 2, & 1st 2 scene vote cards
Booster Set 4 Great Legend, Tamer Battle Pack 3, 3rd Scene Vote, Dark Digimon Promo Pack, & Apparel Cards
Booster Set 5 Battle of Omega, plus Tamer Battle Pack 4, 4th Scene Vote, & Vital Bracelet Pack-In Cards
Starter Decks 7 & 8, plus Delay Promos, Tamers Battle Pack 5, 1st Anniversary Promos, & Pulsemon
Booster Set 6 Double Diamond Cards, the 1st Anniversary Adventure Pack, and more
Booster Set EX-01 Classic Collection, plus Tamer Battle Pack 6 & 7, Tyranomon & dual Zeromaru Promo Cards
Booster Set 7 Next Adventure, Campaign Cards, & Tamers 20th Promo Cards
Starter Decks 9 & 10, plus Tamers Battle Pack 8, Ghost Game Promos, Online Promos, Tamers Evolution Box 1, & Amazon Starter Promos