Show User Social Media
Hide User Social Media
Joined

Sep 8, 2006
Messages

15,583
People have been waiting for these for awhile...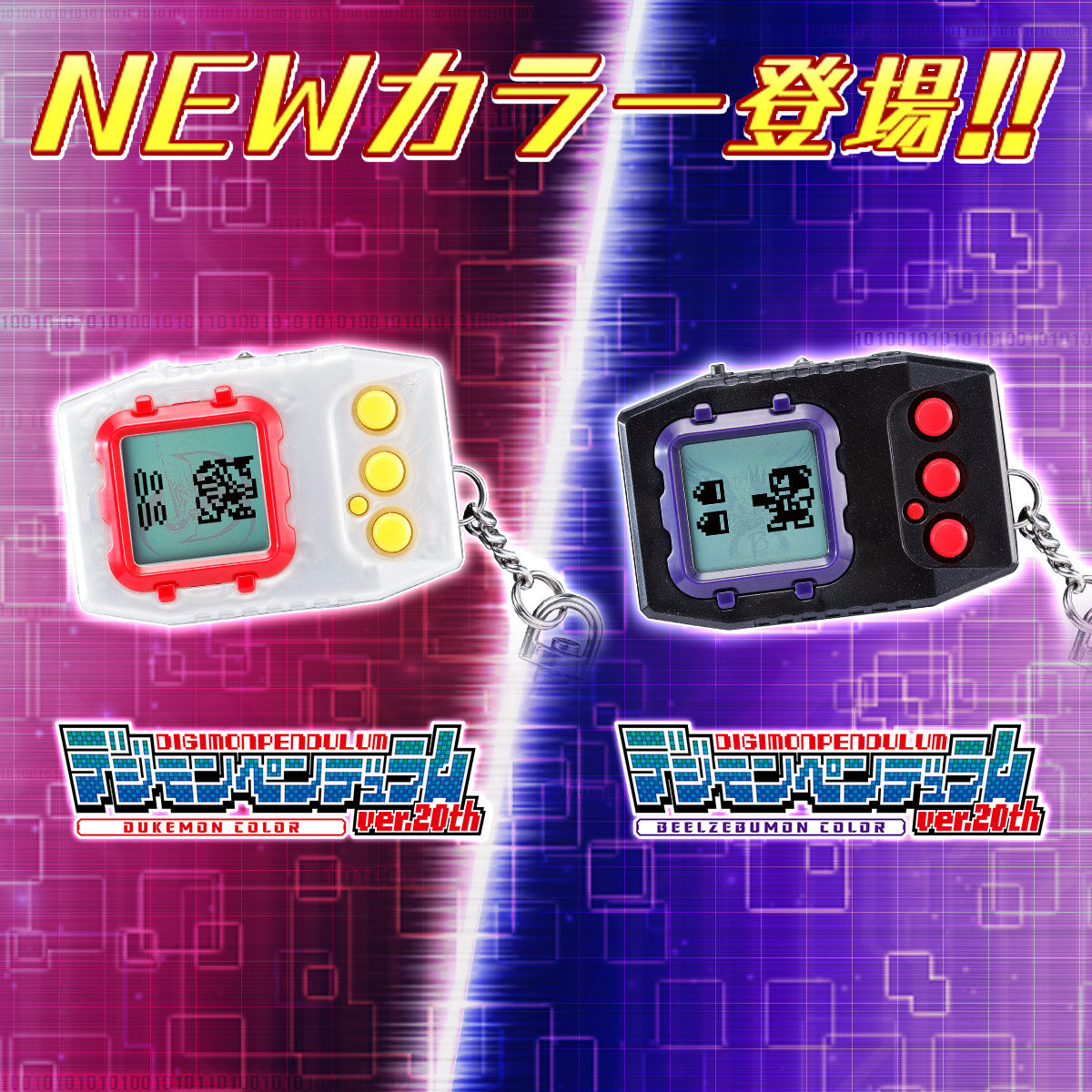 The 2nd wave of 20th Anniversary Digimon Pendulums!
It's been a bit of a wait for info since these were accidentally announced early, but we finally have more than small bits of info from V-Jump!
First up...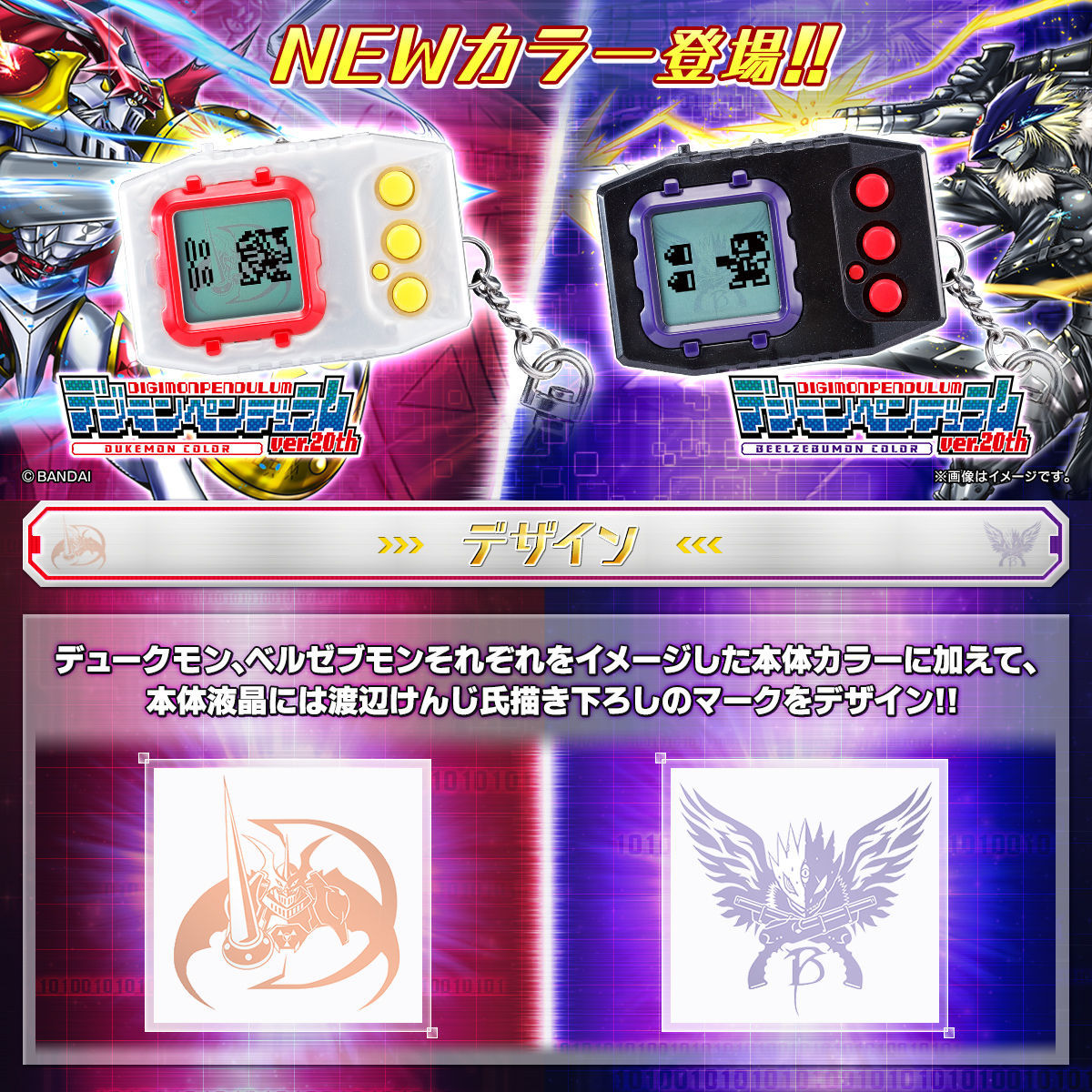 In addition to the main body being designed to match the Digimon they are themed after, the LCD background has sigils/marks based on each Digimon designed by Kenji Watanabe.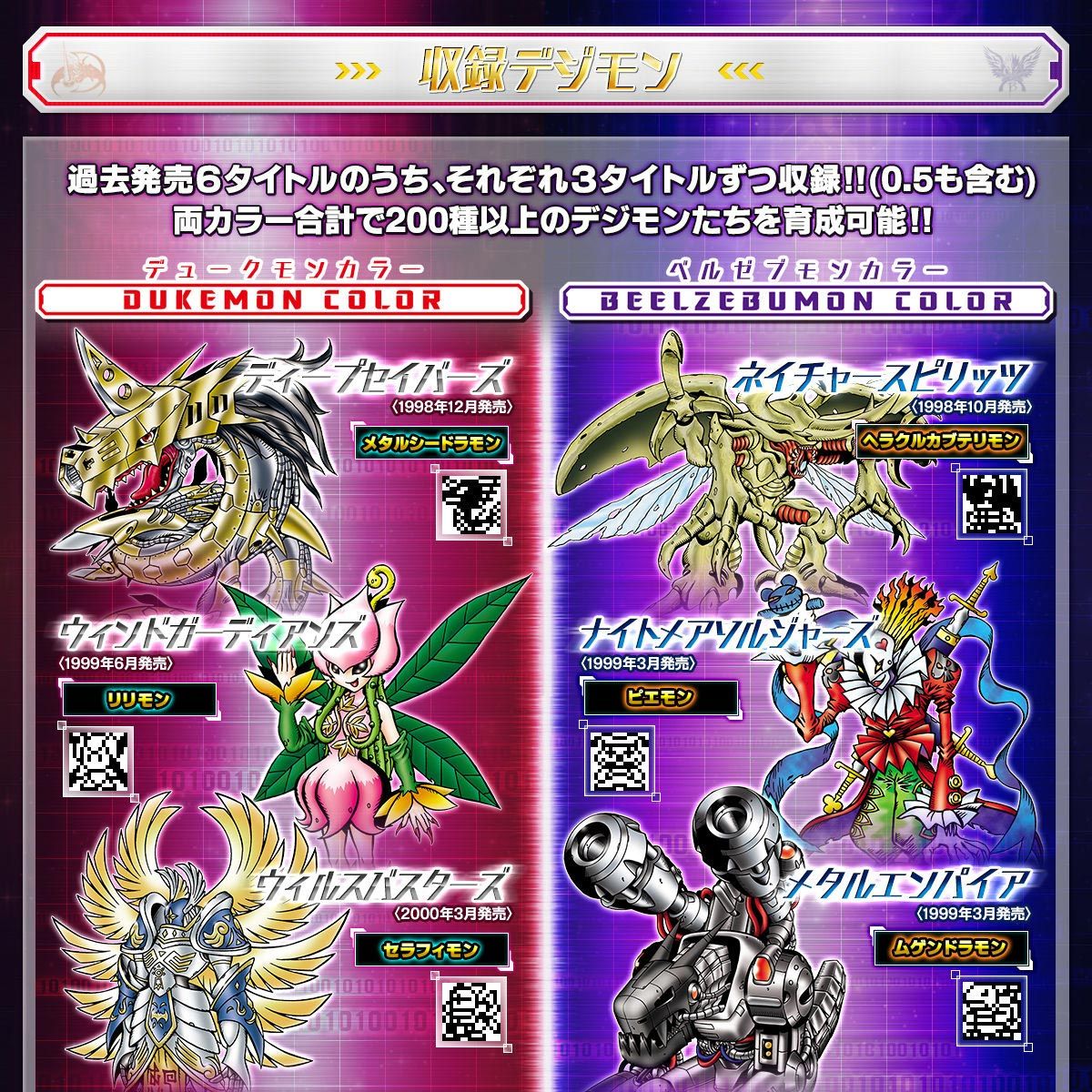 Each will feature
primary lineups that match the 20th Pendulums
.
Dukemon Color will feature:
Deep Savers (2.x)
Wind Guardians (4.x)
Virus Busters (Zero)
Beelzebumon Color will feature:
Nature Spirits (1.x)
Nightmare Soldiers (3.x)
Metal Empire (5.x)
In addition to these...

New Digimon will be included in special eggs, but as is tradition, they don't clarify if this will be it.
Dukemon color gets Darkdramon and Agumon Hakase.
Beelzebumon color gets Jesmon X-Antibody and Zubamon.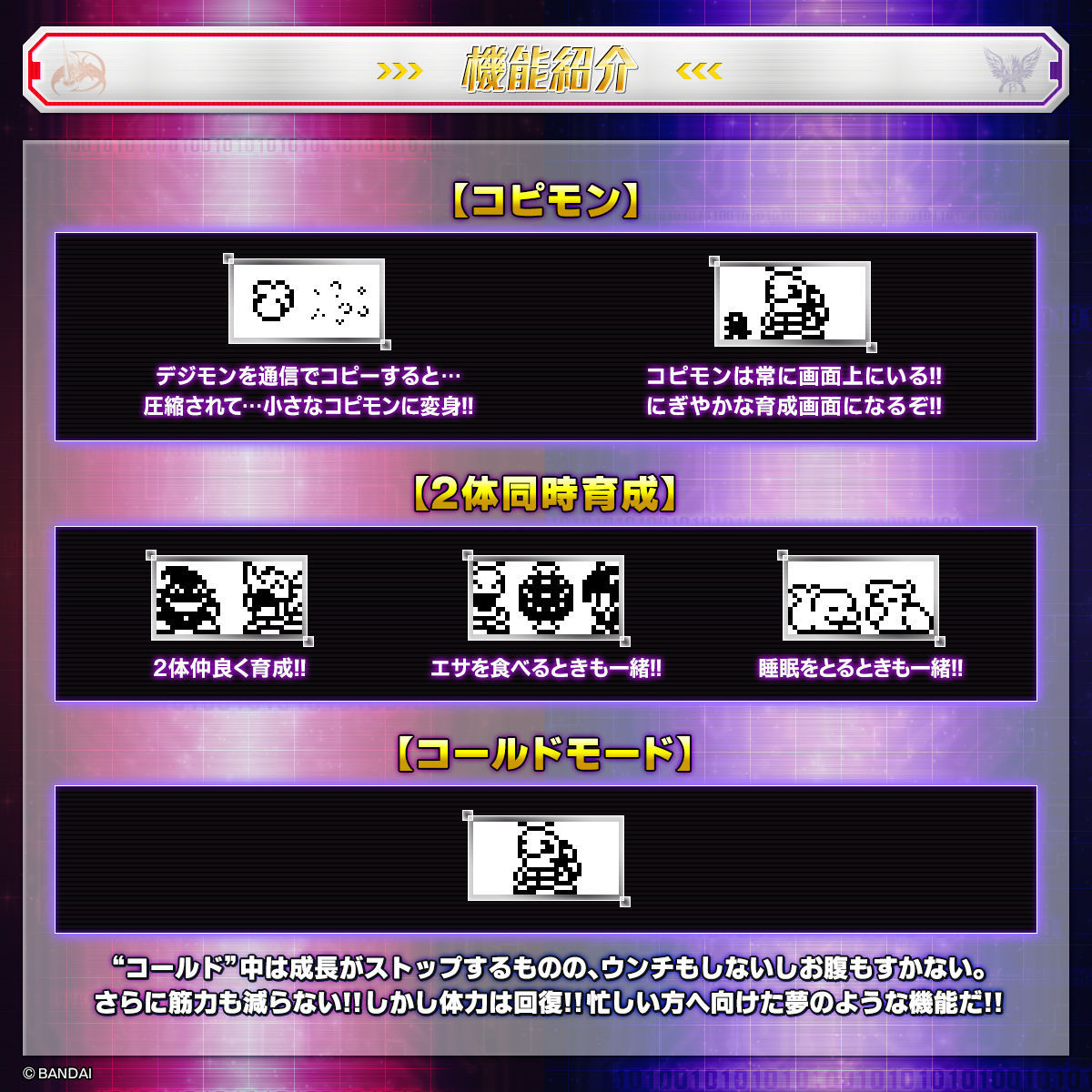 The features from the 20th Pendulums will be in these new releases, such as Copymon, cold mode, and raising 2 Digimon at once.
And last up, they give us a preview of the packaging.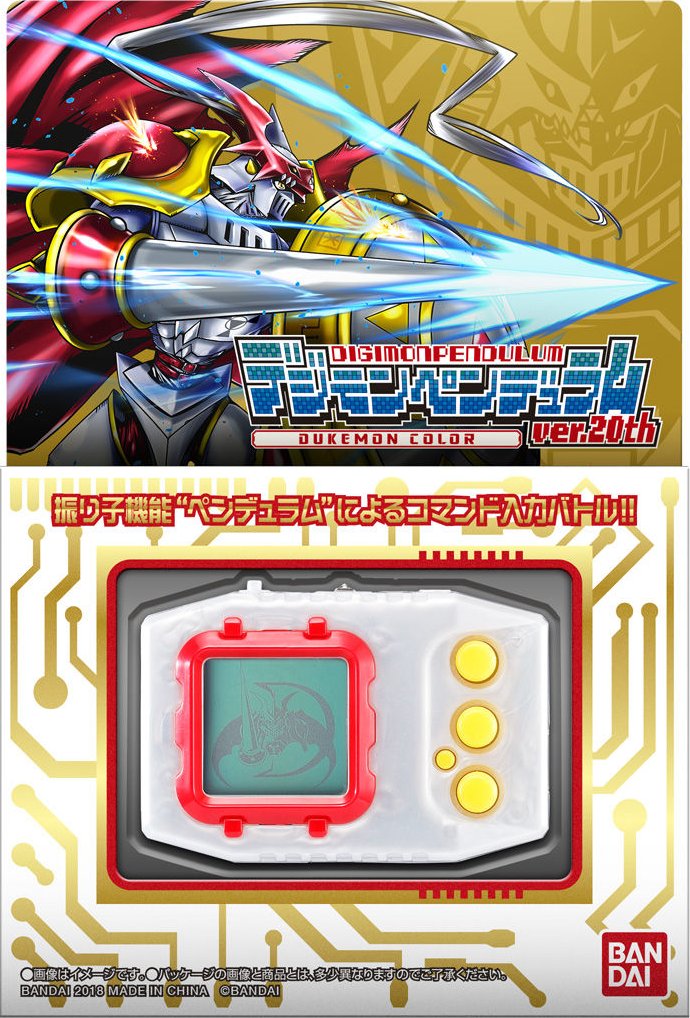 Gorgeous new illustrations of Dukemon and Beelzebumon from Kenji Watanabe are the primary element of the packaging. And they've been drawn to be facing off against each other if you get both and put them on a shelf together.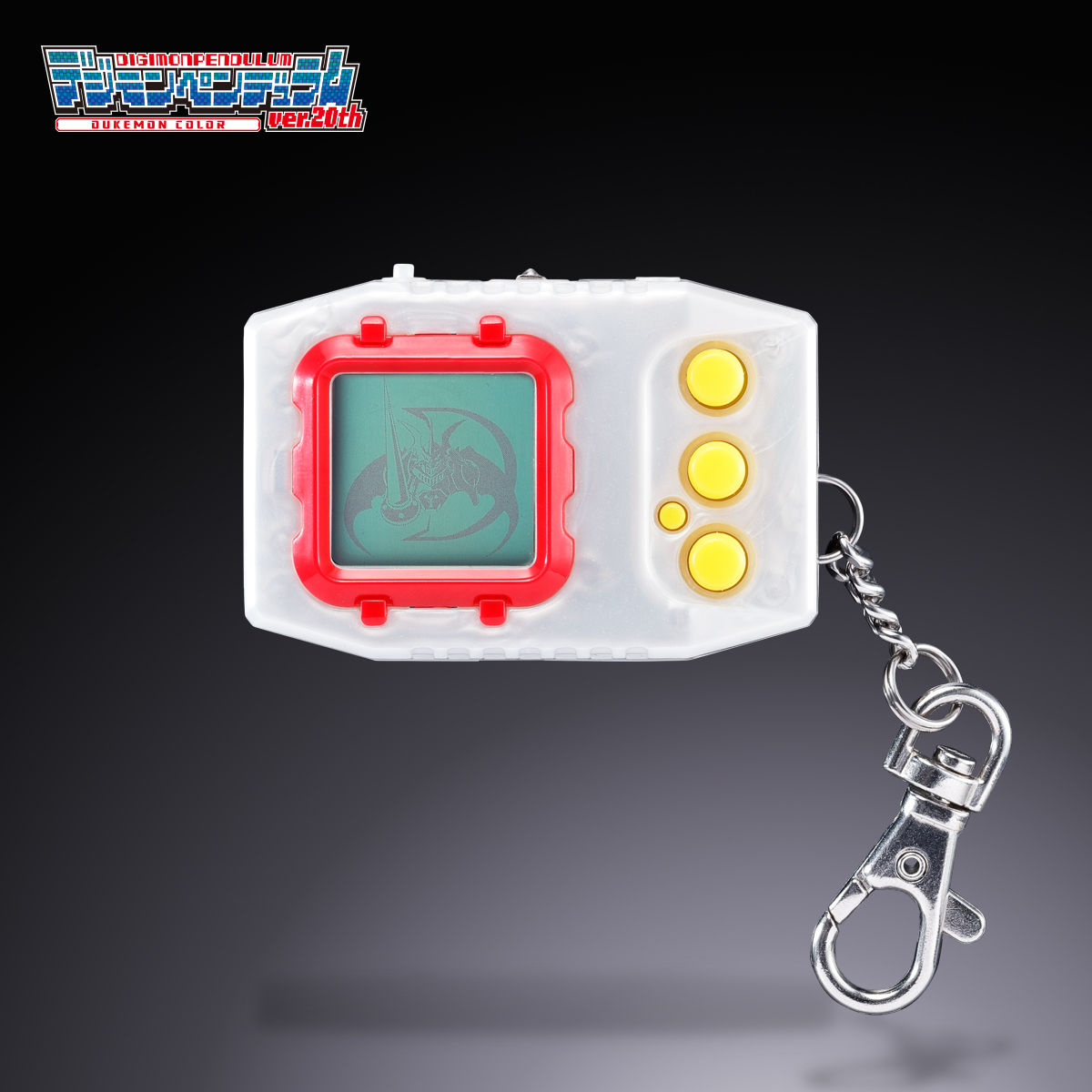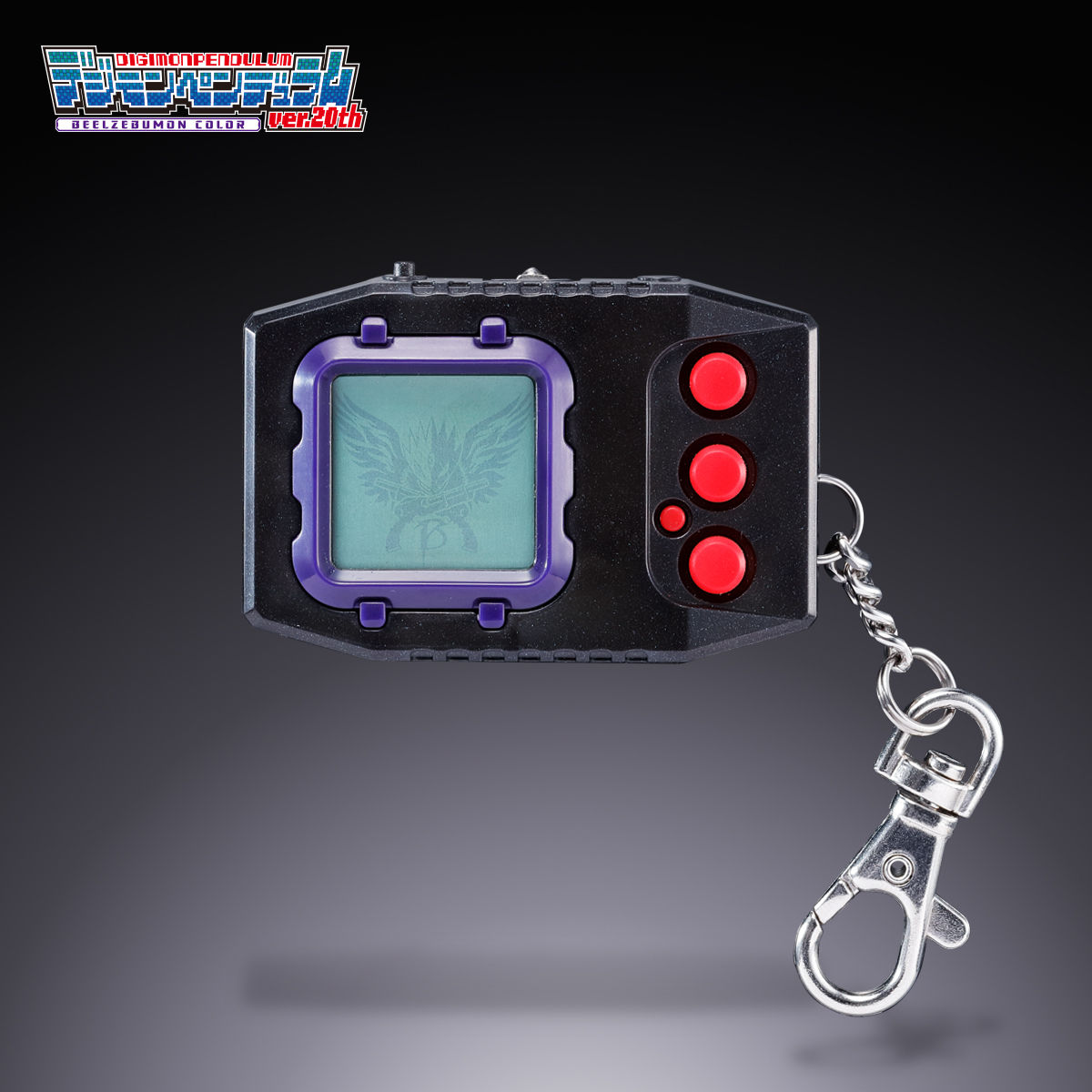 Pre-orders for the new Pendulums are open
at Premium Bandai
. Each Pendulum is 3,996 yen. Pre-orders close August 23rd and they ship in December.
In addition they've announced a Digimon Pendulum art book.
You'll want to contact an intermediary to get these items sent to you. WtW is not affiliated with any, but here are a selection of intermediaries that have worked well for various WtWers and their friends in the past:
From Japan
Rider Proxy
Nippon-Yasan
The Bandai Premium store has also chosen to affiliate themselves/recommend a few potential shops to be used as intermediaries for non-Japanese buyers:
Buyee
From Japan
(this From Japan link shows various items that they waive commission fees for.)
Samurai Buyer
DEJapan
You'll want to provide your chosen intermediary with the link to the item. Just copy paste the link to the product pages for what you want and send them a message about it and they'll take care of it after they discuss pricing and their policies with you. The links embedded in the news article for the products are exactly what you'll need to send them.
Some of the intermediaries have a full storefront and may have the item listed, so you may want to check that first.
Update- With new Pendulums up to order...
MonMon Memo has returned!
They point out what we already knew, there will be different Digimon in these.
They start off by showing us two new Digimon from the Beelzebumon color. Jesmon X-Antibody, whom we already knew about, plus BanchoLeomon! They point out this is the first appearance of Jesmon X-Antibody ever and he will be showing up in the upcoming art book.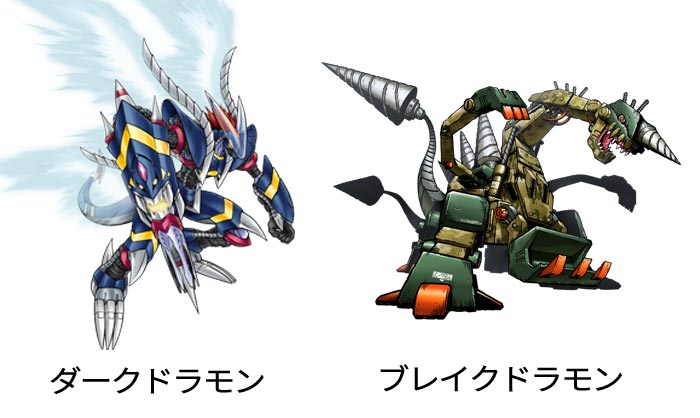 The Dukemon color also includes Digimon that weren't in the previous Pendulum 20th. We already knew about Darkdramon, but here they reveal Breakdramon.
They also announce that MonMon Memo will continue! Next week will be an introduction of the Pendulum Art Book, along with talking about the Legend Arms that came in the Version 20th.
They also mention that V-Jump in September will come with a password to get an exclusive Copymon.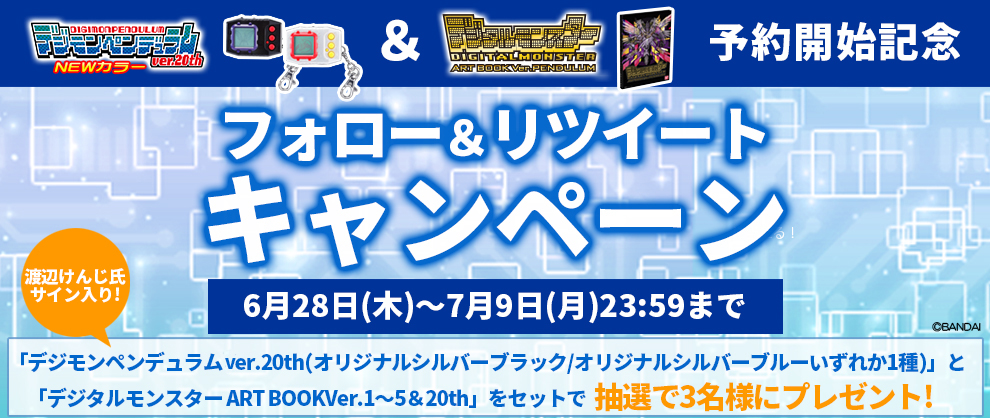 On top of that, they've announced a contest to celebrate the new Pendulums and Art Book, although the prizes will only ship in Japan.
Step 1- Follow
the Bandai Digimon
account.
Step 2- Retweet
this tweet
.
Step 3- That's it. If you win they will DM you on Twitter.
The contest ends July 9th, and has 3 prizes.
Each winner will recieve a Digimon Pendulum Silver Blue or Silver Black (random), plus the Digital Monster Version 1-5 & 20th Art Book, signed by Kenji Watanabe.
Giving the previous wave of products, which are now unavailable, is a pretty neat prize.