Show User Social Media
Hide User Social Media
Joined

Sep 8, 2006
Messages

13,210
December V-Jump- Miku, Cyber Sleuth, ReArise, X3 (Cyberdramon X!), & 20th GEM Figure
V-Jump time!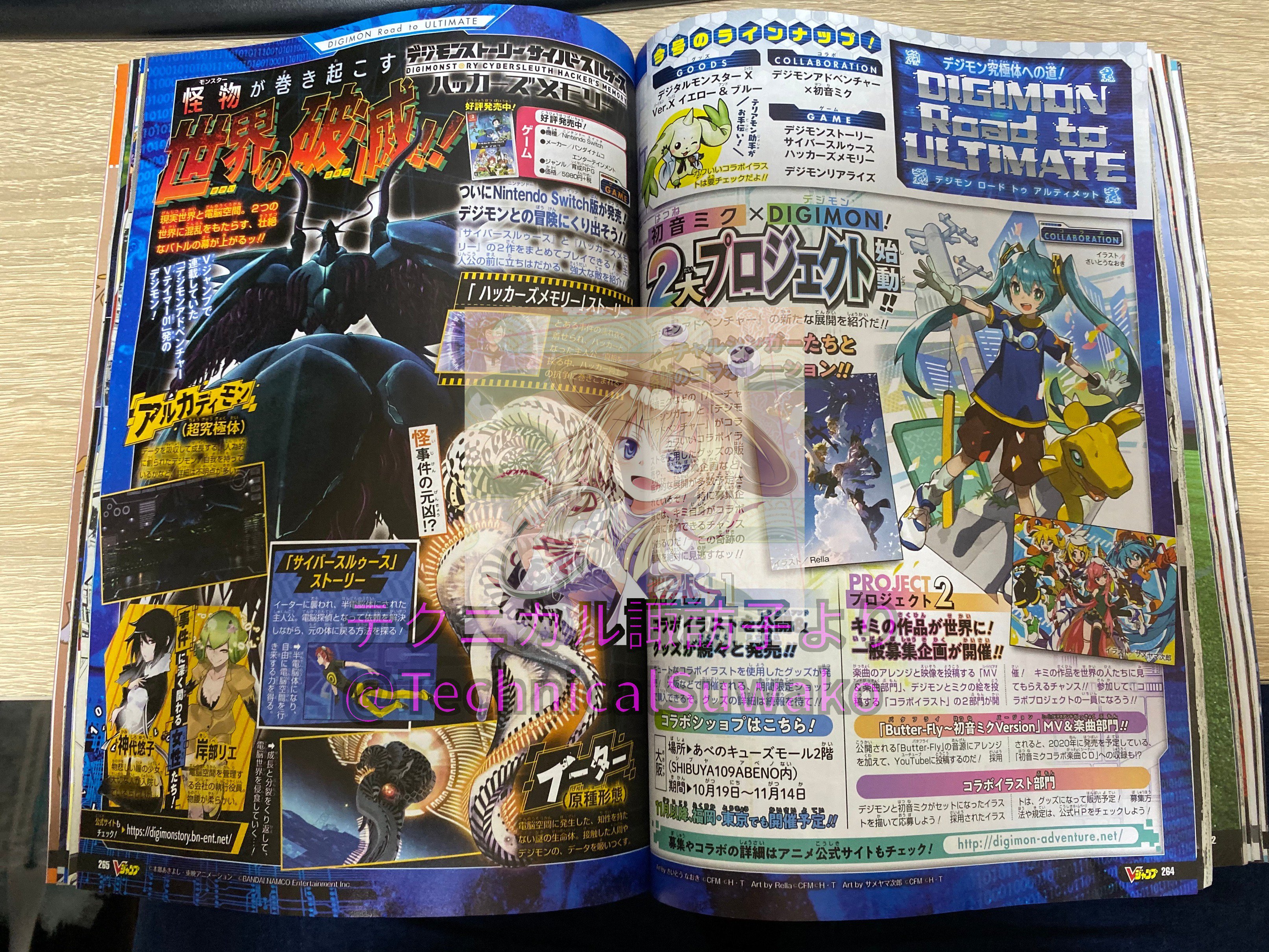 The December issue of V-Jump is entirely updates to things we already knew about, but there are a few interesting bits.
This will just be a quick overview while we wait for better translations.
The first spread starts off with a look at
various parts of the Miku collaboration.
Part 1 of the Miku content:
Publicly display the collab illustration & sell goods!!

Goods that have the cute collab art on it are being sold! You'll be able to purchase them at a shop in Osaka for a limited time. More details on the goods will be forthcoming!!

Collab shop will be in Osaka, at the

2nd floor of Abeno Q's Mall (Shibuya 109 Abeno)

Between October 19-November 14th. Afterwards in late November, they plan to open it in Fukuoka and Tokyo.
Part 2 of the Miku content:
Your work, made known to the world! The open application for non-professional submissions!!
This project is broken down into two categories, the "MV & composition category" where you submit your arrangement of the song and video; the "Collab illust category" where you submit art of Digimon and Miku. This is your chance to have people of the world see your work!! Come participate as a member of the collab project!!
"Butter-Fly~ Hatsune Miku version" MV & composition category- Add your own unique arrangements to the sound source of the "Butter-Fly" track that's been publicized and upload it to Youtube! If it's chosen, it could end up being recorded for the "Hatsune Miku Collab Composition CD" that's expected to be on sale in 2020.
Collab illust category- Draw Digimon and Hatsune Miku together in an illustration and submit them! If your art is chosen, they will be turned into merch! Check the official website for submission instructions and rules.
The 2nd page of the spread shows off some giving some profile information on characters and antagonists of Cyber Sleuth Complete Edition on Switch (just titled Hacker's Memory in Japan),
which has been released
.
Digimon Story: Cyber Sleuth- Complete Edition for Switch is currently available on Amazon: (Affiliate link)
Digimon Story: Cyber Sleuth- Complete Edition (Nintendo Switch)
On to the next spread!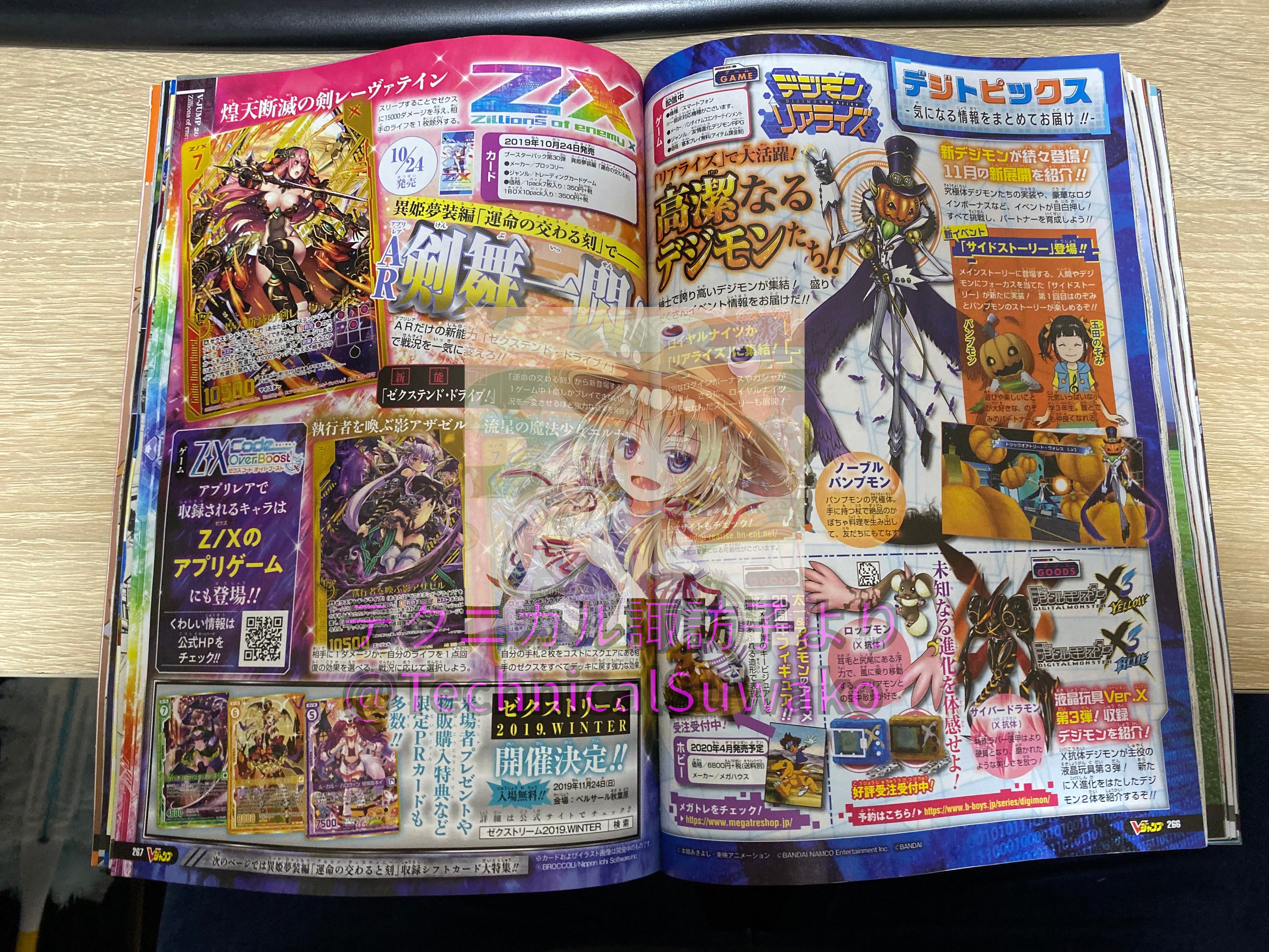 Most of this page is dedicated to ReArise, with a more specific focus on NoblePumpmon.
New Digimon will be continuously appearing! We'll be introducing to you the new developments for November!!
New Event Side Story- There's a new side story that focuses on the humans and Digimon who appear in the main story. The first chapter will be about Nozomi and Pumpmon!!
Nozomi Tamada- A hyperactive third grader. She quickly becomes friends with anyone.
Pumpmon- Nozomi's partner who loves games and fun things.

NoblePumpmon- Pumpmon's ultimate form. He treats his friends to scrumptious pumpkin foods that he creates with the staff in his hand.

Royal Knights appear in ReArise as a special log-in bonus or in gacha. The story developments will also be connected to the Royal Knights.
We also get a bit showing off the Digimon X3,
which is up for pre-order
The primary elements here are showing off 2 Digimon.
Lopmon X we previously got a good look at
, but the surprise here is Cyberdramon X. Following in the footsteps of the 2010 Xros redesign, Cyberdramon gets another interesting and unique redesign as Cyberdramon X, which has a sort of mechanical bee/wasp look to it. Hopefully we get higher resolution art soon to see more of it.
We have a translation of the short profile they give for Cyberdramon X:
Their special rubber armor has stiffened to an even harder quality, to give them a more polished, beautiful appearance.
Last up is a small preview of the GEM Taichi & Agumon 20th Anniversary Figure, which is currently up to pre-order in both
Japan
and
the US
.
The other side of the second spread is non-Digimon content with 'Zillions of enemy X'
As mentioned above, hopefully more translations will follow shortly.
Thanks to
TechnicalSuwako
for the images.
Update- Various bits above have been updated thanks to translations from onkei.