Show User Social Media
Hide User Social Media
Joined

Sep 8, 2006
Messages

16,660
MonMon Memo is back again!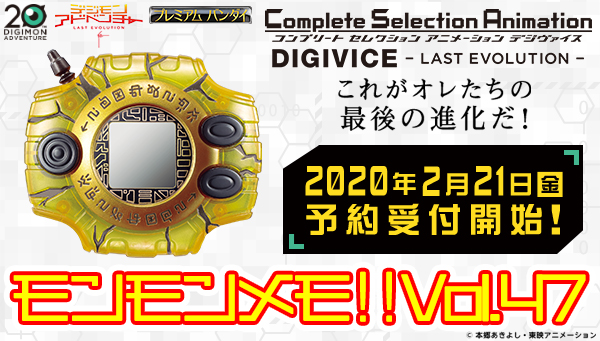 The first MonMon Memo of the new year, MonMon Memo 47
! This time it gives an introduction to the CSA Digivice -Last Evolution'
that we first saw in V-Jump
.
It's about a month before release! Scheduled for February 21st is the movie Digimon Adventure: Last Evolution Kizuna. Did you watch the trailer?
"What kind of Digimon is Eosmon, who takes the consciousness of the chosen children?", "What is the last evolution?", "What happens to Taichi and Agumon?"
I can't wait for the release!
And what is happening to the Digivice that happens at the end of the trailer...
Let's introduce it to you!
It's been decided that Premium Bandai will release the CSA Digivice -Last Evolution-
What does the golden color and the appearance of cracks mean?
It must have an important role for the movie!
Taichi, Yamato, Agumon, and Gabumon have many impressive lines youll be able to play!
In addition to the classic Butter-fly, two new BGM songs are included and the volume level is perfect!
It's a gorgeous item that will immerse you in the lingering ambience of the film.
I'm really sorry that this is all I can mention for now...
Pre-orders begin on February 21st, the same day the movie comes out!
Please look forward to it!
Additional info on the CSA Digivice -Last Evolution- will be introduced on the redesigned
Digimon Web product intro page
later.
More info on this product will be introduced on DigiNavi on January 24th and the product order teaser site, so check it out!
See you in the next update!
The product order teaser site mentioned in MonMon Memo
is the Premium Bandai page
.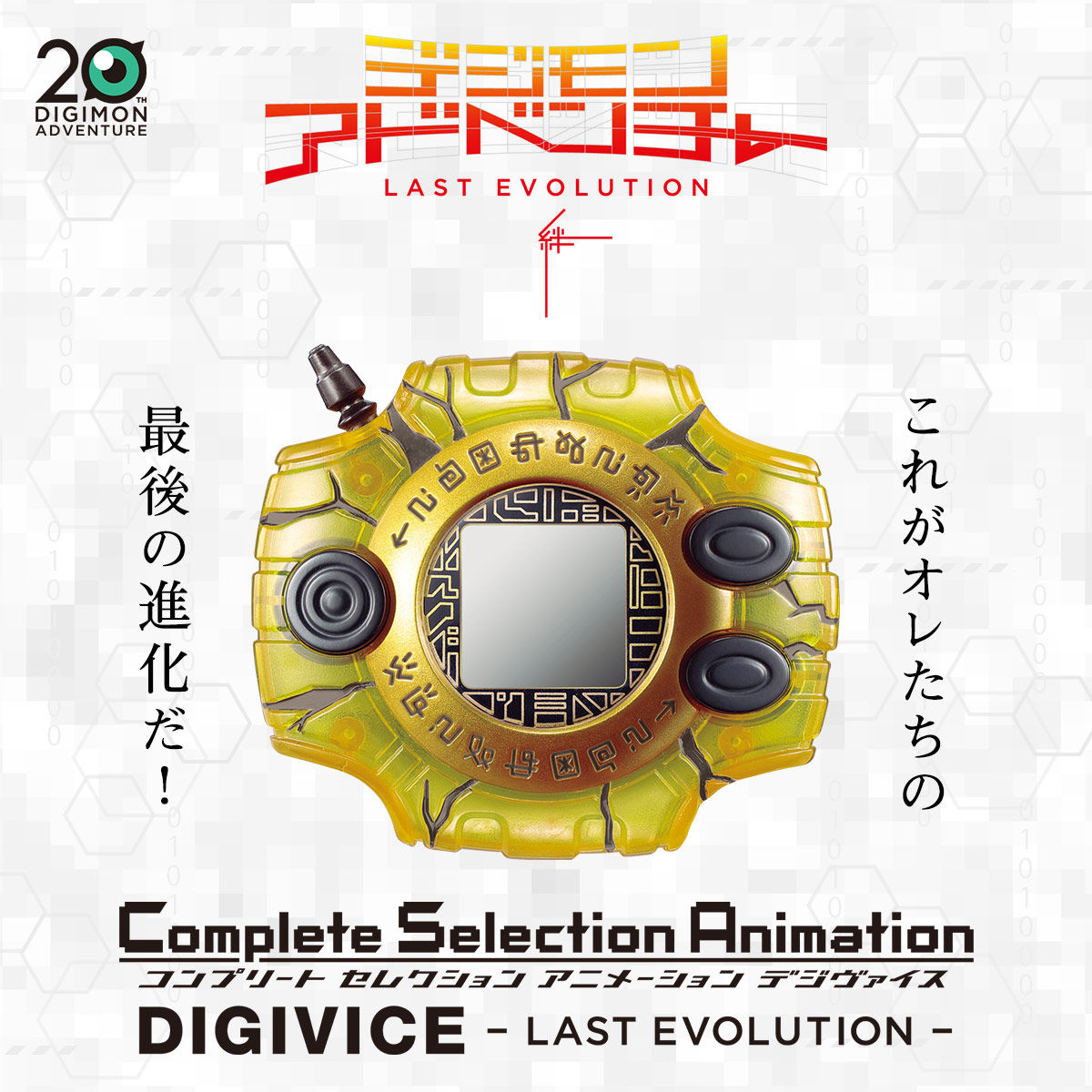 For now it's just a product image, countdown to pre-orders opening, and the movie trailer.
Previous MonMon Memos have included:
Cold Mode
Copymon
New Virus Busters
New Nightmare Soldiers
Silver Blue Special Digi-Eggs
Silver Black Special Digi-Eggs, Plus ones in both!
Jogress Digimon
Password Digimon
Overview of the 20th Pendulum, Plus Enemies in Battle Mode
Kenji Watanabe Pendulum Interview
CSA Digivice tri. Memorial
Additional Digimon showing up in the Pendulum 20th 2nd Wave
RagnaLordmon, Jogress of the 20th Anniversary Legend Arms
Pendulum Art Book Sample Pages, Teasers, and Interview Details
Pendulum Art Book Update- Digimon Designer Round Table! Plus Shikishi Artwork
Introductions for the CSA Digivice 1999 and Terriermon Plush, plus X-Antibody Updates
CSA Digivice 1999 Details
RagnaLordmon and Finalized Wave 2 20th Pendulum Packaging
Pendulum Art Book Preview- Twitter, Armor Evos, Omegamon, Chronicle
Digimon in 2nd Wave of 20th Anniversary Pendulums & Art Book Preview
Digital Monster X and X-Antibody Teasers
Digital Monster X Booklet Details
Digital Monster X Digimon Info & CSA Digivice 1999 Booklet Details
Digital Monster X Map System Info
Digital Monster X Battle System Info
New X-Antibody (Finalized Diablomon X & Sakuyamon X) Digimon Artwork
Digital Monster X Training & Raising Features
The Digimon Lineup for the Digital Monster X & More Reveals
Digital Monster X Summary & Preview from MonMon Memo, plus more Digimon intros!
Digital Monster X Evolution Conditions from MonMon Memo!
The Movements of the Seven Great Demon Lords from MonMon Memo
Data from announcement of Digital Monster X Version 2!
Main Theme of Digimon X2 from MonMon Memo, plus Video Preview
Digimon X2 Lineup Introduction and Character Tease
Raising Information, Road to the Devil
Secret Digimon in Digimon X2 Revealed
The Not Yet Shown X-Antibody Digimon
Last Evolution Kizuna & Digimon X2 at DigiFes
Digimon X2 Booklet Preview
Digital Monster X Ver.3 Intro and Teases
Digimon X3 & Artbook Pre-Order Info & Tease
Art Book Version X Cover, Plus Chronicle X & X3 Teasers
Secret Digimon Announced for the X3! & Who Designed the new Digimon!
Secret Digimon Volume 2 (w/ larger art!) & Evolution Methods
Secret Digimon Volume 3!
Digimon X3 Booklet Rough Draft Preview