Show User Social Media
Hide User Social Media
Joined

Sep 8, 2006
Messages

13,600
Another product update!
MonMon Memo is back yet again
! The 17th installment goes over a number of details regarding the Digimon Adventure Complete Selection Animation Digivice 1999.
Big Dreamer Taoka hopes we all enjoyed Digimon Thanksgiving. He mentions a trailer for the CSA Digivice 1999 was shown, and it's now fully available. We've embedded it at the top of the page.
While the most recent MonMon Memo last month did a basic introduction for the CSA Digivice 1999, this one will go into a bit more detail...
All 8 children and 8 partner Digimon from Digimon Adventure will appear in the new CSA Digivice. 3 popular songs will appear (this appers to be the previously announced Butter-Fly, Brave Heart, and the theater size Butter-Fly.)
He thinks we are all very interested in the voices of each character.
14 of the 16 characters (everyone except Taichi and Sora) are newly recorded and supervised by Digimon Adventure director Hiroyuki Kakudou.
Taoka was very impressed by all the returning actors. He specifically notes that Yamato and Koushiro sound the same as 20 years ago, which seemed to surprise him.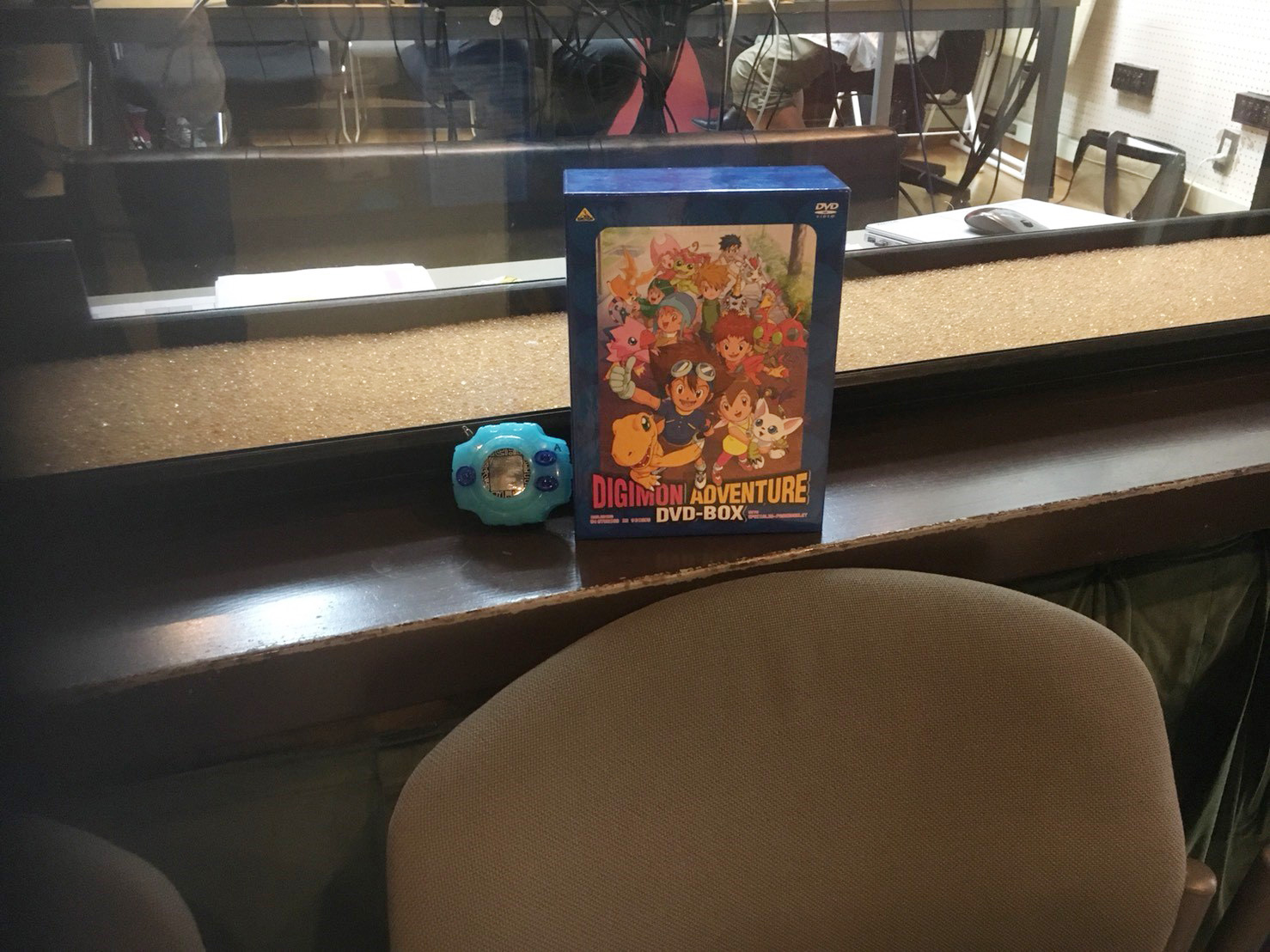 An Image of the recording site with a few products on display.
Character voices on the CSA Digivice 1999 are as follows...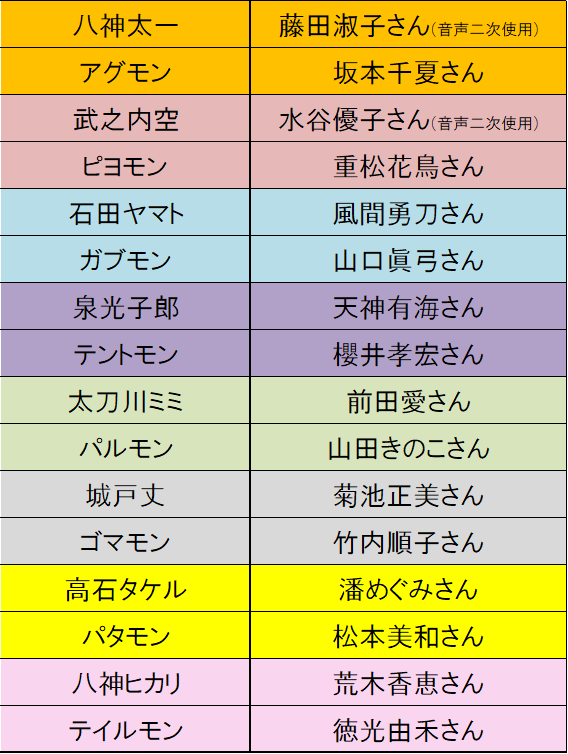 Taichi- Toshiko Fujita (previous audio will be used)
Agumon- Chika Sakamoto
Sora- Yuko Mizutani (previous audio will be used)
Piyomon- Atori Shigematsu
Yamato- Yuto Kazama
Gabumon- Mayumi Yamaguchi
Koushiro- Umi Tenjin
Tentomon- Sakurai Takahiro
Mimi- Ai Maeda
Palmon- Kinoko Yamada
Jou- Masami Kikuchi
Gomamon- Junko Takeuchi
Takeru- Megumi Han
Patamon- Miwa Matsumoto
Hikari- Kae Araki
Tailmon- Yuka Tokumitsu
Out of the 14 new recordings, 13 are the original actors. Takeru is voiced by Megumi Han, who took over the role beginning with the Digimon Adventure PSP game.
Quite a few recordings were made including:
Numerous signature lines from Digimon Adventure.
Original lines for the Digimon partners.
Our War Game content. As an example they give Yamato mentioning there are no PCs in Shimane.
He mentions there is a lot of content, and there is original dialogue for the Digimon that is quite impressive.
In fact, scenes from throughout Adventure are included. They give two examples in text form:
From episode 53 they give a 'scene everyone will recognize.'
From episode 54 they include the scene of them deciding to defeat Apocalymon.
He declared this full of elements that should warm your heart, and that there is dialogue between the kids and Digimon to also enjoy.
The CSA Digivice 1999 has the participation of the cast and Director Kakudou to help celebrate the 20th Anniversary of Digimon Adventure.
The CSA Digivice 1999 is still available to pre-order, details can be found
here
.
Next week MonMon Memo will be back to introduce the new Digimon in the 2nd wave of 20th Anniversary Digimon Pendulums.
Previous MonMon Memos have included:
Cold Mode
Copymon
New Virus Busters
New Nightmare Soldiers
Silver Blue Special Digi-Eggs
Silver Black Special Digi-Eggs, Plus ones in both!
Jogress Digimon
Password Digimon
Overview of the 20th Pendulum, Plus Enemies in Battle Mode
Kenji Watanabe Pendulum Interview
CSA Digivice tri. Memorial
Additional Digimon showing up in the Pendulum 20th 2nd Wave
RagnaLordmon, Jogress of the 20th Anniversary Legend Arms
Pendulum Art Book Sample Pages, Teasers, and Interview Details
Pendulum Art Book Update- Digimon Designer Round Table! Plus Shikishi Artwork
Introductions for the CSA Digivice 1999 and Terriermon Plush, plus X-Antibody Updates