Show User Social Media
Hide User Social Media
Joined

Sep 8, 2006
Messages

13,196
The prior thread explaining the cancellation of the Kizuna screenings can be found
here
. (They've said they plan to reschedule, but the initially announced screenings are cancelled.)
A few different people wanted a thread to be able to discuss how they are keeping busy with various areas having 'stay home' orders due to Coronavirus (or just staying home in general), changes for them and others, and maybe just to post their thoughts, etc. so it seemed like it warranted a thread.
Any discussion of politics, trying to stir up trouble or arguments, etc. will simply be removed.
A few different things for people to do if you are finding yourself with more time than you are used to. (Various deals will expire, and we will try and add new things as possible. Feel free to toss in your own if you've seen anything.)
First, some free selections.
On Sunday at 2pm Pacific we will be doing a 'not quite' the WtW Podcast.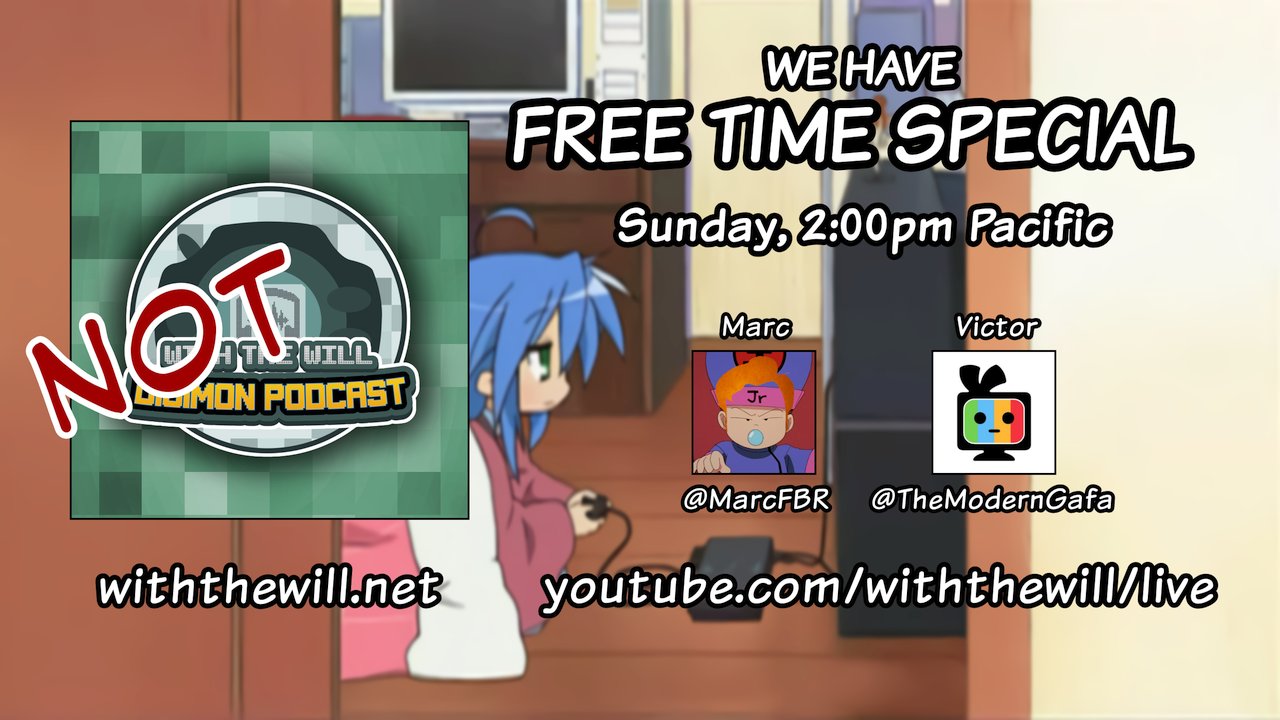 Original podcast co-host Victor will be returning and we will just be talking about movies, comics, games, etc. until we are largely sick of eachother. We don't intend to talk about Digimon too much, as there will be a normal podcast episode soon.
It will be live here
.
The WtW Discord
is also always open to chat.
GOG has put up a page
with all the free games in their catalog you can nab to pay. There are a number of decent titles here.
A number of games are currently free to own on Steam: (there are more, but this is some of the high points at the moment)
Tomb Raider
(the 2013 reboot)
Lara Croft and Temple of Osiris
Drawful 2
Deiland
Headsnatchers
Pluto TV
and
Tubi
are both decently known ad supported TV and movie streaming services, both have a decent amount of anime in their catalogs.
Audible
has put up a significant amount of audiobooks up for free streaming.
Various services have extended free trials that may be worth looking into. There are to many to try and list, but feel free to suggest any you use, and if you know of any extended trial codes that work at the moment.
Our various leadups
we've been doing in the leadup to Kizuna and Adventure: features a number of anime shows and films that we've provided streaming links to. (The link is to the most recent leadup, at the bottom of each post is a list of prior ones.)
A few options that will cost a bit.
A number of newer theatrical films will be made early for rental or purchase. The price thus far for these seems to be $20 across the board.
We're linking to Vudu
, but your digital movie store of choice likely has the same films and prices. Right now the lineup is Onward, The Invisible Man, The Hunt, and Emma, but more will be added shortly including Sonic the Hedgehog, The Way Back, Bloodshot, Birds of Prey, Trolls World Tour, and likely more.
Doom 64
, the 'original' 3rd Doom game just got it's first port/re-release on PC for $5. If you don't want to play Doom Eternal yet, it's a great choice to try some Doom you quite likely have never played.
Humble Bundle has a number of bundles at the moment, with tiers beginning at a dollar, but a couple of interest:
Capcom Mega Bundle
- A bunch of Capcom games on PC.
Fairy Tail & More
- Fairy Tail and other manga by Hiro Mashima.
And also various places to watch Digimon at. There have been changes in these lately, so these could always change.
Starz has
Season 2
and
Frontier
both on their own service, along with Starz add-on via various products (Hulu, etc.)
Outside of 02 and Frontier at Starz, there are still some decent options for some recent Digimon content including:
Xros Wars (and Hunters) at Crunchyroll subtitled
Appmon at Crunchyroll subtitled
tri. subbed and dubbed all over the place: (just posting a couple, as it's quite easy to find tri.)
Subbed at Crunchyroll
Subbed and dubbed on Blu-ray
(affiliate link)
Fusion and Data Squad are also still available to purchase digitally from a number of storefronts for anyone who wants digital copies: (Amazon ones are affiliate links, others are not.)
All the Digimon TV DVDs are still orderable at Amazon at the moment, although a number of them are out of print, and will likely become harder as time goes on: (affiliate links)
Digimon Season 1 (Adventure)
Digimon Season 2 (Zero-Two)
Digimon Season 3 (Tamers)
Digimon Season 4 (Frontier)
Digimon Season 1 thru 4 Boxset
Digimon Data Squad
Digimon Fusion Season 1
Digimon Fusion Season 2
Last edited: