Show User Social Media
Hide User Social Media
Joined

Sep 8, 2006
Messages

16,928
Another contest is over!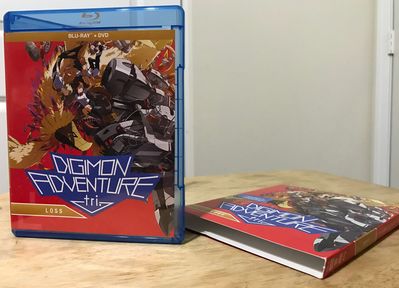 After going through all the entries we have three winners!
Got quite a few great entries, but could only choose three of them.
Here are the three winners, in no particular order.
Forum member Applifang wrote about an unexpected character...
Even though they didnt really get much screen time, the character that really stood out for me in Digimon Tri from part 1-4 is Baku/Tapirmon. I remember seeing the poster for Loss for the first time and the little Baku stood out before Phoenixmon (sorry buddy lol). All i was thinking at that time was whether we are gonna have trip down digi chinatown again (*plays 'one week' in my head~Chickity China the Chinese chicken)i;or even hints of the 02 kids. Then when the movie/episodes for part 4 was out.....I was left shocked at what happened. Bakumon was Maki's partner, it turns into Megadramon (that cute little guy turned to that mechanical dragon OwO?!) , etc. Another reason why Bakumon stood out to me is that the i like how the animator/director choose one of the older digimon. For example, if they choose Betamon, Penguinmon, Floramon, etc. I would have been just as happy because its kind of like another jab at nostalgia.

The second thing that stood out was the callback to the "original" chosen children. OoO <<I was left like that after watching the beginning of Loss. Elementary school versions of Maki and Daigo, remaining mysterious other chosen digimon, the harmonious ones, new and old digimon turning into them, flashy lights, lazers, etc... so many things left me speechless. Seeing this scene really made me think back about how Gennai briefly mentioned talking about chosen children arriving before Taichi's group. A lot of family and friends (prob just me haha) didnt even think about it until the scene in Loss. After watching that specific scene once, i went back to the adventures episodes to see what was said about the original children. Then i saw the silhouetted pictures of the original children. I know they are just place holders but the hype got so real. I remember everyone comparing Biyomon's shadow to Bakumon in the forums lol. Probably just a coincidence, but I also like how the original children's digimon kind of had digimon that represented digimon seasons (up to savers). For example, Megadramon for season 1, Triceramon from 02, Orochimon from Tamers, Hippogriffomon from Frontier, and LoaderLiomon (a part of bancholeomon's line) from Saver/Data Squad.
Aguchamp33 sent in a fantastic image of the mutated form of Meicoomon...
Aguchamp also sent in a great written entry that might have won them a prize even if they hadn't drawn a great picture.
And Tabitha wrote about Mimi!
Mimi's character development throughout Tri has been one of my favorite aspects of the series. Watching her grow into a feisty, determined character from the reluctant girl we saw in the original series was moving and very well done. Her self doubt around being too pushy showed her new maturity, and finding a balance between asserting yourself and taking others into consideration is something many adolescents deal with. It was also very interesting for her character during the fight where Togemon accidentally downed a helicopter as well as the aftermath. She's passionate and determined in the Tri series as opposed to unwilling to fight in Adventures, but this still gets her into trouble because she's too headstrong. She cares deeply about her partner and wants the world to see that digimon can be good, but her overzealousness damages the digimon's reputations even further and also puts stress on the group as a whole as everyone grapples with the situation. Mimi being shown to be so much stronger but still flawed throughout Tri gave me new appreciation for her character.
Anyone else who entered is welcome to share their entries.
The winners have been contacted so they can get their prizes from Shout.
Thanks everyone for entering.
And for those who need to order any of tri...
Digimon Adventure tri. Part 1 Blu-ray Combo
Digimon Adventure tri. Part 1 DVD
Digimon Adventure tri. Part 2 Blu-ray Combo
Digimon Adventure tri. Part 2 DVD
Digimon Adventure tri. Part 3 Blu-ray Combo
Digimon Adventure tri. Part 3 DVD
Digimon Adventure tri. Part 4 Blu-ray Combo
Digimon Adventure tri. Part 4 DVD