Show User Social Media
Hide User Social Media
Joined

Sep 8, 2006
Messages

16,414
It's time for a contest!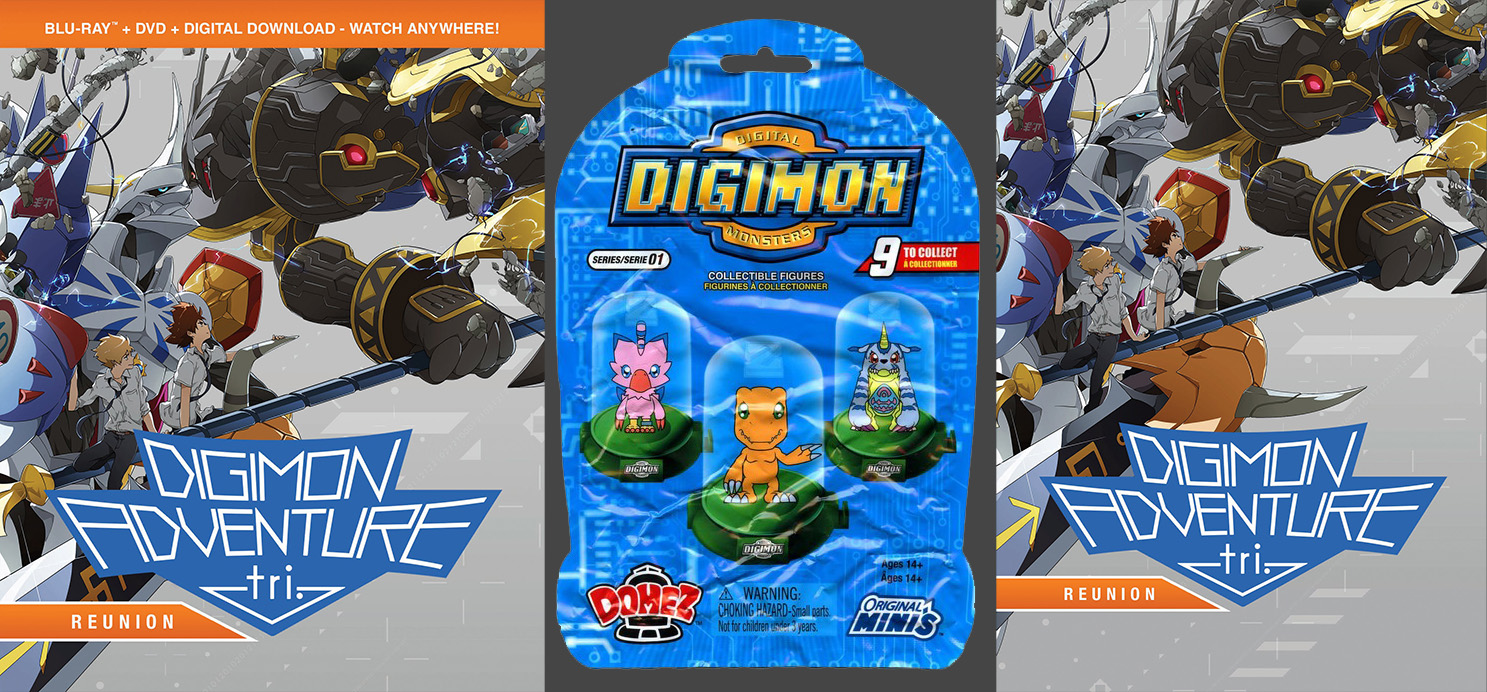 With the upcoming release of Digimon Adventure tri. Part 1 Reunion on home video in the USA we have some very nice prize packages for a few fans.
Two different people will win a prize package consisting of:
a copy of the Digimon Adventure tri. Part 1 Reunion Blu-ray Combo Pack (contains the Blu-ray, DVD, and a code for a DRM-free digital copy)
the Collectible Lithograph of the cover art to tri. Part 1 Reunion.
3 Digimon Domez Collectible Mini Figures
For a bit of fun, there will be two different ways to enter:
Method 1- What are your feelings having tri. go back to the beginnings of the franchise in it's animated form? Maybe you had a connection to the original show. Or maybe somehow you tripped into tri. and that's how you got introduced to the franchise. Basically, just writeup your feelings on tri. Maybe actors coming back means something to you personally, whatever you can come up with as long as it involves with tri. in general, or part 1 in particular (please keep them related to tri. in general or part 1 though. This isn't a contest for later parts of tri.) Make it as short or as long as you want.
and/or
Method 2
- Draw (or do something artsy) something related to Digimon Adventure tri. Part 1. Excited to see Adventure coming back with Omegamon, or Alphamon being used? Maybe you are glad to see Tentomon back! Happy to see more of Mimi? Draw (or make) whatever comes to mind. As long as it uses characters featured in tri. Part 1 you're good.
You can enter either way, or both if you are feeling inspired. The winners will be chosen from a combined pool of both types of entries.
The judge this time will be.... me. You can post your entry in this thread, PM me using our forum's internal PM system, send your entry to
@WithTheWill on Twitter
(be careful doing the writing contest on Twitter... it'll be really short), or email me your entry to
godofchaos@gmail.com
(put WtW Contest in the subject for email entries for clarity.)
I won't be judging on any particular detail (or even necessarily on the quality of art or writing), just do your best. If it catches my attention you might have an advantage, but I'll be pouring over each and every entry.
The contest will end midnight on Sunday May 7th (so right as it becomes the 8th.)
You don't have to send any personal information with your entry. If you win Shout! Factory will need your contact/shipping information to get you your prize package.
Your entry might be shared on WtW and social media sites by us, Shout! Factory, and Zag Toys.
These contests are only open to people who live in the USA.
Blu-ray combo pack and lithograph courtesy of Shout! Factory, Digimon Domez collectible toy courtesy of Zag Toys.
Also...
Shout's given us a clip for us to premiere that hasn't shown up elsewhere yet!
It's the TV spot for the part 1 release!
Thanks to Shout for the clip.
Get your entries in, I'm looking forward to seeing what you come up with.