Show User Social Media
Hide User Social Media
Joined

Sep 8, 2006
Messages

12,711
The original may have slipped slightly under the radar with all the news...
It was originally a DigiFes product, so we may have in fact reported on it back in August, but decided to report it just in case since a fantastic looking limited version is being released soon... (This one isn't a Comiket product.)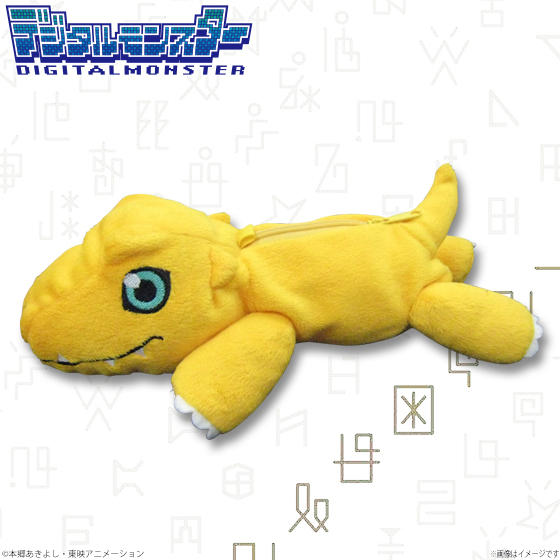 It's a
small plush Agumon
with a zipper pouch on his back! It's a little less than 8 inches long, and a bit more than 3 inches wide.
It retails for 2000 yen (a touch over $16 right now.)
But the main reason for the newspost is the sweet special BlackAgumon version that will be released at Comiket 89!
The price will be the same as the normal Agumon pouch plush, but this one will be a bit harder to get...
300 total will be made. 200 will be sold on site at Comiket. 100 will be held to be sold at the Bandai Premium store.
We don't know when the 100 will go up for order yet, a date and time will be announced beforehand.
Comiket 89 is December 29th thru 31st, so a preorder around then or right after New Year's seems likely.
If you want one of the 100 that will go up, get in touch with an intermediary ASAP and explain what you need.
Edit- Adding information on the Comiket exclusive tote bags. Was going to wait for a translation, but since people started throwing it up on the forums, just posting what information I have so far.
Still waiting on the details, but it appears each tote will have 200 copies sold at Comiket, with 100 online at a date and time to be announced later(same as the BlackAgumon pouch.) The main thing I was waiting on a translation for was if each tote was actually sold separately or not.
The theme is the kids with their sleeping Digimon, both contain brand new art.
The first is Taichi and Agumon on one side, with Yamato and Gabumon on the other.
The second is Sora and Piyomon on one side, with Mimi and Palmon on the other.
Price for these will be 3000 yen.
Each of the totes will come with a matching poster that is a bit less than 16 inches by 8 inches.