Show User Social Media
Hide User Social Media
Joined

Sep 8, 2006
Messages

16,108
The card game site has put up pages for both of the new starter decks coming out next month, which also includes a better look at various artwork that we expect to see on cards:
ST-12 Jesmon
ST-13 RagnaLordmon
​
We also got standalone images of the final packaging, which we saw less clear versions of in
the most recent episode of Card Battle
.
Details match what we've seen before as far as contents go, and will cost 1,650 yen each:
Each deck will be 54 cards, plus 6. The 54 cards will be made up of multiple cards from 16 cards of the following distribution:
Common, 6 cards
Uncommon, 5 cards
Rare, 3 cards
Super Rare, 2 cards
Also included will be 2 memory gauges, a playmat, and 3 indexes.
Plus reprints of 6 parallel Tamer cards, which was announced during Card Battle...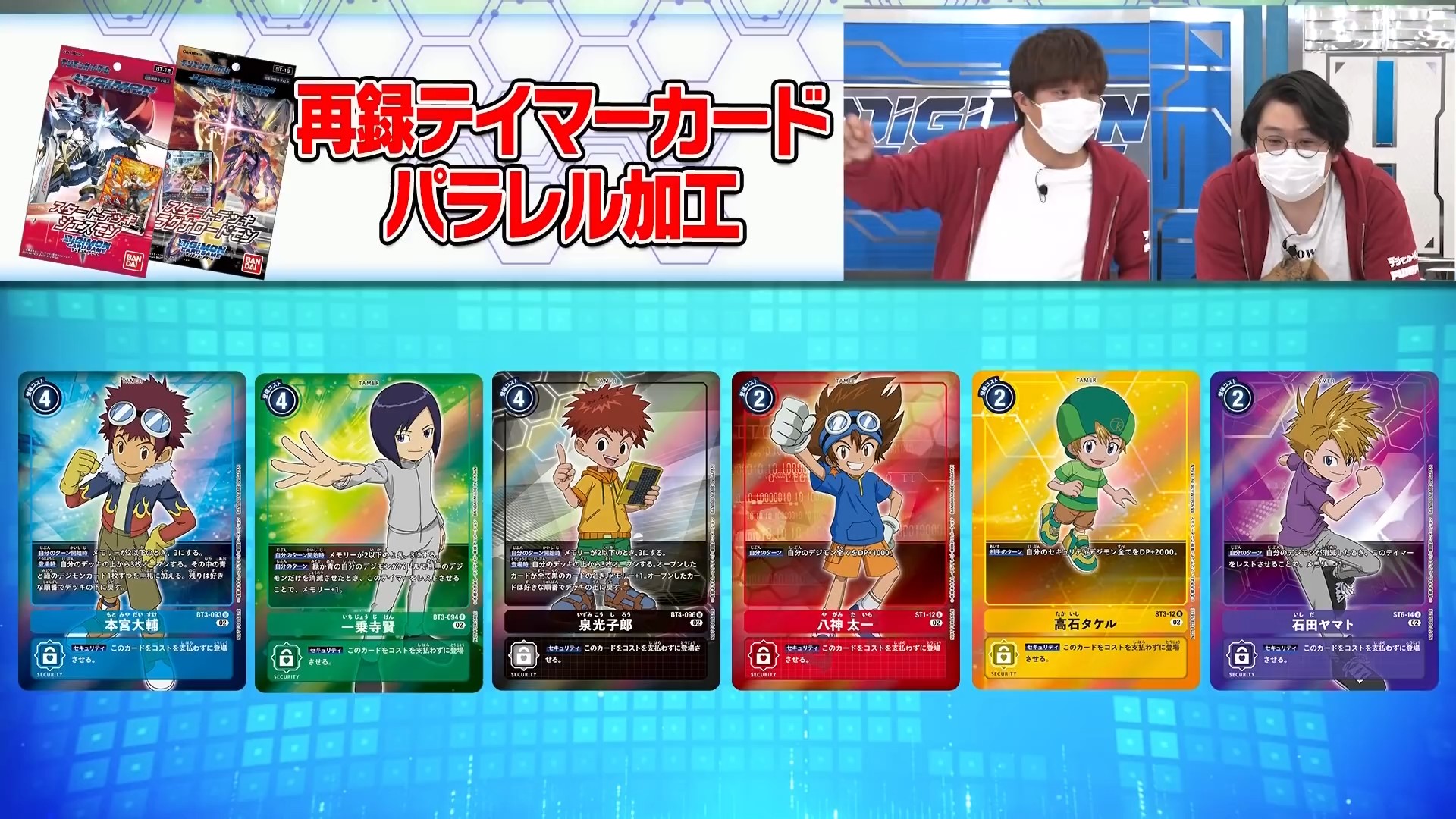 BT3-093 Daisuke
BT3-094 Ken
BT4-096 Koushiro
ST1-12 Taichi
ST3-12 Takeru
ST6-14 Yamato
Previous card previews for Starter Decks 12 & 13:
Jesmon, RagnaLordmon, Sistermon Noir, & Packaging Preview
Zubamon
The Journey of Master and Disciple
RaijiLudomon
Both starter decks will be available April 22nd.
We have clean card images from
Booster Set 9 X Record, plus Battle Pack 10, Special Promo Pack 2022, Update Pack, & Evolution Box 2
.
We have the first details for
Starter Decks 12 & 13 Jesmon & RagnaLordmon
.
We also have the first details for
Booster Set 10 Xros Encounter.
And images from previous Digimon Card Game releases:
Starter Decks 1, 2, and 3, and first 10 promo cards
Booster Set 1 New Evolution
Booster Set 2 Ultimate Power
V-Tamer Promo Cards
Purple/Black Promo Set
Tamer Battle Pack 1 and Tamer Battle Winner's Card
Booster Set 3 Union Impact
Starter Decks 4, 5, & 6, plus Tamer Battle Pack 2 & winner's Card 2, & 1st 2 scene vote cards
Booster Set 4 Great Legend, Tamer Battle Pack 3, 3rd Scene Vote, Dark Digimon Promo Pack, & Apparel Cards
Booster Set 5 Battle of Omega, plus Tamer Battle Pack 4, 4th Scene Vote, & Vital Bracelet Pack-In Cards
Starter Decks 7 & 8, plus Delay Promos, Tamers Battle Pack 5, 1st Anniversary Promos, & Pulsemon
Booster Set 6 Double Diamond Cards, the 1st Anniversary Adventure Pack, and more
Booster Set EX-01 Classic Collection, plus Tamer Battle Pack 6 & 7, Tyranomon & dual Zeromaru Promo Cards
Booster Set 7 Next Adventure, Campaign Cards, & Tamers 20th Promo Cards
Starter Decks 9 & 10, plus Tamers Battle Pack 8, Ghost Game Promos, Online Promos, Tamers Evolution Box 1, & Amazon Starter Promos
Booster Set 8 New Hero, Starter Deck 11, plus Tamer Battle Pack 9 & Event Cards