Show User Social Media
Hide User Social Media
Joined

Sep 8, 2006
Messages

17,401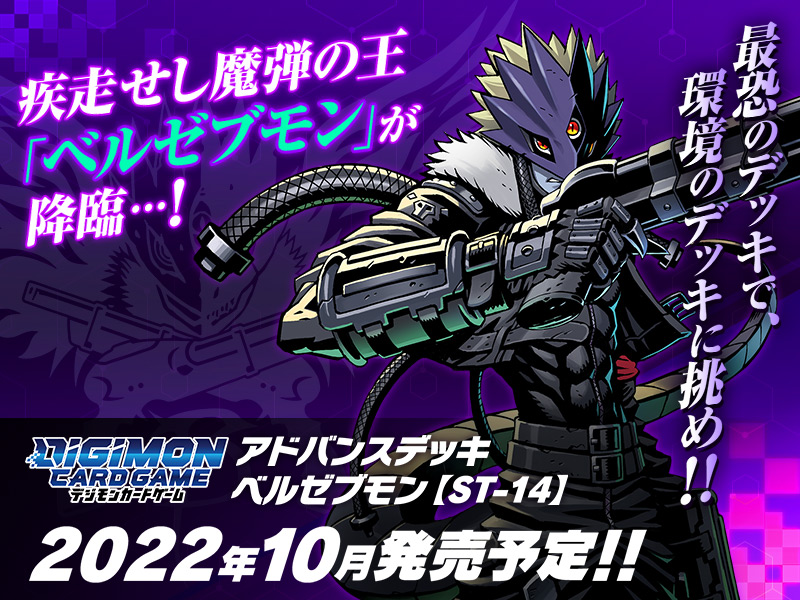 We only recently found out about it
, but
we have some details
for Digimon Card Game Starter Deck 14 Advanced Deck Beelzebumon.
First up, we get the nice promo art for Beelzebumon. This is new art, and is likely going to be used on a card and packaging.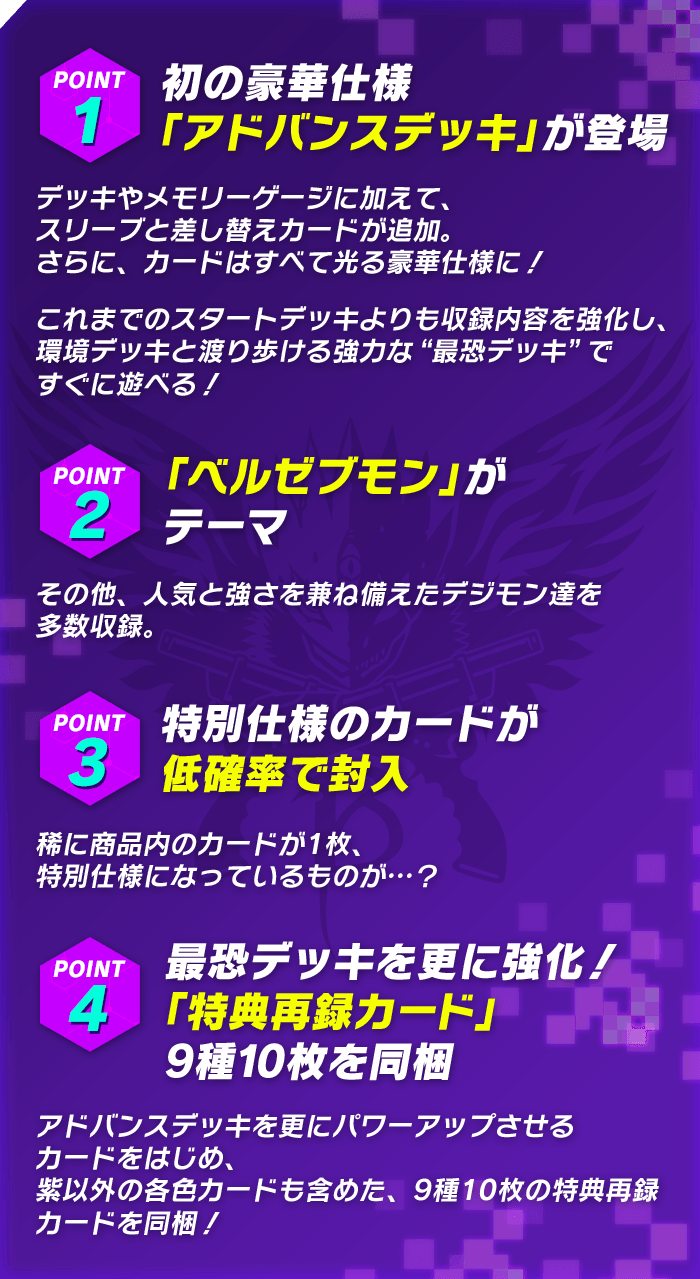 Details both from the promo list, and elsewhere on the page for the deck include...
The set is made from 16 types of cards, plus an additional 9.
All the cards have a 'shiny and luxurious' look
They tease that 'on rare occasions' one of the cards will be extra special.
The rarity distribution for the cards:
Common: 4
Uncommon: 4
Rare: 3
Super Rare: 4
Promo: 1
Bonus reprint: 9
And contents are:
Pre-built deck includes 54 cards made from the main 16.
The 9 reprints will have 10 total (one of them is doubled we guess, likely the card they tease that in rare cases might be extra special)
60 sleeves
2 special memory guards
a special play mat
The deck will be out October 30th for 3,000 yen, which is a decent bit more than prior starter decks, so hopefully the content will be worth it.
We have
early details for Booster Set 11 Dimensional Phase
.
We have our first info for
Starter Deck 14 Advanced Deck Beelzebumon
.
We have clean card images from
Booster Set EX-03 Dragon's Roar and Survive, DC-1, Memorial, Battle Pack 13, Illustration, & Espimon Promo Cards
.
And images from previous Digimon Card Game releases:
Starter Decks 1, 2, and 3, and first 10 promo cards
Booster Set 1 New Evolution
Booster Set 2 Ultimate Power
V-Tamer Promo Cards
Purple/Black Promo Set
Tamer Battle Pack 1 and Tamer Battle Winner's Card
Booster Set 3 Union Impact
Starter Decks 4, 5, & 6, plus Tamer Battle Pack 2 & winner's Card 2, & 1st 2 scene vote cards
Booster Set 4 Great Legend, Tamer Battle Pack 3, 3rd Scene Vote, Dark Digimon Promo Pack, & Apparel Cards
Booster Set 5 Battle of Omega, plus Tamer Battle Pack 4, 4th Scene Vote, & Vital Bracelet Pack-In Cards
Starter Decks 7 & 8, plus Delay Promos, Tamers Battle Pack 5, 1st Anniversary Promos, & Pulsemon
Booster Set 6 Double Diamond Cards, the 1st Anniversary Adventure Pack, and more
Booster Set EX-01 Classic Collection, plus Tamer Battle Pack 6 & 7, Tyranomon & dual Zeromaru Promo Cards
Booster Set 7 Next Adventure, Campaign Cards, & Tamers 20th Promo Cards
Starter Decks 9 & 10, plus Tamers Battle Pack 8, Ghost Game Promos, Online Promos, Tamers Evolution Box 1, & Amazon Starter Promos
Booster Set 8 New Hero, Starter Deck 11, plus Tamer Battle Pack 9 & Event Cards
Booster Set 9 X Record, plus Battle Pack 10, Special Promo Pack 2022, Update Pack, & Evolution Box 2
Starter Decks 12 & 13, Luxury Finished Tamers, plus Battle Pack 11
Booster Set 10 Xros Encounter, plus Battle Pack 12, Special Promo Pack 2022 v2, & Evolution Cup Cards