Show User Social Media
Hide User Social Media
Joined

Sep 8, 2006
Messages

17,396
Minimal info for now. Various bits may not be updated until after the Diginavi stream... possibly after sleep also. (Update- The bits below have been replaced with new information thanks to onkei.)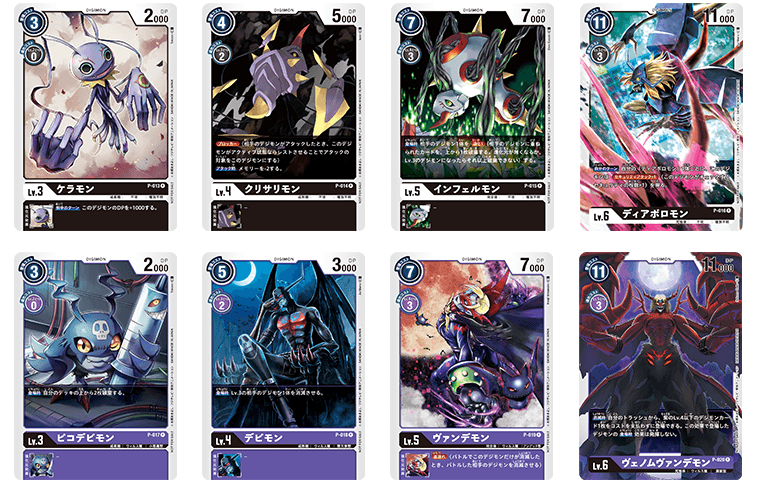 First up,
the 8 cards
from the upcoming purple/black promo pack.
The "Tamer Meeting" is a monthly event where digi card fans can meet up to battle and mingle, without being caught up on who wins and who loses. The point is to have fun battling each other with the deck of your choosing.
After the event is over, all participants will receive a "participation prize" as a present, which is the promotion pack for the event held in August 2020.
The promotion pack will have 8 cards in it, doesn't clarify if you will get dupes in one or not but there are 8 individual cards altogether. The cards are a limited edition pack with the new "black" and "purple" colors.
Black: Keramon, Chrysalimon, Infermon, Diabolomon
Purple: PicoDevimon, Devimon, Vamdemon, VenomVamdemon

For the event held in July 2020, participants receive one deluxe memory gauge made of plastic. It comes with an original design made for the Tamer Meeting.
After the event ends, participants get a chance at a lottery to win the "Promotion Pack ver 0.0"
The tournament is free entry for all ages, and you are allowed 2 hours of free battle (up to 4 battles possible). The staff side will be responsible for pairing up contestants, and they anticipate one tournament to have a max of 32 people. You can come to the tournament with your own deck. Due to social distancing, the staff side will put restrictions on how many people are allowed inside the place at a time.
Then the new promo pack
we got info for recently is 'Tamer Battle Pack 1'.
They include limited parallel cards.
More info on the pack and the 'Tamer Battle'
This is an event that will take place in nationwide shops. You can use your favorite deck to battle, determining a champion.
After the event, everyone who participated gets a "participation prize." The champion will also receive a "champion commemoration prize."
Even if you lose, you get the chance to enter a lottery to win a chance at receiving the "champion commemoration prize."
Participation prize in August: 1 Tamer Battle pack. 1 pack contains 1 card, there are 4 cards in total. They contain parallel cards with limited edition illustrations.
Champion commemoration prize in August: Limited edition promotion card that is gilded.
Entry is free for all ages. For tournament rules, ask the shop that you're going to participate in. Tournaments will have 1 winner, and staff side will be pairing up contestants. They anticipate one tournament to have a max of 32 people.
Last edited: